City Reliquary, 307 Grand Street, Williamsburg
Kindred spirits in Forgottenhood are always a blessing in NYC. We're always truly humbled and gratified by the crowds we gather for ForgottenTours; this site itself has been inspired by three others, Frank Jump'sFaded Ads, Steve Anderson's nycroads, and Jeff Saltzman's Streetlite Nuts.
And we're always glad to find someone whose interest in NYC's hard-to-find corners matches our own. One such person is transplanted Floridian Dave Herman, whose streetside collection of NYC artifacts, the City Reliquary, is beginning to attract attention.
Dave's diorama started to take shape when he, with the indulgence of his landlord, painted directions to local Williamsburg attractions on his building. The nearest subway station, Lorimer Street, is a couple of blocks away and is a transfer point, and he noticed that some people, drawn by Williamsburg's night life and daytime shops, were passing by needing directions. An artist by trade, Dave decided to combine his talent for creating sculptural installations with his appreciation for NYC history in this exhibit.
Using a former corner storefront with glass display cases on two sides, Dave's artifacts are protected behind window guards. A taped message detailing the collection can be played by pushing a button (Dave hopes to get Brooklyn borough president Marty Markowitz to rerecord it).
DEAD HORSE BAY
Named for its former use in horse rendering glue factories located on Brooklyn's Barren Island (now near Floyd Bennett Field), Dead Horse Bay and Inlet are now used for pleasure crafts and yachts.
Dave is exhibiting a number of items he found washed up on shore here, including a bottle of rubber cement; a 1954 calendar; a traditional hourglass-shaped Coke bottle; Major's Rubber Cement; a container once holding what appears to be "Timba Dapper" cologne; and a set of false choppers.
DEVIL'S NUTS
An aquatic fruit found in the Hudson River. Devil's nuts, named for their two-horned appearance, are edible (though Hudson River devil's nuts aren't) and turn up in some ethnic food shops.
GRAND BALLROOM
A sand bucket from a former ballroom across the street from the exhibit on Grand and Havemeyer Streets. Dave has also included a ceiling panel from 312 Grand, a building across the street.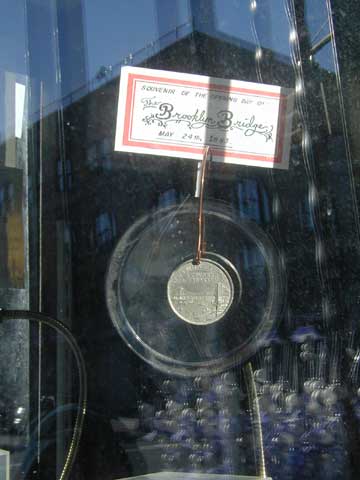 BROOKLYN BRIDGE
Souvenir coin distributed on the Brooklyn Bridge's opening day, May 24, 1883.
WILLIAMSBURG BRIDGE
Metalwork salvaged after the Williamsburg Bridge's extensive renovations, begun in the 1980s.
MOURNING DRAPE
The events of September 2001 also figure in the exhibit. This rope held the mourning drape on the City Hall balcony following the attack. Dave also has a tattered flag that flew at a BQE construction site in the weeks following 9/11/01. Dave himself joined the FDNY.
LIBERTY ISLAND
Soil taken from a small island in New York bay close to New Jersey. Originally known to the Mohegan Indians as Minnissais (Lesser Island), it has also been known as Great Oyster Island and Bedlow's Island (for a former owner, Isaak Bedloo). It has been a smallpox quarantine station and the home of Fort Wood, upon whose foundation Auguste Bartholdi would assemble Liberty Enlightening The World after lengthy negotiation and preparation; he had the idea for the statue as early as 1871. It was originally meant to commemorate the USA centennial in 1876.
PRISON SHIP MARTYRS' MONUMENT
During the Revolutionary War, the British anchored several prison ships in Wallabout Bay (the body of water west of Williamsburgh) and subjected American POWs to deprivations and torture. Prisoners were left to die in the ships and corpses were still washing up on shore in Walt Whitman's day nearly 50 years later. In 1908, premier architects McKim, Mead and White were commissioned to design a great monument to the patriots in Fort Greene Park.
Dave has obtained one of the stones removed from the park in preparation for its installation.
A sampling of New York City's detritus. Some of the stones were obtained from beneath the Waldorf-Astoria Hotel on Park Avenue and East 49th Street.
BYE BYE REDBIRD
The City Reliquary does not ignore NYC's rich subway history. The 7843 number was originally on an R-26 subway car and plied the IRT beginning in 1959. The strap comes from the same car. The R-26 through R-36 series was painted red during their final 15 years in service and were affectionately known as Redbirds. Redbirds were retired in 2003.
Additionally, Dave has included a subway token collection including its permutations between its introduction in 1953 and its demise in 2003.
MY FAIR RELIQUARY
Souvenir postcards, medals and pins from the 1964-1965 World's Fair in Flushing Meadows, Queens are collected in the Reliquary. (The NYC Pavilion in Flushing Meadows Park has a voluminous collection of its own.)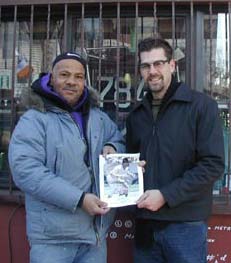 You just never know what you'll find if you poke around a bit. We were talking with Dave and his building's super, Juan, when we noticed a photo in the garbage of NY Yankee 1973-1983 third baseman Graig Nettles…signed by "Puff" himself! Looks like the Reliquary is going to have another addition.
Graig's license plate included the letters E-5.
When you have a corner building you may as well take advantage. In 2004 Dave had recently finished installation of the Havemeyer Street side of the building. There's a tribute to the aforementioned Statue of Liberty as well as renderings for a new Freedom Tower done by local artist Jabiel Jimenez (below).
In January 2006, The City Reliquary moved to 370 Metropolitan Avenue, a storefront only a few blocks from its original location. Collections have expanded and precious wall space has all but disappeared. State of Liberty postcards, terracotta fragments of landmark buildings, subway tokens, geological core samples, paint chips from the L train, and a "very old shovel" each tell their own story of New York City's past. Rotating exhibitions of community collections can be seen in the storefront window: giant pencils, copper jelly molds, pulleys, and flashlights – each celebrate the community of New York's present.
As the museum has grown, so has its programming. The City Reliquary hosts block parties, backyard concerts, and film events throughout the year. To foster future generations of collectors, The City Reliquary collaborates with PS132 to create exhibitions of student work. Every year, generous donations from patrons like you help us to continue expanding our collections and programs. Standing on the corner of Havemeyer and Grand Streets, where the original City Reliquary window is still maintained, will not reveal views of the famous City landmarks. Instead, one discovers that everyday New York is already in clear sight. City Reliquary
In July 2010, Forgotten NY and NYC Lamppost King Bob Mulero contributed dozens of photos of classic NYC lampposts that were handsomely mounted at the Reliquary's Metropolitan Avenue locale.
The window exhibit on Havemeyer Street remains, as well.
THANKS
"Love Among The Ruins", Karen Hudes,Time Out New York, November 27, 2003
To Dave Herman and Vincent Losinno for assistance with this page.
2/14/2004; revised 2012