Maurice and 54th Avenues, Mt. Zion Cemetery with a waste disposal plant overlooking it.
In the 1850s, NYC decided it didn't want its dead anymore.
Rising real estate costs and an ever-expanding urban frontier led NYC to pass a law prohibiting any more burials in Manhattan in 1852. Churches and synagogues, which had begun to make a profit running cemeteries, looked east to Queens County, then a vast forest containing farms and the occasional small town like Flushing and Jamaica. St. Patrick's Cathedral opened Calvary Cemetery in 1848, a couple of years before its big 5th Avenue cathedral opened.
Mount Zion, a Jewish cemetery, occupies about 80 acres in Maspeth near New Calvary Cemetery and the BQE. It was opened in the early 1890s under the auspices of Chevra Bani Sholom and later by the Elmwier Cemetery Association (Elmwier Avenue is a former name of 54th Avenue).
A walk in Mount Zion will produce a surprising and poignant reminder of burial practices long forgotten… the faces of the dead are preserved on some of the tombstones.
In a process known as 'enameling,' photographs of the deceased are burned into porcelain (in a process described in detail in John Yang's book, "Mount Zion: Sepulchral Photographs.") This was a custom brought to the USA by Jewish immigrants from Eastern Europe. A look at newer gravesites in NYC will reveal that placing photos of the deceased on gravestones is returning. In the Mt. Zion stones, the tablets are mostly oval and some are gilt-edged. Some are heavily retouched, so they look vaguely unreal, as if they were drawn, not shot with a camera. Some are formally posed while some are candid. Many of them capture people in their prime. So many died young in that era. Most of the men are attired in suits, while the women sport the big hats so popular in the 1920s and 30s.
Mt. Zion is open 6 days a week (except Saturdays), and while Yang's book is hard to find on area bookshelves, it is available for purchase at Mt. Zion's office, which is modern and has a friendly staff.
Shall we enter? Click on each gallery below for an identification.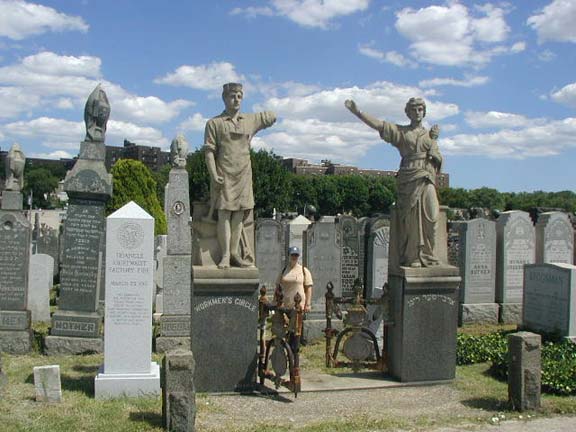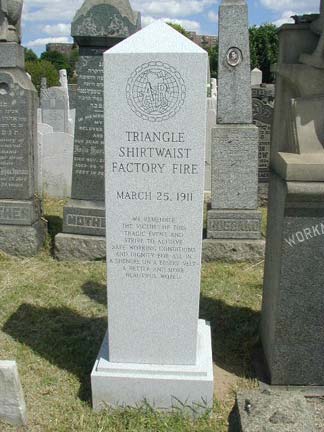 Mt. Zion Cemetery is also where many of the victims of the Triangle Shirtwaist Factory fire of 1911 are buried. On Saturday, March 25 of that year, as quitting time approached, a fire broke out on the eighth floor of the Asch Building near Washington Square, and spread rapidly on the top three floors of the building. In a scene reminiscent of the General Slocum tragedy 7 years before, fire hoses were woefully inadequate to battle the flames, the lone fire esacpe was rickety and rusted, and the doors to the exits were locked to insure that the mostly immigrant women working the sewing tables would not wander or steal anything.
There was little escape from the flames and in a scenario that foreshadowed the 9/11 terrorist attack, the women were forced to jump out of windows or burn to death, and many chose the former. While some were able to escape by an open staircase and an elevator, 145 employees would perish. In less than a half hour, the fire was brought under control. Triangle owners Isaac Harris and Max Blanck were charged with manslaughter; after a two-week trial they were found innocent.
Three years after the fire, on March 11, 1914, twenty-three civil suits against the owner of the Asch Building were settled. The average recovery was $75 per life lost.
Leonard Nimoy has often said that he got the Vulcan "live long and prosper" hand signal at temple. It is the Aaronic blessing given at services and is done with both hands, thumb to thumb, and represents the Hebrew letter shin. Nimoy photo from startrek.com.
I've often tried to make my fingers do this, but have always been unsuccessful. I'm told it's hereditary: like touching your nose with your tongue or wiggling your ears, either you can do it or you can't.
Forgotten Fan Harry Cohen writes:
"Regarding the "Vulcan Hand Signal", it is not the rabbi who performs the blessing, rather, the descendents of the priestly caste, the Cohanim. Many Cohanim have family names such as Cohen, Cohn, Kahn, Kogan, etc…. Oddly enough, I am not a member of the priestly caste despite my family name, but I can do the signal."
Betts Cemetery
A much smaller family plot, Betts Cemetery, is located in a hilly area of Mt. Zion Cemetery near 54th Avenue and 58th Street. Mt. Zion was built in 1893 surrounding the Betts family burial plot; Captain Richard (1613-1713) and wife Joanna's home stood at the southwest corner of territory now surrounded by the cemetery. It was razed in 1899. According to legend, Captain Richard Betts dug his own grave in the Betts family plot a few days before he died. His grave is not detectable but many of his descendants' are.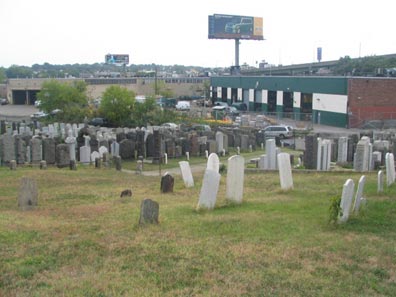 Betts Cemetery is easily distinguished from surrounding Mt. Zion, which is tightly packed. There've been no burials in Betts for over a century, and so there's still a lot of space left over.
At the top, Christina lines up a shot with the Betts Avenue Incinerator, built in 1953 and a prime example of 1950s industrial architecture as the backdrop. (Betts Avenue became 58th Street in the 1920s.)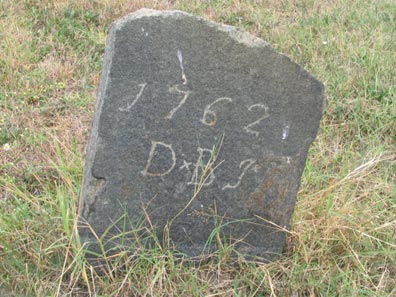 Hand-etched stones showing the death date and initials of the deceased have stood up to centuries of weathering. Daniel Betts Jr. (d. 1762) stone (great-grandson of Thomas) is at left; his father Daniel (d. 1759) and mother Mary (d. 1757) adjoin it.
Hezekiah Warner (d. 1757)
Margaret Curley (d. 1873)
Richard P. Betts (d. 1889)
Near Betts Cemetery but not a part of it is a plot of small stones. It's one of the more haunting aspects of either burial area; these stones mark the graves of children.
7/10/04