Revere Sugar Refinery, a Red Hook landmark for decades, was demolished in 2007.
"It's hot in the poor places tonight."
SO SAYS Jeff Tweedy on Wilco's 2002 LP Yankee Hotel Foxtrot. I thought the lyric was apropos to Red Hook's situation…after decade after desolate decade, the western Brooklyn neighborhood is now in line to get some high-income spillover action from neighboring Cobble Hill. Will high rents and million dollar condos vault over the Gowanus Expressway and and engulf this isolated province, whose quiet, not-quite tree-lined streets have been silent since the big cargo ships stopped docking at Erie Basin? Will the coming of Fairway Supermarket and perhaps, Ikea furniture turn Red Hook into a big parking lot with its narrow roads crammed with Cobble Hillers and Sunset Parkers looking for lettuce and night tables?
Well, let them come, because in Forgotten NY we'll record perhaps the last days of Red Hook before it becomes a soccer mom or trust fund kid mecca. On this page, we'll concentrate on the more desolate areas of Red Hook, before they become less welcoming to people with a Forgotten NY income.
In the early-to-mid 1990s, Pier 39 at the foot of Coffey Street was renovated and renamed for Louis Valentino Jr., a hero fireman who sustained fatal injuries in a Canarsie blaze in 1996. Valentino was an alumnus of my alma mater, St, Francis College. The green area between the pier and Coffey Street is named for Fort Defiance, a Red Hook encampment during the Revolutionary War; shots fired from the fort, which was located a few blocks away at Dwight and Beard Streets, delayed the British fleet enough to help allow Washington to escape the Battle of Brooklyn with fewer casualties than he would have had.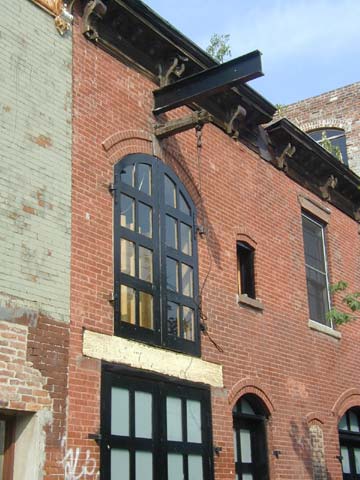 The building on the SW corner of Coffey and Conover streets lay empty for 20 years before a parachute manufacturer bought and renovated the old place, which may date to the 1840s. The hoist used to lift hay bales or whatever is still in place. This building has an old sign showing Coffey Street's old name.
RIGHT: These brick buildings, on Conover between Dikeman and Wolcott, have unusual wood insulation. You usually see this on frame buildings, but these buildings are brick underneath.
Van Brunt Street near Wolcott. I don't know the significance of Kentler, but the business was established in 1854. Was there a tall building there when this sign went up? Why would it be so high?
Forgotten Fan Susan K. writes:
My great great grandfather William Kentler came to America in 1837 from Germany (Prussia) He settled in lower Manhattan, in an area that was full of immigrants that is now where the Brooklyn Bridge is. When they started to build the Brooklyn Bridge around 1850, the people that lived there had to move. William settled in Red Hook. He was a haberdasher, selling mens shirts, hats, handkerchiefs etc. He put up the Kentler building in 1854, hence the cornice bearing his name and the date. He had a store on the lower floor, and he and his family lived upstairs. There was actually a second building right next door, 355 Van Brunt St, that he built also, but it had burned down.
The Hope & Anchor is a new diner on Van Brunt. The owners are probably aware of London's Hope & Anchor, a music venue that helped give Robyn Hitchcock's band, The Soft Boys, a leg up in the early 80s; that's how I know about it (finances prevent a London trip). Indeed, a Soft Boys LP was called "Lope at the Hive."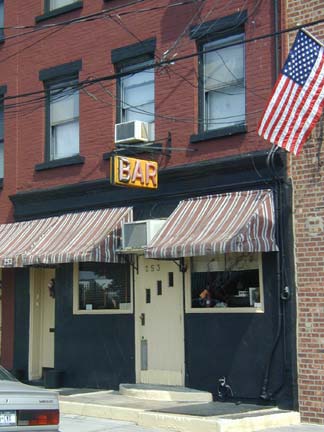 For decades, longshoremen drank their lunch at 253 Conover, now run by Sunny Balzano, whose family has owned the place since the early 1930s. Just a few feet away, catenary wire, tracks and canvas-covered cars mark the spot where trolley aficionado Bob Diamond once hoped to return trolley service to Brooklyn.
By 2006, in the spot where Diamond hoped to open his trolley museum, the landscape has changed dramatically and a giant Fairway supermarket has opened in the old Van Brunt Stores complex, built during the Civil War. And in 2006, the old trolley cars, which had been left to the elements for years, had been removed and a waterside park is under construction.The cars can now be found between the Fairway supermarket and the waterfront.
I know I gave up on Name That Car awhile ago (took too much time to sift through all the responses) but I spotted this truck across Conover from Sunny's…what is it?
Lots of Forgotten Fans are calling it a Willys Utility Truck, produced between 1947 and 1960.
A new park constructed between Pier 41 and the Waterfront Museum barge allows excellent views of Upper New York Bay.
By 2006 the park was fully landscaped and blooming.
Pier 41
Pier 41 on Van Dyke Street between Conover and Ferris, formerly off limits to pedestrians, has seen some former wholesalers turn to retail…
Your webmaster got a "piesicle" at Steve Turpin's Key Lime Pie palace at this 1850s-era warehouse. The countergirl seemed unduly sullen, but I suppose sullenness is the only solution when NYS Lotto-cap wearing geezers come in asking for ice pops. (It was the most beautiful Sunday of 2006 and she had to be inside all day, no doubt). The piesicle is a mini-key lime pie on top of a graham crust, covered in chocolate. While being rather less frozen that it ought to be, it's good, but not $5 good, though Steve's is served for dessert at Peter Luger, so what do I know!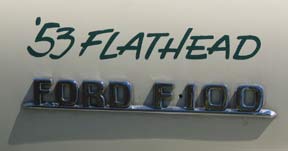 Take it easy. My Lord, Steve's delivers in aFlathead Ford. A line of Fords were produced with flathead V8 engines between 1932 and 1953.
Van Brunt (or Red Hook) Stores, 480-500 Van Brunt Street, stretch along an arm of the Erie Basin. Both this building and the nearby Beard Street warehouse feature heavy arched and shuttered windows.
The Revere Sugar Refinery, once owned by Antonio Floriendo, a Marcos family confidant known as the "Banana King of the Philippines", declared bankruptcy in 1985, and the refinery has been in magnificent ruins since then. A fire some years ago devastated it. The property has been recently purchased and the refinery has now been torn down.
Lightship 84, one of a few dozen remaining in the USA and one of 4 remaining in NYC, sunk into Erie Basin in 1997, and there it has remained. In its near-century of history, it has been a lightship, training vessel, restaurant, and now it's quite rusty. NYPD uses it as a training venue for the scuba patrol.
The New York Water Taxi…the only place you'll see a checker cab these days…calls the Beard Street Pier its home base.
Dikeman Street. When I was in college, I was called "The Crooked Man" because my college newspaper layouts were never quite straight. We didn't have a T square. Across the street, there's a house somewhere under the brush, but I couldn't find one.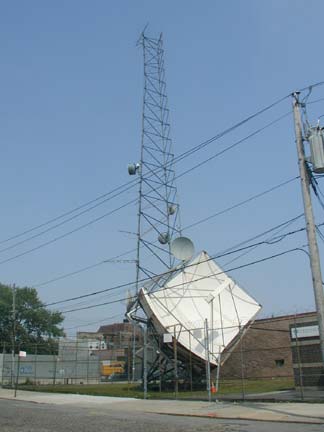 Van Dyke Street near Richards. This brick building's original name, The Red Hand Composition Company, has been getting more evident lately. Amer Tech Industries is a marine repair firm specializing in work on power generating barges.
RIGHT: Time Warner Cable relay station. This is how Jerry Springer gets into your TV as signals are relayed from satellites into wires.
This long, low building on the corner of Richards and Van Dyke Streets has a distinctive exterior, consisting of 20″ thick stones, reminiscent of some churches. It originally was the storehouse of the Joseph K. Brick Company, founded in 1854 to produce items used in gaslighting. Brick originated the fire clay retort, a device in which coal was heated to produce gas used for illumination; gaslighting began to be widely used in the USA around 1850. The burgeoning steel industry also needed a liner material that could withstand high temperatures. Fire, or refractory bricks, filled the bill. The bricks are tempered so they can withstand high heat and were used to line iron furnaces, industrial stoves, brick and pottery kilns, and other devices that demanded materials with a tolerance for heat.

Clay retorts were instrumental in the production of gas from coal. The heated retort freed the volatile or gaseous matter contained in the coal. These gases were then carried through a series of pipes and appliances which condensed, washed, and scrubbed the crude gas, and by mechanical and chemical means removed the impurities from the product and made it ready for commercial use.
The storehouse was restored by Greg O'Connell in 1995 and 1996 and was the first landmark building designated in Red Hook. The Van Dyke Street storehouse is 125 feet square and built in basilica form with a bulls-eye clerestory window. The ground floor has been altered to allow vehicle access. Presently it is home to a glass etching company. The two-story brick building across the street, 99-112 Van Dyke, was also a part of the Brick complex and retains its old brick chimney.
Some neighborhood joints. The Liberty Heights Tap Room, Van Dike and Dwight Streets, recently added a microbrewery. RIGHT: 20 Reed St, around the block from Sunny's.
Red Hook Bait & Tackle Shop (320 Van Brunt) services neighborhood fishermen: from newyork.citysearch.com:
The quaint bar overflows with "found" objects: a mermaid, strings of dangling fish, two mounted harpoons from a Long Island basement and a stuffed bear from Indiana. Strings of glowing bobbers barely light the ample space. Old-timers who remember when that tree fell in the church garden now set their drinks on its planks that serve as the bar, where they're joined by the neighborhood's younger set.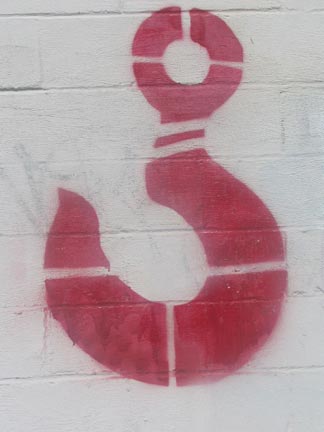 The Liberty Heights stencil is on the a Hamilton Avenue BQE stanchion; the hook, above a now-demolished Todd Shipyards building; the Red Hook is on Van Brunt
Rosebud? A Van Brunt Street storefront.
Van Brunt.
Wolcott just off Van Brunt.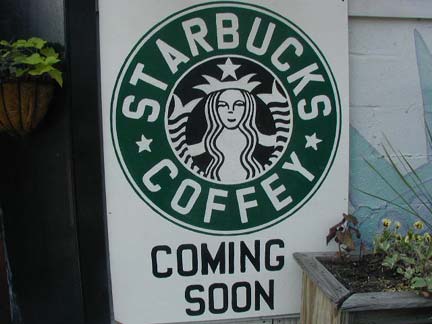 Red Hook has several developers salivating as they hope to turn the waterfront into retail space. Many Red Hookers oppose Fairway and Ikea, but some residents of Red Hook houses applaud the developments, since they will supply jobs. It seems certain that "old" Red Hook, with its dusty streets, neighborhood dives, and residential pockets will soon be changing in some way. In a parellel development, entire blocks of Coney Island were bought by developers as well: its unique ambience may soon be on the way out, as well.
Red Hook's blunt ambience will likely survive though.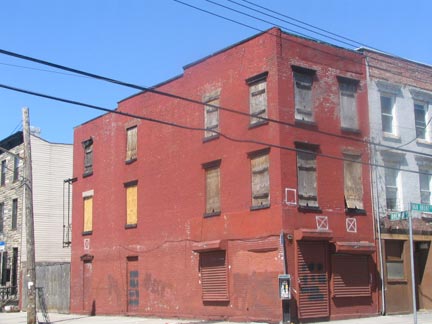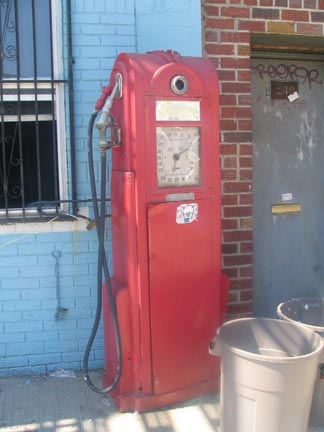 Above, right. Along Van Brunt. The boxed X means the floor has collapsed and entering the building is dangerous.
The Other Side of the 'Hook
Court and Bush Streets. A block away, Clinton and Bush Streets meet.
Court and Bryant Streets.
Here's some of the desolation we were talking about. In 1776, a fort fired on the British from here, but in 2004, there's a view of the near-dormant shipyard fronts and a view of a garbage-strewn Beard Street overlooking the old sugar refinery. The restaurant has since reopened asLillie's Bar. (By 2006 Lillie's had closed again.)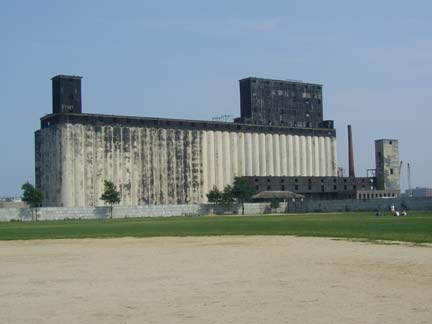 This massive concrete silo, built in 1922, was once the processing center for grains used for breweries and distilleries shipped down from upstate and the western USA via the Erie Canal. The terminal closed as shipping in Red Hook gave way to New Jersey containerization beginning in the 1950s. With its 54 joined concrete silos, it has been described as looking like "concrete ladyfingers." Today, the soccer field in front of the terminal has it as an impressive backdrop; dance companies have used it as a staging area, and urban sports enthusiasts have rappelled on it.

The grain elevator is in the Gowanus Industrial Park, which operates over 30 small businesses and a growing demand for moorage of small vessels and barges. The industrial park hopes to take on shipping, on-site manufacturing and more maritime industrial uses.
Busy Red Hook Park features excellent soccer fields and track. It's one of Red Hook's few oases of green.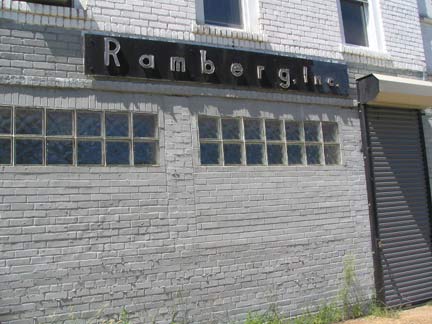 Though Todd Shipyards is gone, shipbuilder and repairer H.W. Ramberg is still here at 37 Dwight. This was a Sunday, so I saw no activity there. Is it still in business?
Bay Street. From nycgovparks.org: Sol Goldman Pool opened to the public under the name of Red Hook Pool in 1936, as one of the 11 WPA-funded pools that opened that year under Mayor Fiorello H. Laguardia and Parks Commissioner Robert Moses. The pool was designed by Aymar Embury in the 1930's and was restored and renamed to honor the financial contributions of the Goldman Family in 1986. Currently, Red Hook Pool is a participant in the Department of Education's SchoolFood program, which serves free, nutritional breakfasts and lunches to approximately 300 children each day during the summer.
Don't know what you call it up there, but down here, it's Hick Street.
The two mermaids at left are gone but the nymph at right, on Dwight, has survived.
The Todd Shipyards, also known as New York Shipyards, have now been closed and, in 2006, were demolished for a masive Ikea store. Philip Lopate in his book "Waterfront" describes an incident in which the crew of a damaged Central American freighter were detained here for 6 months until its owner could pay for repairs. Its crew was too afraid to venture into the Red Hook streets for provisions. The owner had to get food for them.
The Monitor, the first ironclad vessel from the Civil War era, was once repaired here. Within, the yards feature brick structures with heavy timber posts and machines that have 1920s-era Bauhaus industrial design highlights with skylights and 20-foot-tall windows. Without, peeling paper cutout art decorates the exterior and surrounding area.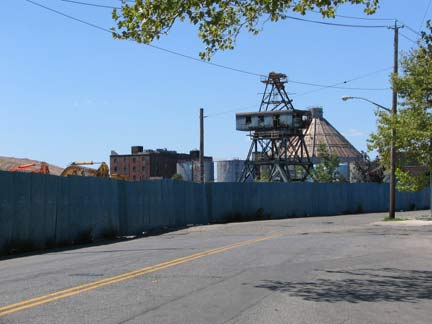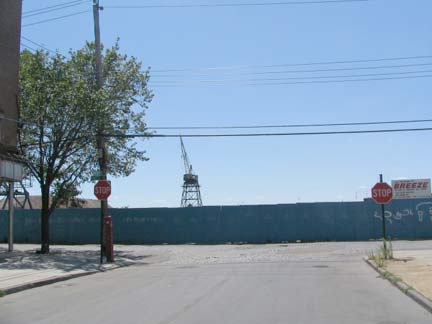 As we see in this sequence from August 2006 the Todd Shipyards administration buildings are completely gone, though some invective and some street art have been placed on the blue plywood fence.
The new trend in Brooklyn is to plop giant developments in the midst of residential neighborhoods without investing in the overall infrastructure. Ikeas, in particular, tend to be in football field-size parking lots that are served by pedal-to-the-metal state highways and interstates. How traffic will get to this particular Ikea over Red Hook's rutted, Belgian-blocked roads, well, that will be an experiment all Red Hookers will be participating in.
The following shows the Todd Shipyards from Erie Basin:
We see the unused docks of the Todd Shipyards, including the Beard Street waterfront, from Erie Basin, once so busy that B77 buses once carried "Erie Basin" in the destination roll over the front windows.
The Todd Shipyards dry dock. Most of what you see here will be torn down in the mid-2000s, with an Ikea shopping center due to take its place. By 2006 the red administration buildings you see in the background had been razed. Community activitsts were unsuccessful in preserving the dry dock.
Along Columbia Street south of Halleck Street.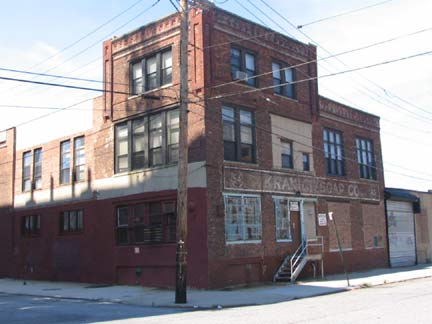 Kranick Soap, Delevan and Richards Streets.
Just dropped in to see what condition his condition was in. Delevan at Dwight.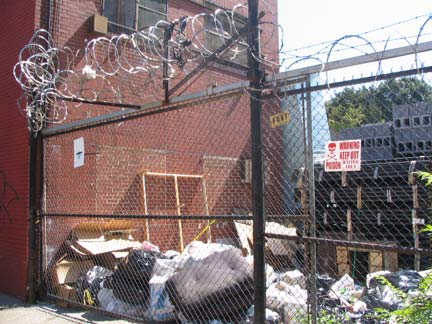 LEFT: Delevan between Richards and Dwight. Though piles of new money are flowing into Red Hook's waterfront area, there will always be parts of the neighborhood that look just like this. A brand new condo complex borne from manufacturing lofts is right next door.
There was a party in nearby Red Hook Park and the soundtrack was nothing but Beatles. There was probably no one there who was alive when John Lennon uttered his first yeah, yeah, yeah…
Commerce Street. Silent as a tomb, except for the Beatles music, which was a little fainter here. Sunday afternoon, but I can't picture it much busier during the week.
That's what attracts me.
The building at Dwight and Verona interests me. Joe Cunningham and Mary Altaffer of the NYPost once shepherded me to the top of this building to get a good shot of the old Trum neon sign (see below). I don't know if the can company sign is new or not; it looks new. The arched windows are reminiscent of the ones at the Beard and Van Pelt warehouses a few blocks away.
Many of us, your webmaster included, are not wealthy enough to choose the architectural style of apartment or house in which we live. I find that an injustice; you can choose your clothes, after all, and you can choose how you want your hair and jewelry, etc. But you can't choose the style of where you live. Given that choice, I wouldn't mind something like this place.
The story behind this sign can be found on this page.
This is Van Brunt Street and Carroll, and a still-incomplete skyline.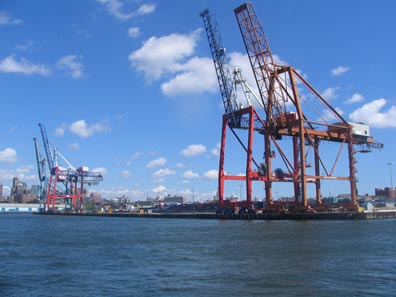 Toward the end of the day's tour I was snapping photos of the Brooklyn Battery toll plaza; it has unique lampposts that interest me. I was whistled by a couple of cops, who approached and asked why I was taking pictures. I calmly explained about Forgotten NY (without attempting to sell them on it; cops aren't interested in the hobbies of suspicious characters). They asked for ID, which I produced. Everyone was calm about the whole thing. They requested I move on without any more photos. I've been told I'd be within my rights not to produce the ID or cooperate, but since I understood their wariness, I did so.
A Look at the Hook: Forgottentour 13