THE DEATH— ie., the Starbucks® and Disney®zation — of Coney Island as we know it is imminent, if you believe all the glowing press releases we've seen in the papers this spring. In the immediate Stillwell Avenue area, along the boardwalk but also along Surf Avenue, the so-called hodgepodge of clam bars, amusement areas and parking lots are to be moved out in 2005 in favor of what City Councilman Domenic Recchia (D-Coney Island) calls "a dream come true": hotels and spas on the beach, a covered walkway on Stillwell, movie theatres, bowling alleys and apartment buildings. The effort is being led by the Coney Island Development Corp. whose president, Joshua Sirefman, is chief of staff to NYC Deputy mayor Dan Doctoroff –the same man who tried to bring you Woody Johnson Stadium on the West Side.
2007: Joe Sitt has already begun razing much of Coney to further redevelopment dreams.
Many of what you see now on the boadwalk and possibly along Bowery Street and Stillwell may go. Coney is still one of Brooklyn's grand anarchic wonders, a honky tonk mix of carnival barkers, kiddie rides, hot dog and shellfish joints, the Cyclone roller coaster and Wonder Wheel, freak shows, a minor league ballpark, and acres of school bus parking.
So much of Coney Island's historic legacy from its days as a premier seaside resort — some of which, like the old Thunderbolt roller coaster — were still there when I began visiting Coney Island for Forgotten NY in the late 1990s — has disappeared since. Developers took out half the old White Sands neighborhood, just north of Coney Island, in 1999-2000 in favor of Home Depot.
"A multicultural center with a gym and pool is also planned for area residents," says the NY Daily News article trumpeting the redevelop.
Now, a stroll along the boadwalk between May and September will reveal more cultures than you can shake a fishing pole at. If there's anything you don't need at Coney, it's "multicultural awareness."
Let's take a look at the danger zone…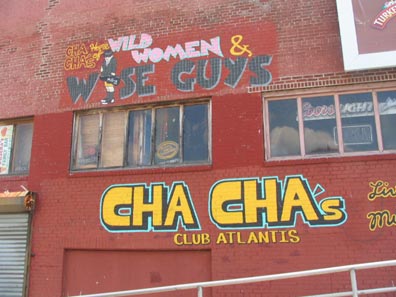 Cha Cha's, a fast food joint/bar/nightclub at Stillwell and the boardwalk, fills the space of the old Club Atlantis, which echoed back to the days of the Atlantis of the 1940s-1960s.
When I was a kid my father and I wandered into one of the boardwalk bars –there were many in the 60s –and there, standing on the U-shaped bar, was a singing cowboy! According to Coney Island historian Charles Denson, he might well have been Westy Fesco, who hung on at the Atlantis until 1970. The Eagle Bar, which also closed in 1970, also had a C&W theme.
The old Henderson's Dance Hall building on Stillwell has hosted fleabag hotels, amusements like this, and now, Velocity, a new nightclub.
Under the CIDC, a glitzy neon sign will likely replace this hand lettered one, which gets the job done at Bowery Street and Jones Walk. And here's more giant food.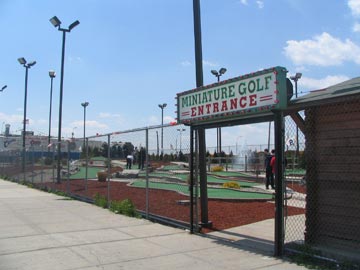 Katz's Deli on Houston Street wasn't the only NYC landmark shown in When Harry Met Sally — Bruno Kirby and Billy Crystal hit a few at the Coney Island batting cages. The mini golf is a newer addition.
The boardwalkside food joints and souvenir shops — Grill House, Gyro Corner, and even the Nathans and McDonalds –provide cheap eats that will probably be a lot more inexpensive than anything the CIDC will move in here.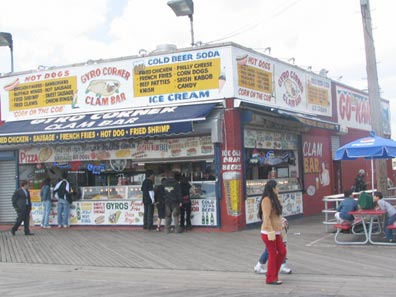 It would be a shame if Ruby's, the last boardwalk bar where you could walk off the beach, sidle up to the bar and order a tap, were forced out. It was opened by Coney Island native Ruby Jacobs (1922-2000): he operated Claret's Baths, one of Coney Island's dozens of bathhouses, in the 1960s and 70s, opening Ruby's Old Time Bar and Grill in 1985. Ruby's daughters have run the place since his death.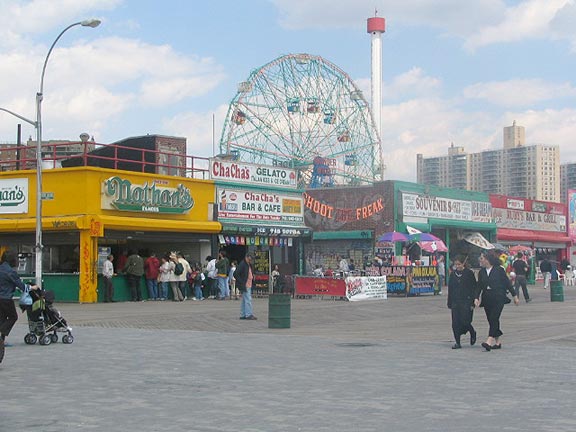 The boardwalk, looking east from Stillwell, May 2005. All the fronts along the boardwalk may be demolished or converted; the Wonder Wheel and other Astroland rides will likely survive.
As Chris Kula has pointed out hilariously, clams and other seafood (that is supposed to be a shrimp) predominate at the Coney fast food joints.
Kult klassik: 1979's The Warriors was about a street gang accused (by the other gangs) of murdering a rival gang leader, trying to get back from the Bronx to their home Coney turf.
Jones Walk. In the 1990s, with Sideshows by the Seashore (located at Surf Avenue and West 12th Street), sideshow acts returned to Coney, with sword swallower the Great Fredini, knife thrower Great Throwdini, and many more (the suffix -ini is a prerequisite for sideshow greatness). Mural by Rita Ackermann.
Another look at Henderson's Dance Hall and its second floor flophouse, the Surf Hotel, contrasted by the rising Stilwell Avenue subway terminal. The old one was a maze of passageways stinking of urine, but did boast Phillips' Candy Store, which had to move out for the renovations; they are supposed to be completed late 2005. Already, all tracks (left) have been returned to service.
Murals, boardwalk west of Stillwell near the old Thunderbolt site. The one on the right is very old, perhaps a few Coney reinventions ago.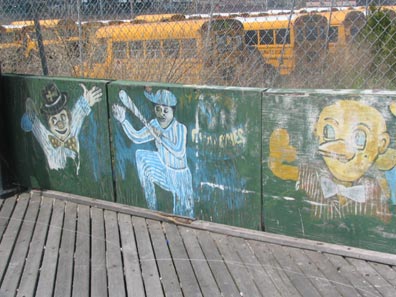 Playland is named for its earlier Coney predecessor, whose ruins are still visible from West 16th Street (see Coney On My Mind) while Dunk the Creep is obviously a knockoff of Shoot the Freak.
So this is where they run the joint. Coney Island Headquarters, on the boardwalk in the West 20s.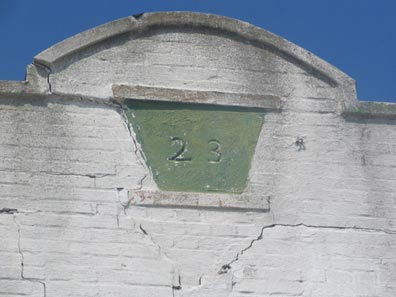 Villa Ferro, built in 1923 (see the date at the top) at the boardwalk and West 32nd Street, is according to Charles Denson the last building fronting the boadwalk. (Other buildings along the boardwalk are accessed from intersecting streets). The villa has been used as a snack shop and pizzeria in its recent history; there's an old pizzeria sign on the eastern end of the building.
The ruins of the Lincoln bungalow colony, just west of Villa Ferro along vanished Sea Place. Surf Avenue's many high-rise projects crowd the background.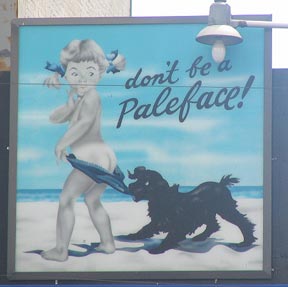 Ancient Coppertone ad at Surf Avenue and Henderson Walk. These days the pup reveals rather less of her non-bronzed bottom. (RIGHT) Shish-ke-bob and hot corn joint on West 12th and Bowery Street. Will haute couture push him out?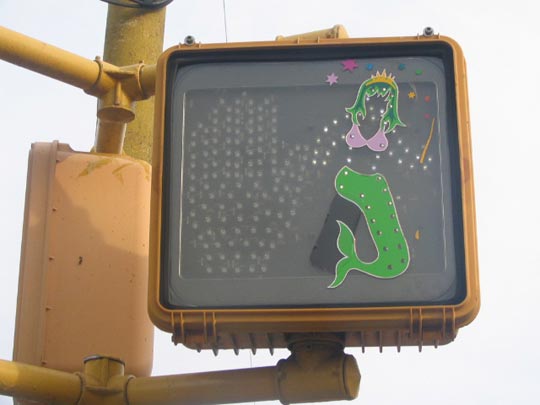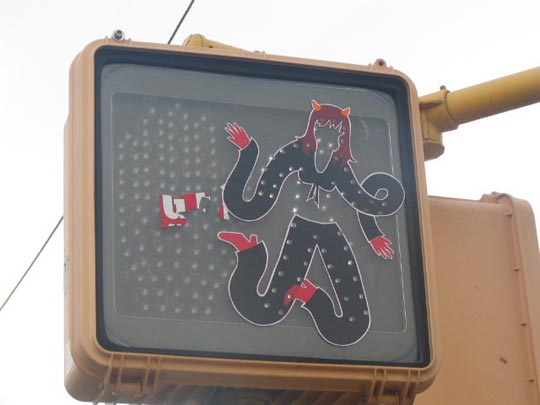 Some of the loopy fun on the Hand and the Man from Thundercut.
Is the CIDC really coming to sweep away Coney's vibe? We'll see. They've been trying to rehab the West Side High Line for years, and as soon as one board or another gives its approval, another pops up and they have to start over again. It did take nearly 15 years to remake Times Square, which had descended from honest honky-tonk to a den of porn, prostitution, crime and disease. The current tourist mecca is an improvement over that, but brand names tend to homogenize. Can Coney stay happily mom and pop?
SOURCES:
Coney Island Lost and Found, Charles Denson, Ten Speed Press 2002
BUY this book at Amazon.COM
For any Coney maven this book is indispensable–Denson grew up in Coney in the 1960s and 1970s and lovingly chronicles it as it fell apart around him.
Coney Island Walking Tour, Charles Denson, Dreamland Press 1998
BUY this book at Amazon.COM
"Advance to Boardwalk," Deborah Kolben, NY Daily News, May 4, 2005
Photos shot in May 2005. Text written June 24, 2005.
Related…
CONEY ISLAND IN WINTER
CONEY ON MY MIND
CONEY ISLAND's ALLEYS
FORGOTTEN TOUR 3: CONEY ISLAND – SEA GATE
FORGOTTENTOUR 10: CONEY ISLAND
SHIFTING WHITE SANDS
TO GRAVESEND AND BEYOND
MERMAID PARADE 2000
MERMAID PARADE 2001
MERMAID PARADE 2002
MERMAID PARADE 2003
MERMAID PARADE 2004
MERMAID PARADE 2005