Open House New York is a once-a-year extravaganza, a public celebration of architecture and design in New York City. Approximately one hundred different locales, many of which would never ordinarily allow your webmaster to darken their doors (if they knew what's good for them), magnanimously throw open their doors to any and all comers, absolutely free of charge for one weekend in October.
Unfortunately, 100-plus sites cannot be seen in one weekend, and infuriatingly, most sites are open either the Saturday or Sunday, and not both. Much scrambling and thick soled shoes are in order, as well as an unlimited Metrocard and a keen understanding of the NYC subway system, which your webmaster does not always possess.
The event is growing, with many more locations this year than in 2004, and judging from the crowds at some of the venues, a smashing success, despite miserable weather and subway reroutes.
In 2004, I gave OHNY locales ratings, A through F. My ratings were based on a) a site's interest (from a FNY POV), and b) its attitude toward guests.
Tenri Cultural Institute of New York
43A West 13th Street
Tenri is a cultural center and art gallery promoting the study of Japanese language, art and culture and is relatively new: it was constructed by Marble Fairbanks Architects in 2000. In October 2005 it was showing the works of Pratt Institute professor Frank Lind, who specializes in beautiful seascapes, though your webmaster was more attracted to the diaphanous outfits on his heroines.
And, who knew Ben Hogan was big in Japan?
FNY rating: B
Arnhold Hall at the New School
55 West 13th Street
On Sunday The New School opened up the small Arnhold Gallery, which in October 2005 was featuring murals by Sol LeWitt and silhouette art by Kara Walker. The school also opened its ultramodern Tishman Auditorium on Saturday.
FNY rating: B minus
Union Square Ballroom
201 Park Avenue South
The building was originally headquarters of Germania Life Insurance Company, founded by German immigrants, and boasted an early version of neon signage on the roof. The name became a liability when WWI broke out, and it was renamed Guardian Life Insurance. The "W Union Square" sign is a very close reproduction in style of the old sign.
The ballroom, formerly a bank hall, doubles as a meeting room. One of the businesspeople will have to do with a few less Skittles, since your webmaster grabbed some in the glass at one of the seats.
There are still stylized GLIC's on the entablatures from the Germania Life Insurance Company days.
The clock wasn't running but amazingly, the rotary phone has a dial tone! At W New York, bathrooms are called WCs.
FNY rating: A
Washington Irving High School
40 Irving Place
No stranger to its hundreds of students and faculty, this was the first high school featured in OHNY's lineup. The former all-girls' school was designed in 1908 by Superintendent C.B. J Snyder and features beautiful oak panelling in the lobby and a series of murals, one 1915 series in the lobby by Barry Faulkner, a gift to the city by the Municipal Arts Society depicting scenes from early Manhattan; another from the same year on the back wall of the auditorium by illustrator Robert Knight Ryland depicting Dutch and Indians trading; a 1932 series in the front of the auditorium of female figures resembling the Greek Muses by J. Mortimer Lichtenauer; and a 1932 series on the staircases depicting old and new Manhattan by Salvatore Lascari.
I was privileged to attend a similar architectural marvel, Cathedral Prep in Brooklyn, now condominiums. Irving High was built in the same era and contains many surprises and links to the past.
The Faulkner Murals
Henry Hudson Landing in Manhattan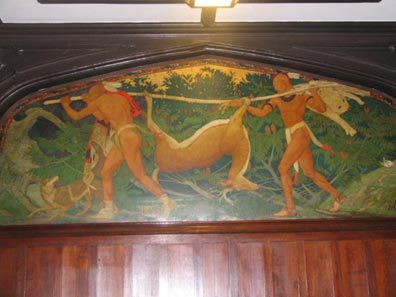 Indian Hunters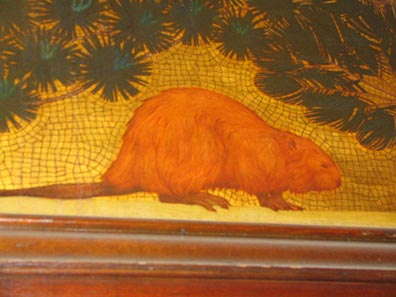 detail, Trees and Small Animals Native to Manhattan
Dutch Pioneer Women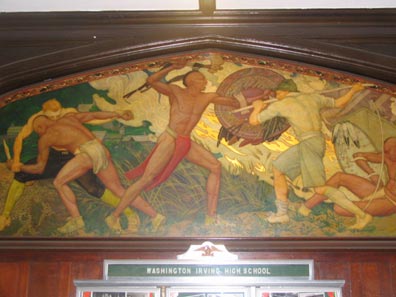 Skirmish Between Dutch Settlers and Indians
Irving High Auditorium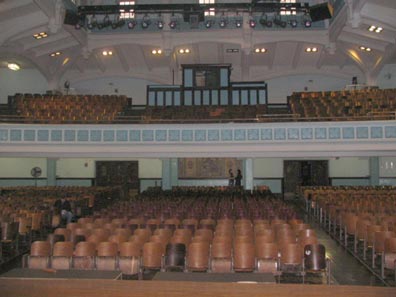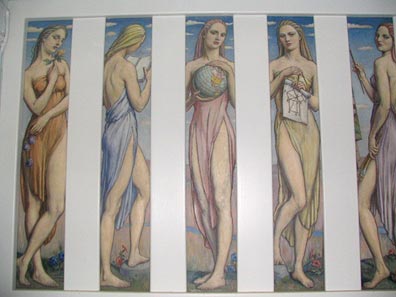 The auditorium still has wood seats,skylights and its 1932 mural work. The stage is meticulously polished.
Lobby
The oak paneled lobby is rich in detail, including a Dutch caravel on the grillwork.
If you can imagine it, early scenes (1914) from Irving High depict girls sewing around this fireplace, which worked in those days! The plaster bas-relief shows three women, one reading a book (presumably one of Washington Irving's since the writing is a quote from The Legend of Sleepy Hollow).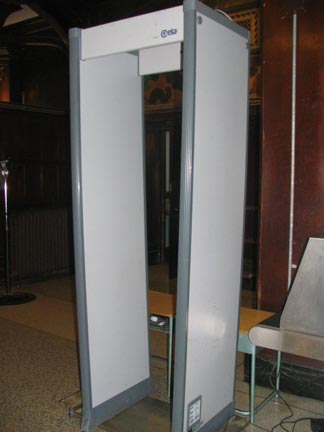 From a fireplace (1914) to a metal detector (2005),necessary in today's schools. The staircase is still protected by decorative metal and glasswork.
Stairwells feature Lescari's murals of a New Amsterdam windmill and Wall Street as it appeared in 1932. Most of the buildings shown are still there.
FNY rating: A plus
Ernest Flagg Rectory
232 East 11 Street
Though the interior was destroyed by a 1988 fire it was rebuilt 10 years later and the rectory now serves as the Neighborhood Preservation Center. It's open daily and has a library and research resources for NYC's neighborhoods.
FNY Rating: A minus
Clodagh Design
670 Broadway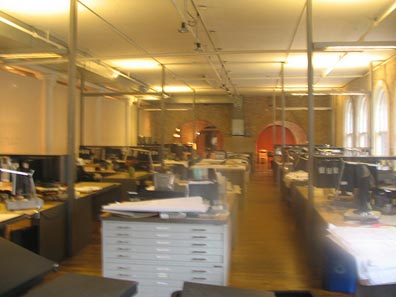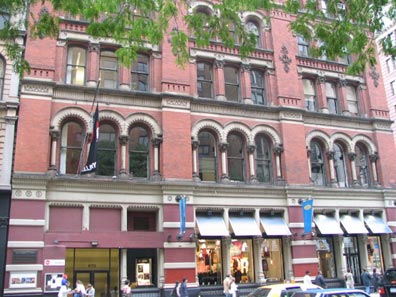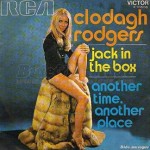 Clodagh Design, a high-end architecural firm, is based in Brooks Brothers' former Broadway and Bond Street store designed by George Harney in 1873. The office has retained the building's original stone arches. The OHNY catalog claims the loft was designed along feng shui principles.
Unfortunately I don't have photos of the exhibition area. The compere-ess claimed the floor was off limits to photographers, even the public area! If you're going to open your space for Open House New York, a sure fire way to get an indifferent review is to bar it from photography.
Might the firm be named for 60s Irish pop singer Clodagh Rodgers? She went nowhere in the States, but her songs were parodied by Monty Python, which is how I know about her.
FNY rating: D
Center for Architecture (OHNY Welcome Center)
536 LaGuardia Place
This public space for exhibitions and discussion on architecture was commissioned by the American Institute of Architects, the organization that publishes city architectural guides, including the AIA Guide for New York City, a bible for anyone with an interest in NYC's infrastructure. The building was designed by Andrew Berman in 2003. The OHNY Guide promised a look at one of the six geothermal heating and cooling systems in NYC, with wells drilled down to 1260 feet below ground. Unfortunately, this was impossible, as on Sunday afternoon, the downstairs area was closed, as was the geothermal system. On this day, there was an exhibit on new public housing AIA is designing, and the Center has an excellent library. I was detained for 10 minutes by a coffee table book on the work of occasional Forgotten fan Alexis Rockman, whose amusing and exceedingly strange art reminds us what a crazy and outlandish place this planet is … by virtue of its possessing life.
FNY rating: B minus (points off for not delivering on the geothermal unit)
Scandinavia House
58 Park Avenue
Scandinavia House, celebrating the countries of Denmark, Norway, Sweden, Finland and Iceland, was built by Polshek Partnership in 2000 and is a new intrusion on staid Park Avenue. It presents concerts, readings, symposia, films, language lessons in Danish, Norwegian and Swedish, and historical exhibitions in an ultramodern setting. It is NYC's home base of the American Scandinavian Foundation. Meatballs are available, as well.
Until mid-November (2005) the House is celebrating the 100th birthday of Greta Garbo with an exhibit of photos from her own collection, by some of the world's great photographers of the early 20th Century: and what a subject. (It is a cliché, and innacurate besides, to call Garbo reclusive; she zealously guarded her privacy, but attempted without success to get back into the movie biz after World War II, as the exhibit attested.)
FNY rating: B plus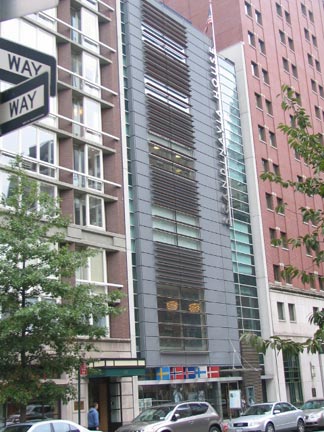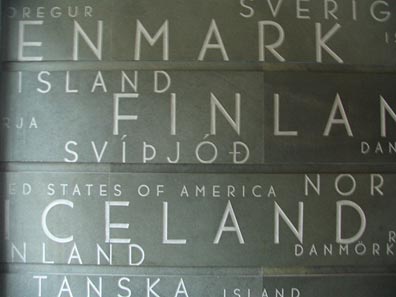 As a typography fan, I'm pleased that the decor and much of the House's printed material is done in this much-overlooked font (familiar to me from old Hagstrom maps; its name escapes me: it seems to be Bernhard Gothic, or something quite similar. Font mavens help me out!)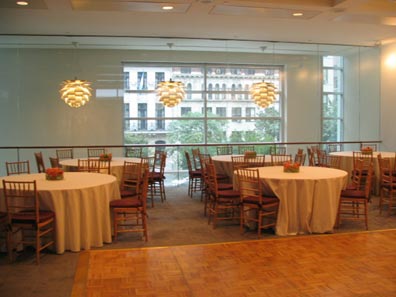 Volvo Hall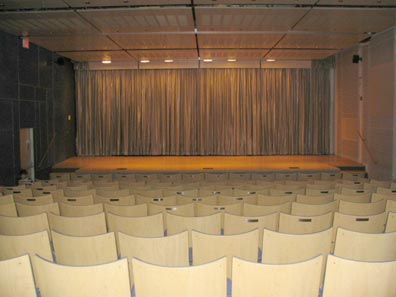 Victor Borge Hall, named for the pianist, comedian and Merv Griffin guest.
This page was photographed October 9 and was completed on October 16, 2005.