Forgotten Fans wave with Minerva
In what was undoubtedly the best weather ever for a ForgottenTour (sunny and 68) forty Forgotten fans (and one heckler!) converged on Brooklyn's Green-Wood cemetery, a peaceful respite since 1838 as one of the first 'rural cemteries' or burial parks in America. Previously burials had been done in churches or in churchyards, but the rurla cemetery movement actually converted cemeteries into recreational areas. Trolley and elevated railroad lines, all of them gone now, converged on Green-Wood packed with people looking for a way to escape hot, crowded houses and tenements for the cemetery's first 3/4 century. Green-Wood languished in deterioration for several decades, but has now been polished to shiny perfection and is once again open for the throngs who should be visting it, but aren't. Of course, it's far more somber than a park. But as a 2-3 hour walk will reveal, Green-Wood rivals Prospect and Central Park for sheer beauty. Where else will you meet statesmen and fools, criminals and philanthropists. And they all get along.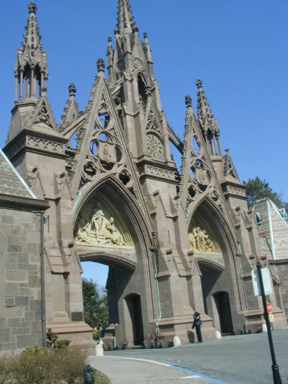 The cemetery's massive Gothic Revival front gatehouse, with its triple towers, was designed by Richard Upjohn in the late 1850s and built between 1861 and 1863 with red sandstone carried from Belleville, NJ. It is commonly known as brownstone and was used earlier by Upjohn when Manhattan's Trinity Church was built in 1846, and subsequently in row upon row of attached homes in Brooklyn and Queens. Upjohn also designed the endangered St. Savior's Church in Maspeth, Queens.
Monk parrots have colonized the towers in the last few years.
We're fortunate that the cemetery's chapel is once again ready to accept worshipers. It was closed from the early 1980s until around 2000 from lack of demand for services. It was built by the firm of Warren and Wetmore (who built Grand Central Terminal) and was finished in 1911. It is a reduced version of Christopher Wren's Thomas Tower at Christ Church, Oxford UK. Go in and check its sumptuous stained glass. Sal Padula
Louis Bonard (1809-1871), a French immigrant, made a substantial deathbed donation to Henry Bergh, founder of the American Society for the Prevention of Cruelty to Animals. On the north side of the monument, and inscription says: "Mute animals share his compassionate bounty." Steve Garza
The tomb of Albert Parsons (1847-1933) contains references to both his Christian religion and his profession as adventurer and Egyptologist. The figures of Joseph, Mary and the child Jesus appear alongside the Sphinx, Osiris and the sun, representing Ra. This is one of three pyramid-shaped tombs in the cemetery. Steve Garza

When you visit Green-Wood, Woodlawn or other 'rural' cemeteries, a good bet is to take a look into the doorways of many of the tombs and mausoleums. You will often be rewarded with a look at gorgeous stained-glass windows. Steve Garza
Marcus Daly (1841-1900) lived the American dream. He emigrated from Ireland at 15 and by the time he was 18, he was working in the mines in California. On a visit to Montana in 1882 he discovered a massive deposit of copper. Fortuitously Thomas Edison was electrically illuminating the streets of Manhattan that year and required large amounts of copper as a conductor. Nearly overnight Daly was rich; he became the "Copper King of Montana" after acquiring nearly every mine in the state. Though Daly was not closely associated with NYC other than his initial USA visit, he is entombed in Green-Wood…where there be giants. Steve Garza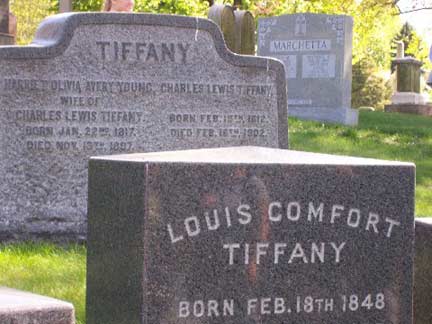 Daly's tomb has the only example of stained glassdesigned by the firm headed by Louis Comfort Tiffany (1848-1933). Both Louis and his father, Charles Lewis Tiffany, the famed jewelry and porcelain dealer, are buried in Green-Wood near the Chapel. Sal Padula
Spring and late fall, when the oranges and reds are predominant, are the best times to visit the Cemetery. Many of the embossed street signs go back many decades.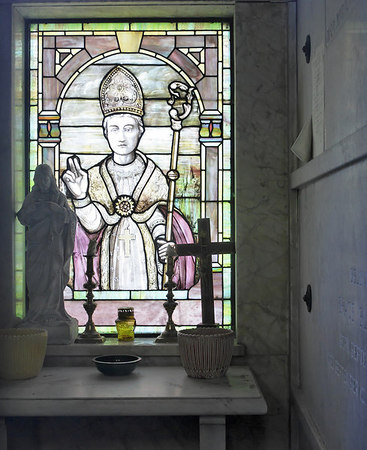 ABOVE: a rather startled-looking bishop is another example of the stained glass designs that await mauseoleum peekers. He wasn't expecting company… Steve Garza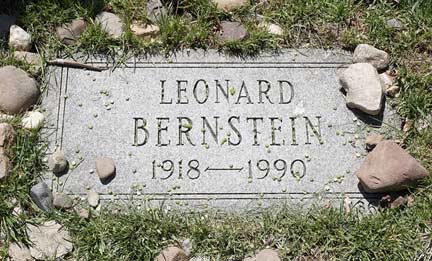 The Jewish custom of placing stones at a gravesite is becoming mainstream.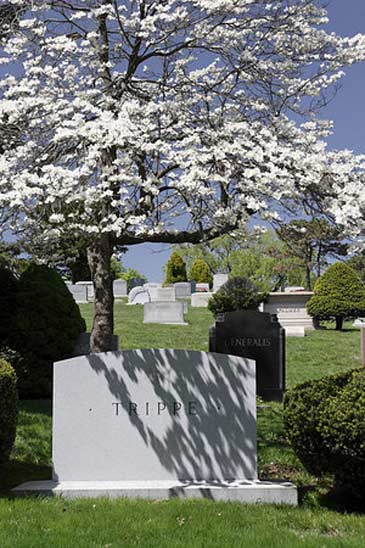 ABOVE: Trippe the Flight Fantastic…Juan Trippe (1899-1981), founder of Pan Am. Steve Garza

Elias Howe (1819-1867) invented the sewing machine, with his stone featuring a bust by Charles Calverley. Behind Howe lies his dog, Fannie. Steve Garza

ABOVE: The Soldiers' Monument, erected in 1869, 4 years after the Civil War was won, commemorates the 148,000 soldiers from New York who fought it. The soldier above holds a rammer, while 3 others carry an ax, a rifle and a sword.
RIGHT: Minerva and the Altar of Liberty was commissioned by ink king Charles Higgins; his company is still going strong and his old mansion still stands on 9th Street between 4th and 5th Avenues. The ink factory, as a matter of fact, stand behind it. Higgins also built his tomb behind Minerva. She stands on a high hill, acknowledging the Statue of Liberty, clearly visible through carefully pruned trees. A condo development, however, now threatens the view. Steve Garza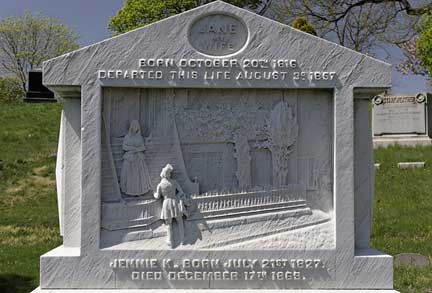 This poignant moument, sculpted by Patrizio Piatti, depicts the last morning in the life of Jane Griffith: August 4, 1857. Her husband Charles is shown saying goodbye to her, while a carriage waits at the right to take him to work. When he returned home, he found her dead, a victim of a heart ailment. Charles visited his wife's grave weekly for the next 25 years until his own death. Steve Garza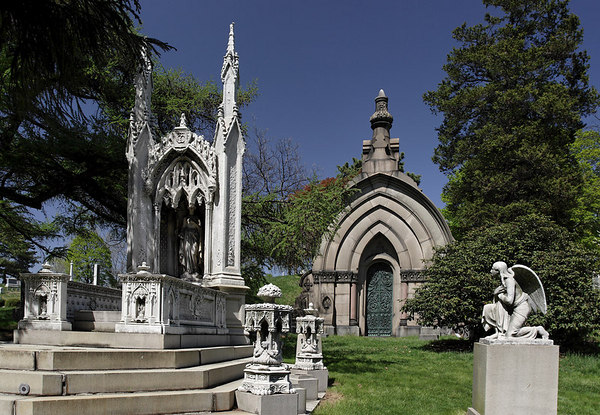 Nearby is the gravesite of Charlotte Canda, whose lfe ended in a carriage accident February 3, 1845. She was 17. Her father built a monument 17 feet high, 17 feet deep, with 17 sculpted rosebuds that was based on a sketch by Charlotte for an aunt's tombstone. Her fiance, Charles Albert Jarett de la Marie, committed suicide and is not buried on the same plot because of Roman Catholic law. His grave can be found a little to the right of the monument. Steve Garza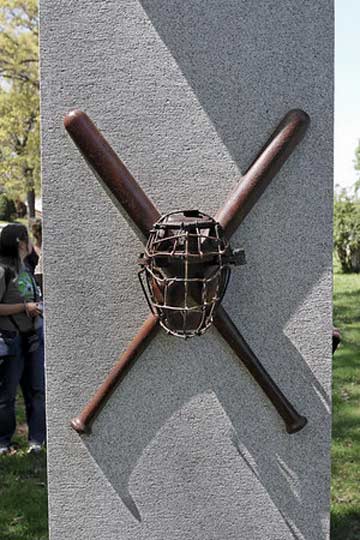 Moving on to something a little more whimsical, here's the unmistakable gravesite of Henry Chadwick (1824-1908) the inventor of the modern scoring system of baseball, assigning numbers for every position, instituting the newspaper box score, and coining some of the sport's more indelible phrases, like "cutoff man," "double play" and "error."
His monument features a polished granite globe painted with baseball seams at the apex, crossed bats and catcher's mask, and even stones carved like bases are at 4 corners of the plot. Steve Garza

The view from what is known as the Pilot's Monument is one of many of downtown Manhattan available in Green-Wood. It is dedicated to harbor pilot Thomas Freeborn, who was killed tryng to guide the John Minturn into New York harbor. The Minturn is depicted on the front of the monument, and you will also find a capstan and the anchors seen here.Steve Garza
DeWitt Clinton (1769-1828), who was elected to the House of Representatives and the Senate from New York State, as well as NY State Governor, was Green-Wood Cemetery's first tourist attraction.
In its early days the Cemetery was struggling as a not for profit and needed publicity. It was arranged through a Clinton descendant to disinter him from his Albany gravesite and transport him to Green-Wood. His grand setting in a grassy circle has been here since 1853. Steve Garza
Green-Wood Cemetery is open every day (unless the weather is inclement, as I found on the one day in January 2006 when it snowed).
SOURCES:
Brooklyn's Green-Wood Cemetery: New York's Buried Treasure, Jeffrey Richman, May 1998
BUY this book at Amazon.COM