On the Queens-Nassau border between I-495 and Belmont Park, Hometown USA and Sodom come together in a haze of auto parts stores and multi-lane SUV speedways.
Queens' communities of Glen Oaks, Floral Park and Bellerose border Nassau County's communities of Lake Success, New Hyde Park…and Floral Park and Bellerose. In other things, though, Queens and Nassau can't agree…the Horace Harding Expressway (I-495) becomes the Long Island Expressway, and the Grand Central Parkway becomes the Northern State Parkway.
Hewlett Street shares the same roadway with Lakeville Road as the latter reaches the NYC line just south of Long Island Jewish Hospital, with the NYC side being Hewlett street and the Nassau side being Lakeville Road; it enters Nassau completely again south of Union Turnpike, and runs south to Jericho Turnpike (which we'll see later) in New Hyde Park.
Hewlett is one of the more celebrated names on Long Island…one of the famed Five Towns is named for the Hewlett family. Yet, its most prominent member, Captain Richard Hewlett, was a Tory who fought with the British side during the Revolution and was forced to relocate to Nova Scotia at the war's end.
Union Turnpike and Lakeville Road/Hewlett Street. At left is a typical NYC octagon-shafted cobra-necked lamppost, while the stoplights are Nassau County issue.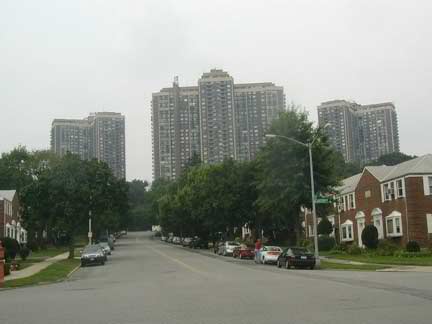 The North Shore Towers, at the city line between the Grand Central Parkway and Long Island Jewish, are on the former site of the Glen Oaks Country Club on land formerly owned by William K. Vanderbilt II of Motor Parkway fame.
The highest point in Queens, elavation-ally speaking, can be found on the North Shore Towers grounds.
271st Street is the highest-numbered street in Queens and indeed in NYC. It runs about 4 blocks from 76th Avenue south to 79th Avenue and Langdale Street.
At Union Turnpike and Lakeville Road, just east of 271st, you will find the beautifully chrome-plated Skyline Diner.
East Williston (named for the Willises, another prominent family in Long Island in the colonial period and after) ought have not much to do with NYC, since it's a couple of towns in from the Queens-Nassau border, but here East Williston Avenue is, running from Little Neck Parkway northeast to Hillside Avenue and Langdale Street. Since Hillside Avenue seems to be a continuation of East Williston Avenue (assuming its direction and angling northeast a little) it's just possible that East Williston Avenue once actually extended all the way to its namesake town.
Hillside Avenue extends east to Route 25 (Jericho Turnpike) in Old Westbury.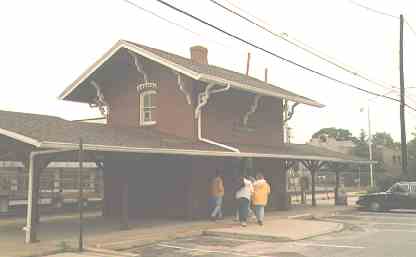 This gives me a chance to mention one of the great Long Island Rail Road travesties in recent years: the razing of the historic (1880s) East Williston station building in 2004. I shot the photo in the late 1990s. At the time it was the third oldest station house in the LIRR system. (Eventually I will be doing a Secrets of the LIRR page, but I'll need a lot of time.)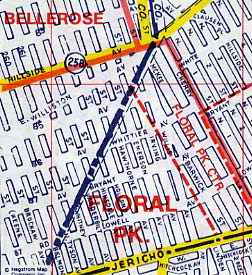 FNY has previously made a point of describing how the Queens-Brooklyn border, formerly a straight line cutting through streets, parks…even homes, was redrawn as a zigzag line down the middle of several streets. No such nicety exists at the Queens-Nassau line in Floral Park on either side of the line…it cleaves through on a straight line, with streets changing from numbers to names mid-block. The line must cut through a few homes… who do they pay taxes to, Queens or Nassau? Anyone know?
I'm told that it depends where the front door is. If the door is in Nassau, it pays Nassau taxes; if in Queens, pays NYC taxes.
The angle of the county/city line creates what is most likely the shortest street in Long Island…
257th Street reaches Jericho Turnpike just barely short of the Nassau County line, which forms a triangle that interstects the northwestern corner of the two streets at an angle. The triangle has a name: Keene Avenue, duly signed by Nassau on a street sign.
Other streets in the area actually have a low curb at the Queens-Nassau line.
Bellerose
Bellerose, just below the Queens-Nassau city/county line as it runs down Jamaica Avenue/Jericho Turnpike, was conceived as a model community by Helen Marsh in 1906, when she purchased 77 acres of gladioli fields, selling her home in Lynn, MA to raise the necessary $155,000. She lived in the first house built in the area in 1910 and then lived in the next 22 houses as they were consecutively built, to assure herself they were built to spec. Marsh also laid out Bellerose's street pattern (three of its main streets form a triangle to lead to the LIRR station, named Bellerose by Marsh in 1911, a name the rest of the town adopted. Bellerose Terrace, now separated from the rest of Bellerose at about 246th Street, was developed separately in the 1920s. The later community of Bellerose in Queens was initiated several years after its namesake, which it attempted to emulate.
Massachusetts Blvd. in Bellerose and its stylized Tudor fire department building. (Note NYC-type fire alarm in front of the building.)
Bellerose Theater, Jericho Turnpike and Braddock Avenue, became a carpet store and apparently a martial arts store (that hasn't opened).
Since I snapped this pix in 2003, the "Jamaica Avenue" sign has come down. In 2005, Jamaica Avenue east of the Cross Island parkway was re-named for Jericho Turnpike, which the south side of the street has always been called, as it is in Nassau County.
There's a continuous roadway from the junction of Broadway, Pennsylvania Avenue and Fulton Street in Brooklyn all the way to Orient Point on Long Island's North Fork. It is called Jamaica Avenue (for the Jameco Indian tribe) to Cross Island Parkway, then Jericho Turnpike as far east as Smithtown, then by Middle Country Road and a variety of other names. Route 25 takes over Jericho Turnpike at Braddock Avenue (and the Bellerose Theater) and runs to Orient Point.
Jericho Turnpike is named for a town through which it passes in mid-Nassau County purchased from the Indians by Quakers in 1692; preacher Elias Hicks was born there: his son-in-law Valentine Hicks was 2nd president of the Long Island Rail Road and founded Hicksville. The turnpike (so named because it was a former toll road, with a long wooden pole, or pike, placed across the road at tollbooths) existed for centuries as a Matinecock Indian trail before Europeans arrived in the 1640s.
Richard H. of Bellerose writes to say:
The Bellerose Business District was responsible for the renaming from Jamaica Ave to Jericho Turnpike. The business district is comprised of the Village of Bellerose and Bellerose Terrace Nassau and Bellerose, or Bellerose Manor, Queens. Yes, there was some discussion of renaming Jericho Turnpike to Jamaica Ave. Nassau communities were asked and declined. Based on our research of old maps at the time, it seems that historically that section of the roadway was named Jericho Turnpike and changed to Jamaica Avenue on the city (north) side sometime after the consolidation of the city in 1898. We also understand that one of the original toll turnpikes was located at or near the intersection of 249th Street.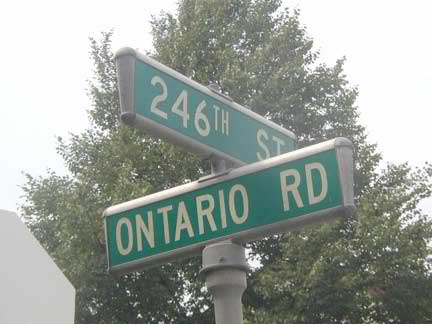 Most of Bellerose and Bellerose Terrace's streets are named for states or Great Lakes. Oddly, though, in a county eager to distance itself from NYC, some of Queens' numbered streets cross the border: 225th & 226th, and an odd jump to 238-246th, incongruously can be found in Bellerose Terrace.
Floral Park
Floral Park takes its name from the flower farms so prevalent in that area following the Civil War; 3 of its main streets are Tulip and Carnation Avenues, and Floral Parkway. The other main road, Plainfield Avenue, is Floral Park's former name. After a period when it was called Hinsdale, Floral Park attained its present name in 1908 after horticulturalist John L. Childs set up a seed business so successful that Floral park's post office was built primarily to handle his mail orders.
Queens' Floral Park takes its name from the Nassau community and is generaly located between Little Neck parkway, Stewart Avenue (city line), Union and Jericho Turnpikes.
GOOGLE MAP: FLORAL PARK, NASSAU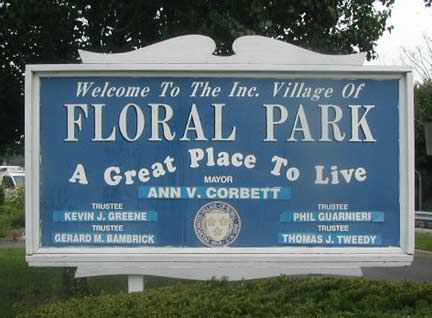 Sign, Jericho Turnpike and Tulip Avenue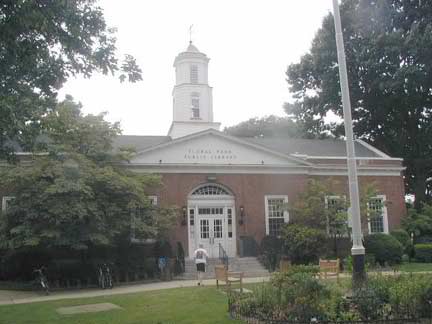 Floral Park public library, built 1964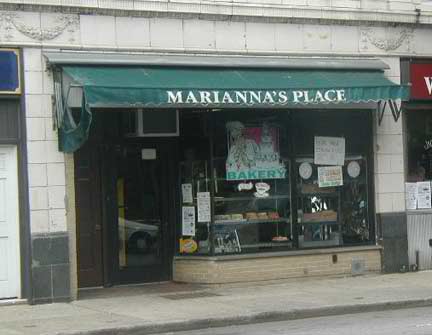 Marianna's, where your webmaster stops for an Italian ice while cycling through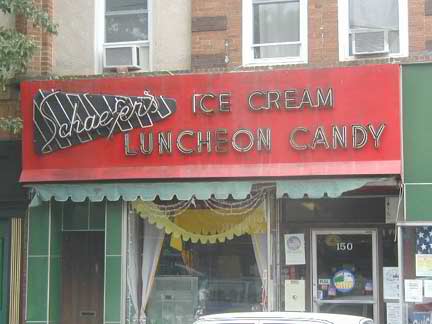 Old school neon sign at Schaefer's Candy Store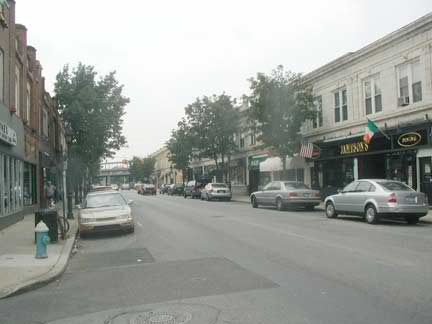 Summer afternoon, Tulip Avenue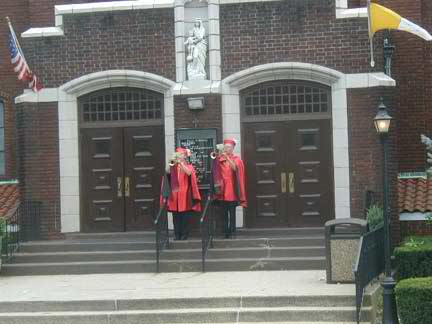 Trumpeters tune up for a wedding at Our Lady of Victory Church
SOURCE:
Hometown Long Island, Newsday 1999
BUY this book at Amazon.COM
BORDERLINE CRAZY: Eastchester, Wakefield, Far Rockaway, Newtown Creek, Brooklyn-Queens City Line, Ridgewood, Rosedale
Most photos this page were taken August 2003 (with a smudged lens, it seems). Page completed May 21, 2006.
erpietri@earthlink.net
©2006 Midnight Fish