CONTINUED FROM GREEN-WOOD HEIGHTS PART 1
5th Avenue
The stretch of Fifth Avenue along Green-Wood cemetery is by far its quietest, sandwiched between its incredibly bustling areas on either end: Park Slope to the north, and Sunset Park and Bay Ridge to the south.
It's hard for any Brooklynite under 70 to envision it now but this view along 5th was unavailable from the 1880s through 1940, because Fifth Avenue was covered by an elevated line in those years. The line began at the old Sands Street terminal at Brooklyn Bridge, snaked its way through downtown, then along 5th to 38th Street, where it abruptly turned west until then going south again to a termnal at 3rd Avenue and Senator Street (where Stedman Square, an open space, is a legacy.) Another branch of the 5th Avenue joined the West end line on New Utrecht Avenue and the Culver Line on McDonald Avenue. It's likely that ridership lessened over the years because the 4th Avenue BMT subway offered express service, and the line was demolished in 1940. Part of incredibly detailed 1939 BMT System map from nycsubway.org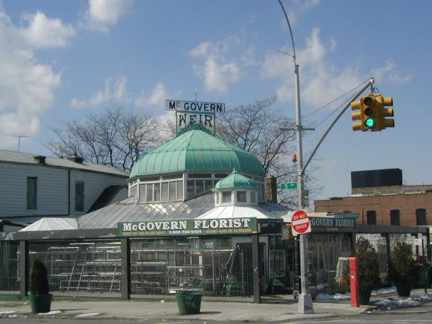 Without a doubt, the handsomest building fronting on 5th Avenue in the Neighborhood with No Name is the McGovern-Weir greenhouse on 25th Street. The florist has been in business since the 1850s (The James Weir Floral Company is located on Montague Street in Brooklyn Heights). In 1853, Yellow Hook was renamed Bay Ridge at Weir's suggestion, since the area's former name, Yellow Hook, reminded many of a yellow fever epidemic.
The greenhouse has been here since the first decade of the 20th Century; according to legend, it was moved here after it was built for the 1904 World's Fair in St. Louis, MO.
Yale Picture Frame (27th Street) and Staplex (28th Street) have been on Fifth at least since I rode past them in high school in the 1970s, and have probably been here long before that. As you'd probably expect Staplex makes automatic electric staplers but also high volume, asbestos & lead air sampling equipment.
Green-Wood Cemetery, seen here at Sylvan Water at 31st Street and 5th Avenue, was instituted in 1838 and opened in 1842. As we see here it retains all the rolling hills its designers found in the area (they were leveled or compromised in surrounding neighborhoods, where there are more even slopes.) The cemetery remains, as ever, one of Brooklyn's most placid regions.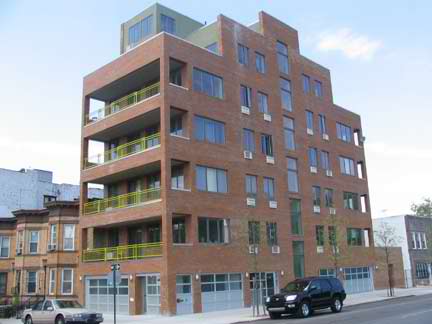 Just one of the non-contextual "Fedders Special" buildings going up in all NYC neighborhoods. This one, a 6-story number, is at 5th Avenue and 33rd Street and will command great views of the cemetery. It's a bit better than the other such buildings; it's easy on the exposed water meters, etc. but it's still pretty nondescript.
The Jackie Gleason MTA bus depot appeared in the mid-1970s, since I saw it built as I rode past on the way to high school; it replaced a shambling old brick structure. The sign approximates the opening animation of the classic Honeymooners 50s TV show, which showed the moon rising over NYC that quickly filled with a grinning caricature of Jackie.
For a show that only ran 39 official episodes, The Honeymooners had a cultural resonance that lasted for years; it'd be hard to imagine the Bunkers, say, without the Kramdens. The show was set on 328 Chauncey Street in Bensonhurst; Brooklyn does have a Chauncey Street, but it's in Bedford-Stuyvesant. A statue of Gleason as Ralph Kramden can be found at the Port Authority Bus Terminal on 8th Avenue and 41st Street in Manhattan.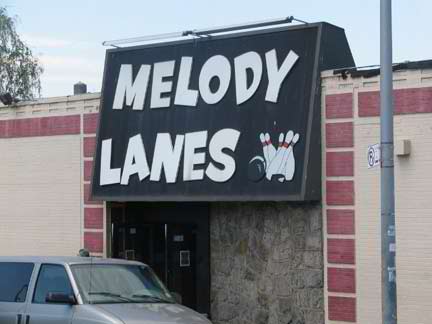 With the closing of Mark Lanes (formerly Leemark Lanes) in Bay Ridge (and also the 1980s closing of Bay Ridge Lanes on 8th Avenue and 64th Street) the only place to bowl in southwest Brooklyn is now Melody Lanes on 37th Street just off 5th Avenue.
Billburg rates area lanes, including Melody
25th Street
At Our Lady of Czestochowa parish school on 25th Street, we find a disarmed gun as well as a disarmed statue, with an anchor tossed in. It's a memorial to parishioners who died in World War I.
Czestochowa is acity of approx. 250,000 in Poland. It is the site of a painting and shrine of the Blessed Virgin Mary that attracts thousands of pilgrims yearly.
There's a fair-sized Polish enclave in this part of Brooklyn, joining Greenpoint, Williamsburg and Maspeth as NYC Polish strongholds.
27th Street
Despite the desolation in evidence along 2nd and 3rd Avenues in the 20s, this section of Brooklyn will surprise you with stretches of wonderful brick attached homes, such as this stretch along 27th Street. It's compromised somewhat by the interruption in the molding along the roofline, as one owner has "modernized" it, but perhaps the molding was damaged and he had no choice.
The attached brick buildings found along the side streets in so many Brooklyn neighborhoods is pretty much my favorite style of NYC architecture. Apparently it's too much to ask, though, that new construction be built this way.
29th Street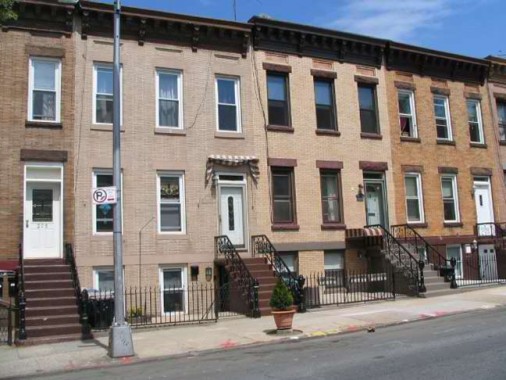 We find a similar stretch of attractive attached homes on 29th Street, these featuring stoops with attractive wrought-iron railings.
33rd Street
On 33rd Street between 4th and 5th Avenues, I found the word "Pomella" written in the concrete, then looked across the street and found one of the buildings was called Pomella Court. What's going on?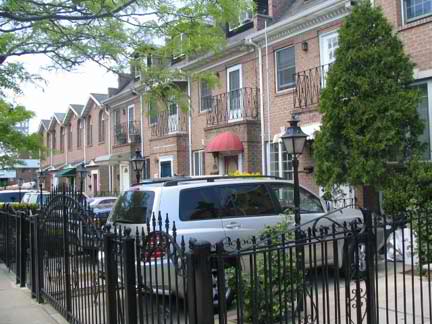 This series of relatively new attached homes can be found on 33rd near Pomella Court. They probably date to the 1970s and at least make some effort at context, with faux gaslamps in the front. Making room for cars is a modern reality the builders of the houses I showed on 27th and 28th Streets didn't have to deal with.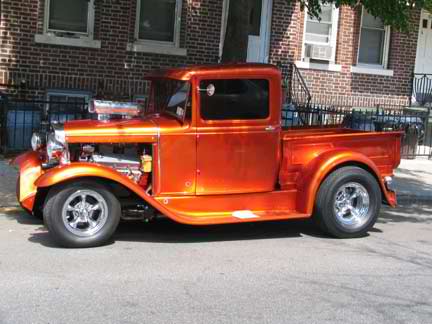 Near 4th Avenue OK, name that car…
By many accounts, 1930 or 31 Ford Model A
erpietri@earthlink.net
©2006 Midnight Fish