I confess. "Green-Wood Heights" is a name concocted by real-estaters stumped about what to call the area on the NW side of Green-Wood Cemetery between Park Slope and Sunset Park. Some even say that the terms refer only to Prospect Avenue south to 20th Street and from 3rd Avenue southeast to about McDonald Avenue.
This, of course, leaves the streets between Gowanus Bay (the inlet that connects Upper New York Bay and the Gowanus Canal) and the cemetery bereft, streets without portfolio, roads without a neighborhood to call their own. Neither Park Slope nor Sunset Park, they originally formed the southern region of the City of Brooklyn; nothing of importance seems to have happened here, and there are no extant landmarks except for the venerable cemetery itself. An 1855 map shows the cemetery (which opened in 1842) and the streets in place, but maps are often drawn by real-estate speculators and streets appear on them years before they are built.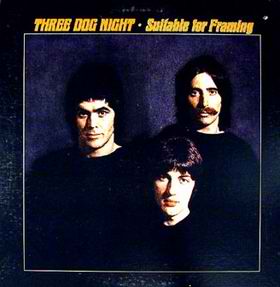 The area has an odd resonance for your webmaster. I rode the B63 5th Avenue bus to school during my high school years, and even before that, when I was a kid, my parents would entertain me by taking me on bus rides on that line and on the B37 3rd Avenue bus. (Yes, though we did go to Coney Island, Palisades Park and Prospect Park, I also liked nothing better than to get on a bus, grab a window seat and watch as everything went past. Still do.) You could say that this area has its own set of engrams that have imprinted themselves on me. I remember a song that was unstoppably making its way through my brain, over and over again, November and December 1971 on the B63 bus, rolling past the cemetery on those clear, freezing mornings. "Just an Old-Fashioned Love Song," 3 Dog Night.
The persistence of memory.
There is actually a major street in Brooklyn that has no name. It's called by two names taken from streets on either end of it, but the city has officially given it no name, since there are no actual addresses on it, yet it's a major route conecting two neighborhoods. I'll let you guess where it is. In the meantime let's explore Brooklyn's Neighborhood Without a Name. BTW if you're a resident of this area and there is a name by which everyone knows it, fire away.
Second Avenue
In its early years, northern Brooklyn's waterside areas were mainly industrial and commercial, with little residential or recreational areas located by the shore. (The towns to the south, New Utrecht and Gravesend, developed seaside recreation, Coney Island, grand hotels) taking advantage of the prevailing southern warmer winds). This led to an unusual situation in Brooklyn, since its first two numbered avenues are given over mainly to industrialization, and on weekends are nearly completely deserted. First Avenue extends only from 39th to 58th Streets, while Second has a small, mostly ignored piece in western Park Slope along the Gowanus Canal and another piece in the Neighborhood With No Name, runing from 29th to 39th (where Sunset Park proper begins. (Compare the high profile Manhattan's 1st and 2nd Avenues have.)
I shot these on a day or driving rain and an aborted Forgotten Tour (that we made up in beautiful weather the following week.) Four hardcore Forgotten mavens showed up and we turned our attention to exploring the back end of the Bush Terminal buildings that dominate the area between about 30th to 50th Streets and between 3rd and 2nd Avenues. On 29th, we made our way past the Brooklyn Metro Detention Center on 29th Street, whose prominent inmates have included Communist revolutionary C. Clark Kissinger.
2nd Avenue runs along the back edge of the Bush Terminal "Industry City" development, built gradually between 1910 and 1922 for industrialist Irving T. Bush, whose statue can be found within a well-guarded area of the complex adjacent to the Cross-Harbor Railroad at 43rd Street. Bush Terminal had a waterfront railroad and 18 deep water piers. Some of the remnants of the railroad run down the center of 2nd Avenue. Many of its buildings are being converted by Industry City Associates into broadband services providers, paving the way for digital broadcasts over the internet and high-speed internet.
Third Avenue
Covered at present by the Gowanus Expressway, the connector between the Verrazano-Narrows Bridge and the Brooklyn Battery Tunnel, Third Avenue exists in perpetual shadow between 18th and 64th Streets. The Expressway was developed in stages by Robert Moses between 1939 and 1964: its first stage, the Gowanus Parkway, was partially built on the pillars of the old Fifth Avenue El (which we'll return to later) which ran on 3rd Avenue from 38th to 65th Streets. It was expanded to an expressway in the late 1950s as part of the Verrazano Bridge construction. As with most Moses' expressway projects it left a huge gash through the neighborhood it was interjected into. Hundreds of buildings were condemned on 3rd Avenue's southern edge, and even today, very few, if any, addresses front on the east side of 3rd, with some older buildings remaining on the west side.
An on-ramp at 3rd Avenue and 18th Streetpreserves the last of the "Whitestone" type 1930s lampposts officially designated as 41T. Note the ziggurat-style shaft designed to mimic NYC's stepped skyscrapers.
Decades of deferred maintenance has left the Gowanus, one of the lengthiest stretches of elevated expressway in the city, in very bad shape.
Steve Anderson reports in NYCRoads.com:
Peter Herman, senior real estate partner at Milbank, Tweed, Hadley and McCloy, wrote the following in the New York Law Journal:
Few people would disagree with the notion that the deterioration needs to be fixed quickly. Indeed, the parallels between the West Side Highway in Manhattan of the early 1970's and the Gowanus Expressway today are uncanny. The West Side Highway then, and the Gowanus now, each were elevated arterial roadways providing vital highway connections close to the waterfront that exceeded 50 years in age.
Both had been pounded during their useful lives by wind, rain, snow, sea air humidity and salt, not to mention vehicular traffic, and were known to be in a deteriorated condition. Will a dump truck filled with construction materials en route to a patch job fall through the Gowanus to the street below as happened on the West Side Highway in 1973?
In 1997, the Regional Plan Association (RPA) released a report paid by the New York City Council recommending the Gowanus Expressway be placed underground, a la the Big Dig that placed Boston's Central Artery underground. Though that project has finally been completed, with the cost overruns, mob involvement and delays that occurred there, could a Big Dig in NYC take less than 30-40 years to complete?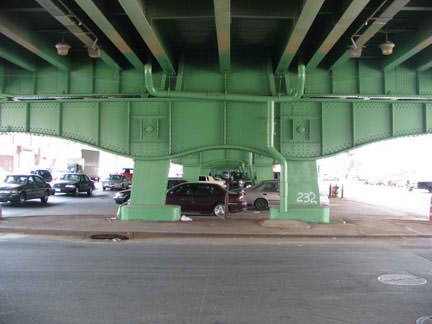 These Gowanus Expressway pillars at 26th Street have a certain flair.
Of 3rd Avenue's remaining pre-Gowanus Expressway buildings, there are few of any note, with occasional exceptions like this bay-windowed beauty. When it was first built, you could sit near the window and gaze up the hill toward Green-Wood Cemetery; these days, if you sit here with the window open, you receive a faceful of exhaust. What could this have been?
Miss Liberty can be seen from the end of 24th Street at 3rd. Looking through a chain link fence protecting Moore & McCormack Shipping. The Beard Street warehouse is at right, and are those the cranes building the new Ikea atop the old Todd Shipyards?
Most streets in the 20s come to a dead end northwest of 3rd Avenue. I couldn't get close enough to this boat to figure out what it is. Red Hook's Revere Sugar silo can be seen on the left.
This part of 3rd Avenue used to be lined with taverns and perhaps a few brothels. This is the last such building standing that could have housed either.
3rd Avenue near 28th features several junk…ah, used auto parts shops. Lots of red, white and blue as well.
In loving memory of the Bee Kee Nee Bar? There, in 1999, Carmine Galante, nephew of the murdered Bonanno mob boss, murdered 18-year old William Manolis for the sin of chatting with Galante's girlfriend. He pled guilty in 2002 and is serving 18 years. FNY hates mobsters.
Veterans of Foreign Wars post #7096. The VFW traces its roots back to 1899 when veterans of the Spanish-American War(1898) and the Philippine-American War (1899-1902) founded local organizations to secure rights and benefits for their service, original chapters were in Ohio, Colorado and Pennsylvania. In 2005 the VFW contributed to building the new Disabled Veterans for Life Memorial in Washington, D.C., expected to open in 2010. (Nearby Post 8903 is at 222 22nd Street!)
Milton Glaser-ish art on 3rd. This seems to be made of dozens of small appliquéd discs.
Fourth Avenue
Fourth Avenue gained its own subway pretty early in its life; in 1915 the Brooklyn leg of the BMT Broadway line (today's R train) was laid beneath it. That line eventually spelled the doom of the Fifth Avenue El. I'm not sure if 4th Avenue has always been wider than its partner avenues, but I'd suspect the subway is at least partially responsible. It acts as an outlet if Gowanus Expressway traffic is too heavy (there's a very small exit from the Gowanus at 38th Street) and sometimes resembles a NASCAR speedway in everything but shape. The section of 4th in the Neighborhood With No Name is a junk foodie's paradise, with KFCs, McDonalds' and Burger Kings parading past all in a row.
P.S. 172 at 30th Street is a "beacon school of excellence" that has pioneered unorthodox methods of teaching math and phonics.
I was attracted to the colorful terra cotta over the door. These symbols appear above the doorways of many NYC public schools; the image on the left is the official seal of NYC and can be found on many city government buildings and official insignia.
Mark Sensen describes the symbol thusly on the Flags of the World website:
On 24 June 1915 (exactly 250 years after transition from Dutch to English government) a new standard design of the city seal (first adopted in 1686) was adopted, described as follows:
Arms: Upon a shield, saltire-wise, the sails of a windmill. Between the sails, in chief a beaver, in base a beaver, and on each flank a flour barrel;
Supporters: Dexter*, a sailor, his right arm bent, and holding in his right hand a plummet**; his left arm bent, his left hand resting on the top of the shield; above his right shoulder a cross-staff. Sinister***, an Indian of Manhattan, his right arm bent, his right hand resting on the top of the shield, his left hand holding the upper end of a bow, the lower end rests on the ground. Shield and supporters resting upon a horizontal laurel branch;
Date: Beneath the horizontal laurel branch the date 1664, being the year of the capture of New Amsterdam by the English and the first use of the name of the City of New York;
Crest: Upon a hemisphere, an American eagle with wings displayed;
Legend: Upon a ribbon encircling the lower half of the design the words "Sigillum Civitatis Novi Eboraci"****
The whole encircled by a laurel wreath.
The windmill and flour barrels stand for early industry; the beaver was taken from the seal of New Netherland; the sailor represent the first European settlers; the Indian the original people; the eagle is taken from the state arms.
Some of the terra cotta has worn away over the years, hence not every element of the seal is present here.
*Dexter: Latin for "right"
**Plummet: A line from which a weight is suspended to determine verticality or depth.
***Sinister: Latin for "left."
****Latin for "seal of the City of New York."
Bush Terminal looms over the attached homes at 4th Avenue and 30th Street; ancient "metal toy" business sign; faded ads on brick building. The right side seems to have been built over the ads.
CONTINUE TO GREEN-WOOD HEIGHTS, PART 2