It's hard to say why, but the definitive history of Flushing has yet to be written. Plenty has been written about Flushing's rich past centuries ago, with its struggles over religious freedom in its very early days.
But very little has been said of what Forgotten NY considers to be the rape of Flushing…the wholesale destruction of its original housing stock in just the last fifty years. As late as the 1960s, Flushing still bore traces of its small town origins, as one family homes contrasted with Victorian mansions on streets once named Lincoln and Amity.
But just as immigration from China, Korea and India revitalized what had become a slumping backwater, that progress had a dear price to pay–just as Flushing's population became more diverse, its housing stock became what has to be the most monolithic, unimaginative and downright boring in New York City, with block after block of apartment buildings that are indistinguishable from each other. The change had begun after World War II, when development begun when the Bronx-Whitestone Bridge was constructed resumed in earnest.
There are still pockets of the old days remaining…but more and more of them succumb to the wrecker's ball every year, including two vintage 1890s Single Style Victorians this very year on Roosevelt Avenue. This Forgotten page will try to preserve in pixels what the NYC Landmarks Preservation Commission is sometimes powerless to preserve in bricks and mortar.
The Going Gets Trough
In 1909, the auto was beginning to make inroads on America's highways. But horsepower was still pretty much the way to get around. That year, Edith Bowdoin presented this concrete horse trough to the ASPCA. Incredibly it is still on Northern Blvd., in the center median at Union Street.
WAYFARING MAP: NORTHERN BLVD.

Flushing's northern boundary, Northern Boulevard, runs along the course of an old Indian trail out to the north fork of Long Island. It's had a wide center mall in Flushing since the turn of the century (the 19th/20th, I mean).
Peter Zaremba, writing in the Time Out Book of New York Walks:
The ill-fated Nathan Hale was said to travel by here on his covert mission during the Revolution, and F. Scott Fitzgerald describes Gatsby and his cortege passing this way making for their Long Island estates.

One of NYC's few Spanish-American War memorials is this flagpole at Main St. and Northern Blvd. The park behind it is named for Daniel Carter Beard, father of the Boy Scouts. The flagpole has since been restored.
Still on Northern Blvd. is the pink marble World War Memorial and behind it, crenelated castle towers of the NY State Armory, dating to 1905.
On Northern Boulevard, turn right on Bowne Street. On a brick apartment building on the north side of the street, with the address being the dashed one that Queens now employs (36-XX) you see a reminder that Bowne Street used to be Bowne Avenue and carried a much shorter house number.
Walk south on Bowne Street and notice the Bowne House at 37th Avenue; it has been here since 1661, when all around it was rolling hills and meadows. The bottom rendering is from 1850 or so. Continue south to Ash Avenue and then take a left. Dorothy, it looks like we're not in Flushing any more.
Ash Avenue's previous incarnation as Ash Street is proven on the sidewalk.
We are now in a Flushing subneighborhood known as Waldheim, but it certainly wasn't named for the controversial UN Secretary-General.
Today, Waldheim stretches between Franklin Avenue on the north, 45th Avenue on the south, Bowne Street on the west and Parsons Boulevard on the east.
The AIA Guide to New York City:
Porches, chimneys, mansards and gambrels; Shingle Style, Queen Anne, and eclectic miscellany. A wonderful small district that, it is said, was preserved by a "conscious preservation" action in the late 1920s after completion of the apartment house at 42-66 Phlox Place–an anticipation of the Landmarks Preservation Commission 40 years later. 
The original Waldheim area went from Sanford Avenue at the north to Rose Street [now Avenue] on the south, Kissena Boulevard on the west to Murray and 156th Street on the east. The Wallace-Appleton Company bought the 10 acres from the estate of Allan MacDonald; thick woods stretching across the site inspired the name Waldheim. The name disappeared for a time after 1916 (after the developer's bankruptcy, and anti-German feelings after the First World War).
Continue east on Beech Avenue (a block south of Ash) left on 147th and right on Ash again, and, after passing under a massive weeping willow tree, you will see this imposing house on your right, at 147-38:
Ash Avenue moves through Flushing in fits and starts. It goes a block, is interrupted for a block, then runs a block more. The section between 147th and 149th Streets, though, looks transplanted from another part of town into Flushing. Its centerpiece is a brilliant white 3-story building at 147-38 with a complicated set of front porches, inclusing a many-windowed circular corner porch. The house was originally the Charles Pearl mansion.
The mansion, probably built in the late 1840s, dates back to eastern Flushing's development as a bedroom community as the Long Island Rail Road was extended east. At the time Flushing was still dominated by the horticultural industry and the land was owned mostly by the Samuel Parsons family and by Nathan Sanford, the Chancellor of New York State. Sanford Avenue was developed in the 1830s-1870s with grand mansions and estates, some of which were summer-only. Charles Pearl built the Italianate house on a 5-acre tract facing today's Sanford Avenue and 149th Street. Beginning in the 1880s Flushing began to be more greatly populated, and by the 1910s the mansion's then-owner, the reverend George Eccles, sold off much of the 5-acre property and moved the house approximately 150 feet to its present location. The buildings developed on the sold-off property are still there for the most part, giving Ash Avenue an aura rather unlike its surrounding blocks.
Though the Eccles family occupied the building for most of the 1930s, it gradually fell into disrepair and was a boarding house for a time. Building contractor Matthew Kabriski, who had worked on the White House during the Truman administration, purchased the home for $12,500 in 1954 and set to work restoring its clapboards and repainted and restored the old house. The interior boasts oak and pine floors, marble sinks, and floor to ceiling windows.
The Flushing Historic Trust, a preservation group, is attempting to find the funding necessary to maintain the building, which is currently endangered, and perhaps turn it into a museum.
WAYFARING MAP: Kabriski Mansion 
At Parsons Blvd. and 37th Avenue, a block away from Kingsland Manor and the Queens Historical Society, there's a building whose owners are, shall we say, somewhat whimsical. You first notice an eagle on the roof corner…
Perhaps Tony Rosenthal got the idea for his Alamo tilted cube at Cooper Square from this place.
The place seems to be a depository for both kitsch and modern art.
Unexpected Flushing
The New York Armenian Home, 137-31 45th Avenue, opened in 1948. "The Armenian Home, on 45th Avenue in Flushing, opened in 1948 and has long housed many [survivors of the April 1915 Turkish massacre] who escaped by playing dead, fleeing or other means. Most of the residents are from families decimated by the genocide, but only a half dozen — all in their 90's — actually escaped it as children.
"The most recent death of a survivor was in August [2004]: Lucy Derderian, age 103, who "only survived the genocide because her mother was smart enough to hide her under the dead bodies during a massacre," said Aghavni Ellian, the home's executive director."–from Corey Kilgannon's NY Times story, April 23, 2005 
The Russian Orthodox Holy Annunciation Church, with its brilliant silver dome, 42-67 147th Street. It was originally St. John's Lutheran Church and dates to the 1890s.
A Vanished Railroad, a Vanished Creek and a Botanical Garden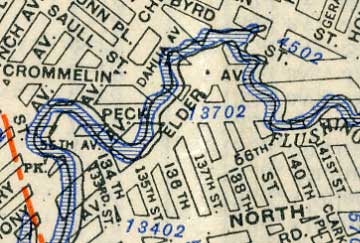 This 1928 Rand McNally map of southwestern Flushing bears only a passing resemblance to today's map. Crommelin and Peck have been severely truncated; Flushing (Ireland Mill) Creek, which once connected the Flushing River to Kissena Lake, has been rerouted underground; and the Queens Botanical Garden now occupies most of the center of the map. Elder and Peck Avenues still twist as they once did along the creek.
Crommelin and Peck Avenues once bordered the Central Railroad of Long Island, built in 1873 by department store magnate Alexander T. Stewart to connect the Flushing and North Side Rail Road (now the Port Washington LIRR branch) to a new development of Stewart's in central Nassau (still Queens County when built) Stewart named Garden City. Few remnants of the CRLI remain–it ran passenger service between Flushing and Garden City for only 6 years before just a short spur to Creedmoor was retained from the 1870s through the 1950s. The only reminders are street layouts and the shape of Kissena Corridor Park.
Crommelin Street, now the northern end of the Queens Botanical Garden, defines the old path of the Central Railroad.
Queens Botanical Garden
The Garden, accessible from gates on Main Street and Elder Avenue and also from a pedestrian ramp from Flushing Meadows-Corona Park over College Point Blvd., got its start (as did the park) at the 1939-40 World's Fair. Smallish compared to the New York Botanical Garden (in the Bronx) Staten Island Botanical Garden (in Snug Harbor) and Brooklyn's Botanic Garden (no -al, thank you) Queens' official garden nonetheless features bee, bird and woodland gardens, an herb garden and pinetum, an arboretum, a wedding garden and seasonal displays of tulips, roses, annuals and mums. It's open six days a week and is free of charge. It has been in its present location, atop the landfilled Flushing Creek, since 1963.
The Gardens remind us of Flushing's long horticultural heritage. In 1735, father and son Robert and William Prince established the first commercial plant nursery in the USA and built it into a thriving business; the then-unpolluted Flushing River enabled the Prince family to ship plants all over the East Coast. The nursery later became the Linnaean Gardens, named for Swedish scientist Carl Linnaeus, who established the Latin nomenclature used to classify plants and animals. The Bloodgood, Parsons, King and Murray families also operated plant nurseries in Flushing in the 1800s. These businesses were gone by the 20th Century as Flushing became more built-up, but the named streets, starting with Ash Avenue and ending with Rose Avenue, recollect Flushing's former horticultural glory, and the arrival of the QBG in 1963 was the final piece.
When Bulova, which is still located in Queens (along the BQE on the border of Astoria and Jackson Heights) presented this sundial to the QBG it still had its gnomon, but by now, well, it's been good to gnomon you.
Flushing River
New York Magazine: "The Flushing River—like the Gowanus Canal, but bigger—sluggishly flows two blocks from Main Street. The polluted waters are being cleansed, and several developers are planning pieces of a once-laughable Flushing River Esplanade flanking the Roosevelt Avenue bridge."
Forgotten New York: in what parallel space-time continuum universe is that gonna happen?
The mighty Flushing, which ought to be what New York Magazine wants it to be, is flanked by the junkyards and auto parts emporiums lining Willets Point Boulevard (many people think Willets Point is where the #7 Shea Stadium stop is; it is actually just west of Fort Totten, and the discrepancy has arisen because the subway stop says "Willets Point" instead of "Willets Point Blvd.") and the thoroughly impersonal College Point Blvd., whose highlight is Western Beef now that the Candlewood Inn strip club was raided and closed a few years ago. Your webmaster was not a patron. Though upscale condos are sprouting on College Point Blvd. and 40th Road, it would take a miracle to create a San Antonio-style Riverwalk on the Flushing.
Views of the Flushing River and downtown Flushing from the Northern Blvd. bridge. Conditions on the pedestrian walk (accessible through two lanes of rushing traffic) have improved drastically from the mid-1990s when a rope separated the interpid walker from a 20-foot drop into the weeds; a chain link fence has been raised.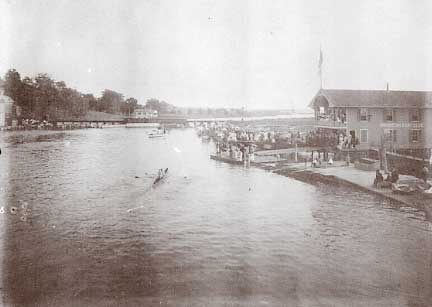 Sculling anyone? Here's the Wahnetah Boat Club, the Flushing River just south of Northern Blvd. (then Bridge Street) in 1890. (Before about 1930 everything was sepia-toned; the world did not turn color until 1966 or so). Can you believe what the Flushing turned into? photo: Flushing in Early Photographs, Allen Bozeman 1978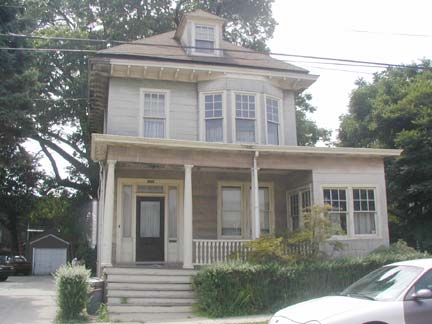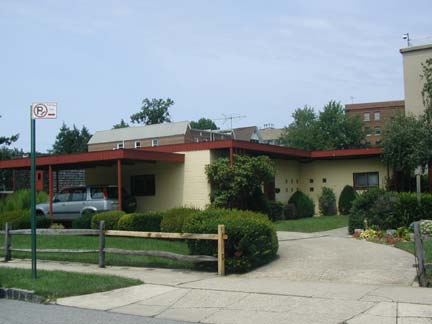 Where it has been allowed to remain, Flushing has a wealth of varied architecture. Here on Bowne Street and Delaware Avenue, near Waldheim (itself a bastion of early Victorian styles gradually succumbing to modernity) we have a frame house with bay windows and Ionic-columned porch…contrast with the 1950s special across the street with the carport in front and timbered fence.
The First Baptist Church, Sanford Avenue and Union Street, isn't actually the "first" First Baptist; the original was on Union Street south of Northern Blvd. When the present structure was built in 1890 the original church, located in the "V" formed by Main Street and Kissena Blvd., served a stint as the town library. (The parish house, above right, is also one of the oldest buildings on Union Street)
The pace of change in Flushing has been so quick in the 20th Century…and especially since the 1960s…that any older building seems ancient. The magnificent Free Synagogue of Flushing, Kissena Boulevard and Sanford Avenue with its Ionic columns and stained-glass windows, has been here "only" since 1929 but seems much older.
Next door to the synagogue, on Sanford Avenue, is a building formerly known as the Hoffman Mansion but is now the Windsor School, established in 1969, serving as a middle, high and graduate school.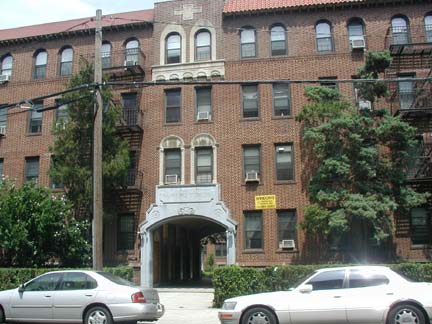 After 1928, when the then-BMT/IRT elevated (now the #7 train) arrived, the area surrounding the station, Roosevelt Avenue and Main Street, gave rise to several beautiful apartment buildings. This is Sanford Arms, on Union Street just south of Sanford. The gorgeous gold panelling lines the passageway to the inner courtyard.
Franklin Avenue
Community activist Paul Graziano:
Franklin Avenue predates Waldheim considerably, with some of the oldest structures left in Flushing. One of those structures is purported to be the Bowne family's coachman's residence, having been built around 1680. It is slightly askew to the street, and shows great age. The others were built between 1840 and 1915 – some are in beautiful condition, others are more worn. All in all, what is left of the block is in fairly good shape. It is worth designating these and a few other structures adjacent to Waldheim in order to create a context in which the estate subdivision was developed, as opposed to, ultimately, consign the whole area to a the fate of what Elliot Willensky would have called a "sea of red-brick forever."
I have a feeling the house on the right is the coachman's house: it's rather smaller than the rest of the Franklin Avenue houses; unfortunately, it's now an aluminum siding special.
The main branch post office in Flushing, with its marvelous marble columns, was opened in 1934. During the week, stop inside for a look at Vincent Aderente's gorgeous murals depicting Flushing throughout the centuries. Since there were lots of uniformed security around, your webmaster was too chicken to actually attempt photography. It's just south of Sanford Avenue on Main Street.
Weeping Beeches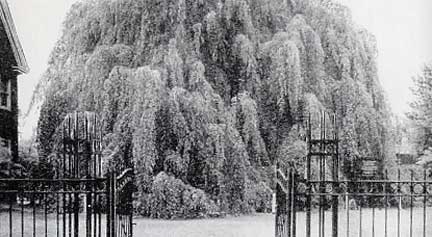 Flushing's original Weeping Beech Tree was brought to Flushing from Belgium by Samuel Bowne Parsons in 1847 and planted on the grounds of the Parsons plant nursery. Kingsland Mansion, now home of the Queens Historical Society, was moved adjacent to the tree in the late 1920s. The tree was declared a living landmark in 1966 and survived until 1997. Cuttings from the original tree ultimately produced the specimens you see not only in the original Weeping Beech's old garden…
Flushing 1880-1935, James Driscoll, Queens Historical Society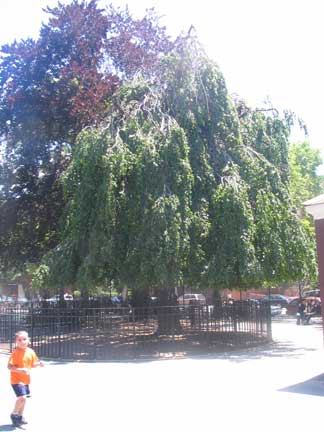 …but in the Bowne Playground on Sanford Avenue and Union Street…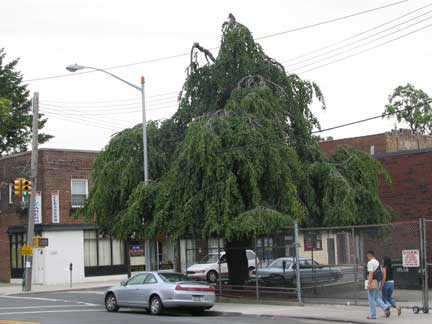 …and also in an auto customizing shop on Sanford Avenue and 162nd Street…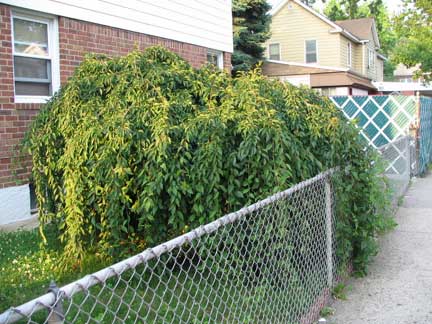 There are a couple of little onesin a yard at 161st and 43rd Avenue, a couple of blocks from chez webmaster.
It's likely they all descend from that long-ago 1847 import from Belgium.
The Man with the Horn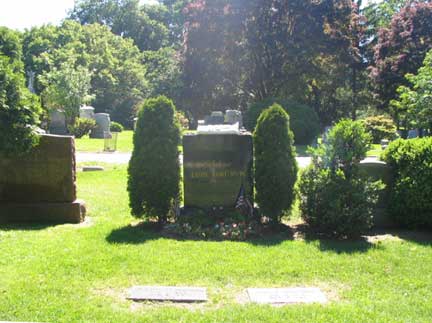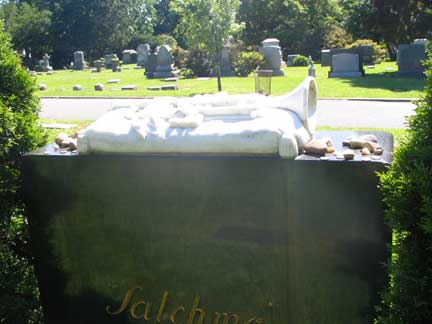 Louis Armstrong (1900-1971) is buried not in his native Louisiana but in Flushing Cemetery, not very far from Corona, where he made his home with his wife Lucille from 1943 until his death.
The cemetery's main gate is located on Pidgeon Meadow Road and 46th Avenue. It's open to the public most days. Besides Louis, Dizzy Gillespie (1917-1993), the great jazz trumpeter, saxophonist Johnny "Rabbit" Hodges (1906-1970), financier Bernard Baruch (1870-1965), Vincent Sardi (1885-1969), founder of Sardi's, the prominent showbiz eatery, and the charismatic minister/politician Adam Clayton Powell Senior (1865-1953) are here as well. Flushing Cemetery has been here since 1853.
One for the Good Guys
A Victorian-era residence, the kind that have long been displaced in Flushing by boring, monolithic apartments and blond brick two-family homes (you know the type…concrete driveways and prominent water meters) has been preserved as a museum.

One of the rare survivors, a small, two-story house at 149-19 38th Avenue painted pink and white, has not only been allowed to stand but has been restored to full Victorian-era glory.
It begins with its resident for 69 years, Betty Voelker-Orth, who was born in the house in 1926 and lived there until 1995, when she died from complications from an automobile accident. In her will, Mrs. Voelker-Orth, an English literature teacher, nature lover and birdwatcher, had left her house to the Queens Historical Society, the Queens Botanical Society and the Audubon Society with the proviso that it be converted into a museum, bird sanctuary and Victorian garden, a specific type of garden employing colorful tropical plants in season, along with ornamental elements such as urns, benches, gazebos and statuary. Mrs. Voelker-Orth left a good part of her fortune, which amounted to millions, to the prospective museum as well.

Completed in 2001, the museum stands as both a testament to Flushing's old Victorian history and as a small nature retreat. You may contact the museum at 718-359-6227.
You won't find a greater concentration of building signs and ads than in Flushing's Korean section, concentrated on Union Street north and south of Northern Blvd.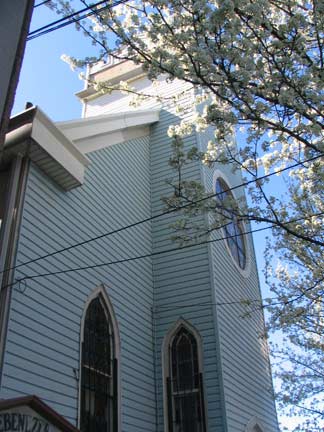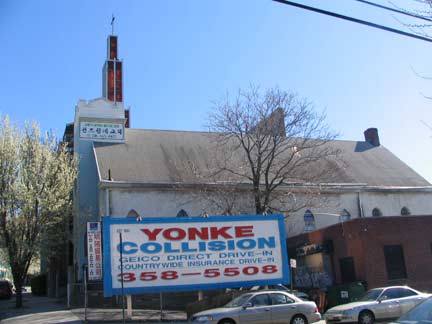 Ebenezer Missionary Baptist Church, Prince Street between 36th Avenue and 36th Road, is one of the oldest African American churches in New York City.
Kissena Park, a large 234-acre tract bounded by Kissena Boulevard, Oak Avenue, 164th Street and Booth Memorial Avenue, is one-half "regular" city park with walkways and playgrounds, and half "natural" with bridle paths and heavily wooded areas where you shouldn't be too surprised to see pheasants and rabbits darting about. It was developed gradually in the early years of the 20th Century (officially opening in 1910), with NYC slowly acquiring territory from private owners and police department property. Kissena Lake was once fed by streams, some of which emanated from the Flushing River, but it was cut off by the Works Progress Administration in 1942 and placed in a concrete retainer.
It is periodically cleaned of algae buildup and is stocked with fish that support herons, egrets, cormorants and even snapping turtles. "Kissena" is thought to be a Chippewa Indian term meaning "it is cold"; though the Chippewa lived in Michigan, 19th-century horticulturalist Samuel Parsons, whose tree grove is in the park at Rose Avenue and Parsons Blvd. probably named it. It is also home to New York City's only velodrome.
Sanford Avenue
Sanford Avenue extends throughout the length of Flushing, from a maze of chop shops near the Home Depot west of College Point Blvd. all the way east to Northern Boulevard at the Auburndale border. It is named for Nathan Sanford (1777-1838), a United States Senator from NY from 1815-1821 and from 1826-1831. He lived in Flushing for many years and built a large estate in 1836 that served as an asylum for the mentally ill after his death in 1838. The estate is now where the picaresque and endangered Waldheim enclave is now.
Warren G. Harding Houses, Sanford Avenue and Kissena Blvd., were built in the early 1920s shortly after the death of President Warren Gamaliel Harding (1865-1923). It's likely the houses were named before the many scandals of his administration were uncovered, and today the name no longer appears on the exterior. A bust of Harding was placed on the triangle of green on the corner; it has long disappeared, and even the big trees that grew up next to the pedestal are long gone. The bust wound up at a museum in Ohio, Harding's home state.
By 2012, new housing had been built on the grassy plot.
The Sanford Hotel, next to Harding Houses, opened around the same time. It was never a luxury hotel, but did host wedding receptions in its heyday in the 1930s and 1940s. It is currently a welfare hotel.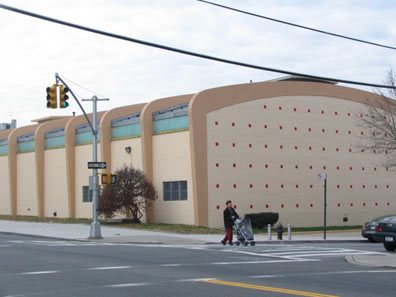 Daniel Carter Beard, founder of the Boy Scouts, has a pedestrian plaza in the Northern Blvd. median named for him, as well as a junior high school at Sanford and 147th Street. Beard, a longtime Flushing resident, feared the urbanization that would ensue when the IRT/BMT subway reached Flushing in 1928, and fled upstate when it did.
The school, built in 1959, was recently given a more flattering paint job, it was institutional green for many years.
Flushing 1900
A walk down Sanford Avenue reveals a handful of colorful, fanciful Victorian-era houses that remind you that the entire neighborhood was once filled with them.
Your webmaster has long admired this blue beauty at Sanford Avenue and 149th Place.
The forces of change in Flushing are relentless. A modern-day fraud has recently been built next to it, and clearly, the Blue Beauty's days are narrowly numbered.
Just across the street, Beth-el Presbyterian Church offers an example of how some of these mansions can be preserved, by becoming houses of worship.
Kissena North
The series of streets named for Flushing's former plant nurseries are in alphabetical order from A to R and while several well-known plants, Cherry and Rose, are present and accounted for, there are also some lesser-known ones there too, like Negundo, Franconia (45th Avenue's old name) and Laburnum Avenue (above). Oddly, the laburnum is a poisonous garden plant and has to be handled carefully.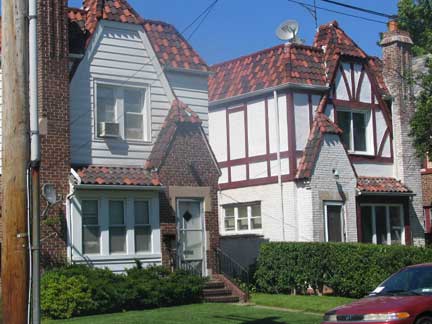 And while there are some gorgeous houses like these Tudors on Laburnum Avenue…
…the ugly head of the mid-2000 decade is raising, as well.
Queensboro Hill
There's a small Flushing enclave cut off from the rest of the area by the Long Island Expressway, Cedar Grove Cemetery, and Queens College…which is pretty much the way its residents like it.
The Unisphere seems to rise here like a second moon.
While Queensboro Hill seems to have an older housing stock in spots, like on 136th Street…
…much of the housing seems to exhibit a 50s or 60s vibe. These homes avoid repetition and blandness by varying pastel coloration. White, light blue, pink etc.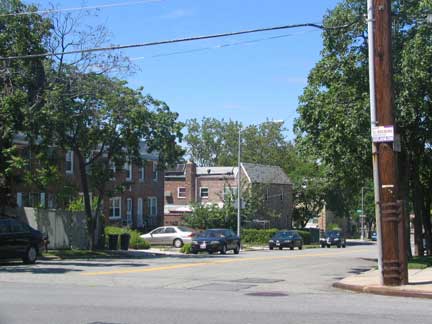 According to legend, a young folk singer from Hibbing, Minnesota briefly lived here on 150th Street near Reeves Avenue shortly after arriving in New York in the early 1960s.
Kissena Blvd. north of the Long Island Expressway. Sometimes, Forgotten NY is so easy, a caveman could do it.
Some say a caveman already does it!
Sources:
Peter Zaremba is one of those two-career kind of guys. For over 20 years he has been the lead shouter of the NYC band The Fleshtones, and his excellent essay about the remains of Flushing of his youth is contained in the Time Out New York Book of New York Walks. BUY this book at Amazon.COM
Flushing 1880-1935, James Driscoll, Arcadia Press 2005
BUY this book at Amazon.COM
Photos taken summer 2005-spring 2006; page completed June 19, 2006.