As more and more historic treasures and well-designed, well-built businesses and dwellings are destroyed or under the gun, more and more we find that the things that are preserved are there strictly by happenstance. No doubt about it: from the time Minuit swindled the island away from the Weekquaeskeeks (or perhaps the Lenape) New York City has always been about making money and tough s!it about anything else.
Herewith, more ancient advertising, there till the moguls say they won't be anymore.
St. John's Avenue & Utica Avenue, Crown Heights, Brooklyn. Cardinal Realty Company (This sign has to be in excess of 40 years old because the phone number uses the exchange NEvins. Now that same number would be 638-9000).
Home Street & Vyse Avenue, Crotona Park East, Bronx. Originally "groceries" could mean a place where alcohol was sold but I believe its latterday meaning applies here, though this ad is quite old, perhaps as many as 9 decades.
3rd Avenue near 5th Street, Gowanus, Brooklyn. Citroën Autoabandoned the U.S. market sometime during the 1970's, though it still sells a lot of cars in Europe. The French auto maker incorporated in 1919 and introduced front wheel drive with the Traction Avant in 1934. It is now a division of Peugeot. Founder André Citroën's family was Dutch and his surname means "lemon" in Dutch; his family actually were fruit sellers in Amsterdam.
Hillside Avenue & Parsons Blvd., Jamaica, Queens. Crosley TVs were manufactured by Powell Crosley, a man who made cars and at one time owned the Cincinnati Reds baseball team. Their former ballpark, Crosley Field was named for him. Crosley is still in the electronics business.
I had always thought the lettering was painted brickwork, but a zoom reveals that he letters are expertly rendered in yellow-gold paint. The bricks appear to have been repointed in recent years. Perhaps this could have been painted in the 1980s or 1990s for a movie set (as the Seneca Avenue Planters Peanuts ad was forBrighton Beach Memoirs)? Any area old-timers who can confirm this ad has been here since the 1950s, drop me a line. The lettering style looks like the 50s, though…if it were done in the 80s or 90s, there would be telltale touches of modernity. The ad faces away from the sun, so fading would be slow.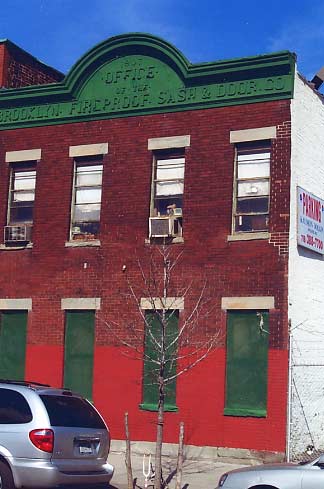 Meeker Avenue near Humboldt, Greenpoint, Brooklyn. "Fireproof," in 1907, likely references asbestos, which has been revealed to be as cancer-inducing as nicotine.
Convent Avenue & West 128th Street, Hamilton Heights, Manhattan. Revealed in 2004 after the demolition of an adjoining structure.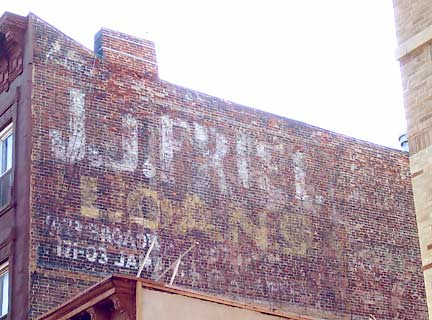 5th Avenue, Park Slope, Brooklyn. J.J. Friel Loans seems to be providing a Jamaica, Queens address. This ad may be a palimpsest (another ad may have been painted over it).
RIGHT: Kellobe Machine Co., Jamaica Avenue near Wyona Street in East New York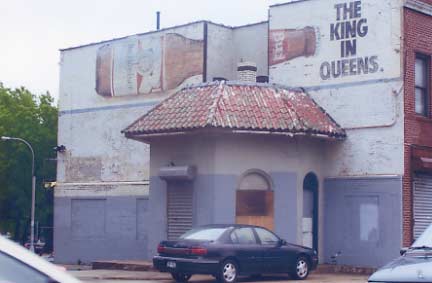 Metropolitan and Cooper Avenues, Middle Village, Queens. The Bud ad isn't all that old but I like the tollbooth-esque structure.
RIGHT: Westchester Avenue near Southern Blvd., Bronx. New York National became the Bank of New York in 1989.

Former Kroll Brothers Cold Storage, East Tremont Avenue, Bronx.
Prime Meats, Flatbush Avenue, Brooklyn. Now used in a popular restaurant.
West 205th Street between 9th & 10th Avenues, Inwood, Manhattan. Joseph Martinson began the company in 1898, selling his blend from a Manhattan pushcart. (It's possible the expression 'cup of joe' comes from his name, though it's likelier that 'joe' is short for 'java.')
One other solution: some sources point to U. S. NavyAdmiral Josephus Daniels who was the secretary of the Navy during the Woodrow Wilson administration in WWI. Daniels reportedly banned alcohol on U.S. Navy ships, making coffee the favorite beverage of naval crews leading to the term "cup of joe". Kudos Forgotten fans Art Audley and Dom Panciarelli.
St. John's Place, Crown Heights, Brooklyn. Mason's probably has nothing to do with the familar "Peaks Mason Mints" sign in Brooklyn Heights, which signified the Mason Candy Company which produced Peaks, Mints, Crows licorice, Dots and other popular candies from he mid-20th century (Mason was acquired by Tootsie Roll in 1972).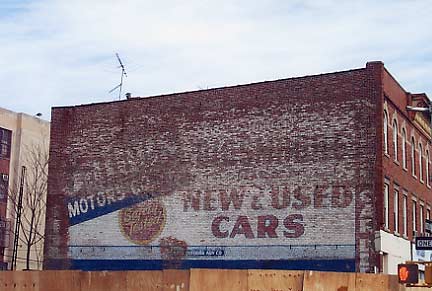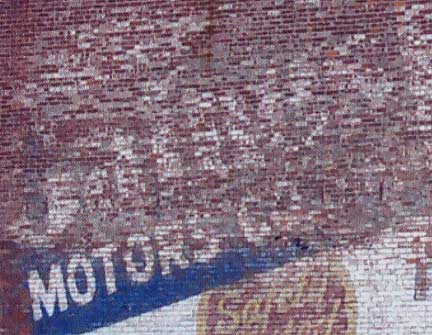 Rogers Avenue and Albemarle Road, Flatbush Avenue. Can't make out the name of the used car dealer, but I can make out the name "Oldsmobile" at the upper right. The Olds name was phased out in 2004; the company had been founded by Ransom Olds in 1897.
Wythe Avenue and North 1 Street, Williamsburg, Brooklyn. The top of this ad, which likely dates to the 1880s or 1890s, is indicative to Brooklyn's lively waterfront shipping; the bottom advertises the old Pearline Soap brand.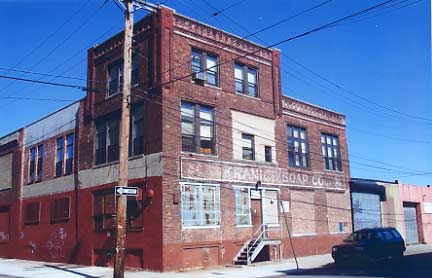 Richards and Delavan Street, Red Hook, Brooklyn. Kranig Soap Co.
East 125 Street and 3rd Avenue, East Harlem, Manhattan. Also a very aged ad, likely 1890-1910 and also likely a palimpsest of two different ads. When it was painted, the advertisers didn't suspect graffiti and barbed wire would become part of the urban tableau. Revealed by the demolition of a corner building.
So who was Rex Cole and why is his refrigerator on so many NYC housing projects? Cole (1887-1967) was originally a lamp manufacturer, then became associated with General Electric in the 1920s and designed white enamel Monitor Top refrigerators. Famed architect Raymond Hood designed a series of buildings in Bay Ridge, Brooklyn, the Grand Concourse, and Northern Blvd. in Flushing for Cole's showrooms that either looked like refrigerators or featured them in the design! Most are still standing but have been altered beyond recognition. Enamel signs proclaiming Cole's GE refrigerators can still be found on a handful of buildings around town.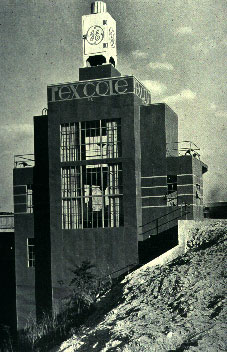 Rex Cole showroom, 4th Avenue and 65th Street, Brooklyn, NY 1930s, crowned by Monitor Top refrigerator
all images ©2006 Gary Fonville