While meandering about desultorily in the rain down Maiden Lane in the eastern Financial District downtown in May 2003 I came across an unmarked street issuing north. I ascertained after about a block's march that I had stumbled on Gold Street, which, to me at the time, embodied all that they tell you about downtown Manhattan's meandering cart paths. Though cars do use it, Gold Street is one of Manhattan's narrowest, and therein lay my fascination.
The slight curves of Gold Street were incorporated in Hagstrom's detailed downtown map (left) which, unfortunately, was discontinued in the late 1980s in favor of a much blander model.
Gold Street from Maiden Lane in 2003. The street isn't named for the color or the precious metal but a flower…
When the Dutch arrived in the early 1600s they found a field in this general area that was filled with yellow celandine flowers, which they called the gouwe and subsequently the new settlement the Gouwenberg. The British, with their penchant for taking Dutch names and re-molding them for English-speaking ears, simply re-named it Golden Hill – which became the site of a battle between the redcoats and patriots in 1770. After a period in which the street was called Rutgers Hill, for patriot and Tammany politician Henry Rutgers (who owned vast land holdings in Manhattan), it eventually reverted to simply Gold Street. Fittingly theFederal Reserve Bank of New York (lots of gold there) is a block away, at 33 Liberty Street.
Before the new high-rise residential 2 Gold Street was completed in 2005, the big vacancy at Gold Street and Maiden Lane pernitted some interesting views of surrounding buildings.
Ghost staircases on Maiden east of Gold; right: rear ends of Pearl Street buildings from the mid-1800s. Note the building on the right: while it has become a parking garage, its ancient exterior has been cleverly preserved, so it doesn't look like a garage: parking garages are routinely ugly, whether in NYC or anywhere else.
#2 Gold Street now occupies this site.
LEFT: A view of 70 Pine Street, formerly the Cities Service Building, now the American International Building (insurance). It has 66 floors and was completed in 1932 by architect Henry Dougherty, making it a contemporary of the Empire State Building. It was the first skyscraper featuring double-deck elevators.
RIGHT: 90 John Street (the Renaissance), built 1931
Quite possibly 90 John, bordering on Gold, had something to do with maritime industries or insurance, since Viking galleons, steam ships, and seahorses can be seen in bas-relief on the exterior.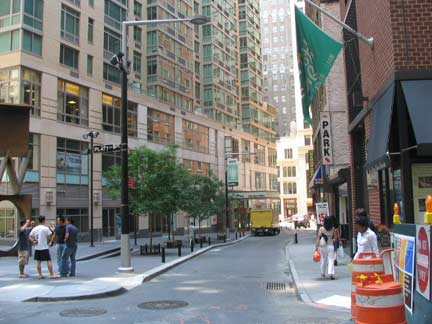 In 2006 the scaffolding and constructionfencing are gone as the 51-story 2 Gold Street by architect Avinash K. Malhotra has been completed, but the secret views of the surrounding buildings are gone too. Unusually, the new davit-style lampposts that populate Broadway from Bowling Green north to City Hall Park are employed here.
Platt Street, which extends 2 blocks from William to Pearl, crosses Gold Street here. It was named in 1834 for merchant Jacob Platt, through whose property it was extended.
2 Gold Street stands on property formerly occupied by the Federal Reserve Bank of New York Annex.
Curving Gold Street between Platt and John Strets in 2003 (above) and 2006.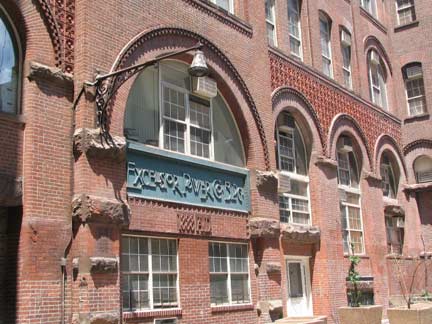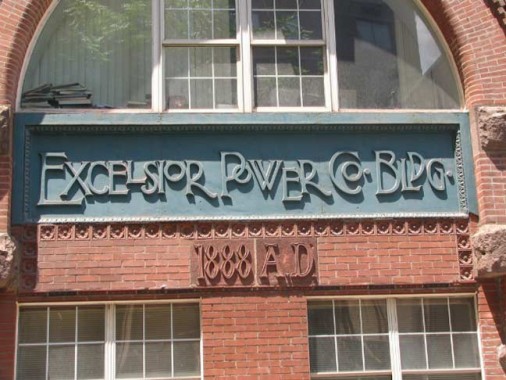 I have snapped the 1888 Excelsior Power Company Building often…it's a Forgotten NY favorite…but never in full sun before! Its exquisite brickwork, arched windows and incredible sign (pressed tin?) with intricate, fanciful lettering shines forth on this often dark, narrow lane. Its cast iron wall lamp still has its 1940s Bell luminaire. It is the oldest remaining NYC powerhouse, built by William Grinnell, and converted to apartments by Max Wechsler in 1979.
The 'newest' alley in the Fulton Fish Market neighborhood is also one of the oldest. In 2001 the section of Ryders Alley facing Gold Street was given back one of its original names, Eden's Alley. It had that name prior to 1842. The lane is apparently named for a friend of Aaron Burr, Medcef Eden, who had a farm further uptown in the vicinity of where Times Square is today, along a stream flowing along Bloomingdale Road (now Broadway).
The intersection of Gold and Fulton Streets is John Delury Senior Plaza, after the longtime labor leader of the Uniformed Sanitationmen's Association.
Nearby Worth Street is also called "Avenue of the Strongest", after the NYC sanitationmen's sobriquet.
Although most NYC street signs are green and white (maroon and white in historic districts) black and white street signs were installed in 2000 by the Alliance for Downtown New York (which runs the Lower Manhattan Business Improvement District) as part of their Streetscape Improvement/Wayfinding Project. This project provided Lower Manhattan with new street signs, signs providing directions to major landmarks and subways, and Heritage Site markers and district maps.
It's the best NYC street sign design (by Pentagram) I've ever seen and I wish they could be used citywide.
7/10/06