Though I lived in Bay Ridge and knew Dyker Heights, Brooklyn well, I had never thought to walk or even cycle 13th Avenue its entire length. It's a compact avenue exactly 50 blocks long between 36th and 86th Streets, and since I'm doing the walk–the-entire-avenue thing lately, I thought 13th would be a lot quicker than, say, Bedford Avenue, which I'm also working on.
I lived in Dyker Heights for about a year, too, but always felt somewhat detached from it. It's a land of two-family houses, sprinkled with the occasional apartment building, and some blocks have those gorgeous attached brownstones you find more frequently in Bay Ridge, Sunset Park or Park Slope. I rented the bottom floor of a two-family house in 1990 for the sum of $700 a month and at the time, that was a bit much for me to afford. (How today's prices of $1400 a month for one bedroom apartments in NYC are considered reasonable escapes me; when salaries are raised in tandem with rents, get back to me and we'll talk about affordability.) I am so naive.
Anyway, Let Us Bring You Back to all those years ago when I lived in Dyker Heights, however briefly, in 1990-1991.
This was my view out the enclosed porch which had a huge picture window. On snowy days it was quite soothing.
And, this is what you saw when you went out the front door and walked a block away. That house was razed soon after I moved.
Dyker Heights was first settled by, most likely, a Dutch family named Van Dyke (who knows, maybe relatives of Dick's) in the 1660s and it remained farmland into the early 1900s. Because of its position on a hill overlooking the Narrows there were several fancy mansions built mostly along 11th Avenue from 1880-1910, but some along the other avenues. See the yellow and green, mansard-roofed beauty on the left side of the right-hand picture? I marvelled at it every time I walked past it. Soon after I left Dyker Heights in 1991, the building was razed in favor of multifamily homes, a sad trend throughout NYC. The neighborhood still has plenty of expensive mansions, most of newer vintage.
Anyway, I was fairly miserable in Dyker Heights. As shallow as it seems my mood from month to month sometimes depends on my financial situation and at the time, the apartment was beyond my means, so I was losing money. In a happier situation it would have been a marvelous place, but with 6 rooms and no one but me there, I felt sort of like Charles Foster Kane at Xanadu after he had driven his wife away. And, subways don't serve Dyker Heights, really; I had to walk about 12 blocks to the nearest station at Ft. Hamilton Parkway and 62nd Street. In the rain, that's unpleasant. Then there was the obligatory break-in burglary since I was on the first floor. So, I left Dyker Heights after a year.
I took the B64 bus a few weeks ago from a "Nostalgia Train" ride to Coney Island, got off, and finally walked an avenue I had biked past or rode a bus on for so many years.
Why did 13th Avenue become the main drag of Dyker Heights? After all, many skyscrapers actually skip the 13th floor. (NYC hasn't shied away from the #13 in any of its numbered street sections.) The trolley line that predated the #1 bus route ran along 13th between Bay Ridge Avenue and 86th Street, and early on, the Brooklyn, Bath Beach and West End Railroad constructed a station at 13th Avenue and 55th Street. The avenue does sit at the bottom of Dyker Heights' heights and is lower than 10th, 11th and 12th Avenues. In any case I have never run into any bad luck there.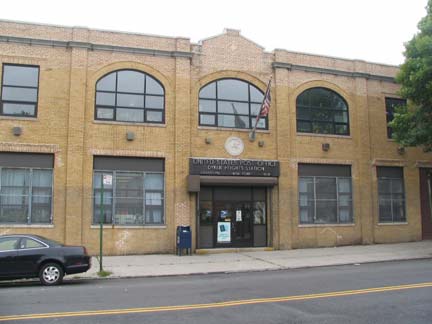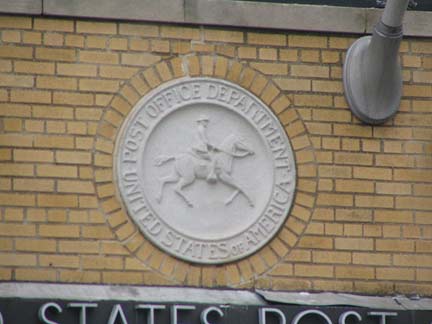 13th Avenue begins at a massive Knights of Columbus hall on 86th Street on a site originally owned by the former Dyker Heights Country Club, which ran the Dyker Heights Golf Course. Dyker Heights has the greatest feel of a small town between the golf course and about 81st Street. My father actually preferred to use this post office at 13th and 83rd, preferring it to the nearer one to where we lived at 4th and 87th. Perhaps he liked this more stylish building, or maybe the lines were just shorter.
Dyker Heights actually has a national shrine, the Church of St. Bernadette on 13th and 83rd Street. The parish originated only in 1935–relatively recently, since the area wasn't built-up on every block until then–and the building itself was constructed in 1937 by architect Henry Murphy.
Closer to 82nd Street you find what the AIA Guide to New York puckishly calls a "kitsch rock-piled shrine" to the titular saint, St. Bernadette Soubirous (1844-1879) who, according to Catholic tradition, spoke to Jesus' mother, the Virgin Mary, seventeen (or eighteen according to the version you read) times in a grotto near her home in Lourdes, France. Bernadette uncovered a spring of running water at Mary's direction and since then, the spring has gained worldwide renown for its healing power. Mary is rendered in stone and terra cotta above church doors.
Much like my father with the post office, I preferred this library at 13th and 82nd to others in Bay Ridge at 4th Avenue and 95th Street and Ridge Blvd. and 73rd Street, probably because it was brand new then. And you can pretty much tell this is 1970s architecture, though the barbed-wire decoration came later on.
Sirico's catering hall is across the street. Couldn't behim, could it? Well, the actor was born in Brooklyn.
At 7010 we find the former Endicott Theatre. This had to be a theatre at one time; what bank building would include a frieze of pan-pipe and tambourine playing fauns?
According to the nonpareil cinematreasures.org:
Situated in the Dyker Heights section of Brooklyn, the theatre was the flagship of the Endicott Circuit, which also had its headquarters in the building. In "the old days", the circuit was never more than minor-league, running only late-run houses in Brooklyn and Queens/Long Island.
In 1945, besides the Endicott, they included the Avon, Garfield, Hollywood, Metro, 16th Street, and Sun Theatres, all in Brooklyn; the Boardwalk in Arverne, the Edgemere in Edgemere, and the New and Rivoli in Rockaway Beach.
St. Bernadette's is only the largest shrine in the neighborhood; Dyker Heights, a heavily Italian Catholic neighborhood, has dozens in houses' front yards, most of them dedicated to Mary.
This one near 67th Street features Francesco Forgione (1887-1968) of Pietrelcina, Italy, who was much better known as Padre Pio ("pious Father") after his ordination to the priesthood in 1910. He served in the Italian medical corps in World War I and much later, in 1956, opened what is regarded as the most efficent hospital in Europe, the Casa Sollievo della Sofferenza, or "Home for Relief of the Suffering."
It is his mystical aspects, however, for which Padre Pio is best known: he was a renowned miracle worker and reputedly carried stigmata, or bleeding in locations corresponding to the crucifixion wounds of Jesus Christ, from 1918 till the end of his life, and believers maintain he could bilocate, or be in two places at the same time.
He was canonized in 2002.
I don't know where Carl Sanfilippo, accountant, is now, but I was attracted to his storefront near 67th Street by its straight-from-the 1940s stenciled lettering and doorway tilework.
On 65th Street between 12th and 13th is the Italian Renaissance Regina Pacis (Queen of Peace) Church, likely the tallest structure in the Bay Ridge-Dyker Heights-Bensonhurst area except for an apartment complex on 65th Street between 3rd and 4th Avenues.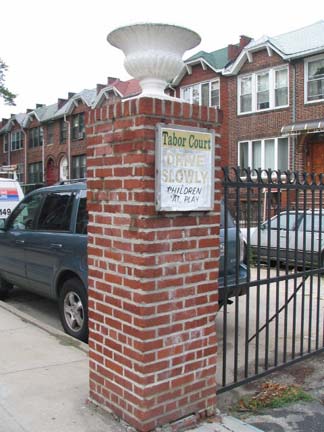 Between 12th and 13th in the middle of the block between 63rd and 62nd Streets we find a private alley called Tabor Court. I have no idea where the name comes from…possibly the developer…but when passing here I think of the 1960s Japanese sci-fi cartoon series, Eighth Man. Why? Eighth Man's name was Tobor, or robot backwards!
You'll never see Eighth Man reruns on the Cartoon Network, by the way…the superhuman android got his strength from taking pills in the form of cigarettes!
When I was out on a cycling tour, I always knew I was nearing home when the spire of Regina Pacis appeared in the distance if I was coming back via Bensonhurst.
Legend has it that when several jeweled crowns at Regina Pacis were discovered missing, mob boss Joseph Profaci, who resided in the area and worshipped at the church, let it be known that the chalice was to be returned and, even though it was, it was a transgression that could not go unpunished and the thief was later strangled.
The Mystery Worshipper worships at Regina Pacis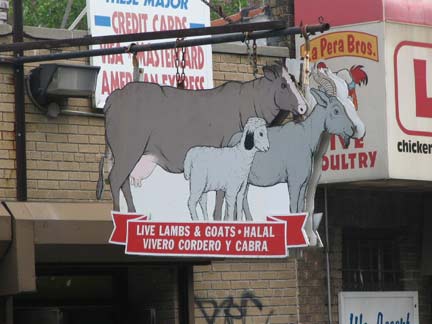 Detouring down 61st Street towards 14th Avenue. Between 62nd and 61st we find the open cut that supports both the BMT Sea Beach subway line, more popularly the N train, and also the old Long Island Rail Road Bay Ridge Branch, now used by the NY and Atlantic RR for freight. It used to be a much more important freight line, apparently, as we see the Daylight Daily Laundry Building and its old hoist. Likely, the day's laundry was lowered by pulley to the street and thence loaded onto freight cars, and vice-versa.
Also on 61st we have the tradition of slaughterhouses along railroad right-of-ways; the are also plenty along the LIRR at Atlantic Avenue.
Sign for former Tabard Piano factory. Till recently the old Tabard neon sign was still here on 61st just off 14th Avenue.
I detoured to 14th Avenue in search of a lamppost relic I was tipped off about by light post maven Bob Mulero, who, if anything, is even more obsessive about them than I am; he has been photographing them since the late 1970s! I found not just one relic, but two…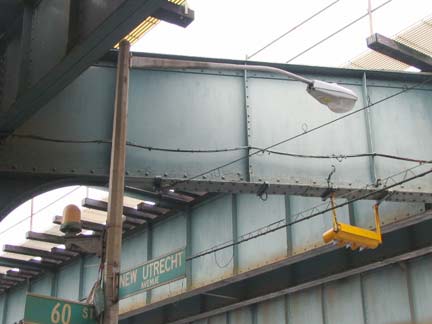 New Utrecht Avenue, and the West End el (the D train) slashes through the street grid at 14th Avenue and 61st Street, and the line transfer with the Sea Beach (N) at a 62nd Street stop. The avenue was laid out as a plank road in the mid-1800s, the Brooklyn, Bath Beach and West End Railroadopened along it in 1864 and was elevated in 1916.
I'm here for the fire alarm light, though. Notice the shape and composition of the shaft; it's a compact, gorgeous design that hasn't been used in sixty years. These orange fire alarm marker lights are being phased out in the early 2000s, which is a shame because they have all kinds of genera and different forms. The one you see here, with its swirl and perhaps acanthus leaves, was specifically designed to show up on cast-iron lamppost shafts that first appeared in the 1910s. In those days, the bulb was made of glass and globe-shaped.
When octagonal-shafted light poles–like this one here–began to take over in 1950 the fire alarm light came to be mounted either at the apex of the shaft post or attached to the top of the street luminaire, which made the lamps appear to be two-headed. Later on, fire alarm lights were mounted on the shafts themselves again, but this time with simple J-shaped mini-masts. That style was domnant until quite recently.
What's quite rare is to find the cast-iron style fire alarm light mast on an octagonal-shafted pole. In Brooklyn, it can only be found here, on the Dyker Heights-Borough Park border; and a couple of occasions each in neighborhoods as far apart as Canarsie and the Coney Island boardwalk. How did it happen? Crews were probably disassembling the old cast irons and found it more expedient to slap the older fire alarm mast on the newer octa-pole.
Dyker Heights-ers use this now-disused fire alarm as a garbage can, but they're disrespecting a nearly 90-year-old piece of NYC history. Public fire alarms have been used in NYC streets since 1887, while this is the oldest design extant — going back to 1912!
The Savarese pastry shop in the background of the fire alarm photo has a very good lemon ice.

Next stop, Blythebourne
At 60th Street is the unofficial Dyker Heights-Borough Park border, but we're specifically in a Borough Park enclave called Blythebourne (derived from dialectical Scottish for "happy home") which sits along 13th and New Utrecht Avenues for the few blocks above and below 55th Street. It was developed along the old Brooklyn, Bath Beach and West End Railroad line in the 1880s by Electus Litchfield, son of Edwin (who built the Gowanus Canal and Litchfield Villa in Prospect Park in the 1850s when he owned much of what became Park Slope). If you squint, you may be able to make out the remnants of old Blythebourne, which was assimilated into Borough Park decades ago. State Senator William Reynolds, owner of the old Brooklyn, Bath Beach and West End Railroad, coined the term "Borough Park" when Blythebourne was expanded beyond its original parameters.
More than anything else, Borough Park benefited from the conversion of the Brooklyn, Bath Beach and West End Railroad to a Brooklyn Rapid Transit el in 1916, with service connecting to Manhattan trains that cost just a nickel. The old farm lots were bought up, a street grid was laid out, and the streets began to bulge with fancy dwellings in the Queen Anne style and later, multifamily apartment buildings that all had uniformed doormen.
The subway's Flushing Line (the #7 train) is famously celebrated as the "International Express" for the cacophony of cultures to be found underneath, but just about any subway line can be an "international express." On 13th Avenue in old Blythebourne, around 56th Street we have Hungarian, Polish and Yiddish. Translations please!
When I was a kid and my parents and I would ride the B16 bus, and as it made its way into the Borough Park area, I'd amuse them no end by trying to pronounce the lettering (some of them look like O's and X's). I just thought they were English letters written fancifully. It wasn't till later that I learned there are plenty of languages that don't use our alphabet.
The building with the Hebrew-style writing is the old Blythebourne post office.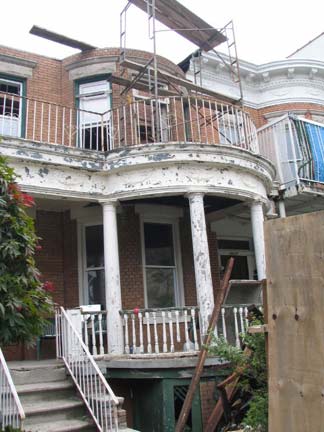 This may have been one of the dwellings built just after Blythebourne was founded in the 1880s. The bowed porch is a nice touch. Hopefully, it won't be razed as so many older Borough Park buildings have been in the last 2 decades.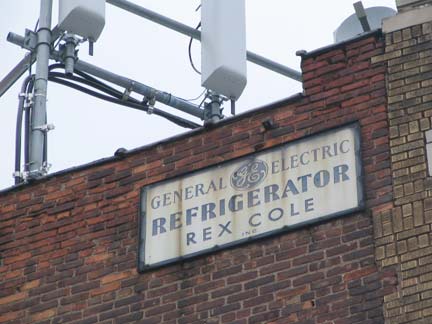 Rex Cole was on the cutting edge of refrigerator technology in the 1920s for GE and, on this 1920s era apartment building a Cole sign appears under some cell phone towers, so he's still on the cutting edge.

I could have shot this picture in 1945, 1955, 1965 or any other 5 thereafter but it's 2006 on New Utrecht Avenue where it meets 13th Avenue.
You can't really mention Borough Park without talking about the Hasidim. It seems as if they have been here forever, since their methods of worship and even general attire do not seem to change from decade to decade. Actually the first Hasidic congregation in Borough Park was established in 1947 by Rabbi Yosef Friedlander; early members consisted of Holocaust survivors. Many sects, or "courts" as they are called, came to Borough Park in the in the following years. The above photo likely shows a family belonging to the Satmar.
An El Detour

I decided to break off for a brief walk down New Utrecht Avenue, which was named for one of Brooklyn's original six towns, New Utrecht…named, in turn, for a city in Holland. You can often find some surprising things under els, like ancient signage or outmoded street lighting.
L.B. Electric still shows its 1940s-era lettered sign for el riders, with a block-lettered 1970s-era sign at street level. Forgotten fans know which one your webmaster likes better.
When the post office moved to its new location at 12th and 51st, just west of the el in the late 1970s, they kept the old Blythbourne designation.
New Utrecht and 52nd Street. This might be a couch potato, but I was reminded of Mr. Hankey, the Christmas Pooh.
…there isn't anything that can't come out of a Forgotten NY page.
I've said I like to walk under els because outmoded lamppost designs can be found underneath. New Utrecht at 54th Street (top) and 50th (next two) demonstrate this. At 54th you find a very rare double-masted pole on a shorter shaft to fit underneath the el, and at 50th, a rarer curved-mast pole. These have been retained under els in some cases because the curved masts can get places that their straighter-masted cousins can't.
Ah, but notice too the "new gumball" luminaire on the short brown poles. These were introduced in the 1980s and already, the gumballs are being phased out in favor of more conventional hardware.
Heart of Borough Park


I was here on Saturday, ordinarily a very busy time along most other shopping districts, but not here, where the population is close to 85-90% Orthodox or Hasidic Jewish. As you will see the avenue is dotted with some very old painted adverising. At the end of 13th, or the beginning, depending on your starting point, looms the iconic Sears tower at Bedford Avenue and Beverley Road in Flatbush.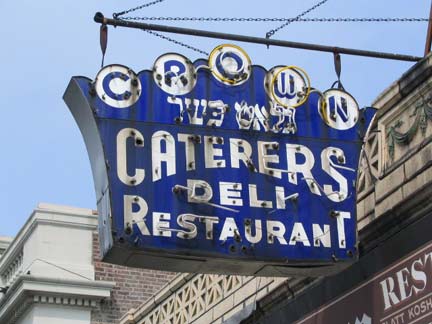 Crown Caterers, 13th Avenue between 50th and 49th Streets. Are there any other vintage neon signs in town that light up Hebrew or Yiddish lettering?
[sadly, since removed]
Didn't Fuller Brush at one time have a considerable door-to-door business? At any rate they have a big relationship with the Famed Direct Mail Company I work for now (September 2006). They have been in business since 1906, originating in Nova Scotia and presently in Kansas.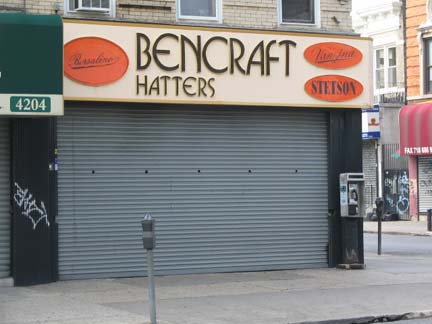 Lids have been coming back the last few years (your webmaster wears a battered New York State Lotto cap when it rains — I like the black crown and teal brim) but in Borough Park, hats are de rigueur for both men and ladies. Not just the broad-brimmed business hats all guys used to wear, before John F. Kennedy forgot his and they got phased out, but big fur hats, the kind you saw on the guy in the photo above at the stationery store. In July. When it's 100 degrees.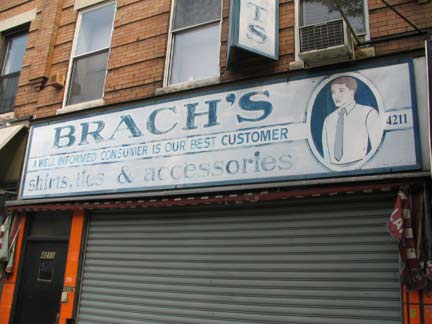 The slogan reminds me of the now-bankrupt Syms': "An educated consumer is our best customer.'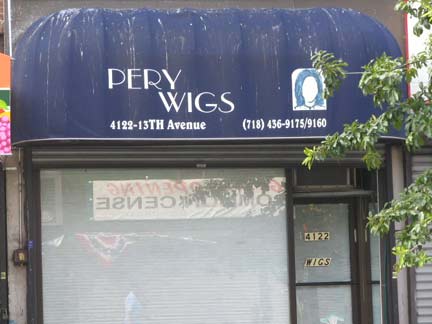 Pery Wigs? Like, as in periwigs?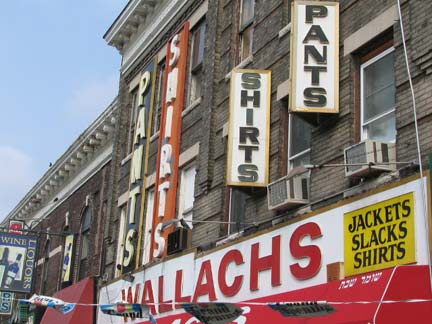 No jeans allowed in Borough Park, and you better make everything black and white.
13's End

Toward about 40th Street the Orthodox and Hasidic atmosphere along 13th lessens a bit, but there are still a few vintage signs to peruse.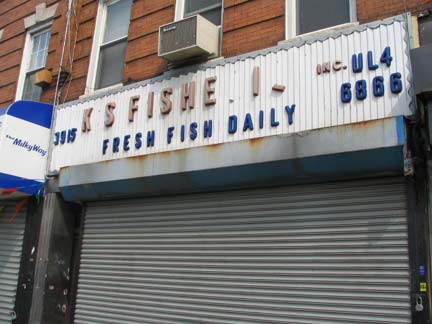 Want to take a stab at what phone exchange UL was?
Ah, I'm told it was ULster.
In the 1980s, the Kansas City Royals had a shortstop named U.L. Washington. The initials stood for…
U.L. That was his name.
Actually I'd prefer U.L. over Ulster, to be honest with you.
The Thirteenth Avenue Retail Market dates to about 1940, as its bare bones Art Moderne exterior and red block lettering will attest.
During the 1930s, there were so many pushcarts on the streets that police cars and fire trucks had difficulty getting where they needed to go. As a result, Mayor Fiorello H. LaGuardia created indoor retail markets as a permanent home for street vendors. Essex Street Market
Other LaGuardia-era public markets, past or present, can be found on Essex Street in the Lower East Side, 1st Avenue and East 10th Street, and Arthur Avenue in the Bronx.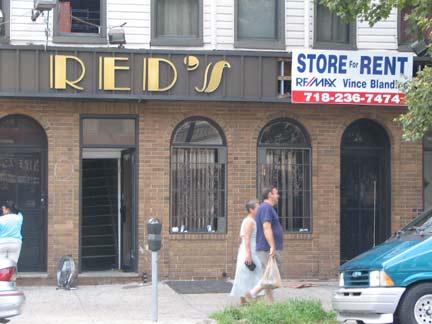 It looks like Red's, a Borough Park mainstay for decades, won't be there much longer. Your webmaster had Thanksgiving dinner there once back in the 1990s.
Beats the year I had a Swanson's frozen when the old man went to Junior's and I was waiting for him at the Tiffany Diner for an hour when we got our wires crossed!

Why on earth would I shoot a picture of a weed-choked empty lot at 13th and 37th Street?
It's got decades of transit history as the right-of-way of the old Culver Shuttle, which ended service in 1975 and was razed 10 years later.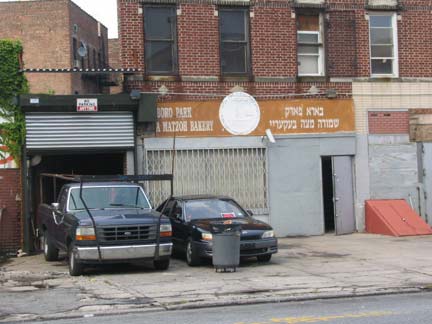 13th Avenue ends at 36th Street, fittingly at a matzoh factory. A block north, 12th Avenue gets to go a couple of blocks further, to Dahill Road. Side streets in the area are charmingly named Tehama, Clara, Louisa, and Minna, probably for the original landowner or real estate developer's daughters.
In San Francisco you will also find streets with the same names in order. Coincidence?
I think not!
On my way to the train I spotted some more "international express" signs on Church Avenue in Bengali, Spanish and Chinese.
The Bridge and Tunnel Club has been to 13th Avenue and New Utrecht Avenue before me.
 Photos done July 15, 2006. Page completed September 4.