Tour 26 occurred during an auspicious week in Forgotten NY-land….the release, at long last, of the Forgottenbook and a cover appearance for the site in Time Out New York! No one told the rain gods that weather for the tour was supposed to be sunny and bright, however, so it was under windy, threatening skies that Tour #26 commenced in Westchester Square in the wild, wild Bronx…
WAYFARING MAP: WESTCHESTER SQUARE – PARKCHESTER
Westchester Square
Westchester Square appears to be a small town hub, clustering around the triangle formed by Westchester, East Tremont and Lane Avenues. The "town" has recently celebrated its 350th anniversary, having been settled here, as Oostdorp ('east village') by the Dutch in 1654 and taken over by the British with the rest of New Amsterdam in 1664. It became a busy port along Westchester Creek, which hastened its development; by 1693 St. Peter's Episcopal Church was founded. The parish is still in existence. During the Revolution, patriots dismantled a bridge over the creek, delaying British advancement (the present-day bridge carries East Tremont Avenue over the creek).
The tour met at Westchester Square's modern-day nexus…the "Chair in the Square…"
David Saunders' "The Seat" was installed in 1987 and depicts a 4-foot high bronze chair, embellished with a laurel wreath and stars, mounted on a boulder engraved with wild boar (not in the photo). Under the chair is a dictionary open to a plate of "Common Birds of America." According to the NYC Parks Department, "the motif of the chair is borrowed from 19th century monuments to figures of stature, who are often depicted seated and surrounded by symbols of learnedness." In fact, there's a very old library right across the street, which we will see.
Saunders has another piece in the Bronx, Firehat, an 11-foot-high aluminum relief on the façade of the Engine Company 41 firehouse at East 155th Street and Melrose Avenue. photo: Steve Garza
Directly across from "The Seat," on Lane Avenue between Benson Street and Westchester Avenue (officially #9 Westchester Square) note the small, dark brick building with an arched front door with a chiseled "18" on one side and "90" on the other, indicating the date it was built.

Over the arch, a chiseled sign says
 "Huntington Free Library and Reading Room." The "Free" is a reminder of the days when libraries where you could go in and borrow a book free of charge were still new. This library was a gift by local resident Peter Van Schaick in 1883 with funding by railroad nabob Collis Huntington; the library remained unopened for ten years while details about the cost of its upkeep were worked out. The architect was Frederick Withers, who also designed the pleasantly Gothic Jefferson Market Library building in Greenwich Village.
Since 1930, the Library had been home to a voluminous Native American research collection, as well as a Bronx history collection. Collis Huntington's adopted son Archer was a benefactor of the Museum of the American Indian, which became a part of the Smithsonian Institution in Washington in 1990, with the Huntington Free Library left out of the arrangement.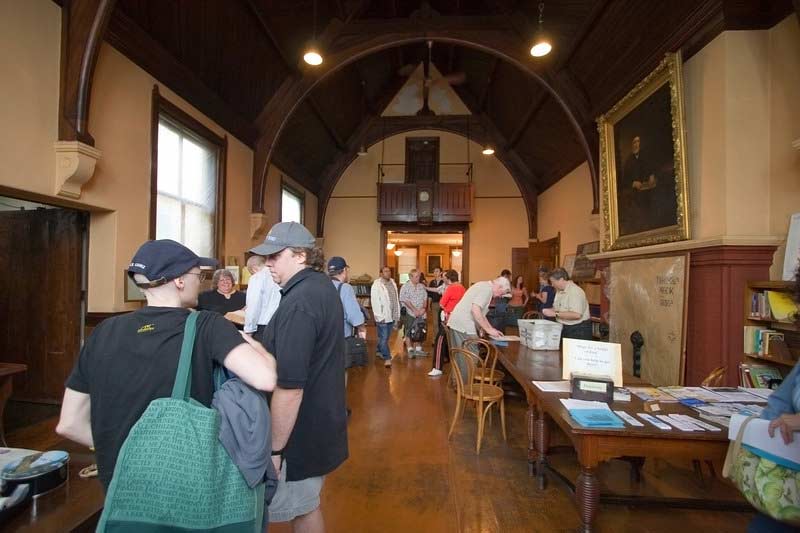 The Library's Reading Room features an engraving and oil painting of Collis Huntington and a large map of Throg(g)s Neck* as it was in the 1850s drawn by the late Bronx historian, John McNamara. SG
*While the Department of Transportation calls it Throgs with one "g" on its signage, most residents of the neighborhood use two.

Pipes for the reading room's original gas lighting are visible near a book stack, as well as the library's card catalog (an item quickly becoming scarce in most libraries). SG
Bible Funeral Home, from el platform, April 2005
On display is a visitors' register including some well-known figures, including Booker T. Washington's visits (he's not on this sample, but funeral director Thomas Bible is: his Civil War-era house, a couple of doors away from the Library, was recently demolished in favor of "urban renewal.") A pair of vintage typewriters are in the lobby as well. SG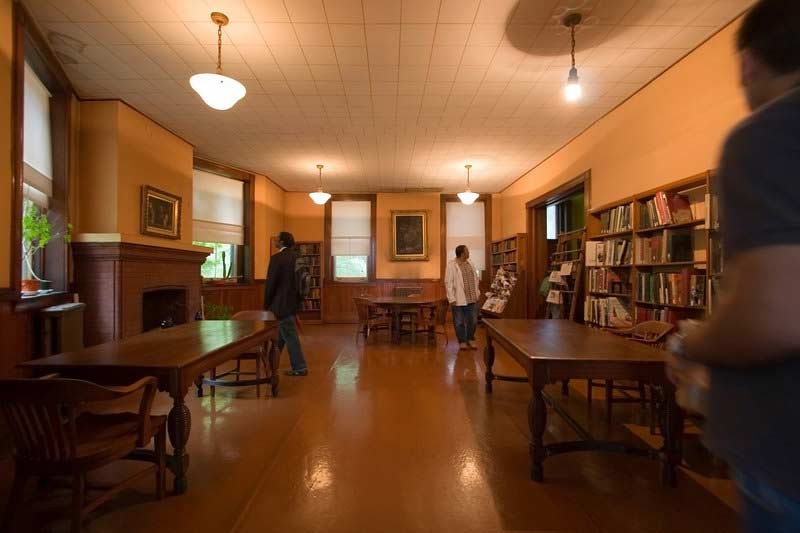 The Reading Room, with its large Bronx picture and book collection, is open weekdays by appointment: call librarian Cathy McChesney at at (718) 829-7770.

The Reading Room, with its large Bronx picture and book collection, is open weekdays by appointment: call librarian Cathy McChesney at at (718) 829-7770.
(LEFT): Bronx historian Bill Twomey relates the history of the Huntington Free Library and Westchester Square.
photo top left: SG
St. Peter's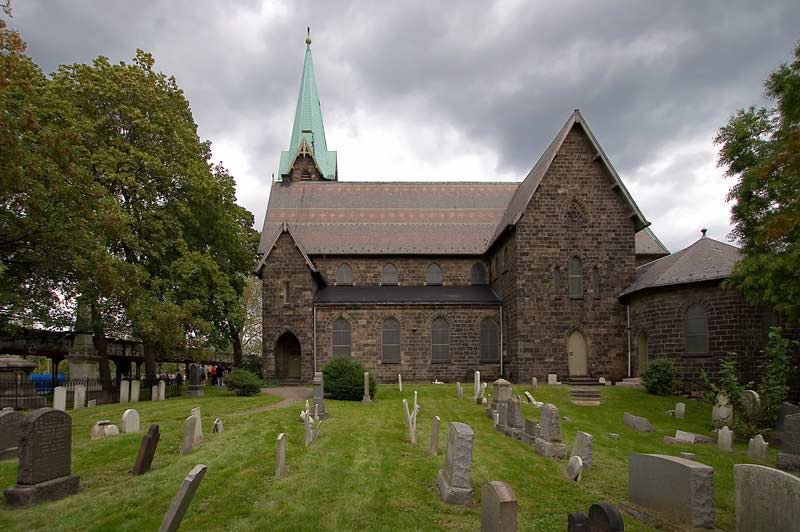 As you ride past on the #6 en route to the Westchester Square stop, you'll see a forbidding-looking Gothic church in dark stone on the south side. It's well worth a visit: St. Peter's Episcopal Church was built in 1856 by Leopold Eidlitz when this was an isolated country village along the Westchester Turnpike, and then rebuilt by the architect's son, Cyrus, after a fire in 1877. St. Peter's has existed as a parish since 1693 and is the third church to exist on this site. The old St. Peter's Parish House, now no longer standing, actually served very briefly as New York State Capitol in the 1790s when a plague forced lawmakers away from lower Manhattan (Albany was named state capitol in 1797). SG

St. Peter's churchyard
 contains many graves dating back to the early 1700s. These stones predate the present edifice. This is not unusual: for example, there have been three Trinity Church buildings on its present location at Broadway and Wall Street.
Bob Singleton of Greater Astoria Historical: St. Peter's was the only village church that became Anglican when the British tried to convert the Congregational churches in the late 1600s. They took over a number of churches and threw out the elected ministers, and when the people rebelled, they pulled back and set up the second church in the community.
The independent Congregational village churches got the message and banded together into a large body [and became Presbyterian]. This explains why Congregational stayed on in New England and disappeared on Long Island and N Y: the churches became Presbyterian.
Ferris
The private cemetery of the Ferris family can be found on Commerce Avenue a short way south of Westchester Avenue. According to Bronx historian John McNamara, a John Ferris had moved to the village of Westchester Avenue by 1667 and a descendant, James Ferris, was running a mill in 1820. By 1839, Benjamin Ferris owned much of what is now Westchester Square.
Captain Watson Ferris sailed for California to find gold in 1851. In those days to reach California from the East Coast by boat, you had to sail around Cape Horn at the southern edge of South America and travel up the west coast of two continents. After reaching Panama, Captain Ferris died of yellow fever. His body was placed in a barrel of rum and is, according to John McNamara, interred in the "family vault behind Westchester Square." This may be the place.
When I first saw Ferris Cemetery in 1999, it was garbage-strewn and overgrown by weeds. I was pleasantly surprised when I checked it again in 2004 and found new fencing, a thorough cleanup, and some new respect.
photo above: Steve Garza; below, Bob Mulero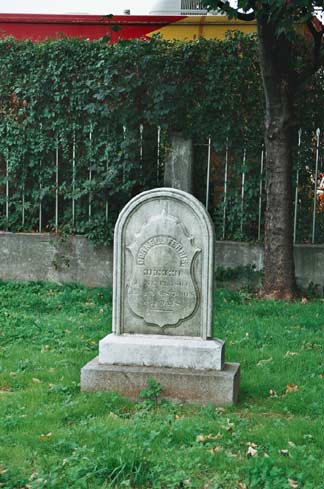 The White Elephant

The Bronx probably has more defunct theaters
 used for new purposes than any other borough. Many have become furniture outlets or storefront churches. The story goes, though, that a magnificently apportioned building between Ponton and Roberts Avenues on East Tremont was built as a theater, but never got to fulfill its builders' ambitions. It features glazed white brick that glistens in the afternoon sun, and time hasn't dulled its rich terra cotta figures like the lyre and tregedic mask over its front entrance. Locals call it "the white elephant."
Wyoming
A building on East Tremont between St. Raymond and Maclay Avenues is marked Wyoming Lounge. According to Bronx historian Thomas X. Casey, a group of Bronx Masons petitioned the Grand Master of New York State for permission to start a new chapter. Since the name Westchester Lodge was already taken, they decided to call themselves the Wyoming Lodge, after they pull out a banknote at random and find it was issued by the Bank of Wyoming, Pennsylvania.

The building is also marked on the back end of the building on Benson Street. Perhaps some Masons can help with this…what is the significance of "492 F & A.M."?
Bob Singleton of Greater Astoria Historical: this means Lodge 492 Free and Accepted Masons
Parkchester
Parkchester, the Bronx' premier housing project, was built in 1941 by the Metropolitan Life Insurance Company on 110 acres, some of which had been occupied the New York Catholic Protectorate, a home for poor children. For its time, Parkchester was a pioneer in rental-unit engineering, as it included amenities like gleaming new bathrooms with non-slip bathtub bottoms, double sinks and cabinets in the kitchens. The complex boasted a bowling alley, recreation areas, the very first Macy's branch outlet, and three movie theatres in or near it: The Loew's American (still there as a multiplex), the Palace and the Circle, as well as numerous stores and even three bars.

no images were found
Met Life provided Parkchester with a rather whimsical style. While the tall seven and twelve-story buildings appear somewhat monolithic when viewed from afar, a walk around the complex reveals the friendly face Parkchester presents: its generous employment of colorful, playful terra-cotta statues and sculpture. SG
The sculptures are literate and surprising in their execution. For example the one on the left depicts the 
Greek classical myth of Europa
, in which Zeus, cheating on Hera yet again, noticed a young Phoenician princess named Europa, disguised himself as a bull and carried her off. Of course her name is now a moon of the planet Jupiter (Zeus, to the Romans) and a continent. SG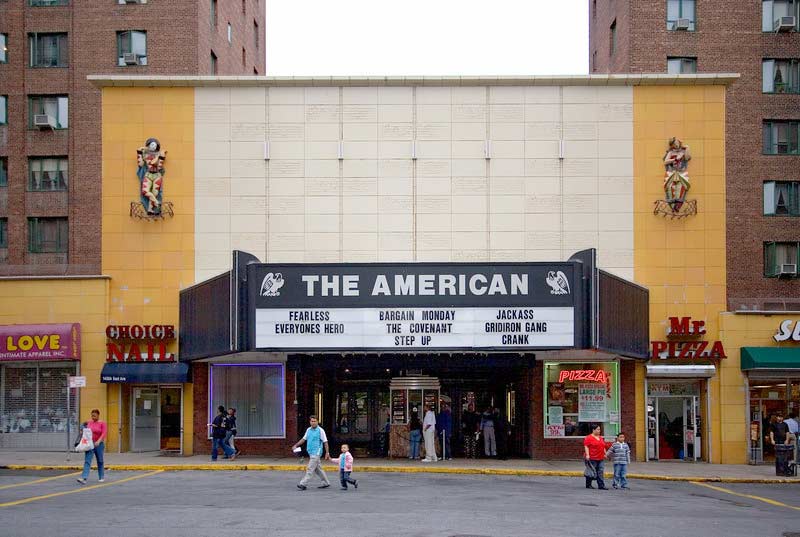 Parkchester's Loew's American, 1450 East Avenue, is no longer a Loew's. It was built in 1939 by John and Drew Eberson. After some years of dilapidation it was purchased by Stewart Epstein, who made it an 8-screen, 1400-seat multiplex.
Its Streamline Moderne box office is still there, and some other period detail can still be found within.
But for me the best part is the alley back of the theater, Parkchester Road… SG

…where there are large, brilliantly colored terra cotta figures. Met Life chose Federal Seaboard Terra Cotta Corporation for the project. The company supplied over 500 statues of hula girls, accordion players, farm animals, and other unique accoutrements as doorway ornaments, as well as elaborate designs for theatres and storefronts, some by renowned sculptor Joseph Kiselewski. SG
Starbucks, Macy's and other retailers have conformed to the Parkchester esthetic for decor. SG
What has the attention of all the Forgotteners?
The extraordinary Parkchester fountain with its fanciful anthropomorphoid water jets, none of which is identical.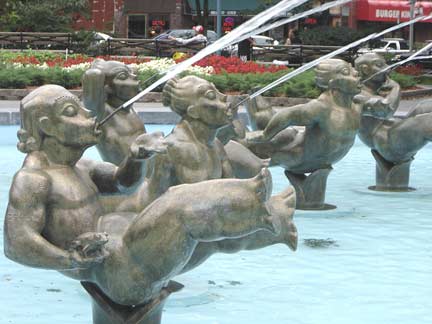 See Steve Garza's Westchester Square page
Special thanks to Steve, Bob Mulero and all Forgotten Fans on the tour who supplied photos, and to Bill Twomey and Cathy McChesney, who opened the Huntington Library on Sunday, when it hasn't been open for quite a few years. Don Gilligan and Thomas X. Casey also supplied valuable information.
Tom Casey's Bronx Postcards