The dominoes fall.
Fourth Avenue has stubbornly resisted the mocha latte and stroller crowd as avenue after avenue in Park Slope, the venerable neighborhood punctuated by meticulously maintained row houses and Beaux Arts buildings, has gentrified. Seventh Avenue succumbed to the Richie Riches in the late 70s and early 80s; it took a few years, but Sixth followed; and while your webmaster never thought the burghers would give the Fifth Avenue bodegas and salumerias the bum's rush, the late 1990s have proven me wrong. Now comes the latest challenge: extra wide load 4th, along which the BMT 4th Avenue-Broadway line has run since 1916. Developers are rising to the challenge with several high-rise buildings aborning: there's more wide-open space here in which to maneuver. The FNY camera traveled along 4th from 3rd Street to Flatbush Avenue, capturing the scene, perhaps, before it changes permanently.
Old Stones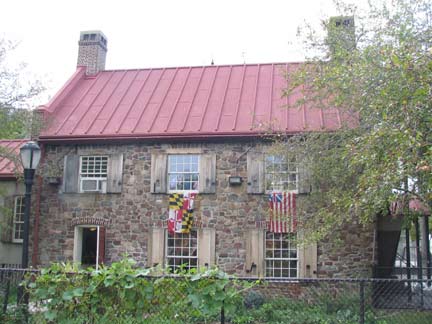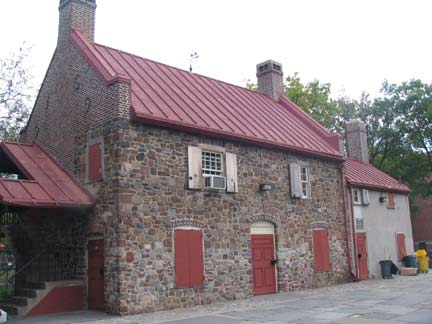 What we now call the Old Stone House was originally built in 1699 by Dutchman Klaes Arents Vecht. The house remained in the Vecht family until just prior to the American Revolution, when it was rented to an Isaac Cortelyou; his father, Jacques, bought the property in 1790.
Officially known as the Vecht-Cortelyou House, the Old Stone House played a pivotal role in the American Revolution. On August 27, 1776, during the Battle of Brooklyn, things looked dire indeed for the Americans, as the British and Hessians were overwhelming them in what is now the northern section of Prospect Park. Hoping to reach forts at Boerum Hill and Fort Greene, about 900 American troops retreated from what would be the Greenwood Cemetery area; they hoped to track northward. General William Alexander, also known as Lord Stirling, led a company of 400 Maryland troops that engaged British General Charles Cornwallis' force of 2000 grenadiers and cannoneers at the Stone House to cover the retreat and, while many of the Americans were able to escape, Stirling was captured and 259 of the Maryland troops were killed. George Washington, observing the battle from what is now Cobble Hill, is said to have uttered: "What brave fellows I must this day lose."
The house continued on with the Cortelyou family until 1850 when it was sold to Edward Litchfield, who allowed the house to literally sink into ruin. By the 1890s only its upper floor was visible above ground level; after serving as a makeshift clubhouse for the Brooklyn Bridegrooms baseball team playing in nearby Washington Park, the house was demolished in 1897, though its construction was such that Gatling guns were used to force the old stones apart. When the Brooklyn Superbas, who sometimes went by the name Dodgers and later permanently adopted the name, played at nearby Washington Park, they used the Stone House as a clubhouse.
The house found an angel in Brooklyn Borough President John J. Byrne. The Old Stone House's original foundations and brick were rediscovered, and Byrne, in one of his final acts before his death in 1930, ordered its reconstruction in a park posthumously named for him in 1933. The Old Stone House received a thorough makeover in 1996 with new plumbing, electrics and roofing installed. Maryland state flags wave at the old house, in honor of the regiment.
Visit the Stone House in Byrne Park, between 4th and 5th Avenues and 3rd and 5th Streets. It's open weekends: call (718) 768-3195 for hours.
New developments along 4th near 2nd Street. Curbed and Brownstoner are always up on the newest real estate developments in Brooklyn and elsewhere. Brooklyn Paper reports that 4th Avenue residents are attempting to downzone the avenue – though the idea seems farfetched at present.
Fo' and Fo. The presence of Byrne Park cheats Fourth Avenue from meeting 4th Street. However, in Brooklyn, 3rd and 3rd meet, as do 5th and 5th, 6th and 6th, 7th and 7th, and 8th and 8th. In Manhattan, 1st Avenue meets East 1st Street, 2nd meets East 2nd Street, and believe it or not, that's it.
Queens is more complicated because of all those Roads, Drives, Lanes, Courts and Terraces, but if we're talking strictly Avenues and Streets, it's 20th Avenue and 20th Street, 21/21, 23/23, 24/24, 30/30, 31/31, 34/34, 35/35. 36/36, 37/37, 43/43, 47/47, 48/48, 59/59, 60/60, 62/62, 70/70, 86/86, 88/88, 89/89, 91/91, 97/97, 101/101, 103/103, 107/107, 109/109, 111/111, 131/131, 133/133, and 135/135 and there'd be more, but Queens has the annoying habit of skipping numbers, especially with the avenues. The double-number zone runs from Astoria southeast through LIC, Sunnyside, Ridgewood, Middle Village, Woodhaven and Ozone Park. Bronx and Staten Island have no numbered Avenues (except for the Bronx' "Third" Avenue), so the quirk doesn't apply!
Denton and Whitwell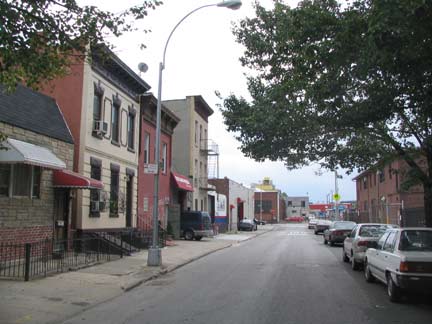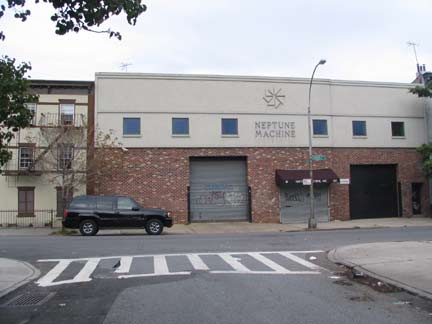 Your webmaster cannot resist inspecting the odd alleys and "places", since NYC has relatively few in comparison with other Northeast cities. Denton and Whitwell Places run between 1st and Carroll Street just west of 4th. According toBrooklyn street mavens Leonard Benardo and Jennifer Weiss, Denton Place (above l. & r.) was named for the proprietor of an early mill on nearby Gowanus Creek, now Canal, Nehemiah Denton; the mill, built in 1709, was about a block of where the modern Place is. I love that company name: Neptune Machine.
Whitwell Place, known primarily for TJ Kings Lobster wholesaler, as well as the view of the back of the giant Eagle Clothes sign at 3rd Avenue and 6th Street.
Peace between the Places. Our Lady of Peace Church, 522 Carroll between Whitworth and Denton. It is one of Brooklyn's Catholic churches offering a "traditional" Latin Mass.
There's also a World War II memorial on the left side of the church facing the street.
The lot at the SE corner of Carroll Street and Denton Place has been converted to Gil Hodges Garden by the New York Restoration Project, a nonprofit organization devoted to neighborhood improvement founded by Bette Midler. Why Gil Hodges' name wasn't floated along with Jackie Robinson's for the new name of what will become the Mets' new stadium, Citifield, is a mystery to me; an Indianan by birth, Hodges starred for the Brooklyn/Los Angeles Dodgers for 18 years and piloted the Amazing Mets to their first World Series victory in 1969. He died young from a heart attack at age 47; amazingly, your webmaster has outlived him. On a balmy Saturday in September…the garden was locked tight.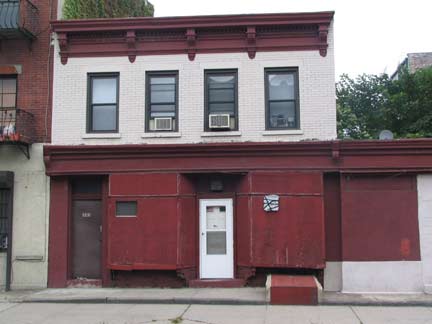 These two buildings on Carroll just west of 4th attracted my attention. Coffee & Rolls, the old-school coffee shop on the right, was open though its gates were down. That Pepsi logo is from about 3 decades ago.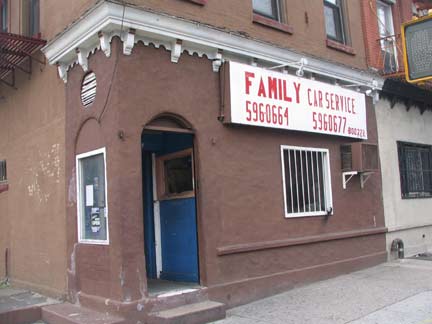 4th Avenue from Carroll to President. I like that hand-drawn Family Car Service sign, but I think the ship has sailed on that Laundry Store venture.
Brooklyn Lyceum
New York City used to feature dozens of public baths. Though all but one, Russian and Turkish Baths, on 268 East 10th Street in the East Village, are now closed, there are a few of these old bathhouse buildings still scattered throughout the five boroughs; this one, 227 4th Avenue at Union Street, formerly NYPublic Bath No. 7, is a Beaux Arts terra cotta extravaganza constructed by Raymond Almirall between 1906 and 1910. It features massive arched windows, intact separate entrances for men and women.
In the 1990s, Eric Richmond converted the formerly crumbling bath house into a theater space, café, garden and gift shop and renamed it the Brooklyn Lyceum. The Lyceum boasts three theaters, one tiny and two massive. For shows, call (718) 866-gowanus.
The exterior of the building needs some work; observe the cracks – but the gold, green and blue terra cotta ornamentation, bearing Neptune's trident due to the watery nature of the building's former activities, is still evident, as is a SEPTA trolley car, here for apparently no reason whatsoever. (It has since been taken away)
Mural, 4th Avenue and Sackett, showing women in various activities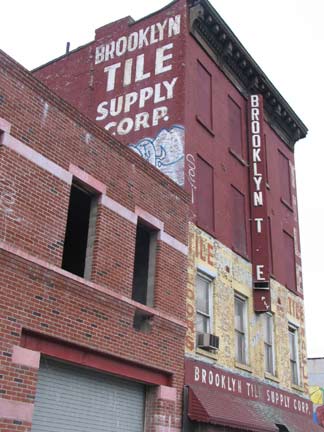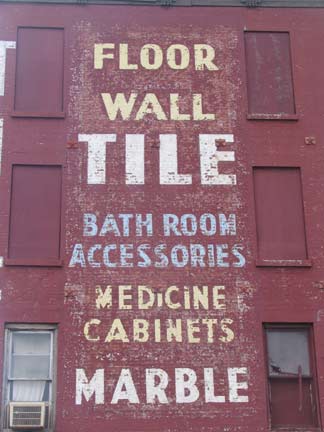 I'm not sure if Brooklyn Tile Supply Company, 4th and Douglass, is still in business: I was here on a Saturday. The great wall dog art on the brick building, though, is terrific and has thus far been ignored by the graffitists.
Mighty wall art wrapping around corner of 4th and Douglass marks Diaspora Community Services, which provides a number of neighborhood services including anti-tobacco campaigns, support to HIV-positive individuals, TB screenings and infant mortality reduction.
The term diaspora comes from Greek for "scattering of seeds" and refers to any people or ethnic population forced or induced to leave their traditional ethnic homelands; being dispersed throughout other parts of the world, and the ensuing developments in their dispersal and culture. The original organization here was the Haitian Women's Program.
4th and Douglass. This picture, to me, emblemizes what's good about Brooklyn architecture; these apartments were never built for the rich, unless I'm wrong; they've always been rented by lower-to-middle class, and it's just great urban building, with stoops and avenue-facing windows. Of course I've never been inside. Could be a slum in there for all I know; maybe the ceilings leak, as your webmaster's did all summer, and the inner courtyards could be garbage receptacles. And there are bars on the 1st-floor windows, a concession to the fact that the trust fund kids haven't yet arrived and crime can still be king.
Tire repair shop, 4th and Butler. With its synchronized stoplights 4th can be a pedal to the metal route especially if the Gowanus Expressway, a block to the west, is jammed, and entrepreneurs have always catered to the condition. What is that thing at 4th and Baltic?
4th Avenue between Douglass and Butler. Much of upper 5th Avenue was still boarded up like this as recently as the mid-1990s, but 4th Avenue's turn will come.
4th between Baltic and Warren, with some relatively well kept stooped brownstone and brick buildings. This is the only stretch of 4th that can boast them.
4th and Warren. Joe Friedman has called the Williamsburg Savings Bank building the most priapic in Brooklyn, if not NYC, but while it is enshrouded while being converted to luxury condos as One Hanson, it just seems to be giving the finger to everyone who can't afford it. And that's most of us.
House of Pain: Formerly, the Willie was jammed full of oral surgeons, meaning that some of your webmaster's more uncomfortable moments have been spent getting recalcitrant teeth out while enjoying the amazing views out the window of the torture chamber where the chair was.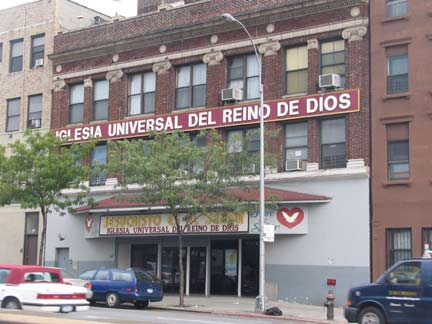 The former Terminal Theatre, 4th near Dean; according to commenters at Cinematreasures, it opened September 30, 1925 and originally had 1627 seats. Named for the nearby Long Island Rail Road Brooklyn terminal at Flatbush Avenue and Hanson Place.
Episcopal Church of the Redeemer, 4th and Pacific, one of a few churches that get a mosaic sign treatment in an adjacent subway station, this one being the BMT Pacific Street.
Photographed: August-September 2006; page completed November 30, 2006