Richmond Terrace continues rather desultorily toward its final destination, the strait separating Staten Island and New Jersey called the Arthur Kill. On the way, however, we roll through Port Richmond, which, some say, is undergoing a renaissance; past the towering Bayonne Bridge; junkyards, ship repair yards, ancient 150-year-old houses, and more abandoned factories.
Your webmaster lives in fab Flushing, one of the most populous neighborhoods in the USA's most populous city, and I appreciate the chance to get away, at times, to places where no one else is. Parts of Richmond Terrace are absolutely deserted on Sunday afternoon. To say I was in heaven would make me sound like a misanthrope. But I do enjoy a quiet day off.
Cue Rod Serling. The Twilight Zone is considered one of TV's greatest shows of all time and while it was consistently entertaining, with great cinematography and special effects ad makeup for its time, I considered Rod to be an insufferable moralist. Even the mildest aberrant behavior somehow didn't go unpunished. Consider poor Mr. Bemis, the bank clerk played by Burgess Meredith in "Time Enough at Last." All the poor guy wants is some spare time to read a book, but gets browbeaten by his boss and his wife; finally, he goes into the vault, where no one can bother him. Blam! The Russkies strike at last with an A-Bomb, and the city's been exterminated. Except, of course, for Bemis, who considers it a blessing, with no one to bug him anymore. He heads straight for the library, but breaks his glasses just as he's about to have a book orgy. Or, remember the one with Shelley Berman, who wishes everyone in he world were more like him? Everyone in the world turns into…Shelley Berman! OK, I'll stop there, I've aged myself in everyone's mind simply by remembering Shelley Berman.
All I'm saying is, Serling would probably have a fitting punishment ready for me; all I want is time to do ForgottenReasearch and lay out webpages. Actually, I do have that every 7 years on average…unemployment. Lest we speak of the devil, making him appear, we present Richmond Terrace.
GOOGLE MAP: RICHMOND TERRACE FROM PORT RICHMOND WEST

Just south of Jewett Avenue. The auto body shop owner objected to a picture being taken, but if you need repair for an auto body or toy train, call these numbers and maybe he'll pick up the phone.
Heberton Victorian. There are a lot more of these on what used to be Doctors' Row in Port Richmond.
Port Richmond has an Avenue B but not an Avenue A or Avenue C. Or any other letter.
Richmond Terrace west of Jewett Avenue. Rainbow Custom Counter Tops, and its neighbor, an ancient campaigner.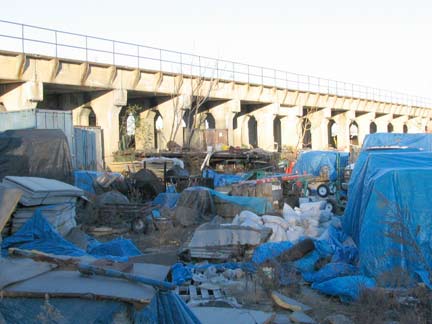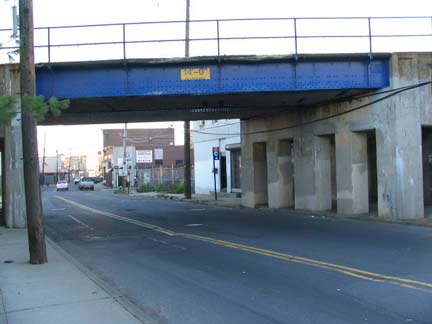 Staten Island Rapid Transit and a whole lotta junk. In 1935, the Baltimore and Ohio Railroad, which owned the SIRT at the time, elevated the Port Richmond section on a concrete viaduct, while depressing it west of here in an open cut. BUt they went to all the trouble for not a great deal of return, as passenger traffic dwindled due to dat ole debbil the automobile, and the B&O threatened to discontinue service all over the island. In a compromise, they deactivated the North Shore Branch (this one) and the South Beach branch, leaving just the Tottenville branch extant.
Till recently a remnant of North Beach service remained at the SIR (newly dubbed Staten Island Railway, sensing the nonsensical nature of calling it Rapid) station at the ferry: roll sign track indicators. These still had Arlington, the last stop on the North Shore line on them, which would show up now and then when someone made a mistake. These were recently removed when the terminal was rehabilitated.
There may be freight service in the offing here again, but the trestle seems ripe for light rail. After all, New Jersey Transit offers light rail in nearby Bayonne.
But we don't do that here.
Moran and Reinauer tugboat shipyards
Pride in Port
There's still the remnant of an entertainment mecca at Richmond Terrace and Port Richmond Avenue, with a couple of Latin clubs still hanging in. The North Shore Ale House is no longer there but its painted sign is.
Aaron Burr, the USA's controversial third vice president, died at the St. James Hotel, just south of Port Richmond Avenue, in 1836. This is an 1896 view; the building was razed in 1946. This Was Staten Island, Dorothy V. Smith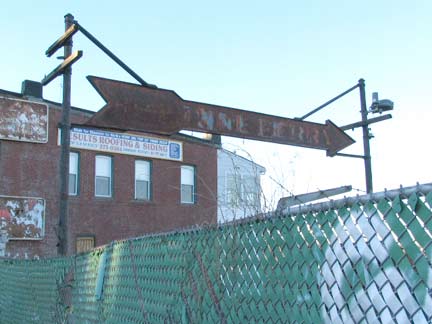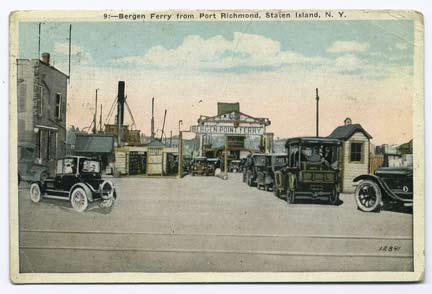 The rusted remnants of an old sign are all that remains of the Bergen Point Ferry, which ran between Port Richmond and Bayonne. The ferry hung in there until Bayonne Bridge opened in 1931, though I may be wrong:
ForgottenFan Robert Klose:
Actually, and amazingly, the ferry lasted until at least 1960, when it sank in the Kill Van Kull, where it rests to this day.
However, I believe the building on the left side of the old ferry picture is still standing, the longtime home of a liquor store: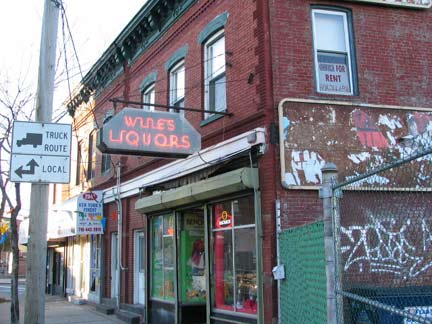 The owner of a dry goods store is of course, a grocer; a tobacco store owner is a tobacconist. But there's no word for anyone who runs a liquor store.
The Golden Strikers is not, as you might think, a bowling or soccer team, but a motorcycle club. I love the painted signs… the artist likes booty. J-Lo would be jealous.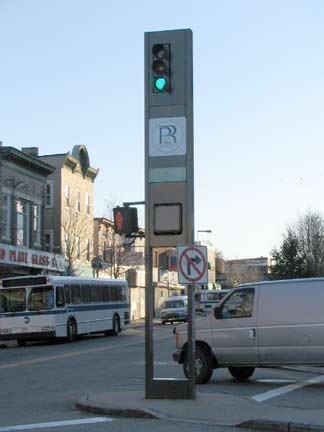 Around 1983, the Department of Transportation or a civic group thought it would be a good idea to install what was then considered modern streetlighting. Over 20 years on, these look sort of quaint now that everything's going retro where street lighting is concerned again.
The "Griffith Block" on Port Richmond Avenue was built for shoe dealer Charles Griffith in 1874. A plaque on the building marks it as the site of Burr's death, though as stated above, he died in the razed St. James Hotel.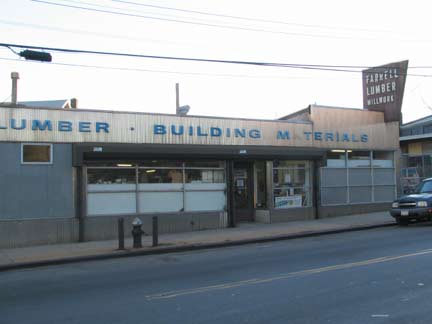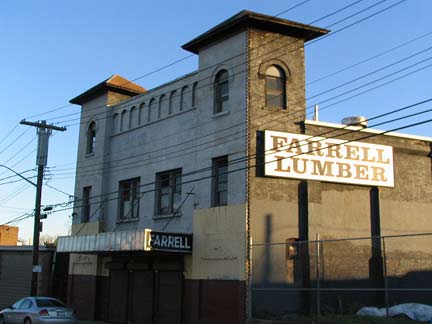 Farrell Lumber owns a number of buildings on the Terrace west of Port Richmond Avenue, including the old Empire Theater building which showed films between 1916 and 1978. The Farrell signs at left, if I had to take a guess, date to 1959-1962.
[Farrell Lumber moved out in early 2009]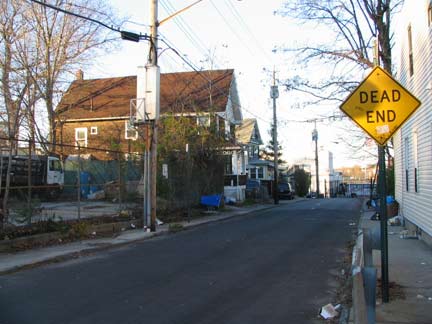 North Street is one of the few streets leading north from Richmond Terrace, dead-ending at the Kill Van Kull.
Mansion, Faber Street and Richmond Terrace
Number 2
Jenny Faber, a member of the Faber pencil manufacturing family, lived in Port Richmond and in 1869 was granted a patent to the land along the Kill Van Kull in Port Richmond on condition that she build a dock "for commerce or enjoyment." Part of it would eventually become Faber Park and Pool. Under Parks Department jurisdiction, architect Frederick H. Zurmuhlen Jr. built a seawall, recreation building, playground and pool, the largest in Staten Island when it was completed in 1932. Faber Park has enjoyed spectacular views of the nearby Bayonne Bridge since its 1931 construction.
Faber Park, except for the North Shore Esplanade between St. George Ferry and Westervelt Avenue, is the only public space facing the water on Richmond Terrace. It offers middling views of the Kill Van Kull and Bayonne, but spectacular views of the Bayonne Bridge, though better views are available from private property (see below).
St. Mary of the Assumption Roman Catholic Church at Richmond Terrace and Treadwell Avenue, completed 1883-1890.
Edkins Auto Salvage at the Terrace and Nicholas Street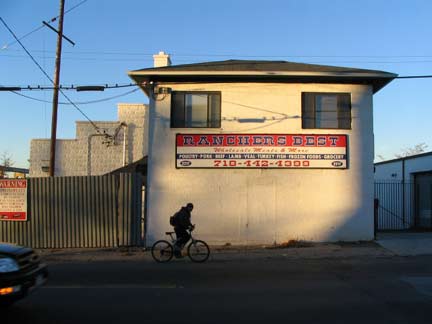 Ranchers Best wholesale meats at Treadwell Avenue.
Roaming in the gloaming. Bayonne Bridge from a truck parking lot, and sun setting over Richmond Terrace.
The road that runs along the Bayonne Bridge approach ramp is of course, not called Bayonne Avenue but Newark Avenue.
It sort of makes sense, though, as we'll see.
Spectacular sunset view of cement mixers and, yes, the Bayonne Bridge, NY-NJ 440, rising 266 feet over the Kill Van Kull. It was designed by master bridge builder Othmar Ammann (who also designed the George Washington, Verrazano-Narrows, and other NYC bridges as well as architect Cass Gilbert. Despite its height, there are concerns that it's not high enough to allow some vessels to pass and there's a proposal to replace it with a cable-stayed bridge.
[The decision was made to raise the bridge, not replace it, and the end of the 2010s will see this complicated engineering procedure take place.]
I don't know the derivation of Morningstar Road; it runs north and south, parts of the sky where Venus is rarely seen. Some Staten Island regions, like Blazing Star and Bulls Head, derive from taverns and perhaps that's the case here.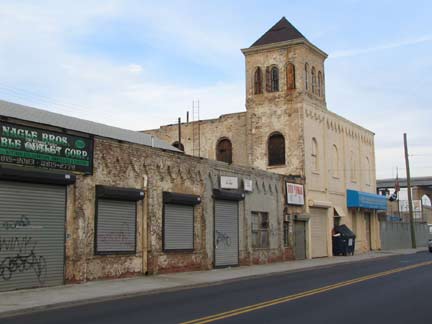 Granite Avenue, former Standard Varnish Works.
The Standard Varnish Works factory is a rare surviving example of the late nineteenth to early twentieth century industrial history of Staten Island. The Standard Varnish Works Company purchased property along the Elm Park waterfront on both sides of Richmond Terrace in 1892-93 and, shortly after, constructed a factory complex and worker housing, moving its factory operations from Long Island. The office building, which fronts Richmond Terrace, is an example of the American round-arch factory style and also incorporates details of late nineteenth century German factory design. The trademarks of nineteenth century factory design which still define this building today, are the prominent tower and corbelled brick ornament, which create interest through utilitarian decorative details. The projecting brick pilasters, also common factory features, are decorative as well as functional, adding texture to the façade and providing additional support for the interior framing. The buildings lining the Richmond Terrace streetwall escaped damage in a "spectacular" fire that caused approximately $200,000 worth of damage to the site in 1900, destroying the dock, gutting storage buildings and exploding several chemical storage tanks. NYC
This building is a designated NYC Landmark.
American Wrecking International, which is not a foreign policy commentary but a used metal palace on the Terrace near Housman. Note the foundry ovens.
Great Lakes Dredge and Dock, Richmond Terrace opposite Simonson Avenue
Yet another of the Terrace's forgotten mansions, this one at Simonson Avenue. Most of them are fronted by weed trees, as if they want to hide their faces from what has become of the formerly tranquil, bucolic Kill Van Kull, that they were built to overlook.
In All but Van Name
Kill Van Kull at Van Name Avenue. Newark is visible in the distance, as well as its namesake airport's control tower at left.
Zoom view of Newark.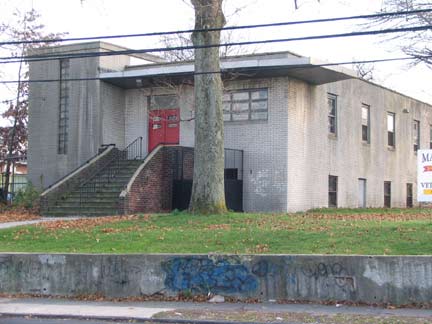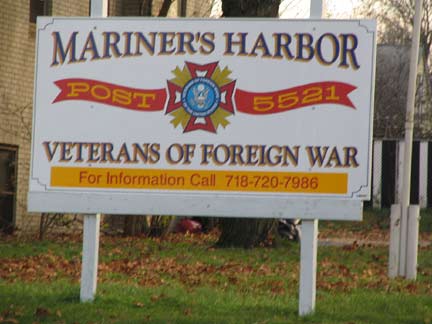 Delightfully minimalist Veterans of Foreign Wars Post No. 5521. Sam, you made the sign too short, one letter that is
"Howland" is likely a corruption of "Holland" from Henry Holland, an early Staten Island representative in the colonial era. It's the area where the Goethals Bridge enters Staten Island.
Abandoned warehouse at Richmond Terrace and DeHart Avenue.
Captain's Row
In the 1840s and 1850s wealthy oyster fishing boat captains lived in an eclectic, eccentric group of homes that faced the Kill Van Kull, where the oyser sloops were moored. A couple of them are still there between DeHart and Union Avenues.
The Stephen Barnes House is a landmarked 1853 Italianate/Gothic residence, and an amazing survivor. Another Captains Row house, difficult to photgraph for the weed trees in front, can be seen at left.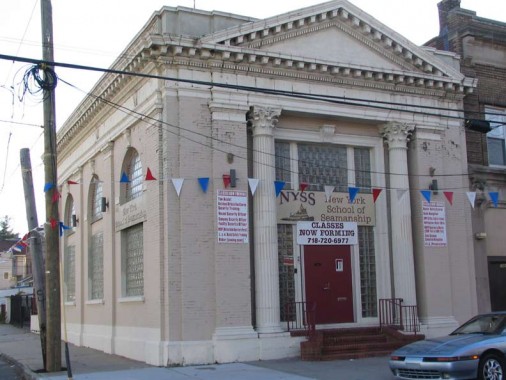 Former Mariners' Harbor National Bank, Richmond Terrace and Union Avenue, now New York School of Seamanship.
Incongruously refinished building west of Union Avenue
Sidewalk-less Coonley Court
Mayship Repair building, north side of the Terrace at Harbor Road. In Nov. 2006, a customer was the fuel tanker/museum ship Mary Whalen; however, it was there for just a short time.
Noor al-Islam Center.

Bethlehem Steel monogram appears the top of the building.
Forgotten Fan Al Trojanowicz: What now is May Ship Repair was in the early 20th C known as United Shipyards. In 1938 United was taken over by Bethlehem Steel/Shipbuilding which operated a number of shipyards in the New York area. Three notable vessels built there in 1938 were the municipal ferries MISS NEW YORK, GOLD STAR MOTHER, and MARY MURRAY, as well as FDNY's FIRE FIGHTER.
Bethlehem Steel Company's Staten Island Yard was founded in 1895, as the Port Richmond Iron Works. It was originally a machine shop. The Burlee Drydock Company was started at about the same time. In 1898 the two firms consolidated under the Burlee name at Port Richmond, Staten Island. Some of Burlee's owners started a shipyard for the construction of wooden vessels. The firm's name was changed in 1907 to Staten Island Shipbuilding Company. Steel ship construction began in 1916 when a foundry was added. In 1925 activities shifted from Port Richmond to Mariners Harbor. In 1929 the yard consolidated with another and began operations under the name United Drydocks Company. The name changed to United Shipyards, Incorporated, in 1938. The yard was bought by Bethlehem Steel Company in 1938.
Ancient dwelling near Grandview Avenue.
McAllister Towing, a tugboat company. That boat has a BIG hole in it.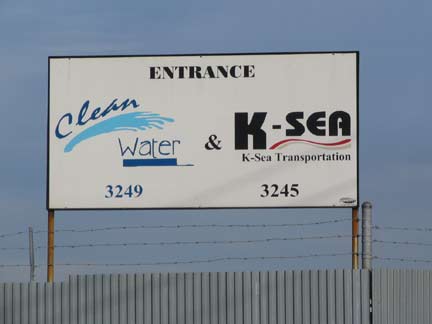 K-Sea Transportation just west of South. You gotta love the propellers flanking the front gate.
South Avenue is Staten Island's main western local artery, running from Richmond Terrace south to the West Shore Expressway in Chelsea. (There's a Chelsea in Staten Island as well as Manhattan.)
What's a "child health station"?
Forgotten Fan Bennett Fiorello: "The City Health Department had Child Health stations in every boro in the 50's and 60's. They offered free vaccinations and checkups to anybody that came in. They were created to fight polio originally."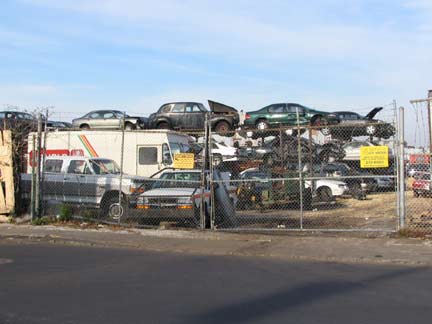 Bayview Auto Wreckers, near Arlington Avenue.
Old roadhouse, now apartments, Arlington Avenue.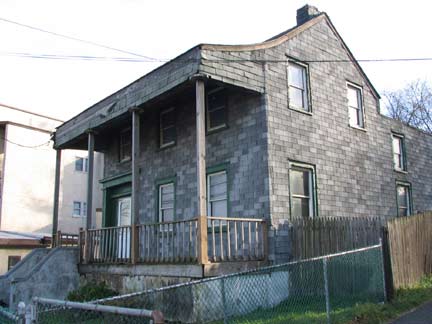 Another ancient dwelling, Richmond Terrace west of South Avenue.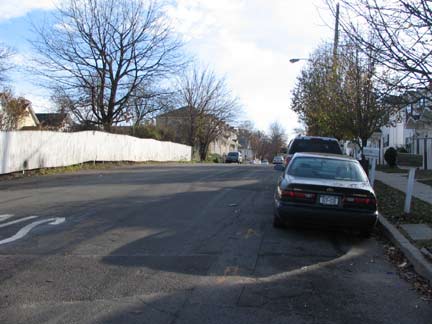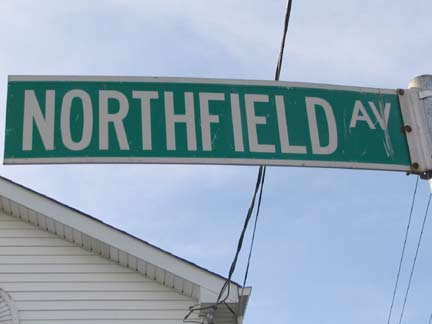 Northfield Avenue. Prior to joining NYC in 1898, Staten Island was comprised of five towns of its own: Castleton (today's St. George and New Brighton); Middletown (Stepleton, Grymes Hill and West Brighton); Southfield ( Arrochar, South and Midland Beaches); Westfield (the island's southern end) and Northfield (its northwestern end). The towns were dissolved when SI joined NYC, and only old street names remember them today.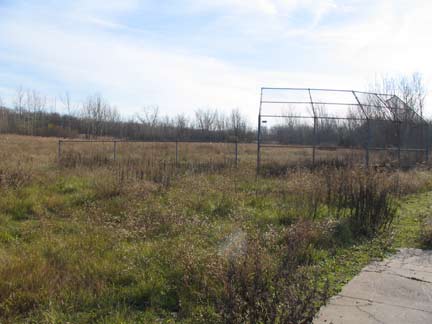 Mariners Marsh Park doesn't look like much from Richmond Terrace, but it's a nature preserve that's dotted with urban ruins and abandoned railroad tracks, remnants of the Proctor & Gamble factory, once Staten Island's biggest employer.
Opposite Mariners Marsh is the only residence onthe north side of Richmond Terrace west of the Bayonne Bridge. We're on the home stretch as Richmond Terrace rushes toward the Arthur Kill.
At the end of Richmond Terrace at New York Container Terminal, there's a view of St. Patrick's…in Elizabeth, NJ that is.
Western Avenue runs south to the Goethals Bridge Plaza through the old P&G plant.
Photographed November 24 and 26, 2006. Page written December 10.