Now that another Queens landmark, the 1885 Hackett Building, is about to have a premature date with the wrecking ball in the Bloombergian Era of Development, I thought I'd walk the blocks where it held forth for so long and meet its friends at the wake. Jackson Avenue between Vernon Boulevard and Queens plaza is spacious, windy (very windy; it is open to the East River and gusts were 50mph today) and rather quiet. It's the only part of an extraordinarily long road that has kept its original name.
The story of Jackson Avenue begins in 1857, when John C. Jackson formed the Hunter's Point, Newtown and Flushing Turnpike Company to lay out a new road connecting the 34th Street Ferry across Trains Meadow (now Jackson Heights) to Flushing Bay. The turnpike was complete by 1859, and toll gates, fences and mile markers were placed at intervals: the only road in Queens so marked. Ocean Parkway, constructed in Brooklyn by Olmsted and Vaux during the same period, also featured milestones. From the start, it was called Jackson Avenue.
When NYC annexed the western part of Queens County in 1898, it took over the Jackson road and eliminated the tolls, and by 1920, the road east of Queens Plaza was renamed Northern Boulevard. Under a variety of names, and as NY 25A, it now extends out to Orient Point on the North Fork of Long Island. The portion we'll see on this page has retained its old Jackson Avenue moniker. As for the mile markers, one of them actually stayed in place until 1987, when it supposedly was taken to the Langston Hughes Library at Northern Blvd. and 100th Street, but I haven't checked that out yet.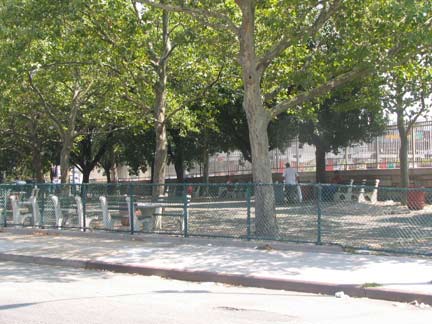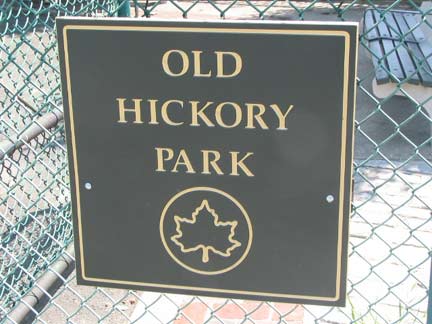 Old Hickory Park, at Jackson Avenue and its beginning at Vernon Boulevard, is former Parks Commissioner Henry Stern's way of putting us on a bit. "Old Hickory" of course was the nickname of Andrew Jackson (1767-1845), Revolutionary War soldier, War of 1812 general, Indian fighter and 7th President of the USA (1829-1837). As far as your webmaster knows, there's no connection between "King Andrew I" and turnpike builder John Jackson.
Vernon-Jackson




As we see from the two photos taken in the 1930s, the plaza where Vernon Blvd. meets Jackson Avenue was once much different. In the picture on the right, the buildings were eliminated when the Queens Midtown Tunnel was completed in 1941. Of course the biggest change was the elimination of the Vernon Blvd. bridge that connected to Manhattan Avenue in Greenpoint in 1954 after the Pulaski Bridge opened a few blocks away. The structure remained in place, however, a few years after traffic was rerouted. Vernon Boulevard still has a wide median to mark the bridge's former presence. above two photos courtesy Bernard Ente
Your webmaster knows as well as anyone, while flogging the Forgottenbook, you have to get your name out there, and Cangro Transmissions did just that on this brick building at Jackson and 51st Avenue for decades. Cangro could be seen from the Queens Midtown Tunnel and of course from Vernon and Jackson.
All the buildings in this set were razed by 2009 and a new residential tower was built in their place.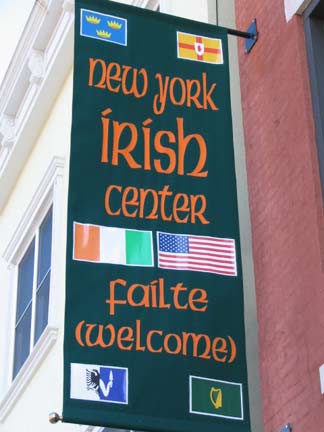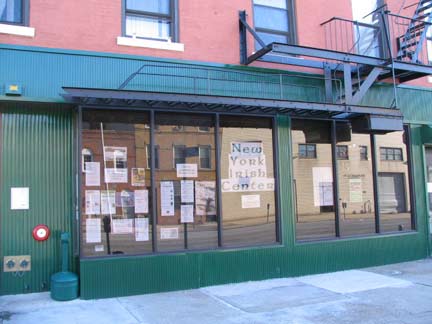 Eire be seeing you. I hadn't thought of Long Island City as an Irish hotbed, thinking more of nearby Woodside and Woodlawn Heights in the Bronx, but here's the New York Irish Center on Jackson between 50th and 51st. The center offers immigration, legal, medical, and personal counseling, and Irish language lessons, among other services.
Jackson Avenue, looking northwest from 50th Avenue, January 20, 2007. The Hackett Building, two weeks before its demolition, is at left; a tall illuminated billboard marks the Pulaski Bridge; the peaked building center is PS 1; and, of course, the sea green 45-story 1989 Citibank…I mean, Citgroup…ah, let's just call it Citi, is at right. We have just had a half inch of snow, which the Department of Sanitation has dispatched with one inch of salt.

Can't Hackett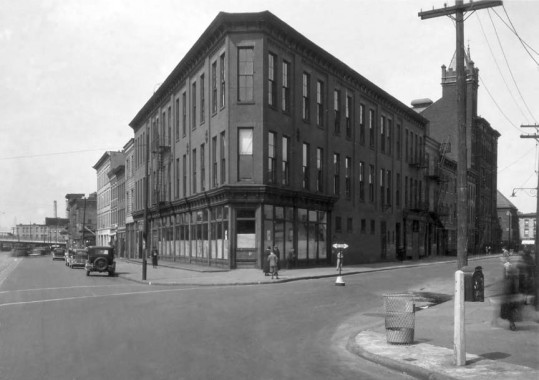 Jackson Avenue cuts through Long Island City's rough grid, creating a lot of odd-shaped or triangular plots, and early architects took full advantage, placing windows right on the angle. Wouldn't you have liked to have lived in an apartment with such an odd angle? You'd likely get a latterday view of the Citi tower, among other things.
The Hackett was built in 1885 on the SW corner of Jackson and 49th Avenue, then known as 5th Street. In the years after it was built it hosted department store O. Demarest and Company, and it has also been home to Prudential Insurance; but its most notable distinction has been its stint as Queens Borough Hall between 1898, when western Queens joined NYC, and 1916. Boro Hall is presently located on Queens Blvd. in Kew Gardens.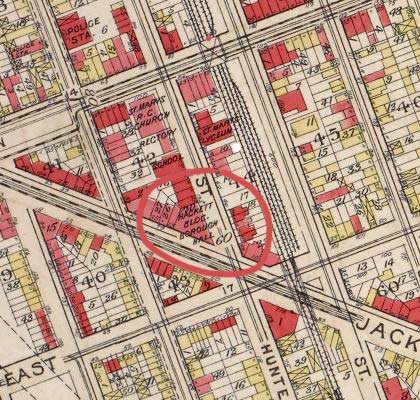 In recent years, the ground floor was occupied by Cafe Ten 63 (the building's address) and Renee's Fragrance Outlet. Of course, local preservationists have attempted to stave off the wrecking ball…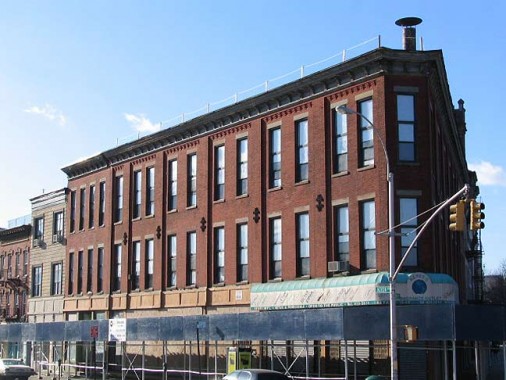 …with little success. As proponents of the rescue of St. Saviour's Church have discovered, the Landmarks Preservation Commission has much stricter standards when it comes to preserving structures in the so-called outer boroughs. Any substantial alteration, it has been found, makes the LPC extremely reluctant to grant protected status.
2007: Scaffolding had already appeared in advance of demolition at the Hackett
LPC spokeswoman Elisabeth de Bourbon (nowthat's a great name, no matter what you think of the LPC), quoted in theNY Daily News: "The building has been altered over time and its integrity has been significantly compromised by major storefront alterations – making it impossible for us to consider it for designation."
In other words, if a building was built in 1885 but no longer completely looks like it was built in 1885, tough toenails, Jack. Especially if you're in Queens, Bronx, Staten Island and Brooklyn neighborhoods other than Williamsburg, Park Slope, Brooklyn Heights or Cobble Hill.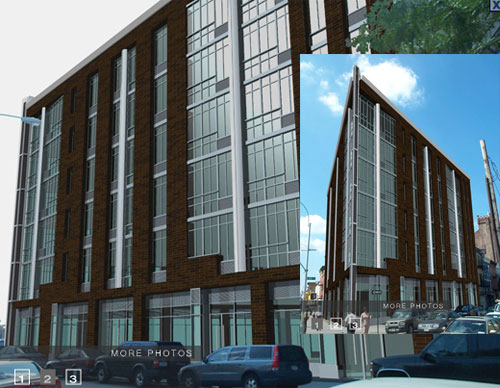 Hackett's replacement will be a new glass and brick luxury residential building designed by H. Thomas O'Hara Architects, which describes the project thusly:
One of the pioneer buildings in Long Island City, this building will help improve the neighborhood from its original industrial desolate areas to a new, friendly, residential neighborhood.
Currently in design development phase, expected start of construction spring of 2006, The design and construction documents for a 31 unit, 8 story building mixed use luxury condominium residential building.
It's worded rather enigmatically (and ungrammatically). The Hackett, built in 1885, was one of the "pioneer buildings in LIC", yet O'Hara describes their luxury glass box as a pioneer! For the Wall Streeters who will be buying apartments here, I suppose it is. photo via Curbed 
This magnificent structure from the same era, facing the entire block on Jackson between 49th and 48th Avenue, greets pedestrians and motorists entering Queens from the Pulaski Bridge from Greenpoint.

SW corner, Jackson Avenue and 47th Road. This building, similar in size and construction to the Hackett, will have to keep its flame alive after the Hackett's demolition.
"Hackett buddies," buildings built in the same era and with the same commitment to excellence and bravado that architects of the Beaux Arts era all seemed to have, will remain in place…for now.
A building at the NW corner of 47th Road and Jackson Avenue shines in the afternoon sun. The architects knew full well that it would catch plenty of PM sun, and designed a relief checkerboard pattern below the windows on the 3rd and 4th floors that would accentuate the sun.
As Hitchcock and Scorsesetypically found ways to inject themselves into their films, Beaux Arts architects often found ways to fancifully include the date of construction on their buildings: here, 1889.
How long will it be until developers set their sights on 1889?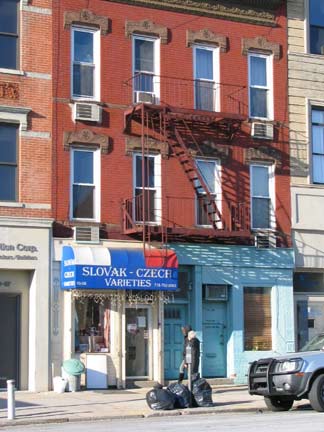 Among Jackson's cache of specialty shops, Slovak-Czech and Celtic. They have thrived despite the presence of the hulking Citi building nearby.
The Mack Daddy of Jackson Avenue Beaux Arts is the Romanesque Revival PS 1, originally the public school of Queens Ward 1 (and still says so in chiseled letters). Completed in 1892, it was converted to artists' studios beginning in 1976, and shows art considered too out there for its parent, MoMA. It once had a long-vanished clock tower.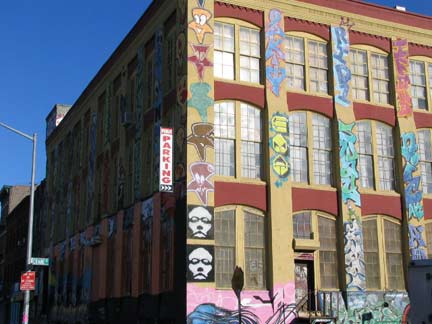 5 Pointz, here shown at Jackson Avenue and Crane Street, faces Davis Street one block north. It is an officially sanctioned area for Queens' taggers to 'legitimately' work on their art, even though some say the sheer illegality of graffiti provides its exhilaration. Local City Councilman Peter Vallone Jr. is vehemently anti-graffiti.
Davis Street, a dead end, is the shortest street in NYC completely covered by an elevated train. Livonia Avenue, in East New York, Brooklyn, is the longest.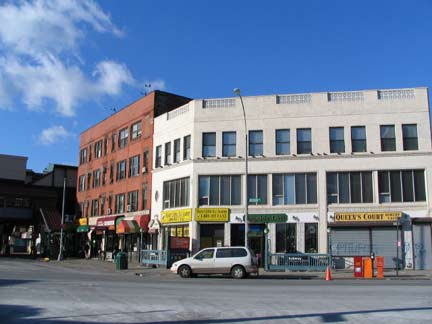 Jackson Avenue and 45th Road. The #7 elevated can be seen in the background.
Pearson Street is one in a series of short or dead end streets that issue southeast from Jackson Avenue to the LIRR Sunnyside Yard tracks. (Others are Crane, Davis, Purves, Dutch Kills, Queens, Orchard and West.) But Pearson is different. While others feature factories or industry of some kind, there are brick buildings or attached houses here, some of considerable age.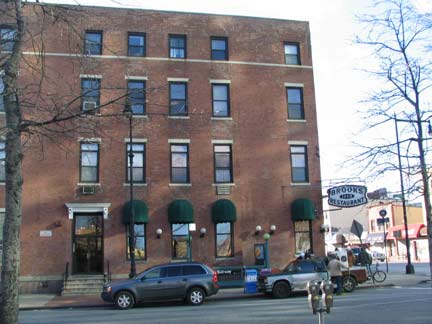 Brooks Restaurant, under one name of the other at Jackson and Court Square, has served magistrates and lawyers from the Long Island City Courthouse and latterday bank workers from Citi Tower since about 1890.
The NY State Supreme Court Building, originally the LIC Courthouse, is presently (January 2007)under a shroud while its exterior is under repair, so we'll borrow a photo from bridgeandtunnelclub. It's a true pioneer in these parts, first appearing in 1876. Here, bankrobberWillie Sutton was asked during his trial why he robbed banks; he supposedly replied, "that's where the money is." In 1952 a citizen who pointed out Sutton's whereabouts while on the run appeared on TV to describe the experience, garnering the wrath of mob boss Albert Anastasia, who ordered his murder. Honor among thieves.
Sutton never made the quote attributed to him, by his account. Of his robberies, he did say: "Why did I rob banks? Because I enjoyed it. I loved it. I was more alive when I was inside a bank, robbing it, than at any other time in my life. I enjoyed everything about it so much that one or two weeks later I'd be out looking for the next job."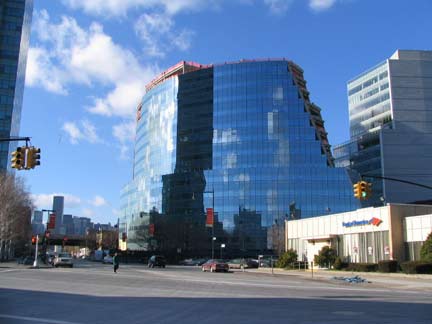 Directly across from the courthouse, Citi Tower replaced St. John's Hospital in 1989. By 2005 bank operations had exceeded its available space, and so it acquired a little brother across 44th Drive.
It can be seen in Manhattan from East 53rd Street–the home of that borough's slant-roofed Citi Tower at Lexington Avenue.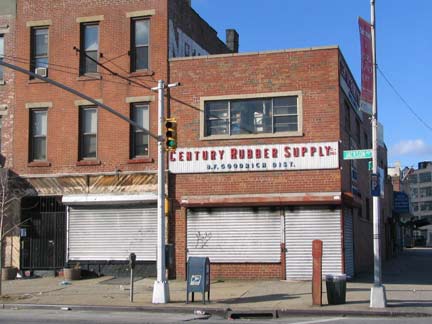 Century Rubber, Jackson and 43rd Avenues.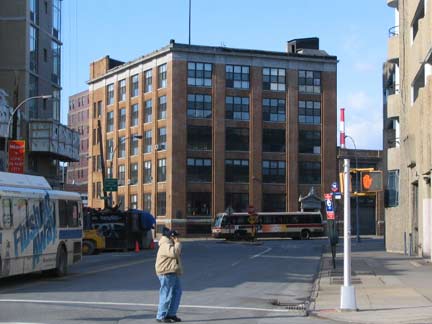 Long Island Star building, 28th Street and 42nd Road, was home to the Long Island City Daily Star, founded in 1865 by Thomas Todd, memorialized in a plaque on the building's exterior. The paper merged with Flushing's North Shore Journal in the 1930s and soldiered on until 1968 as the Long Island Star-Journal. Developers have it in their gunsights.
[torn down in 2010, replaced by a glass tower]
Was this…Queens' ugliest building?With all the Fedders Specials popping up all over, its title is definitely in jeopardy. It's a parking garage built in 1975 by the gray, bureaucratic-sounding Municipal Service Administration and is pretty much what you'd expect an agency with that name to come up with. It looks like what Orwell had in mind for the Ministry of Love. The designers were Rouse, Dubin and Ventura.
By 2010 it had been razed as part of the city's plan for a new Queens Plaza.
Photographed January 20, 2007; page completed January 25