Saturday, January 27, 2007 – The Staten Island Railway cannot be called an official subway, even though it uses modified subway cars; it only travels through a short stretch of tunnel. It's not a suburban railroad – Staten Island has been part of New York City since 1898. And it's certainly not a rural railroad, though you'll see, further along in this series, that parts of it were in open country as late as the 1970s when I first rode the line.
This tour, however, leads us through long-established portions of the island…some, like our first stop, have been here since the mid-1660s…
WAYFARING MAP: Grant City to Oakwood Heights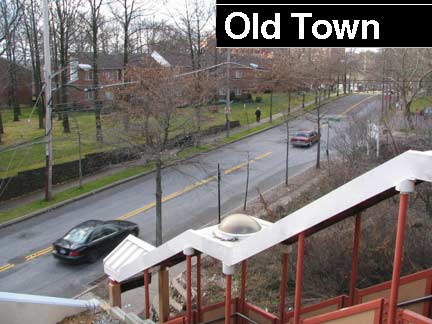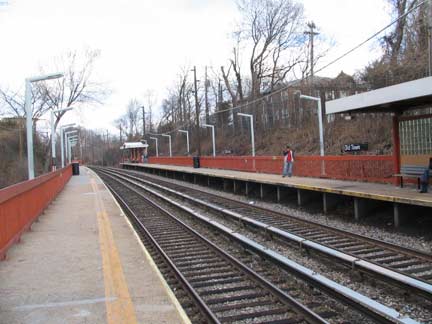 Old Town Station, on Old Town Road one block west of Hylan Boulevard, is the first station following Grasmere and pretty much sets the template for most SIRT stations that follow it, with side platforms, standard station lighting and glass block walls. Between Grasmere and Old Town, we find the offices and press of the Staten Island Advance, New York City's only "outer borough" daily paper, on West Fingerboard Road. The paper used to depend on the SIR for deliveries to and from, and the track to their old loading dock still remains but this is now used for layups and repair.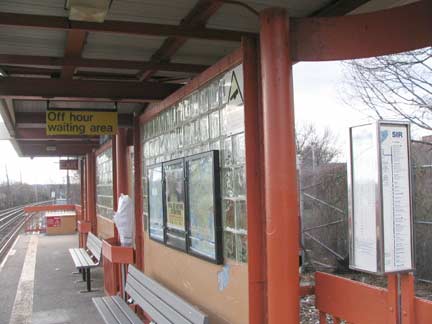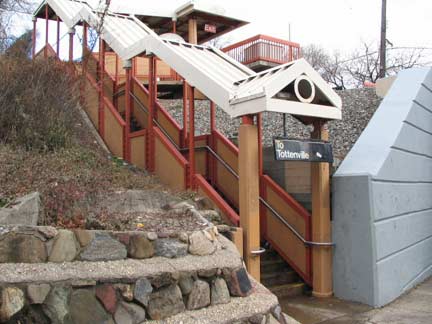 Beginning with Old Town Road, the MTA helpfuly provides bus stop-style schedules, a practice that perhaps should be considered in NYC's subway stations proper. Instead, the MTA is experimenting with an electronic alert for when the next train is coming on the BMT L line, similar to Washington DC's Metro. Photo right, the embankment on the western side of the station has been given a handsome rockface treatment on Old Town Road.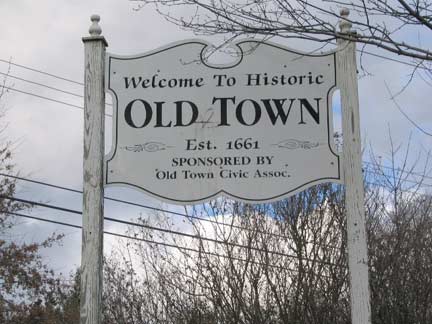 Old Town is indeed old; it was settled by Dutch, English and French farmers and fisherman close to where South Beach is now in 1661. Old Town Road,. and its eastern stretch now called Quintard Street formed the path from the beach to a settlement further inland. The Brits originally called it Dover, after another seaside English community. The marshy area near the beach now partly occupied by Staten Island University Hospital was the scene where many early silent westerns were filmed.
Below: some old-style homes on Oregon Road just south of the station.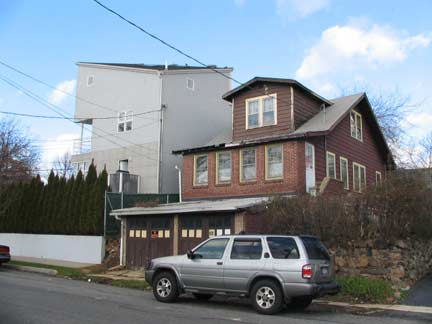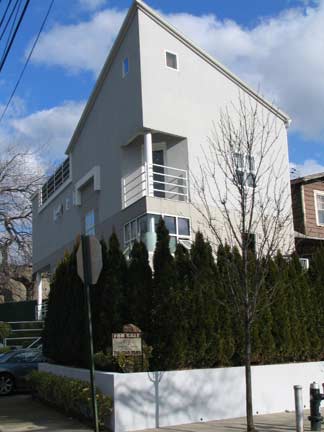 As on our previous SIRT page, we do sometimes have to zigzag about to follow the tracks. Quite a contrast at Reid and South Railroad Avenues, as we see an old campaigner from the 1910s or 20s next to the New Wave from the 1980s or 90s.
OK, I'll leave it up to you. Crap or not? Actually I really don't mind the new house all that much, as I'm sure any potential owner will be thrilled to know. It's for sale, as the sign says (as of January 2007). It's certainly better than the Fedders Specials popping up elsewhere. But what does the architect have against windows? Unless you sit on the terrace, which faces the railroad, there's very little sun at all.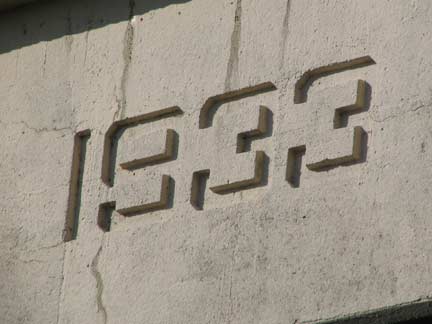 Following the route I devised (see wayfaring above) we'll use the Delaware Avenue crossunder on our way to the next station. In this part of Staten Island, grade crossings were eliminated in the early 1930s with the tracks generally placed on an embankment with an occasional low bridge. Look at the cool shadows produced by the chiseled date stamp.
The bridges themselves are a marvel of minimalism. The Independent Subway, built in stages in the four other boroughs in stages between 1925 and 1940, has exactly two elevated stations, oth built to avoid tunneling under the relatively deep Gowanus canal in Brooklyn, and so we really don't know what the elevated stations or overpasses of the IND would have looked like had the Second System, which would have included them, had been built. The overpasses and trackways of the 1930s SIRT, however, give us a good idea, as does the concrete viaducts on the Rockaway peninsula. A short stroll along North Railroad Avenue, and we'll have arrived at our next station…
Crossing over Garretson and Seaview Avenues is the Dongan Hills station, one of the SIR's four wheelchair-accessible stations (the others are St. George, Great Kills and Tottenville; if you're in a wheelchair and live between them, I suppose you may as well take a cab).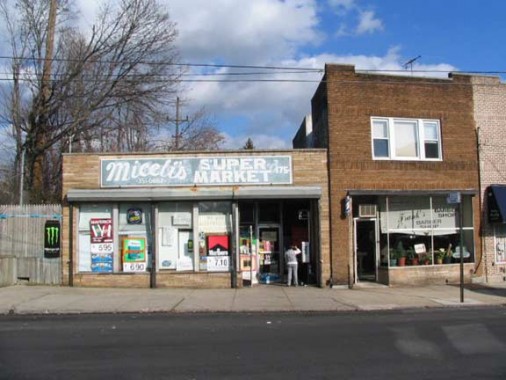 Garretson Avenue south of the station. This scene seems timeless; the supermarket and barber shop could have easily been there in 1957 or 67, not 2007. 
Stillwell-Perine House
There are three streets named Dongan in Staten Island, as well as a misnamed neighborhood. There aren't many hills in Dongan Hills, though the terrain gradually slopes as you go west to Richmond Road, the barrier between the south shore neighborhoods and Staten Island's series of glacial hills – Emerson Hill and Todt Hill – the highest on the East Coast south of Maine and the closest thing we have to a mountain view (I'm jealous of cities like Denver, Seattle and Portland from which mountains are visible). Dongan Hills is named for Thomas Dongan (1634-1715), the Irish-born governor of the Province of New York after Great Britain acquired it from the Netherlands in 1682 and one of the very few Catholics in the colonial era of the USA to rise to prominence. Dongan didn't live around here, however; his property was situated in today's Livingston section. He convened the first-ever representative assembly in New York history at Fort James, NY in 1683. The "Charter of Liberties" adopted by the council became the model of governmental rights adopted, with modifications, by the USA and later, Britain, Canada and other countries.
At Richmond Road and Cromwell Avenue, a few blocks from the station, you will find the Billou-Stillwell-Perine House, dating to, by some accounts, as early as 1662 — a full 20 years before Dongan became governor.

It Ain't Necessarily So
Staten Island maps are often only a general approximation of what is really going on. Many Staten Island maps include streets that have yet to be built or, are as yet only a gleam in a developer's eye but have already made it to official city records. This situation is most rife in the southern part of the island, where "paper streets" can exist for 20 years and are then removed in favor of other paper streets.
Leaving the Dongan Hills station, I followed Zoe Street along the tracks and fully expected to find the cluster of streets I've marked in pink. However, these streets have never existed, and in fact had been demapped as early as 1969…
However, upon a look at the overhead Google satellite view, we see a reality different from Map World or Developer World.
[To be perfectly forthcoming, at left we see a 1980s Hagstrom. Current editions have finally eliminated the streets marked in pink.]
Take a look at the map above. It was hand lettered by a Hagstrom employee in the 1920s, likely using a version of a fountain pen. You can see where (s)he momentarily paused since the ink wells up slightly in places. Unless its revived, map hand lettering will soon be a lost art; Hagstrom swithced over to CAD a number of years ago.
At Zoe and Naughton, I arrived on some overgrown brush, which I recognized as yet more of Staten Island's preserved wetlands. You have to rely on books like Secret Places of Staten Island to point them out for you, or at least we did before Google satellite maps enabled you to immediately see any portion of the USA. As stated earlier, street maps don't necessarily help you because they depict land that still has development potential.
The Parks Department does mark the area with local signage, calling it Last Chance Pond:
This unspoiled wilderness owes its existence to the efforts of Staten Island residents who were determined not to let the last chance for preservation go by. Entirely surrounded by residential streets, the park's 50 lots were previously undeveloped wetlands in the hands of a variety of owners. Marshy and hard to use, the Last Chance Pond wilderness area survived intact as the neighborhood grew up around it.
Efforts to preserve the pond and wilderness area began in earnest in the mid-1960s. Local residents Louis Caravone, (currently Chair of Community Board 2) and John P. Mouner of the Beachview Manor Citizens Association enlisted the support of a formidable cadre of politicians and environmental groups to aid their efforts. Together, they helped found the Last Chance Pond and Wilderness Foundation… The endangered property in the area of the current park was ultimately purchased by the New York State Nature and Historical Preserve Trust, a non-profit organization, which then donated the land to the City for park purposes. Finally, in 1999, the area of the current park was assigned to Parks by Department of Citywide Administrative Services (DCAS) on December 30, 1999.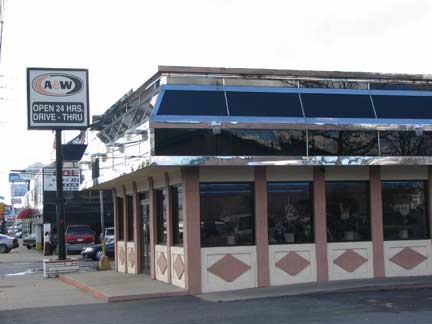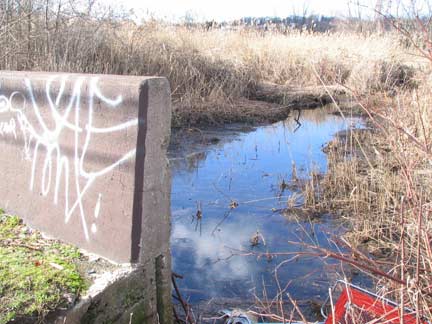 To return to the railroad I detoured all the way down to Hylan Boulevard, where I found that A&W doesn't just make root beer, it also does diners. I seem to remember this diner being somewhat more ramshackle than this, so either it's been rebuilt or I'm thinking of a different one. (Turns out A&W restaurants are all over the place.) At right, Hylan Blvd. crosses–with the barest of pedestrian protection — an unnamed and for the most part, unmapped stream that, as we see from the satellite map, empties into Lower New York Bay. I turned right at Jefferson Avenue en route to the next stop.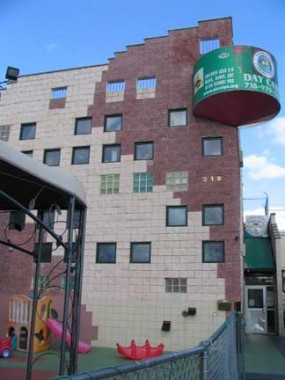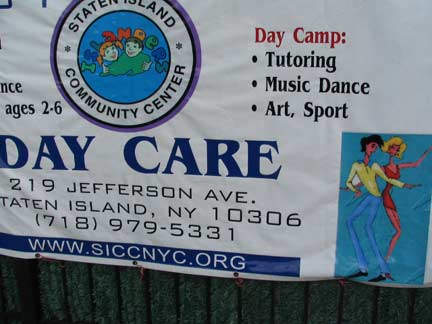 Just around the corner from Hylan Blvd. we find this, ah, thing, which is a school of some kind and also a day care center. Note that the poster depicts a couple of disco dancers, for a day care place!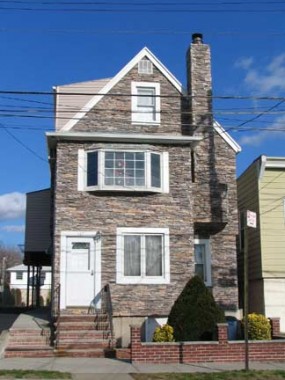 But fortunately, there are more old school dwellings on Jefferson as we head west. The brown and beige place doesn't look as if it's gotten an overhaul since the Truman administration but why should it? And I love the uneven brickwork a couple of doors down.
Jefferson Avenue is the first in a series of stations whose grade separation work was begun in the 1930s but not fully completed until the 1960s. It is the only station named for a street, not a town or neighborhood. The station is partly on an overpass and partly at grade.
When riding the SIRT you may notice a third track between Dongan Hills and Jefferson Avenue. The extra track served a coal distributor.
The SIRT Jefferson Avenue overpass is painted maroon red with stepped concrete abutments painted cream. It is perfect.
When I first spied it…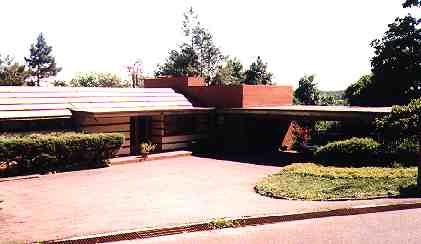 …it reminded me of "Crimson Beech," the only residence designed by Frank Lloyd Wright in NYC, in Staten Island's Lighthouse Hill neighborhood, with its flatness and color scheme. I was sad to learn that original co-owner (with husband William) Catherine Cass passed away in 2004.
SIRT overpasses are underpublicized examples of wondrous Machine Age simplicity and functionality. Earlier overpasses would have had ornamental ironwork; later ones would have been anonymous and boring.
Walking left on South Railroad Avenue along the tracks, we approach the next station. This stretch of track did not assume its final form until the late 1960s, as the next three stations, Grant City, New Dorp, and Oakwood Heights ran at grade, complete with flashing signals and X-shaped railroad crossing signs. Today, only a very few grade crossings remain in NYC, scattered around Queens; there are a couple remaining in far western Staten Island as well, on a stretch of active freight track. Beginning here, between Jefferson Avenue and Grant City, engineers considered it best to place the train in an open cut (similar to today's Sea Beach BMT line, currently the N train, in Brooklyn). The project began in the 1930s, but depression and war forced a delay for some decades.
In this 1966 photo we see the brick Grant City stationhouse under construction. The SIRT is running on temporary tracks, known by railroaders as shoo-fly tracks, on the present South Railroad Avenue. The open cut is seen at left. New York Transit Memories, Harold Smith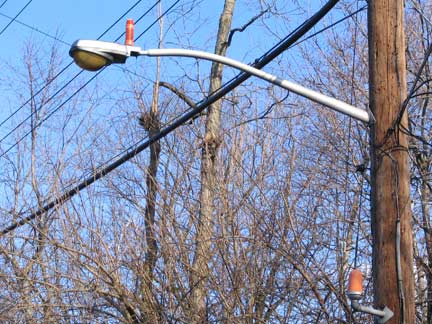 The street lighting masts along North and South Railroad Avenues, which accompany the SIRT here, are fairly unusual. The telephone pole masts are not the usual finned style (see my T-Pole lighting page for an example). Instead, during the grade separation project in the 1960s, the DOT installed masts that typically were used on poles that bordered parkways or expressways. Nassau and Suffolk Counties make greater use of these masts than NYC does.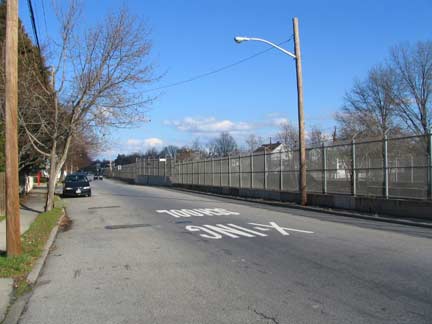 North Railroad Avenue; 1960s railings on Midland Avenue crossover; gable, flag and porch on N.R.R. and Bedford Avenues.
We now arrive at the next station…
If you're riding the train, these next few stations are pobably the most boring part of the ride. You're looking at a concrete wall on one of both sides of the right of way. If you're walking the route, though, the open cut makes for some striking railroad photography. Grant City is one of the few stations with a pure pedestrian crossover. In 1962, the station looked quite different.
Grant City has the now-familiar little brick station house on Lincoln Avenue above the open cut. All of them had ticket windows open weekdays until 1985. After that, until the elimination of fare collection at all but St. George in 1997, the conductor came over when you boarded and you paid him or her in cash.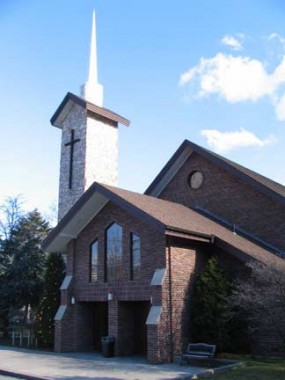 The 1991 St. Christopher's R.C. Church,Midland and S. Railroad Avenues
Grant City was founded in the early 1800s and was originally home to many French immigrants (so was the southern end of the island; witness Huguenot Avenue.) After the Civil War, engineer John Thompson built it up considerably and renamed it for the sitting president, Ulysses S. Grant, despite Staten Island's simmering pro-South sentiment: The island had draft riots of its own in 1863.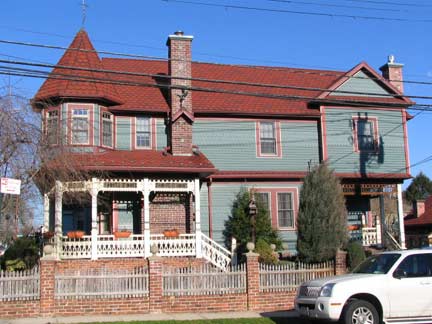 Painted-lady Victorian-era dwelling, Lincoln Avenue and Edison Street. Even the garage is wearing finery. This style is more prevalent in Stapleton and further south in Tottenville, but there's the occasional one scattered around the island.
The streets of Grant City are named for mid-19th century luminaries: Lincoln, Horace Greeley, John C. Frémont (a prominent explorer and the first Republican Party candidate for President in 1856 and the first to actively oppose slavery in a Presidential campaign). The streets are heavily shaded with London plane trees for block after block as well as Cape Cod style houses.
Fremont Avenue. Nice now, but how long before the Fedders Invasion hits?
Returning via Fremont to South Railroad Avenue we are well along on the way to the next stop…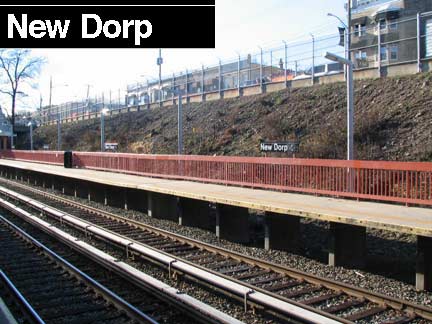 New Dorp Station was built from the same identikit as Grant City, brick stationhouse on New Dorp Lane, embankment, glass block partitions,and crossover, this one on an actual street, his one on Rose Avenue. It was built from 1964-1967, same as Rose Avenue.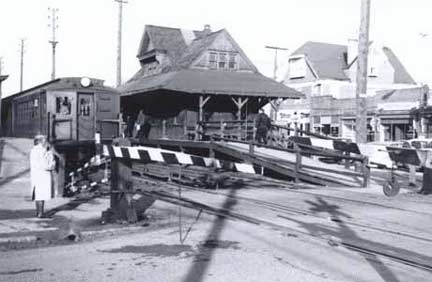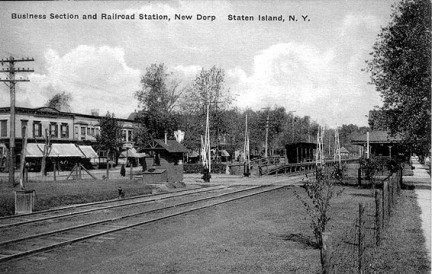 When New Dorp was a station at grade, it boasted an impressive Queen Anne station house with huge overhangs and eaves. The station can still be found: in the 1970s it found a home at Richmond Town Restoration, minus the eaves.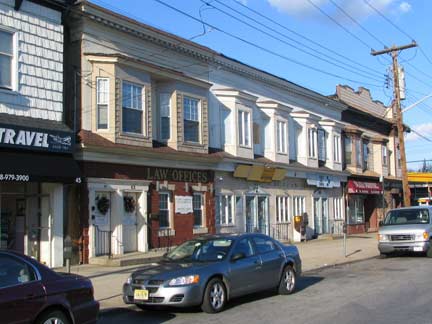 Though New Dorp Lane is the main shopping street, several business also congregate along New Dorp Plaza (as N & S Railroad Avenues are named between New Dorp Lane and Beach Avenue, in a similar situation to Brooklyn's Newkirk Plaza.
New Dorp, or New Town, was founded about 1671, ten years after an earlier town founded by the British called Dover. The Dutch settlers took to calling Dover Oude Dorp, or Old Town, which made this Nieuw Dorp. (An English language cognate of "Dorp" is Thorpe, which turns up in place names like Blackthorpe and Winthrop.)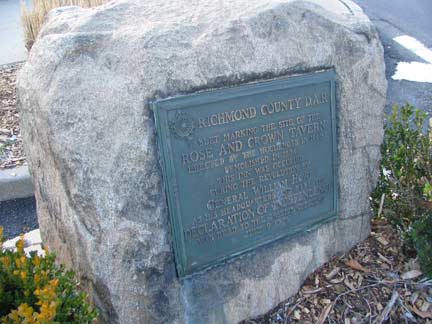 Daughters of the American Revolution marker at site of Rose and Crown Tavern, New Dorp Lane and Richmond Road

Black Horse Tavern, Richmond and Amboy Roads, early 1900s. (Can that be a liberty pole directly in front?)

New Dorp figured prominently in the Revolutionary War. Two taverns about a block apart, originally the property of the Vanderbilt family, were occupied by British officers including commander in chief General William Howe. Rootsweb.com:
When the British army came to America in 1776, to subdue our revolutionary sires, they landed and encamped on Staten Island and for a considerable time Gen. Howe, the commander-in-chief, made his headquarters at the "Rose and Crown" tavern, near New Dorp. It was a one-story building of stone, with a hall through the middle, and rooms on either side; in front was a large elm tree…Black Horse was actually the name of a tavern which stood on the westerly side of the road (forks of the Richmond Turnpike and Amboy Roads) almost opposite to New Dorp Lane. Howe used this tavern as his residence during the Revolutionary War.
Note: a short street off Hylan Boulevard at Miller Field is named Elmtree Avenue, and a lighthouse at the end of New Dorp Lane, Elmtree Beacon, are likely yclept for this tree; Rose Avenue may have something to do with the tavern.
William H. Vanderbilt, who is buried in a large vault in nearby Moravian Cemetery (Staten Island's largest) owned a farm at the end of New Dorp Lane at Lower New York Bay in the mid-1800s, and popularized horse racing at his track. Another track was ran by the Seaview Association nearer Richmond Road. The farm was later included in Miller Field, an airport ran by the US Government and now a large recreation area.
The Gustav Mayer House can be found at 2475 Richmond Rd. just west of New Dorp Lane. This ornate, suburban "villa," built in 1857 in the romantic Italianate style, is set on a knoll and boasts a cupola that offers views of Raritan Bay and a full-width front verandah. For more than a century, until 1990, it was occupied by family members of Gustav Mayer, a wealthy, German-born businessman who was a major innovator in the cookie industry, as the inventor of the Nabisco Sugar Wafer.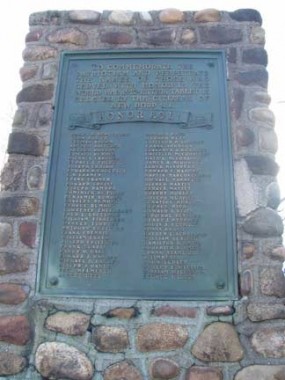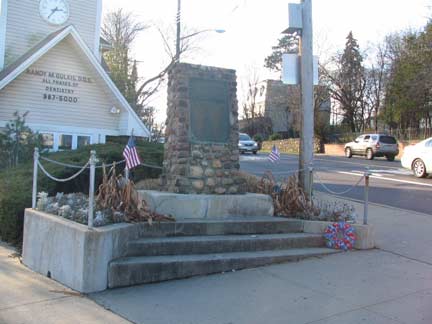 New Dorp's handsome, cobblestone brick World War I memorial is directly in back of the Black Horse Tavern monument. The World War II memorial, a spare stele, is a few blocks away at 9th Street.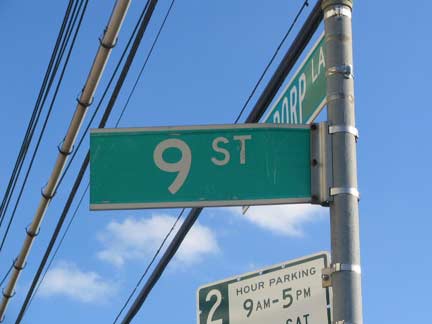 New Dorp is now the only neighborhood in Staten Island with numbered streets, 1st to 10th, skipping 5th and 6th (those spots are taken by New Dorp Plaza). Though the island does have a grid pattern in some areas, like New Dorp, it hasn't gone number crazy like, say, Manhattan or Brooklyn, largely because of topography; since there are high hills in the center of the island, it'd be very hard to implement a numbered street system. If you look at old maps, though, nearly every street on the island has previously had another name.
The Art-Deco themed Lane Theatre, opened in 1937 at 168 New Dorp Lane near 10th Street, was developed by the Moses brothers, Charles, Elias and Lewis and designed by renowned architect John Eberson; the first feature was "100 Men and a Girl" starring teen singing sensation Deanna Durbin. Until 2001, it had been recast as a nightclub that has now closed; the distinctive red and blue "Lane" façade is still visible. Its Art Moderne foyer and corridors remain intact, albeit inaccessible at present.
In early 1999, just before his career went white hot, the club presented a young rapper from Detroit named Marshall Mathers.
Since the photo was taken, the Lane has become a successful comedy club.
New Dorp Lane just after 1900. The heavily trafficked road hasn't looked this rural in a long, long time.
Staten Island, being the little brother of the five boroughs, does not get nearly enough architectural recognition; take these two buildings on Ross Avenue (not to be confused with Rose Avenue) near S. Railroad Avenue, above, and the building at left, on S. Railroad and Allison Avenues.
I've spoken often about how inferior new buildings are taking over, but there are some new styles I do like. The school, above, combines brick facing with wood paneling and the building at left takes the mansard concept to its extreme, with the entire second floor under the mansard. The rectangular windows can't admit much light though.
The SIRT here comes out of the open cut and once again runs on an embankment, with a Tysens Lane crossunder. We are approaching the final stop on today's page…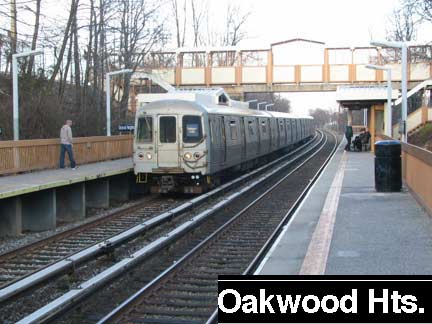 Like Dongan Hills, Oakwood "Heights" is a misnomer, since the closest 'heights" are in Lighthouse Hill about a mile away. Only the SIR calls the neighborhood "Heights" to be fair; to residents, it's simply Oakwood. The neighborhood borders the Great Kills National Recreation area, Richmond Town and the island's cemetery belt, containing Oceanview, Fred Douglas, Mount Richmond, and United Hebrew Cemeteries. A ribbon, or a gash of green separates Oakwood from Richmond Town: this is where land was cleared where Robert Moses wanted to extend Willow Brook Parkway; environmental and fiscal concerns short circuited the plan. At present, the greenway is known as the Amundsen trailway, named for Norwegian polar explorer Roald Amundsen (1872-disappeared 1928)
The Oakwood Heights station resembles several others along the SIRT. Like Grant City, the station was placed in an open cut from 1963-1965.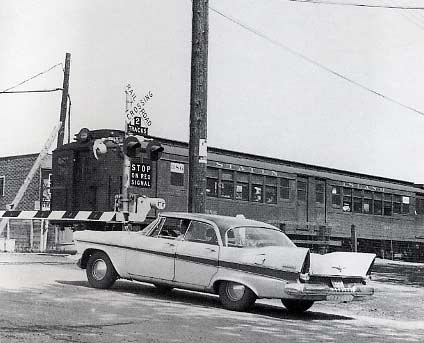 Name that Car — it waits for the gates to go up at Oakwood Heights in the early 1960s.
Guyon Avenue, north side of station, in early 20th Century and 2007. Those may well be the same buildings on the right side in both pictures. I have to admit I have no idea how Guyon Avenue is pronounced; I imagine it's from early French immigrants. is it GUY' on, as in English, or French, as in Guy Lafleur?
In Part 3: Bay Terrace, Eltingville
1/27/07