Back in the infancy of Forgotten NY, April of 2000 to be exact, I was working at one of those jobs that only required me to be present 3 or 4 times a week (which is great for gathering Forgotten material but not so good when trying to pay bills) and, after a few weeks poking around abandoned hospitals and boatyards in Staten Island, I thought it would be nice to take a walk in a nicer part of town…a place that had, I knew, the most beautiful architecture ever conceived. Where might that be? Enter Richmond Hill, Queens.
I returned in November 2004 and March 2005 with Christina the Queen of Queens, who pointed out some additional highlights, and stockpiled them for a page in the ongoing FNY Queens neighborhood series. I hope to spotlight overlooked neighborhoods in all five boroughs. At the rate it's going, it'll be done by about 2050, and my kids wil have to finish it. I better start reproducing, quick.
The Victorian era, roughly 1865-1900, was a period characterized by a booming economy in many of its years, and architecture responded with an everything-but-the-kitchen-sink attitude. No color or design was written off, and no expense was spared in construction. Yet, nothing was tacky or tasteless and despite every house on the block being completely different from the other, Victorian neighborhoods retained a unity of spirit that can't be matched in these days of prefabricated junk.
Richmond Hill, located in Queens between Forest Park, Kew Gardens, and Jamaica, didn't spring up on its own, spontaneously. It's a planned community. It was conceived in reaction to the increasing population in Manhattan and Brooklyn in the mid-1800s, with row upon row of tenements and attached brownstones. Even the best-appointed brownstones in Manhattan were often cramped and crowded. And, in the 1800s social mores dictated that the only place to raise a happy family was in one's own house. In Manhattan, this wasn't much of an option anymore.
For the solution, developers looked to the east and south, and built developments from scratch in New Brighton, Staten Island, Prospect Park South in Brooklyn, and here in Richmond Hill, Queens, among other locales.
Although there was no such thing as zoning in the late 1800s, Albon Man had several means at his disposal to make sure the community developed according to his specifications. He obtained restrictive covenants to dictate, for example, the absence of front yard fences and uniform setbacks, that would give Richmond Hill a forestlike atmosphere with lots of green lawns, which persists to this day.
Most of the houses of Richmond Hill were constructed in what is called the American Queen Anne Shingle style (above) though there are some examples of an earlier style called the Stick style (left), from its thin posts and rails.
The area that became Richmond Hill was forest and farmland until the Long Island Railroad was built through the area in the mid-1800s, and some businesses came to the region.
Enter a Manhattan (Murray Hill) lawyer named Albon Platt Man. One day in 1869 he was riding along the Brooklyn and Jamaica Turnpike (a toll road that is today's Jamaica Avenue) on the way to his summer house in Lawrence, Nassau County (then a part of Queens), and noticed the desirable land along the route in an area then known as Clarenceville.
Man consulted with a local landscaper and architect named Edward Richmond, bought the property and developed it until his death in 1891. His three sons carried on after his death, and went on to develop Kew Gardens in all its Tudor glory to the north, and developed the woodland along the terminal moraine (the hills in the center of Brooklyn and Queens that mark the southern progress of glaciers during the last Ice Age) into what is now Forest Park.
It's likely that the name "Richmond Hill" was not a tribute to Edward Richmond, since he passed away before much of the development could get underway. Rather, Man probably named the nascent community after the London suburb Richmond-On-Thames, a favorite royal stomping ground.
White is the color of choice for Richmond Hill homes, although color was not a restricting factor and some houses are done in brilliant pinks, yellows, purples and greens.
These houses are popularly called 'painted ladies.'
Though Richmond Hill is home to a great variety of styles, it retains a close neighborhood feel.
Because of cost considerations, modern developments are cookie cutter like, with identical houses going up for blocks on end.
Perhaps they should take a tip from the so-called stuffy Victorians.
This house, built on a hill on curving 84th Avenue, boasts the inviting wraparound porch that characterizes some 'Victorian' homes.
86th Avenue
84th Avenue near 118th St
On 105th Street
Cottage on Curzon Road
One of the quirks of Richmond Hill is that, in some cases, the sidewalks are much higher than the actual street. This makes for some unique construction involving steps from the sidewalk to the street. You don't see this sort of thing much in New York, except for a couple of corners in Staten Island.
Hillside and Myrtle
There's a cluster of ancient businesses and signage clustering around Myrtle and Hillside Avenues. These two lengthy roads come together here, where Myrtle begins a lengthy journey westward to downtown Brooklyn, while Hillside Avenue, so called because of its location at the foot of glacial hills in Queens' midsection, runs all the way east to Old Westbury in the middle of Nassau County.
Bangert's Flowers, on 86-08 117th just west of Myrtle,started out as Fluhr's in 1894 and was sold to the Bangert family in 1927. It boasts what must be its original 1927 marquee, complete with no longer functioning neon letters, and an original FTD sign complete with a winged-footed Mercury and FTD's original slogan, "Flowers by wire…the Mercury Way!"
Jahn's Ice Cream, a favored spot for after-prom events, has been in Richmond Hill since the late1920s and still displays turn of the century memorabilia such as a working nickelodeon and a vintage 1890s soda fountain. The chain was founded in the Bronx in 1897 by immigrant John Jahn. Yes, John Jahn. The Richmond Hill Jahn's is the last in his original chain of stores.
Richmond Hill, not to be outdone by the nearby Valenciain Jamaica, preserves its very own classic movie palace of yore… and this one has a marquee that has been returned to its look in its halcyon days, with red neon-lit nameplates and a gold border! The theatre opened as the Keith's Richmond Hill about 1928 at 117-09 Hillside Avenue. The old marquee, which had been hidden under aluminum siding for some years, was restored in 2001 during production for a feature film, The Guru, featuring Marisa Tomei.
The little-used Montauk branch of the Long Island Rail Road crosses Hillside just east of Myrtle. The LIRR was run under the auspices of the Pennsylvania Railroad from 1928 to 1966, and in those years, the LIRR signage adopted the "Pennsy" keystone symbol, adopting Pennsylvania's "Keystone State" motto. The LIRR's chuffing steam engines all carried a keystone plate on their noses until the last one was retired in 1955.
Triangle
The Triangle, early 1900's
Almost as long as there's been a Richmond Hill, the Triangle Hotel building has marked the triangle where Myrtle Avenue meets Jamaica Avenue. It was built by Charles Paulson in 1868 and was originally rented out as a grocery and post office. By 1893 the building, now owned by John Kerz and operating as a hotel, included an eatery named the Wheelman's Restaurant in honor of the new bicycling craze.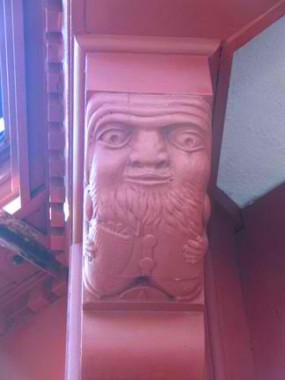 According to the Richmond Hill Historical Society, Babe Ruth (who was a golf enthusiast in nearby St. Albans) and Mae West were patrons of the Triangle Hofbrau in the 1920s. Vaudeville-era pianist/composer Ernest Ball (1878-1927) wrote the music for the now-standard "When Irish Eyes Are Smiling" in one of the hotel's guest rooms in 1912. Note the THB monogram, from the days it was known as Triangle Hofbrau.
Church of the Resurrection
Albon Man also donated land for the Church of the Resurrection, facing 118th Street just south of 85th Avenue, Richmond Hill's first church. A small wooden Gothic Revival edifice built by architect Henry Dudley in 1874, the structure is preserved within the present French Gothic stone building, which was finished in 1904, though further extensions continued until 1926. Social reformer Jacob Riis, a Richmond Hill resident, was a parishioner, and New York State Governor Theodore Roosevelt attended Riis' daughter Clara's wedding to Dr. William Fiske on June 1, 1900.
Jamaica Avenue
Long Island's longest highway, Jamaica Avenue-Jericho Turnpike-NY State Route 25 (though, perhaps, the title should go to Northern Boulevard-North Country Road-Route 25A – I'm not sure of the lengths of each) runs right through Richmond Hill. Since 1917 Jamaica Avenue has been shrouded by the Jamaica el, which presently begins on Broad and Nassau Streets in Manhattan, rolls over the Williamsburg Bridge, down Brooklyn's Broadway, Fulton Street, Crescent Street and Jamaica Avenue. The line formerly terminated at 168th Street, but was cut back to Sutphin Boulevard in the late 1970s, with the MTA building extensions for both the Jamaica and Queens Boulevard lines ending at Parsons Boulevard, which opened in 1988. There were grand plans to extend the line through southeast Queens, possibly to St. Albans and Rosedale, but such grand dreams succumbed to NYC's 1970s financial crisis and haven't been discussed since.
Two ancient branches of the LIRR pass under the el, one abandoned and one used by an occasional freight (the Rockaway Branch) and the Montauk branch, used by three daily passenger trains. The closed Richmond Hill station (seen on this page) is still marked by a sign that told its five daily passengers it'd be closing March 16, 1998.
Lurking under els, you sometimes find preseved elements of the past…
Jamaica and 117th. What was this building? Possibly a roadhouse or hotel.
Old school neon at Cadigan's
The Apple King Buffet Building (for want of a better name), the opposite corner of Jamaica and 117th, looks remarkably like it did in 1904 when it housed the dentist, Dr. Briggs.*Richmond Hill: Carl Ballenas and Nancy Cataldi
*Ouch! The Apple King Buffet Building is on 116th, and thus isn't the same building as Dr. Briggs'. But it is quite similar, which fooled your webmaster.
Doyle's, when I last looked, had been closed by court order.
20-30 years ago, someone in the Department Of Transportation experimented with street and one-way signs designed for el pillars, and Jamaica Avenue was the guinea pig. The experiment didn't make it past Richmond Hill.
Wrecked History
In a city and borough that either allow their history to rot (Flushing Meadows Corona Park, Civic Virtue statue in Kew Gardens) or allow rapacious developers to destroy all semblance of community (Astoria Village, Flushing) the condition of Richmond Hill's Republican Club, where, despite its name, presidents of both parties have appeared, is especially appalling.
The landmarked Republican Club building, on Lefferts Blvd. between Hillside and Jamaica Avenues, pretty much looks the same on the exterior as it was when it was built in a Colonial Revival style by architect Henry Haugaard in 1908…and that's the problem with this historic structure, which looks as if it hasn't been touched in decades. The windows are boarded up; those which are still there are broken, and the paint is peeling away on the façade.
The building has an illustrious history, though. The interior originally boasted oak pews, doors and paneling, a bowling alley-come-archery range. The Richmond Hill Historical Society has preserved the signed photographs of Calvin Coolidge, Warren Harding and Theodore Roosevelt that were found inside. During World War I the Club became a canteen and a place for rest and relaxation for US armed forces.
The club remained an important gathering place for the Republican Party throughout the 20th Century well into the 1980s. Presidents Teddy Roosevelt, Harry Truman, Richard Nixon and Gerald Ford have all given speeches here, and Ronald Reagan appeared here during primary season in 1976 and during the 1980 campaign. Hopefully this historic building can be rehabilitated and its proud history once again can be available for Richmond Hillers and New Yorkers to enjoy.
Directly across Lefferts Boulevard from the Republican Club is another noted and beautiful building in a neighborhood full of them: the Richmond Hill public library. It was built in 1905 by the archictural firm Tuthill and Higgins with a grant from philanthropist Andrew Carnegie on land donated by Albon Platt Man, the developer of Richmond Hill. Stop in and see a large interior mural painted in 1936 by artist Philip Evergood showing Richmond Hill as a suburban alternative to the hustle and bustle of the big city.
85th Avenue. Is architecture from the 1890s and 1900s the best we have ever produced?
Note: both the Woodhaven and Richmond Hill historic societies have placed these snazzy historical plaques, which really should be adopted by other historic groups.
Sources:
Barry Lewis, Kew Gardens: Urban Village In the Big City, Kew Gardens Council for Recreation and the Arts 1999.
Richmond Hill, Carl Ballenas and Nancy Cataldi, Arcadia 2002
Photographed November 2004, March 2005. Page completed March 4, 2007.
erpietri@earthlink.net
©2007