The boundaries of Woodhaven are a little hard to define–especially the eastern end. It's south of Forest Park, east of the Brooklyn borough line (Eldert Lane and a number of other streets), and north of Liberty Avenue; but in the east, where does Woodhaven end and Richmond Hill begin? Woodhaven Boulevard seems a bit too far west, and Lefferts Boulevard is too far east.
Dutch families migrated east from New Lots in the mid-1700s and small towns, Woodville and Unionville, were in place by the 1800s along the Brooklyn and Jamaica Plank Road (today's Jamaica Avenue). By the early 1800s the Union Course and Centreville race tracks had arrived, the precursors to today's Aqudeuct. The Long Island Rail Road, orginally pulled by horses, then steam engines, arrived in 1836 and ran down Atlantic Avenue for over 100 years until it was finally electrified then enclosed in a tunnel. Woodhaven became a manufacturing center in the 1800s (a former place name is Shoe and Leather Street).
To avoid confusion by the Post Office with an upstate New York State town in the days before zip codes, Woodville residents voted to change Woodville's name to Woodhaven in 1853.
Dexter Park
Woodhaven Cultural and Historical Society sign, Jamaica Avenue and Dexter Court; Dexter Park, 1930s East Side, West Side, Lawrence S. Ritter
Even if your city has a major league team, they're on the road half the season, and beginning as far back as the 1910s, semi-pro teams featuring up-and- comers, minor-league caliber players, and never would-be's played parks ranging from sandlots all the way to minor-league stadiums. They took up the slack if the Yanks, Giants or Dodgers were out of town and you wanted to get a baseball fix. The most famous, perhaps, of the NYC area's semi-pro clubs was the Brooklyn Bushwicks, founded by Max Rosner. The Bushwicks, of course, neither played in Bushwick nor in Brooklyn. Their home was just over the borough line from Franklin K. Lane High School.
Dexter Park began as a small sandlot-type field surrounded by playgrounds, bowling alleys, a carousel and a dance hall. Rosner founded the Bushwicks in 1913 and moved to Dexter Park in 1918, and it soon expanded to a 15,000-seat park with a steel and concrete grandstand. Rosner installed lights in 1930– a full five years before they arrived at Cincinnati's Crosley Field, and 8 years before Ebbets. Players from the AL, NL and the old Negro Leagues, some of which are named on the historic marker, played exhibition games against the Bushwicks after their regular seasons had ended, and Rosner signed Dazzy Vance and Waite Hoyt after their MLB careers ended.
After the 1940s, though, the arrival of television and the slow integration of the major leagues (decimating the Negro Leagues) took a toll on the Bushwicks' attendance, and Rosner disbanded the team. After a few desultory years as a stock car venue, Dexter Park was razed in 1955, with two-family homes now occupying the site. The name "Dexter Court," the sign, and the memories of players who are fewer in number as the years go by are all that's left. Brooklyn regained pro baseball in 2000 with the arrival of the Brooklyn Cyclones, the Mets' A affiliate, in Coney Island.
 Quite close to Dexter Court we find another historic sign commemorating a business founded by Fred Trump, who made a lot of money building affordable middle class housing in NYC, much of it in Coney Island, where Trump Village still carries his name. His son Donald, of course, needs no introduction.
Fred Trump was a builder who loved his work. You can still see his achievement throughout Brooklyn today: hundreds of houses and apartment buildings, all of them dapper but not fancy — like him — and made of solid materials. Trump's properties were maintained to a fare-thee-well. Brick was repointed; ironwork repainted. Signs over perfect lawns speak in Fred's stentorian tone: "Positively No Ball Playing Allowed." New York Times
Yes, Fred Trump's middle name was Christ.
Forest Park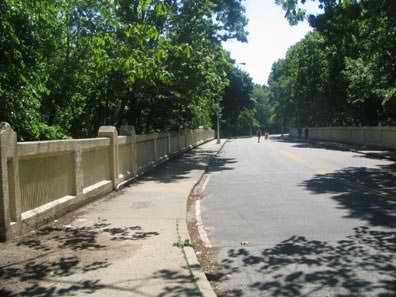 Bridge over LIRR, Forest Park
Though Queens has hundreds of acres of parkland, Forest, Kissena and Cunningham Parks usually take a backseat to Flushing Meadows Park, with its collection of corroding, deteriorating remnants of two World's Fairs. Forest Park is up there among NYC's biggest parks, with over 500 acres stretching between the cemetery belt, Kew Gardens, Union Turnpike and Glendale and Park Lane South in Woodhaven and Richmond Hill. It forms a natural boundary between communities in northern Queens (Glendale and Forest Hills) and their southern cousins. I confess to not having extensively explored Forest Park as much as I have, say, Central and Prospect Parks, and Forest Park makes no pretense of matching the cultural aspects of those two Olmsted and Vaux creations, though it has its moments.
Forest Park was actually created by the city of Brooklyn in 1895, with the city's Parks Department buying up acres of forested, pretty much unused property, hence the name. It's among the more 'natural' of our big parks, with about 165 acres left as woodland, interspersed with marked trails.
The park was surveyed by Olmsted, and much like the parks and natural reserves of Staten Island, Forest Park contains several nature trails 'blazed' or marked for the ease of hikers, and also boasts a bridle path.
Your webmaster's use of Forest Park has primarily been a handy dandy short cut when cycling from Kew Gardens to Woodhaven or Glendale, since the park roads are mostly closed on weekends, though I do have to battle the carbureted beasts at the roads servicing the Jackie Robinson Parkway. And, going west, it's all downhill. On the way back to fab Flushing, I'll go through Richmond Hill and go up mountainous Lafferts Boulevard, where the hill is steep but concentrated in a short area.
Painted Ponies (and other critters)
Every year, it seems, sees the closing of more of New York's classic carousels, but Forest Park's, just off Woodhaven Boulevard south of Myrtle, is still delighting kids big and small as it has since it was moved here from Dracut, Massachusetts, in 1971. This Daniel Muller carousel, built in 1903 and containing 54 wood horses and other animals, is one of just two remaining in the country. It replaced an earlier carousel that burnt down in 1966. The carousel contains 49 horses, a lion, a tiger, a deer, and two chariots arranged in three concentric circles. The carousel also contains an original carousel band organ. It's a buck a ride for all ages. Five other New York City parks operate carousels: Prospect Park in Brooklyn, Central Park and Bryant Park in Manhattan, Flushing Meadows-Corona Park in Queens, and Willowbrook Park in Staten Island. The B&B Carousell in Coney Island, shuttered since 2003, has been saved and should reopen soon.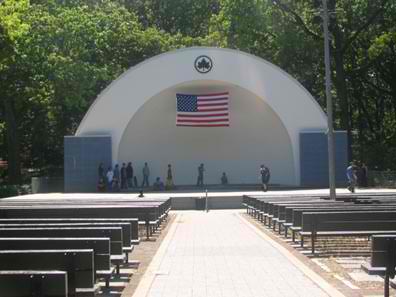 The Seuffert Bandshell, named for George Seuffert, Sr., a popular musician and band leader, stands near the spot where he and his band first began offering Sunday afternoon concerts to the public in 1898. In 1928, Seuffert's son, Dr. George Seuffert, took over and led hundreds of concerts featuring music by Wagner, John Philip Sousa, Cole Porter and many others. When he died in 1995 the Queens Symphony Orchestra took over the tradition of offering summer concerts there. Other nights have been added in recent years: kids events' on Monday nights, rock on Thursdays and Fridays, and classical on Sundays. The bandshell was built in 1920 and renovated 80 years later.
Victory Field, at Woodhaven Boulevard and Myrtle Avenue, features a Works Progress Adminstration-era athletic track.
A relic of the days when fire alarms were relayed by telegraph (a practice instituted in 1851) can be found at this austere building, dating to the 1920s, at Woodhaven Boulevard and Park Lane South. Fire alarms from Queens, from street fire alarms, phone calls, radio from units in the field, and private alarm services, go through this building. The alarm is assigned a response of fire units and the firehouses are notified from this office. Once on the scene, if the units need more help they call this office by radio and more units are assigned and sent.
I was intrigued by this handsome brick building on Myrtle just east of Woodhaven, with its neat front door staircase, interesting window lintels, and extraordinarily fugly cell phone towers.
Trotting Haven
Woodhaven Boulevard used to be known as Trotting Course Lane, probably because it led to the race tracks and trotting ovals of the nascent Woodhaven. By the 1930s it had been straightened and renamed Woodhaven Boulevard, and attained its present ten lanes of roaring traffic. Here and there, though, there's a tidbit of its more rural past, or small town past. There are a couple of pieces of the old unstraightened Trotting Course Lane left, for example.
A brick building on Woodhaven just south of the Jackie Robinson Parkway overpass angles away from the road and probably faced the original Trotting Course Lane. At right, follow Trotting Course Lane just north of the parkway off Woodhaven and you will find a set of rusted railroad tracks belonging to the LIRR's abandoned route to the Rockaway Peninsula.
Those same abandoned tracks cross Park Lane South just east of 98th Street, and a slight indent in Forest Park allows the presence of private homes on the north side of the street here.
The Unattainable
Your webmaster is mulling a co-op purchase as I write this (Feb. 2007) and, unfortunately, it won't be here…
The former red brick tobacco pipe factory on Park Lane South and 101st Street has intrigued me for the 14 years (as of 2007) I have lived in Queens and I always entertained moving in, but it's a long way from the LIRR Port Washington Branch, which your auto-free webmaster has always used as a lifeline. So, about once or twice a year, I bike or walk by and look at it the way a cat looks through the glass at the fishmonger's. How can I resist a complex that comes complete with a watchtower.
The Hidden Cemetery
Turning south from Park Lane South along 96th Street we find St. Matthew's Episcopal-Anglican Church, handsomely constructed of ashlar, from most accounts in 1901, though a cornerstone says otherwise. I've always thought the Roman Catholics and Episcopalians build the best-looking and most distinctive churches.
The real find here, though, is a colonial-era cemetery I've never seen, since it's in back of the church, on their property. One of these days, I'll present the sexton with a Forgottencard and be admitted onto the grounds. Or not.
Woodhaven's Clock Tower
Just as piano manufacturer William Steinway built a small community to house his factory workers in northern Astoria, so did Lalance & Grosjean, the nationally renowned manufacturer that was among the first to make porcelain enamelware, a cheaper, lighter alternative to heavy cast-iron cookware under their brand name, "Agate Ware." L&G set up business in 1863, and by 1876 had built a large kitchenware factory on Atlantic Avenue between today's 89th to 92nd Streets, and workers' housing on 95th and 97th Avenues between 85th and 86th Streets.
In the 1980s, most of the Lalance & Grosjean red-brick factory buuildings were razed in favor of a large Pathmark supermarket. In a similar situation to the Tower Square trolley barn, the clock tower, at the corner of Atlantic Avenue and 92nd Street, has somehow made it through the years, and is one of Queens' best representatives of the form.
The factory now houses a variety of businesses.
The Lalance and Grosjean wood-framed row house factory workers' buildings are still there, though the ones on 95th Avenue are less modernized than the ones on 97th Avenue, so they appear closer to the condition they were in when the workers occupied them.
Though we're on the outer edge of Woodhaven (more like southern Richmond Hill) I couldn't resist shooting this (probably) 1960s bank façade at Lefferts and 101st Avenue. Though your webmaster often rails about modern styles (most are executed cheaply and carelessly) I really dig smooth tiled exteriors featuring primary colors. Shot from the Q-10 bus window, hence the reflections.
I liked this classic old school jeweler sign on Jamaica Avenue. Especially since it's now a liquor store.
I always have a look out for colorful terra cotta, and I found some to satisfy at St. Thomas the Apostle R.C. Church at 88th Avenue and 87th Street.
The Wyckoff
They don't build 'em like this anymore, kidz! There are plenty of other buildings with ornate cupolas and towers in New York City, but this one on 95th Avenue and 93rd Street seems all the more impressive because it is unique in Woodhaven…there's no other building like it in the area. Its former Moorish-style conical dome made it a veritable skyscraper. The dome may have been removed, but there's still enough detail on this 110-year old building to make it one of Woodhaven's treasures; its cornices and eaves have not been lost to development. It was originally the home office for the Woodhaven Bank. Old Queens in Early Photographs, Seyfried and Asedorian
An ever-watchful mesh screen looks over Woodhaven Boulevard from Jamaica Avenue at the el station. It's part of a five-station installation called "Five Points of Observation" by artist Kathleen McCarthy on the Jamaica el stations.
Photographed mostly December 2004-June 2005. Page completed February 25, 2007.
erpietri@earthlink.net
©2007