Well, your webmaster finally made the team picture after 29 ForgottenTours. Can you spot where I am?* As usual, despite sunny weather predicted all week, ForgottenTour Day turned out cloudy, chance of showers. At least on 2007's Green-Wood Cemetery tour, I didn't have any hecklers, like I did on the 2006 tour!
30 ForgottenFans and I investigated the southwestern end of the cemetery, which has been here since 1838, and the famous and not-as-famous surrounding the burial park's two large glacial ponds.
*I am the stooped gnome in the green jacket, third from left. whatisee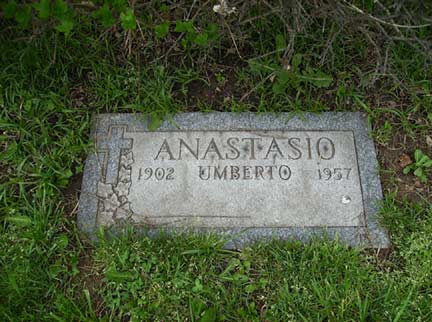 Mobster Albert Anastasia (1902-1957) is buried under his actual name. After arriving in the USA in 1919 (jumping ship) he worked in Giuseppe Masseria's gang, then toppled Masseria by killing him in 1931, a time-honored mob method; was prosecuted for the murder and escaped electrocution when several witnesses "disappeared." Anastasia became the head of the Mob's "Murder Inc." which, it is said, was responsible for perhaps 500 murders. He was dispatched in the barber chair at the New York Sheraton by, it's rumored, "Crazy Joe" Gallo, who is also buried in Green-Wood about a ten-minute walk away. The gangster who had cheated the electric chair on several occasions perished in the barber chair. photo: Joe DeMarco
Your webmaster expounds about DeRobigne Bennett (1818-1882), who preceded Richard Dawkins and Madalyn Murray O'Hair as perhaps the most prominent anti-religionist in the public imagination, publishing The Truthseeker as well as several books describing his anti-church leanings. After his death, the Pittsburgh Daily Post, learning that several of his writings were to appear on the shaft marking his plot in Green-Wood, mounted a public campaign against it, to no avail. The monument also is decorated with a quill pen laying atop a sword. whatisee

Do-Hum-Me (1825-1843) was the daughter of a chief of the Sac Indian tribe. Her eighteenth year proved eventful: she married, performed at P.T. Barnum's circus, and tragically, died after catching influenza. In 1843 she arrived in Princeton, NJ with her father, who was involved in treaty negotiations; met Cow-Hick-Kee, a representative of the Iowa tribe, and the two married and briefly became the toast of New York society. 
Claude Fravien
Showman P.T. Barnum hired Do-Hum-Me and other Native Americans to do war and wedding dances at his American Museum at Broadway and Ann Street. But she perished at the tender age of 18 and the fledgling Green-Wood Cemetery, anxious for business, donated a burial plot. She was buried in her wedding dress. In 2005 her monument was restored with the effort of Isaac Feliciano, whose wife Rosa perished in the 9-11 attacks at the World Trade Center.
Mausoleum Glass
Some of the beautiful stained glasswork that can be found by peeking through the doors of some of the mausoleums…

Possibly a Tiffany. whatisee; cf
We stopped at the unusual Jacklitsch family monument. It is one of several dozen zinc monuments in Green-Wood. Zinc monuments were made by Bridgeport, CT's Monumental Bronze Company from the 1870s to the 1910s. They are relatively rare but a walk around Green-Wood will turn up several. As you can tell even from this distance, metal monuments stood up to the elements considerably better than stone or marble ones. jd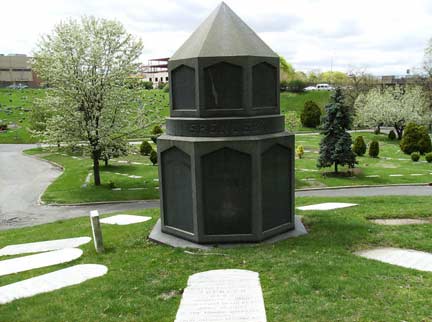 The Spencer family monument and plot. The stone in front, William A. Spencer's, reads: "Bravely met death at sea April 14, 1912, in the Titanic disaster. Where manhood perished not." A monument to those who perished when the Germans sunk the Lusitania 3 years later is nearby. cf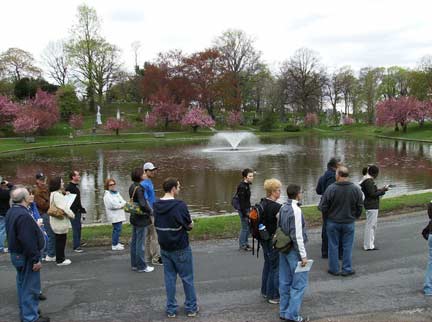 Forgotten Fans at Valley Water. It is one of four remaining glacial ponds in the cemetery and is a nautural feature, having been formed thousands of years ago when a glacier retreated north. Its 19th Century fountain has recently been restored. It is ringed by beech and cherry blossom trees and is a haven for water birds. Some of Green-Wood's beeches predate the establishment of the cemetery. cf

Sylvan Water, the cemetery's biggest glacial pond, is ringed by several mausoleums, one of which is shared by 
Fred Ebb
 (1935-2004), the Broadway lyricist who, with John Kander, scored some of the musical theater's more indelible songs such as "New York, New York." cf, jd
Two of the sandstone reliefs sculpted in 1863 on Green-Wood's front gate by John Moffitt. Each depicts Christ's resurrection. cf
Monk or Quaker parrots have become well-established on the gate's towers.
While we also visited the gravesites of Coney Island showman George Tilyou, enterpreneur Leonard Jerome (the grandfather of Winston Churchill); renowned traveler George Francis Train; "mad poet of Broadway" MacDonald Clarke; and pencil king Eberhard Faber…one monument stood out as no other.
King of Pop
British immigrant John Matthews (1808-1870) was among the first carbonated drink producers, and by 1870 hundreds of soda fountains in NYC alone were using his products. When he died master sculptor Karl Muller was commissioned to create one of the most spectacular–some say even scary– memorials in Green-Wood.
The monument is covered with likenesses of family members, evangelists, and various animals, real and mythological. On the columns (above) you can see the features of Matthews' daughters. This one has so far resisted weathering.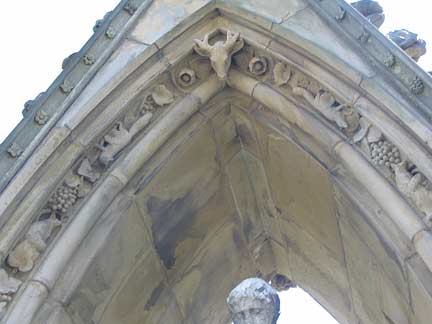 Various classes of mammals, rodents, ursines, bovines and cervines, grace the arches.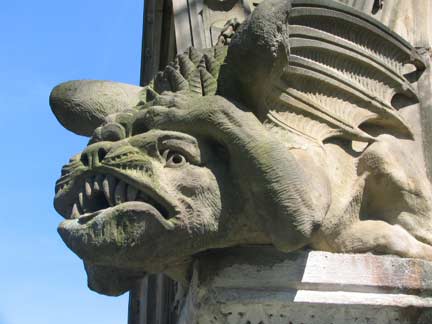 There are two prominent human figures: the seated veiled statue, under the main arch, signifies grief, while Matthews himself is represented lying on a sarcophagus regarding various scenes from his life: producing carbonic acid gas and bidding farewell to Liverpool.
Froglike gargoyles channel rain from the peaked roof, but time has taken a heavy toll. Much of the stonework has been erodedby the chemical action of carbonic acide, from rain, with the marble. It can seem as if the marble is melting.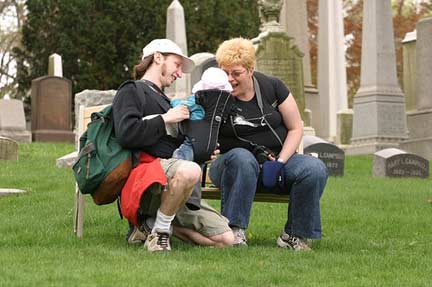 Forgotten Fans come in all ages. cf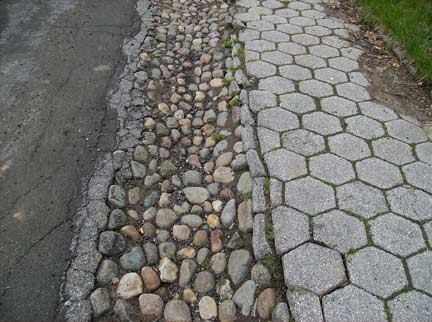 Green-Wood's roads still employ cobblestones in the gutters.
More pictures…
whatisee

La Mariposa

Claude Fravien
Source material: Green-Wood Cemetery, Walk #2, Valley and Sylvan Waters, Jeff Richman