Your webmaster admits to not traveling that often. I don't have the money, and I don't know the languages. I've never left the Northern Hemisphere, and am unlikely to in the near future. (I did make it to Pittsburgh in March '07, and plan trips in the USA during the year, but my uncomfortability factor increases the farther away from home I get.) So, when I have a few days off, I grab a camera and a metrocard, close my eyes, point on a NYC map, and…
…this time I drew the far reaches of Staten Island…
LEFT: Van Pelt Avenue house
Old Place
If Victory Boulevard is the spine of Staten Island, Forest Avenue is its femur, stretching from Victory at Silver Lake park all the way to the Goethals Bridge entrance in an ancient Staten Island locale called Old Place. The end of Forest Avenue past South Avenue is best known by Staten Islanders for its humungous Home Depot, but your webmaster ignored the flooring, sinks and paint and headed straight for Dwarf Street.
The settlement grew up around a tide mill built in the 1750s on Old Place Creek, which empties into the Kill Van Kull. The eastern portion of the settlement, along Forest Avenue, was given the attractive name of Summerville. Old Place was never populous because of its marshes, swamps, and creeks, and the mosquitoes with which they were infested. Much of the marsh was filled in and the land rezoned for industrial use. Encyclopedia of New York City
WAYFARING: OLD PLACE, PORT IVORY, MARINERS HARBOR
Bus: S40, S46 or S48 to Forest and South Avenues. Walk west along Forest
Dwarf Street trails off south from Forest Avenue and dead-ends in the Graniteville Swamp area.
It's likely named for its short length.
Further west on Forest Avenue there's a small thicket, Forest Grove, and a short road named Elizabeth Grove Road. The road is named for Elizabeth Carteret, wife of Sir George Carteret (1610-1680), governor of New Jersey; the city of Elizabeth, just across the Goethals Bridge, is also named for her.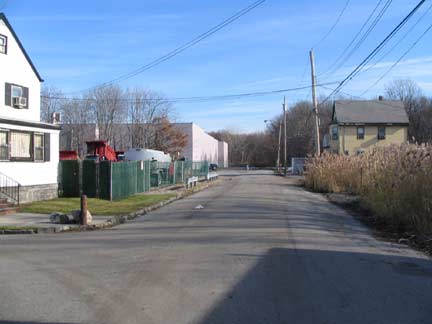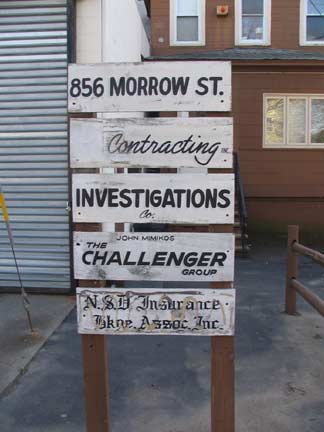 Elizabeth Grove Road, Morrow Street, and Forest Avenue form a lightly-traveled Old Place crossroads. Yet, this is as busy as it gets here, with the exception of a locale we'll show you a bit further on.
A large wooded area runs from Forest Avenue south to the Staten Island Expressway. This is Graniteville Swamp:
Graniteville Swamp and Staten Island Corporate Park form the eastern upland edges of the wetland foraging areas on the northwest corner of Staten Island. Both contain wooded swamps dominated by sweet gum (Liquidambar styraciflua), red maple (Acer rubrum), and swamp white oak (Quercus bicolor), as well as other wetland communities including salt marshes, cattail marshes/bogs, and small ponds. The Graniteville Swamp area also contains an area of upland forest. Significant Habits and habitat Complexes of the New York Bight Watershed
Redwing blackbirds (Agelaus phoeniceus), American woodcock (Philohela minor), and many different species of warbler can be seen soaring through Graniteville Swamp, along with the formerly endangered peregrine falcon (Falco peregrinus). Muskrats (Ondatra zibethica) race across the ground while spring peepers (Hyla crucifera) sing. The last reported sighting of a mud turtle (Kinosternon subrubrum) in New York City was at Graniteville Swamp. The marshes and creeks attract local herons, egrets, and ibis, as well as migrating birds looking for food and rest. This diversity makes Graniteville Swamp Park a wonderful place to observe the natural world in a protected and undisturbed state. NYC Parks
The Port Authority has set up a World War II memorial at Foster Avenue and the Staten Island expressway, seemingly at an area that has zero foot traffic. Separate monuments honor Seaman First Class Joseph Manna and other war heroes.
During the Pacific Theater battle of Cape Esperance, on the night of October 11, 1942, the Duncan was part of a unit assigned to prevent the further landing of Japanese reinforcements on Guadalcanal. Manna's ship torpedoed several Japanese vessels, but suffered heavy enemy shelling in the process. The Japanese guns focused on the ship's bridge level, close to Manna's battle station at the emergency radio outlet. The ship sunk later that evening. In 1944, Manna's mother received a letter from the Navy at her Mariner's Harbor home on Leyden Avenue, reporting that her son's body had not been found. Manna's nephew John and his brother Tony were present at the dedication of this park in 1992. NYC Parks.
The monument that honors Joseph Manna is flanked by twin memorials to Navy men Frank Busso (1921-1942), who died at the Battle of Midway, and Constantine Busso (1919-1945), who lost his life during an attack on the USS Ticonderoga. On the northwest corner of the park, there are plaques honoring Staten Island residents Colonel Edward A. Bloom (1897-1918) and Private Harry A. Gill (1892-1918), who both served in World War I. Another plaque, on the eastern border of the park, honors the men and women of the Port of New York and New Jersey who served during World War II.
Trail Mix
Though they camouflage it quite well, this grouping of well-kept one-story homes on Goethals Road North near the Goethals Bridge tollbooth is, in fact, New York city's only trailer park. While it's true that NYC's zoning regulations prohibit trailer parks — making them nearly nonexistent in the five boroughs — developers Fred and Frank DeDomenico built the 9-acre trailer park using a loophole that allows mobile homes in areas zoned for manufacturing. Though they wished to open the park in 1969 it wasn't till the 1980s and a victorious lawsuit aganst the City Planning Commission that tenants finally moved in. In 1995 the park was sold to Garden Homes Management Corporation, and much-needed repairs were done. One of the rules of the park is that wheels on the mobile homes have to be concealed.
"On the Ground Floor Of the American Dream; At New York City's Only Trailer Park, Affordable Homes and Rules to Live By"–Amy Waldman, NYTimes, January 31, 1999
Two-lane Western Avenue connects Goethals Road and Richmond Terrace, as well as the communities of Old Place and Arlington. It bridges Old Place Creek; Goethals Bridge and the Arthur Kill railroad bridge can be seen in the background.
Western Staten Island is crisscrossed with railroads connecting the Arlington Yards to manufacturing and industrial areas in Travis.
In March 2007, Staten Island was re-connected with the mainland by rail, as the Arthur Kill lift bridge to Cranford Junction, NJ was reactivated. At least at first, Staten Island's solid waste will be removed from the island by train.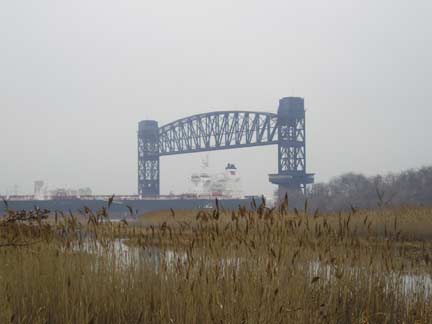 Arthur Kill Bridge in its up and down positions. photos: Marc Pitanza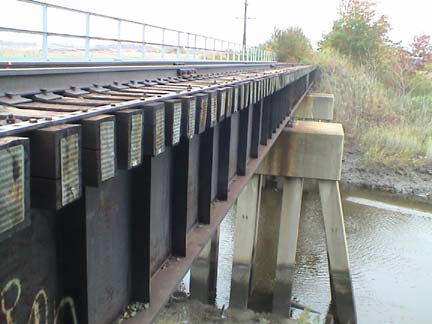 The railroad bridges Western Avenue and Old Place Creek
Three New York City boroughs have grade crossings, Brooklyn, Queens and Staten Island. Staten Island had eliminated all of its Staten Island Rapid Transit grade crossings by 1965, and Brooklyn got rid of its final passenger train grade crossing, at the East 105th Street station on the Canarsie Line in 1973.
Staten Island's industrial shuttle railroads still contain a number of them, however, here in Howland Hook and further south in Chelsea. This one is a new spur from the SIRR into the New York Container Terminal. ("Howland" is likely a corruption of "Holland" from Henry Holland, an early Staten Island representative in the colonial era.)
Since it reopened in 1996, the New York Container Terminal, formally known as the Howland Hook Marine Terminal, has become the fastest growing marine terminal in New York Harbor and Staten Island's largest employer. Other terminal improvements include the installation of four new post-panamax cranes as well as other modernization, representing an overall investment of nearly $50 million. With the improvements currently underway or planned, and a dredging project by the Army Corp of Engineers to deepen its channel from 35 to 50 feet to accommodate modern container ships, the terminal has the potential of creating an additional 1,200 jobs over the next 20 years. Wired New York
99-44/100% Closed
Along Western Avenue can be seen what remains of the old Procter & Gamble factory along Western Avenue. Beginning in 1907 P&G manufactured dozens of products, employing thousands over the years; Howland Hook became so identified with the factory that it became known as "Port Ivory" for P&G's Ivory Soap. At its height in the 1920s the site employed 1500. Port Ivory closed down in 1991, and while its old buildings remained intact until about 2000, the factory is now 99 and 44/100 percent gone. Some of he newer buildings are still around and have a variety of concerns.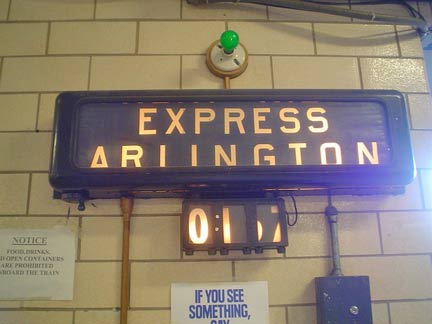 Upon reaching the end of Western Avenue at Richmond Terrace we are in Arlington (west of South Avenue) which becomes Mariners Harbor when you are east of South Avenue. Immediately east on Richmond Terrace is Mariners Marsh Park. Both Arlington and Mariners Harbor were, in the dim past, home to a lively oyster fishing industry as the mollusks abounded in the Kill Van Kull and other waterways of New York Harbor; ship captains built mansions along Richmond Terrace. But as early as the mid-1800s water pollution was dooming the industry. As a result, both Arlington and Mariners' Harbor have a bit of faded glory about them.
Arlington was the terminal of the North Shore Branch of Staten Island Rapid Transit until 1953. As we'll see, much of the right of way and stations remain intact, hoping for a day when the trains will rumble again. But that day will never come. In New York, when the trains go, they don't come back. above right photo, nycsubway.org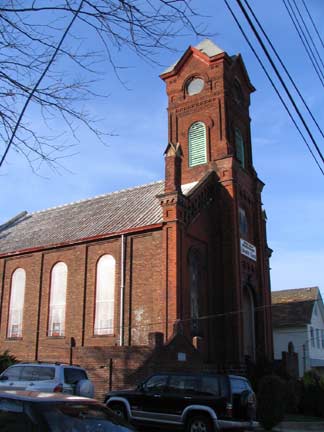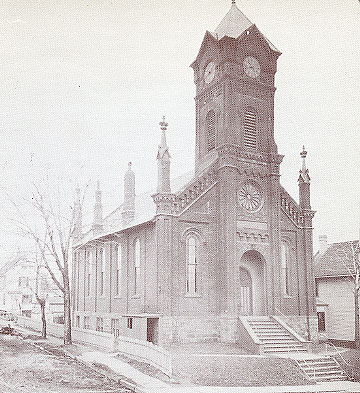 Mariners Harbor Baptist Church, Union Avenue and Forest Court, was built in 1858, making it the oldest building in Mariners Harbor. As this 1930s view from Dorothy Valentine Smith's This Was Staten Island shows, it has lost some embellishments over the years, but it is still an imposing presence on its hilltop.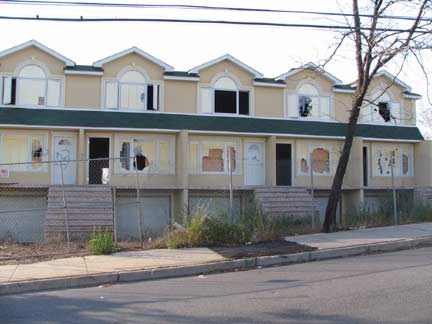 Silos and abandoned development, Harbor Road and Leyden Street.
Summerfield United Methodist Church, 104 Harbor Road just north of the old railroad cut, was built in 1869 and has lost even more of its original flavor, as the picture from This Was Staten Island indicates; the tower has changed the most.
The Belgians
The involvement of the Netherlands in the early history of New York City is well-documented, but the people of a fellow Low Country, Belgium, also had a role to play. A couple of street names in Mariners Harbor, Brabant and Walloon, bear this out. "Brabant" has been a place name in both Belgium and the Netherlands in a number of provinces; a duchystraddled the two countries before the modern borders had been worked out) and the Walloons are the French and Walloon-speaking inhabitants of the Wallonia region consisting of several provinces in southern Belgium.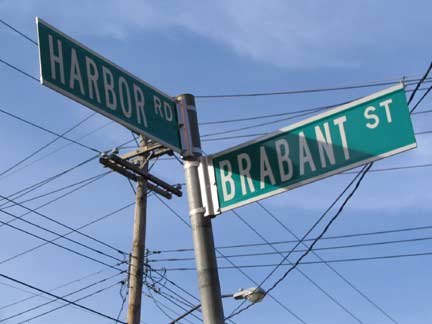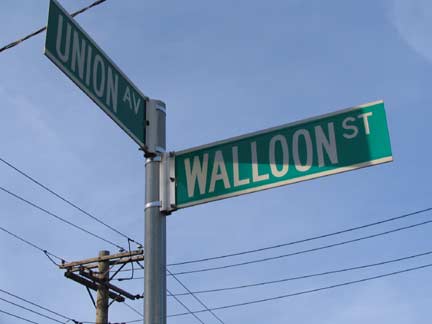 Why do we find these place names here in Mariners Harbor? Jane Stewrat Cook's Belgian Americans may help answer that question…
Henry C. Bayer, in his book The Belgians, First Settlers in New York and in the Middle States, discussed Belgian settlements at Wallabout, Long Island, and Staten Island, as well as in Hoboken, Jersey City, Pavonia, Communipaw, and Wallkill, New Jersey. These place names are derived from both the Walloons who settled there, as well as from the Dutch version of Walloon words used to describe a locale. For example, Hoboken is named after a town in Belgium. Pavonia got its name when a Fleming, Michael Pauw, purchased land on the Jersey shore. Translating his own name, Pauw (which in Flemish and Dutch means "peacock") into Latin, he got "Pavonia." Wallkill is the Dutch word for "Walloon's Stream." Elsewhere, the Walloomsac River in Vermont derives its name from the Walloons who settled on the east branch of the Hoosac River in New York. Belgian settlements were also established during the seventeenth century in Connecticut, Delaware, and Pennsylvania. These were settled primarily by Walloons, many of whom came to America on ships owned by the West India Company, whose founder, William Usselinx, was Flemish.
(There is a Pavonia Avenue in Jersey City and a Pauw Street in New Brighton, Staten Island)
Brabant Street, looking from Harbor Road twards Mariners Harbor Houses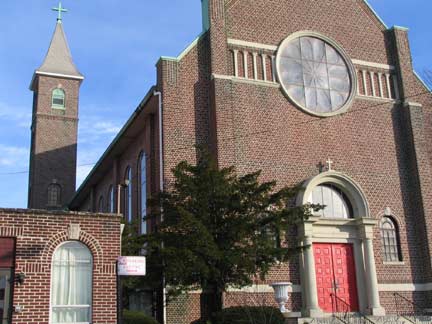 St. Michael R.C. Church, established 1922, Brabant and Harbor Road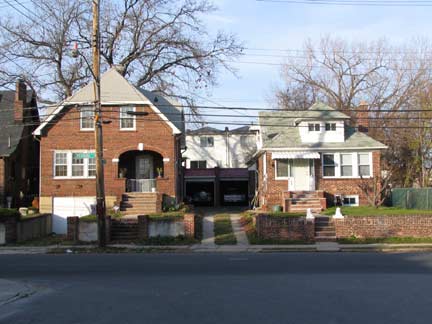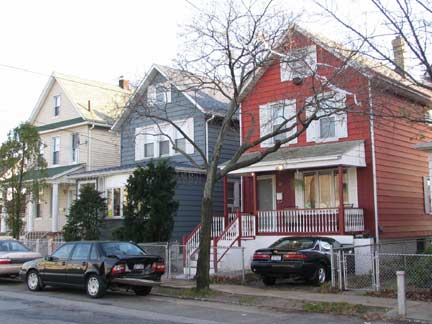 Typical Brabant and Walloon Street dwellings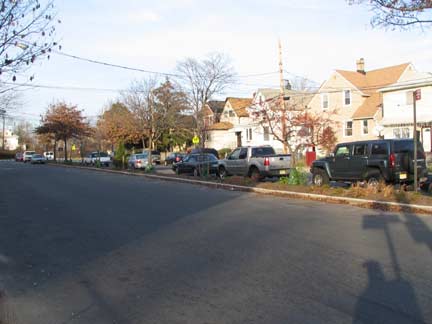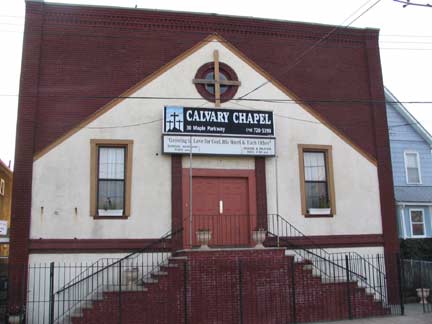 Maple Parkway is wide, with a center grassy median, running from Linden Avenue at the SIRT cut south to Forest Avenue. An older building has become the Calvary Chapel.
At Van Pelt and Linden Avenues is the old Mariners Harbor SIRT station. As we've said the trains ran here till 1953. This would make an ideal rails-to-trails project, but in NYC they don't seem to fly, unless they are in a non-residential area like the High Line.
Van Pelt Avenue, named for a prominent Staten Island landowning family, runs downhill toward the Kill Van Kull. Several homes boasting fine ornamentation and detail can be found along the street.
Orinoco Tow
We've been to Belgium already; now welcome to Venezuela, or rather, a street named for one of the longest rivers in South America, the Orinoco. We don't find crocs and piranhas in this corner of Staten Island, however; what we find at DeHart Avenue and Orinoco Place are classic cars…
Plymouth; Chevy truck
Name that car…name that year…
Here are some sampled answers…'49-'51 Plymouth; '68-'72 Chevy Stepside; '71 Buick LeSabre or Centurion; '63-'64 Chevy Biscayne, BelAir or Nova; '74 Olds Cutlass; '62-'64 Impala or Chevy II
Photographed November 2006; page completed May 20, 2007
erpietri@earthlink.net
©2007