Anything Can Happen® on a ForgottenTour. There was the time we wound up in the Dominican Day Parade on the Grand Concourse in a downpour and ended up in a bar on Bainbridge Avenue, watching David Cone pitch a perfect game (Tour 2). We bumped into since-disgraced Assemblyman Brian McLaughlin at the Latimer House in Flushing, who proceeded to give us a verbal history of the inventor's life and times (Tour 6).
ForgottenTour 30, in Greenpoint, was held June 10, 2007, the 4th straight tour under cloudy, threatening skies. There had not been a sunny ForgottenTour since the summer of '06. Before the day ended, we had been entertained by an impromptu street parade, been mooned by a resident of a historic building, been yelled at by a woman protesting the use of the word "bar" and regaled by a couple whose caulk had been stolen from their garden. Along the way on this 5-hour, 5-mile walk ($1 a mile per person!) 40 Forgotten Fans saw the best and possibly worst Greenpoint has to offer. More than on any other tour, your webmaster felt like John Entwistle, the "sane" one holding the stage in place while chaos reigned everywhere else.
WAYFARING MAP: Tour 30: coming soon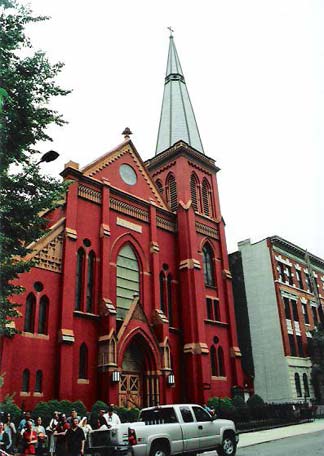 Manhattanites from the East 20s can identify Greenpoint by the twin spires of St Anthony of Padua/St Alphonsus and by St. John's Evangelical Lutheran Church, constructed in 1891 by German architect, Theobald Engelhardt. It is a remnant of Greenpoint's once-prevalent German community.
We first visited Milton Street, whose Greenpoint (Dutch) Reformed Church at 136 is the former Thomas C. Smith mansion. In a formerly industrious neighborhood this was the relatively modest castle of one of the area's chief manufacturers, as Smith (1815-1900) was the founder of the 19th Century's foremost fine china and porcelain makers, Union Porcelain Works. Smith built the house in 1867, and the church moved from Kent Street in 1944, after the building enjoyed a stint as the local YMCA. photos: Bob Mulero
The row of brick buildings, part of 93-103, might look inauspicious but check the curved lintels over the windows and he decorated concrete arches (called archivolts) over the doors, which, by the way, are all different in the three buildings pictured. They are among the older buildings on the block, having been built in 1874. BM
On Greenpoint Avenue west of Franklin (above left) and India Street west of Franklin (left) we see the remnants of te presence of Faber Pencils in Greenpoint.
Eberhard Faber, the scion of a Bavarian pencil producing family, arrived in the USA from Germany in 1848, and after his first Manhattan factory burned down in 1861, he relocated to Greenpoint in 1872; the Faber company moved to Pennsylvania in 1956. The manufacturer is recalled by a large sign facing the East River painted on its original building at 37 Greenpoint Avenue at West Street, and by the huge yellow terra cotta pencils on its newer Art Deco building next door at Franklin. Faber pencil factories, numerous in the area, are recognizable by a distinctive yellow star-in-diamond symbol.
Indeed one of Greenpoint's local hot spots on 142 Franklin is…The Pencil Factory. BM
Your webmaster claims no connection to the Walsh Shoe Factory, which has been out of business for perhaps 100 years.
Any Greenpoint Faber factories are recognizable by the distinctive yellow star within sideways diamond.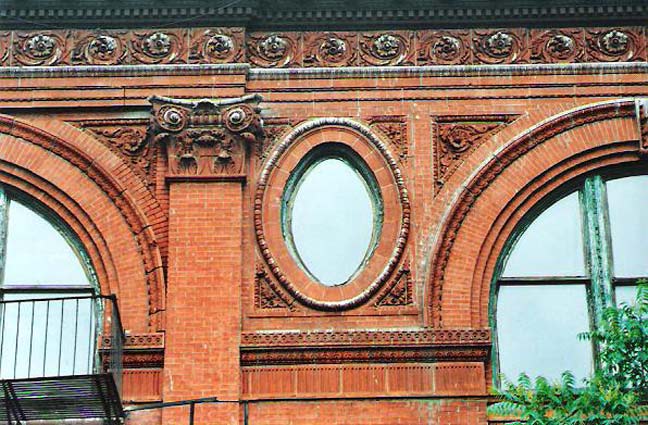 At the corner of Greenpoint and Franklin we find the 1895 Mechanics and Traders Building, described by the AIA Guide to New York City:
Brooding but glorious Renaissance Revival in Pompeian red terra-cotta, brick, and rock-face brownstone, with grand pilasters crowned by fantastic Composite capitals. Savor the terra-cotta frieze among other riches adorning this lovely building. BM
The building now houses the offices of the Polish newspaper Novy Dziennik ("New Day").

"Syrup of Figs," which sounds like the name of one of the new bands playing the McCarren Park Pool, is a century-old painted sign on Greenpoint Avenue just east of Franklin. Syrup of figs is a mild laxative which shows up on several old painted signs, much like Fletcher's Castoria, and both are still available to this day. photo: Nick Yulman
Right: typical 1890s Syrup of Figs ad.
Califig, present producer of Syrup of Figs
It was at this point that a resident of the Mechanics and Traders Building decided to drop his pants and show us The End. Many Greenpointers resent the changes that are coming to the neighborhood, some of which have to do with the threat of big money displacing long-time residents.
It's not unprecedented. Check out Bob Weir's comments in the June 22, 2007 Entertainment Weekly, describing the reactions of the denizens at the Grateful Dead's house in Haight-Ashbury, San Francisco when the tour buses rolled by in the summer of '67:
As soon as someone saw a tour bus rounding the corner, the cry went out: Battle stations, load and prime! Whoever was around would get by a window and fire away — we'd all drop our pants.
When FNY gets criticized, your webmaster is roasted for just presenting a neighborhood's negative aspects. What FNY does is show a neighborhood's overlooked or quirkieraspects. For example, on Greenpoint Avenue brtween Manhattan Ave. and Franklin St.,, you will find the some of the city's most beautiful architecture and a chic catering hall, the Polonnaise (about as chic as Greenpoint gets, I suppose). Planted amid them all is a poultry slaughterhouse, and the stink pervades the street. left: BM, right: NY
I was perplexed by the item at right, on one of Greenpoint Avenue's masterpieces. It probably held a flagpole and so the building may have been a post office, fraternal or concert hall.

Your webmaster drones on in front of the old American,later Chopin, Theatre, which has become the Greenpoint entry in a certain caffeinated restaurant, where lemon is not served with iced tea and they hate when you ask for it. BM, NY
The only remnant of the Chopin Theatre these days is the Chopin Pharmacy, 911 Manhattan, across the street from the Star…er, old theatre.
I had always thought that since this was the Chopin Theater, the eagle was there since the bird is a Polish symbol. I later discovered the theater was originally called the American. With about 500 seats, it was always a second-run theater. What year did it become the Chopin? The old auditorium around the corner on Greenpoint Avenue is now the Last Exit disco.

Bliss' mansion at 130 Kent Street. BM
Can you imagine in your wildest dreams a Brooklyn Avenue in Manhattan? I didn't think so. Manhattan Avenue is a (relatively) recent entry in the Brooklyn street directory, showing up only in the 1870s, before that it was a series of disconnected streets called Union Avenue, in Greenpoint, and Ewen Street, in Williamsburg. When the two ends were connected when McCarren Park was built in the early 1900s, the whole length was called Manhattan Avenue.
I suspect that before that, Union Avenue in Greenpoint was named for Thomas C. Smith's Union Porcelain Works, one of the fregion's prominent manufacturers in the 19th Century. Smith's mansion was on Milton Street (see this page) and he built most of the houses along that street.
Neziah Bliss, a protégé of Robert Fulton, was an early steamboat pioneer and owned companies in Philadelphia and Cincinnati. Settling in Manhattan in 1827, his Novelty Iron Works supplied steamboat engines for area vessels. By 1832 he had acquired acreage on both sides of Newtown Creek, in Greenpoint and what would become the southern edge of Long Island City. Bliss laid out streets in Greenpoint to facilitate his riverside shipbuilding concern and built a turnpike connecting it with Astoria (now Franklin Street in Greenpoint, Vernon Blvd. in Queens); he also instituted ferry service with Manhattan. Though most of Bliss' activities were in Greenpoint, he is remembered chiefly by Blissville in Queens and by a stop on the Flushing Line subway (#7) that bears his family name: 46th Street was originally known as Bliss Street.
Mansarded homes, Kent between Manhattan Avenue and Franklin Street BM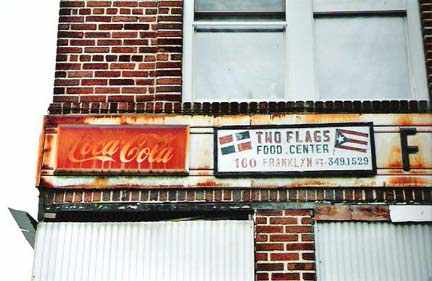 Former Two Flags (Dominican and Puerto Rican) at Franklin and Kent. This has also been known in the past as the Doof Center after some locals changed a couple of letters. BM
This handsome, distinctive apartment building on Franklin Street between Java and India was built as living quarters by Charles Pratt for workers in his Astral Oil Works. The company's slogan was, "the holy lamps of Tibet are primed with Astral Oil." The family founded Pratt Institute, one of NYC's most prestigious art schools, in Clinton Hill.
The Astral takes up the entire frontage on Franklin and has nearly a hundred apartments. Its distinctive 3-sided bays, arched entrances and recessed arch reaching the 5th floor are rare features; a center courtyard admits air and light to all apartments that don't have a front exposure. According to legend (disputed by some) actress/comedienne Mae West was born here. BM
Forgotten Fan Vicky Metzger:
Was trying to find the Mae West/Astral connection. Found this. So if the Brooklyn Borough President and a Bensonhurst ice cream truck driver say West lived at the Astral, that's good enough for me.
Others say Mae was born upstairs from Teddy's, the venerable saloon about a mile south at Berry and North 8th Streets; Mae West's parents were John West and Matilda Doelger, and Teddy's stained-glass window advertises a long-defunct brew by Peter Doelger. Perhaps Mae told Burt Reynolds, Tom Selleck or Ringo, whom she shared the screen with in her latter day career.

Heather has the ForgottenHorn as she shows us a place on Green Street that, for lack of any other explanation, looks like a house that has been constructed around another house.
Can any Greenpointers explain this one?
Other homes on the block feature a frequent Greenpoint and Williamsburg occurrence, the back house — a house constructed in the back yard of a house fronting the street. NY

LEFT: Green and West Streets. Not one but two of this house's elderly residents objected to Heather's reference to a long-dormant establishment here as a "bar," preferring it be called a former restaurant. But seein' is believin'! Lately some renovations have been going on, so it might just reopen.Left: BM; right, Laura Simurda
Your webmaster's sorry, brief Greenpoint history is centered at 193 Green, east of Manhattan Avenue, where your webmaster rented an apartment for a few weeks a thousand years ago. I was eager to strike off on my own and took it ill-advisedly. My girlfriend at the time lived at 931 Newkirk in Flatbush, so the digits were an anagram. It was karma, I tellya. I got tired of one electric socket in the entire pre-war apartment and the bathtub in the kitchen. I can't eat in the same room where I bathe. ("They do a lot more than that!"–Miss Heather). I went back to Bay Ridge where I remained before migrating to fab Flushing.
The ground-breaking for Brooklyn-Queens Crosstown Local (the G train) was held at Green Street and Manhattan Avenue March 4, 1928 at 3:30 p.m. Greenpernt's very own Pete McGuinness was the Master of Ceremonies. Naturally. [newyorkshitty].

You might correct an error and at the same time make a small contribution to philology by noting that neither the late Peter McGuinness nor any other authentic representative of Greenpoint referred to the section as Green-pernt [TIME, June 21]. I knew McGuinness well . . . and I never once heard him or anyone else from Greenpoint mispronounce the section's name. . .It is perfectly true that New Yorkers often render "oi" as "er," and vice versa, but I can swear under oath that Greenpoint is called Greenpernt only by people from Coney Island, Croton-on-Hudson and Beverly Hills.
[Time Magazine letter, July 12, 1948]
Peter McGuiness was a long-time Greenpoint Democratic alderman and ward boss; in 1964, when Oakland Street was widened from the Pulaski Bridge to the BQE, it was renamed McGuinness Boulevard.

Manhattan Avenue. There's Forgotten Fans and then there's forgotten fans. NY
The Norwood. Possibly a theater or meeting hall? BM
Our tour stayed off Manhattan Avenue for the most part, as we feared crushing crowds on this narrow-sidewalked main thoroughfare. Some of its Forgotten attractions can be found on the FNY Greenpoint Neighborhoods page.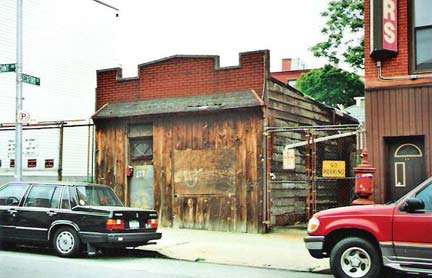 177 Greenpoint at Eckford. Big money is pouring into Greenpoint these days, but hasn't yet reached the poultry slaughterhouses nor this shack. There's a back house that's out of the picture. BM

Calyer Street and McGuinness Boulevard. We were regaled by a couple with a tale of skullduggery and intrigue. It seems some caulk had been removed from their front garden by a dastardly denizen. You know who you are! They good-humeredly explained the situation to the odd spectacle of forty Forgotten Fans on Calyer Street, which had never before been visited by a tour. NY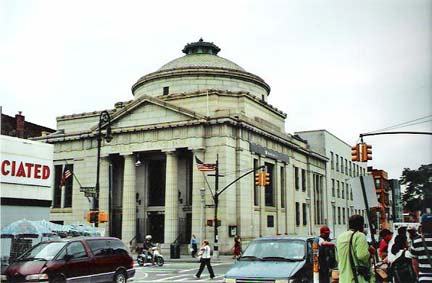 Calyer Street and Manhattan Avenue, the 1908 Greenpoint Savings Bank Building. Oddly Green Point is spelled with two words here. As Miss Heather patiently explicated after your webmaster mistakenly said this was the bank's first home, this is actually its fourth after its founding in 1868. This building was designed by prolific architects Helmle and Huberty.
Especially attractive are the marble Doric columns and its saucer dome with fish scale exterior. You can still see some of the gilt from a long-ago painting. BM
We rounded the corner on Guernsey, where a bend in the road becomes Oak Street and the 1887 Greenpoint Home for the Aged, designed by Theobald Engelhardt (see St. John's Evangelical, above) comes into view. It was hidden under too much vegetation to photograph, so here's one of my favorite buildings in Greenpoint, next door at 133-135 Oak. My friend Gary occupied an apartment here from 1981-83 or thereabouts, a big rambling 2-bedroom on the second floor at 135. The bay window looked out to the bend in the road, and other windows revealed the Empire State Building and if you stretched enough, the World Trade Center. Why'd he ever move? He is now an Atlantan Forgotten Fan. BM

The Greenpoint Terminal Market, West Street between Milton and Oak Streets, burned down in NYC's worst blaze save 9/11/01 in decades. The derelict industrial buildings, inactive for decades, had been a favorite of photobloggers and gangster movie directors for several years before the blaze, and after the blaze, remains a symbol of urban desolation. The blaze was considered suspicious; developers have salivated over the location for awhile. BM
RIGHT: West Street's wood-block sidewalks, unmolested by the fire
Greenpoint Terminal Market photos including before, during and after the fire [flickr]
Andy Hoffer, Jake Dobkin, LTV Squad, Sherri Jackson at the Market before and after the fire
Miss Heather's Greenpoint Terminal Market mug
Gowanus Lounge elegiac video, featuring the Pixies:

and some fire footage from rockboxfilms:

Time for the Tour 30 team picture, at Pinquist Tool and Die on Meserole Avenue and Clifford Place.
Old school post office, Meserole Avenue and Guernsey Street. Laura Simurda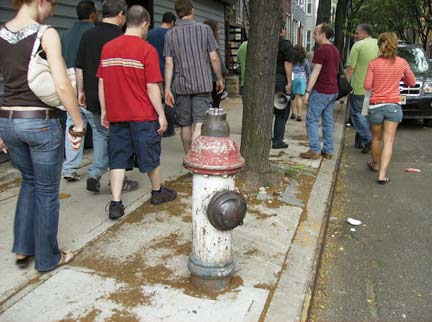 Fire hydrants all over town were painted red, white and blue during the bicentennial year of 1976. Here's one on Guernsey Street near Meserole. Joe DeMarco
ForgottenTours are about taking people where they've never been in NYC and that's also true for your webmaster. I had never been on this charming block, Guernsey between Meserole and Norman Avenues, which is lined on the west side with attached yellow-brick houses that may or may not have been built with famed Kreischer brick, as have houses in nearby Long Island City as well as Ridgewood. BM
Leave it to lamppost maven Bob Mulero to scope out this rare GE scoop-type luminaire from the 1960s. About 50-100 of these remain on NYC streets as of 2007. We also discovered a rusted trolley pole on Bedford Avenue, a remnant of the B15 trolley which plied Bedford and Driggs Avenues until 1/27/51. BM
McCarren Park occupies a vast green space on the border of Greenpoint and Northside Williamsburg on a complicated layout roughly between Nassau Avenue, N. 12th, Leonard and Bayard Streets. It has been named for Assemblyman and State Senator Patrick McCarren (1847-1909) since the park opened in 1909.
The park was supplied with state-of-the-art athletic facilities, including a 1&Mac218;4-mile track, a field that was adapted for use as an ice rink in winter, tennis courts, a platform for dancing, play equipment for small children, and fields for baseball, football, and soccer. In 1914 Brooklyn's first children's farm garden opened on the site. During the first season 240 "little farmers" tended 120 8′ x 4′ plots and nurtured radishes, beets, carrots, beans, onions, lettuce, and corn. By 1915 the "Farm House" shelter at the garden was put into use as a social center where clubs and church groups met.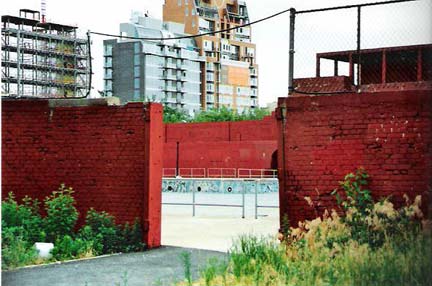 New high-rise apartment buildings ringing McCarren Park provide the backdrop for a brief visit to McCarren Park Pool, or what we could see of it.
McCarren Pool was the eighth of eleven giant pools built by the Works Progress Administration to open during the summer of 1936. Mayor Fiorello LaGuardia attended the dedication on July 31, 1936. With an original capacity for 6800 swimmers, the pool served as the summertime social hub for Greenpoint and Williamsburg. The building's vast scale and dramatic arches, designed by Aymar Embury II, typify the generous and heroic spirit of New Deal architecture. The pool was closed in 1984. [NYC Parks] BM
McCarren has evolved into one of Greenpoint's two major concert venues (we'll see the other one later) over the last couple of seasons, with the Beastie Boys, Cat Power and even 60s rockabillyer Roy Head ("Treat Her Right") expected to appear in 2007. Best of all, rumor has it that in the future the pool itself may be reactivated, so you could go right from the pool to the show. How cool would that be.
At this point we had been at it for a good 3 hours, and your webmaster gave everyone the opportunity to call it a day, since the Nassau Avenue subway platform was nearby. About 15-20 of us remained to go on the second leg of the tour, swinging through the eastern end of Greenpoint…

By day 261 Driggs, at Eckford, is the Polish National Home, a community organization founded in 1914 to furher Polish culture in the region; by night, the ground floor is Warsaw, quite likely Brooklyn's #1 rock venue;
upcoming shows
in 2007 feature the likes of Lily Allen, Wilco and 80s favorites Violent Femmes. LS
Right: pair of Greenpoint classics, including a '51 Plymouth. NY, JD

Signs from another time, perhaps a better one, on Driggs Avenue. BM
Monsignor McGolrick Park, bounded by Russell and Monitor Streets and Nassau and Driggs Avenues, was originally named Winthrop Park and renamed in 1941 for a beloved pastor of nearby St. Cecilia's Church, Msgr. Edward McGolrick. The park contains a triumphant crescent-shaped shelter pavilion designed in 1910 by famed architectural firm Helmle and Huberty (see Greenpoint Bank above), as well as two magnificent monuments: a striking bronze memorial to Greenpointers who served in World War I, sculpted in 1923 by Carl Heber, and the John Ericsson Monument by sculptor Antonio de Filippo, dedicated in 1938. Engineer Ericsson built the Monitor, the U.S.'s first ironclad vessel, at Greenpoint's Continental Iron Works in 1861. The vessel engaged the Confederate States' Merrimac at Hampton Roads in 1862 and was launched form the pier at Quay (pronounced key) Street.

ABOVE: shelter pavilion, terrific on showery days; right: Ericsson Monument.
The back of the monument has what appears to be an odd detail. Let Miss Heather explain.
It's his foot, folks. His foot.
Though your webmaster isn't sure I could bend enough to get my foot down there. LS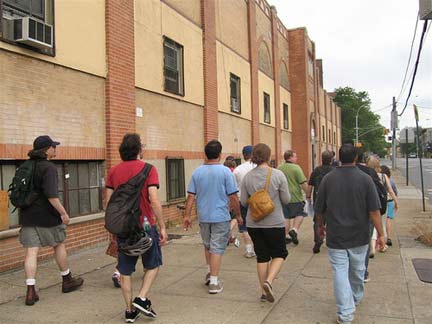 [image not found]
Before we all collapsed from exhaustion to either the Kellogg Diner at Metropolitan Avenue and Graham Avenue or the G train, we had one last stop: Beadelmania, on the one lone habitable block in the heavy industrialized area east of Kingsland Avenue, inclusing the extravagantly tricked out 128 Beadel. (For eats in Greenpoint we recommend the shops along Manhattan and Norman Avenues, where there's plenty of kielbasa and no one steals the keeshka.) NY
But wait, there's more…from Forgotten Fans Andrea, Laura, Laura again, and Nick.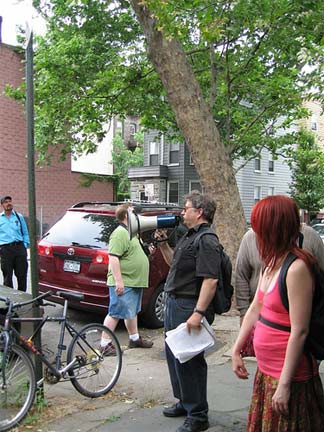 Your webmaster has been through three ForgottenHorns and this one might be the keeper. I paid $160 so it oughtta be.
Page photographed 6/10/07 and completed 6/17/07, Father's Day. This page is dedicated to Kevin W. (9/27/18-6/14/03). He never saw www.forgotten-ny.com: I kept offering him a computer but he didn't want one; technophobia has rubbed off on your webmaster. When the book came out I remarked I was sorry the old man wasn't here for this (before his death he was aware I was working on a book). My cousin Jim said, "don't worry; he knows." Both my parents were born in the 1910s so you can imagine I like things that heve been around awhile.