There's a wide, 6-lane boulevard way out in eastern Queens recently renamed for a small town of about 14,000 in eastern Nassau. Settled by Welshman Robert Williams after he purchased land from the Matinecock Indians in 1648 and which, like Flushing in that era, became a center for the Quaker religion, Jericho was the home of prominent preacher Elias Hicks, whose son-in-law, Valentine Hicks, became president of the Long Island Rail Road and founded Hicksville.
Jericho remained a sleepy small village for most of its existence until the 1950s, when it was subdivided and became a busy suburb with homes and office parks along the Long Island Expressway.
So, how did lengthy Jericho Turnpike, once an Indian trail, a section of Route 25 that runs from the Nassau line to Smithtown in Suffolk County, recently "take over" a section of Jamaica Avenue along the Queens-Nassau border in Bellerose and Floral Park?
From 1920 to 2005 the stretch of Jamaica Avenue between 225th Street and 257th Street that existed halfway in Queens County (the north side) and halfway in Nassau (the south side) went by two names: Jamaica on the north side, Jericho on the south. After some years of pushing by the local organizations such as the Bellerose Community Civic and Community Board 13, the NY City Council decided to rename the north side Jericho Turnpike, and Mayor Michael Bloomberg signed the bill June 5, 2005; street signs were changed within a couple of months, giving NYC its second modern-day "turnpike" (after Union Turnpike.) The turnpike attained its present width in 1962.
In your webmaster's opinion, the town of Bellerose in Nassau County should have been the one to change the name of Jericho Turnpike to Jamaica Avenue. Hey, we're bigger!
That didn't settle the entire issue…as we'll see later on this page.
WAYFARING: Floral Park-Bellerose (open map in separate window)
Depending on where I've been working over the last few years, in Nassau or Manhattan, I've thought of myself now as New Yorker and then as a Long Islander. I now live in Little Neck, a Chad Pennington pass away from Nassau County. (OK, OK. Peyton Manning.)
I rode the Q79 bus from Little Neck to the end of the line at Jericho Turnpike, and decided to emulate Johnny Cash and walk the line on the Queens-Nassau border to see if there were any surprises. Right away though, I decided to make a detour, since Little Neck Parkway , after it enters Nassau and changes its name to Tulip Avenue, is the gateway to charming Floral Park…
The Creedmoor Spur
LIRR steam engine pulls some passenger cars on the long-abandoned Creedmoor Spur, spanning Jericho Turnpike just east of Tulip Avenue in 1951. lirrhistory.com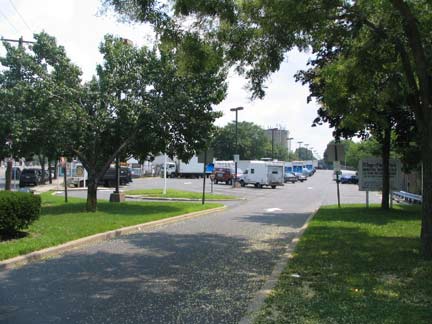 We encounter a railroad relic almost immediately upon entering Floral Park, in the form of a parking lot stretching SE from Jericho Turnpike just east of Tulip Avenue. This is the right of way of the old Creedmoor spur of the Long Island Rail Road. In 1872 department store magnate Alexander T. Stewart built a railroad connecting what is today the Port Washington Branch with the town he founded — Garden City. The line lasted only a few years, but the LIRR maintained a spur to the Creedmoor rifle range –now the grounds of the Creedmoor Psychiatric Center — for several years after. The Hinsdale (Floral Park's old name) station was nearby.
Entering Floral Park via Tulip Avenue you immediately see Centennial Hall at the triangle formed by Tulip and Carnation Avenues. Formerly a Masonic hall, it is now home to Floral Park's historical society. A museum is planned to open in November 2007.
Outside a nondescript apartment building you will see a historical sign indicating the home of Floral Park's founder, John Lewis Childs. Floral Park had already existed since the colonial era as Hinsdale, but when horticulturalist Childs arrived in the 1870s and set up a mail-order seed business at the age of 18, the already floriferous Hinsdale began to thrive. Floral Park's post office (left) was established to process his business's mailings.
1886 Childs seed catalog [in Gallery]
Childs suggested Hinsdale change its name to Floral Park; incorporate as a village; and plan residential areas (today, many of the street names have a floral theme). Today those residential areas have swallowed nearly all of the flower businesses.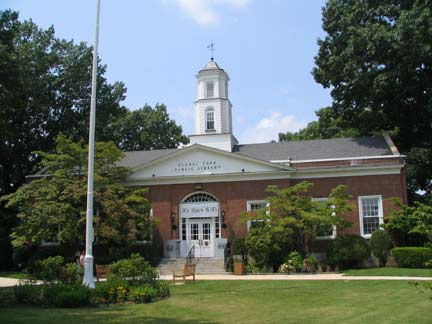 Floral Park's library, at Tulip Avenue and Caroline Place, has been in this building, the former post office, since 1964.
Our Lady of Victory R.C. Church (1924) is fronted by a town green containing both World War memorials.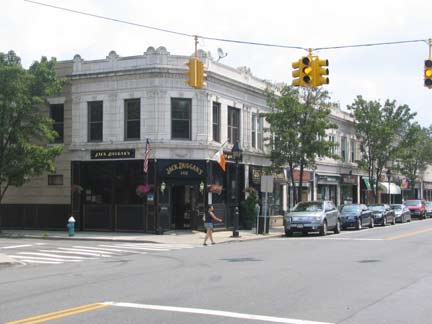 Tulip Avenue between the LIRR and Plainfield Avenue is the main business district. Here's a classic neon sign.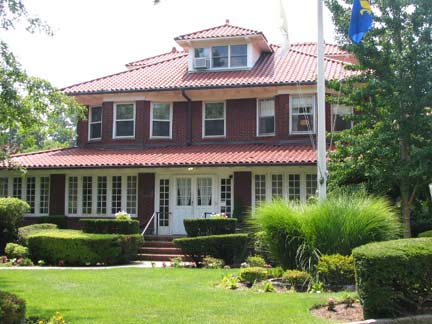 A pair on Plainfield. Hinsdale/Floral Park, before its incorporation, was the western end of the vast flat Hempstead Plains. Plainfield Avenue runs from Jericho southwest through Floral Park, past Belmont Park to Hempstead Turnpike, and if you're on a bike, it's a good way to get from Floral Park to Elmont and Laurelton. Here are a couple older homes on Plainfield Avenue that would break all the rules of home construction today. Look at all those glass panes!
First Church, Carnation Avenue near Floral Blvd. I love these signs — Queens has a couple of older ones, now hopelessly rusted. The Woodhaven and Richmond Hill Historical Societies have in recent years erected newer ones.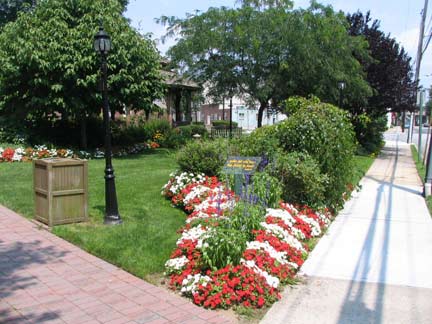 Heritage Park, Carnation and Crocus Avenues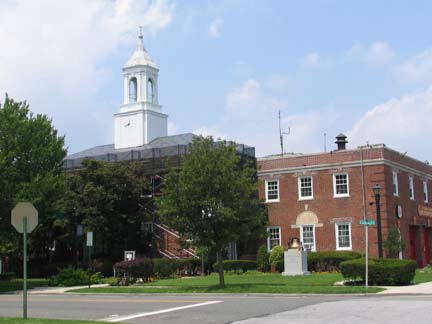 Village Hall, Floral Boulevard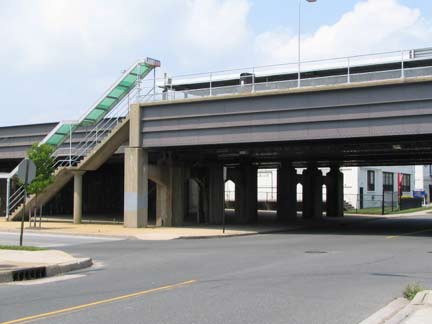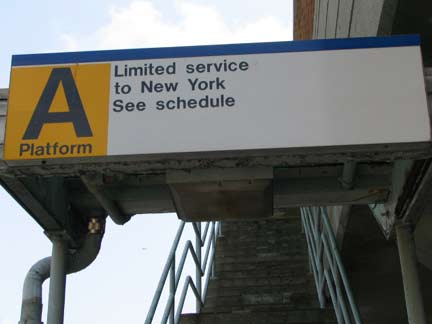 The Long Island Rail Road eliminated a dangerous grade crossing in 1962, but the elevated line severs the town in half. The LIRR admits it does not often serve Floral Park; in non-rush hours, trains stop about once per hour.
Back in NYC
After my Floral sojourn I embarked on my true mission, a survey of the Jamaica-Jericho line. I walked west on the Queens side from Little Neck Pakway to 225th Street, then east along the Nassau side back.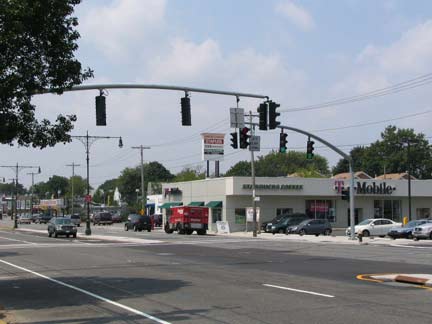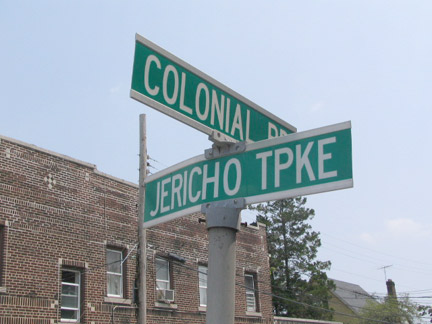 Both sides of the street are signed Jericho Turnpike (left) on the Queens side, (right) the Nassau side. There's no set style for Nassau County street signage; sometimes you have plain green, sometimes green with white stripes, as here. Where your webmaster works, in Port Washington, there are blue and white vinyl and wood signposts, and on other blocks, it's white signs with black letters. Nassau has a dizzying amount of town divisions and subdivisions…each with their own way of signing their streets.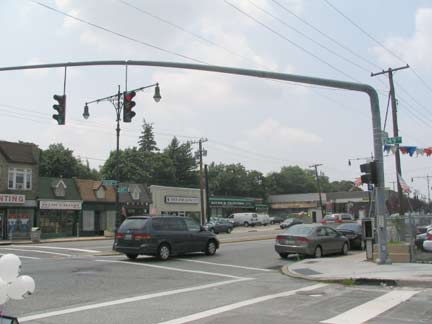 In an unusual and, frankly vaguely disquieting setup, the Queens side of Jericho Turnpike employs Nassau County davit-style stoplights and don't walk signs! A NYC-type fire alarm can be seen next to one.
Longtime Bellerose ice cream parlor Frozen Cup, at Jericho and 249th Street appeared in a 2001 episode of Sex and the City, in which it was supposed to be located in New Jersey. No sex was filmed inside, however.
The Frozen Cup served its last frosty treat soon after.
Belmont Park is just to the south, its presence reflected in the Triple Crown Diner (American and Greek flags a-flutter) and the Finish Line tavern. The track is all but inaccessible from Jericho Turnpike, though; you have to enter via Hempstead Turnpike, which motorists reach via the Cross Island Parkway, part of the NYC Belt system.
The stretch of Jericho between Commonwealth Blvd. and the Cross Island is teeming with signs trying mostly in vain to catch the attention of roaring traffic. I was initially attracted to the ancient Lutheran Church sign on the telephone pole at left but then found it was just one of dozens.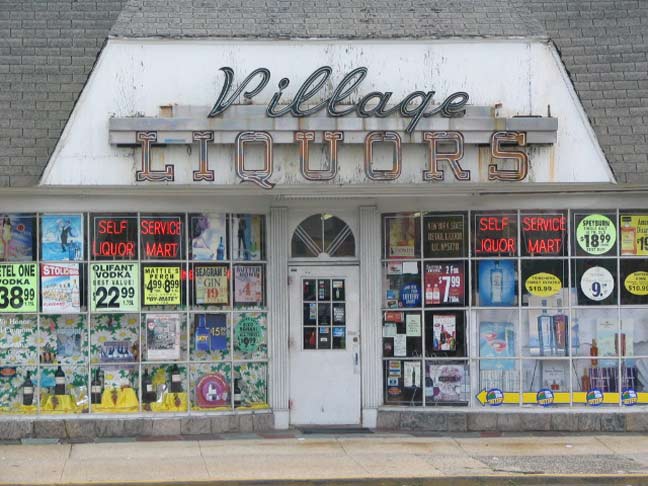 Not one windowpane in this liquor store is without a sign!
I don't have my money at Queens County Savings Bank. I have it in Ragu jars in my bedroom. Nonetheless, I love this bank because all the branches are decked out in my favorite color combination, which makes them look like the Pittsburgh Pirates, Steelers, and Penguins, or the Iowa Hawkeyes football team. Here, branches at Jericho near Commonwealth, and at Braddock Avenue north of Jericho.
I should mention that John Lydon is Johnny Rotten's real name. I can never see the name Lydon without thinking of him. A few years ago, I read his autobiography, Rotten: No Irish, No Blacks, No Dogs. (That sort of describes the Wavecrest Management policy where I live in Little Neck. Just kidding!)
Now, back to business. Isn't it superfluous these days to mark state route designations in NYC (or any urban area) these days, what with interstates having been rammed through decades ago? Realistically, if you want to get from Bellerose from, say, Long Island City, you wouldn't use Queens Boulevard, Hillside Avenue, Braddock Avenue, and Jericho Turnpike, which is Route 25, are you? You'd likely use the Long Island Expressway and the Cross Island Parkway (if you aren't in a truck.) So, why bother marking them anymore?
The Other Childs
Time for a look at the "other" Childs in the Floral Park-Bellerose area, the century's first restaurant chain. Childs Restaurants…
 stem from a lunchroom started in 1889 on Manhattan's Cortlandt Street by Brothers Samuel and William Childs with $1,600 capital. Farm boys from Bernardsville. N. J., the Childs Boys, irked by eating in dirty hash-houses, decided to offer the public something cheap and clean. While public clamor for sanitary improvement was building up to the Pure Food & Drugs Act in 1906, Childs restaurants mushroomed, their slogan "The Nation's Host from Coast to Coast," their symbol a pretty girl making wheat-cakes in the window.
Emergence of the soda fountain lunch in the 1920's, a change in the public taste in decoration from sanitation to esthetics and (after Brother Samuel's death) Brother William 's espousal of vegetarianism put Childs on the skids. In 1929, after a grim fight for proxy control. Chairman Childs was forced out and General Counsel William A. Barber took his place. He and a new president, William Porter Allen, modernized both Childs restaurants and Childs food. White tiles yielded to Puritan, even to Moorish decorations with dance orchestras and goldfish ponds. Meat returned to the menu and instead of vegetarian dogma Childs sponsored a noisy campaign to "Eat all you can for 60¢." After an unsuccessful trial this also was dropped like a hot pancake. Really successful, however, was the next major change, a change which has put dollars into the pockets of many a restaurant man from coast to coast—installation of bars….[Time, September 6, 1938]
Childs was folded into the Riese chain in 1961. In NYC, Childs had a nautical theme for most of its outlets, with terra cotta vessels, seaweed, fish, and other watery accoutrements, given the greatest expression in its Coney Island boardwalk outlet.
The front of the stationery shop at Jericho and 246th has had all of its Childs paraphernalia erased…ah, but they forgot to modernize the side of the building! Here, the Childs seahorses still gambol (except with tail flukes found on no seahorses yet discovered)…
I think we're making something of a move back to playful decoration like this in our newer restaurants and public facilities. It must have cost a lot extra to do terra cotta work like this at Childs Restaurants, but it certainly gave them an immediately recognizable face.
In the 1930s perhaps you saw a show at The Bellerose and then went to Childs for afters. Both are still there, but of course in different forms. In recent years the building has been used as a carpet warehouse, and now it is a sporting goods store. Jericho Turnpike opposite Braddock Avenue.
Braddock Avenue. Poor Joan Hyatt–she's somewhat overwhelmed by the traffic sign. The Parks Department website is silent on Hyatt, likely a local figure. Parts of Bell Boulevard, Luke Place, Springfield Blvd., and all of Braddock Avenue are parts of an ancient Queens route called Rocky Hill Road. A piece of the original road can still be found at 47th Avenue and 202nd Street in Auburndale.
This is now the easternmost limit of Jamaica Avenue at Cross Island Parkway. While east of the Parkway, both sides are now called Jericho Turnpike, between 225th and the Parkway, where the city line runs down the center, both sides are called Jamaica Avenue. I'm not sure, though, if this was in effect before the northern side was renamed Jericho Turnpike in 2005. And if you're getting confused, I don't blame you.
I'm telling you, just call the whole thing to 257th Street Jamaica Avenue. Too late now though.
In Nassau County, Bellerose has a 225th, 226th, 238th (it skips 12 streets), and 239th-246th Streets, inclusive, and a 95th Avenue. Elsewhere, 79th and 80th Avenues continue into New Hyde Park, there's a 259th Street in Lake Success, a 106th, 109th Avenues and some 115s-118s as well as 237-240th Streets in Elmont. Otherwise the NYC numbering system pretty much ends at the border.
I was drawn to the plethora of Jade Signs, but what really got me was the Action Plumbing hand-lettered beauty next door. Further on, I found an ancient lamp that hasn't had a bulb in years…
It likely once lit the parking lot at R. Stutzmann and Sons Funeral Home, an impressive residential-type house (impressive, I suppose, since these are quite rare on this stretch of Jamaica Avenue). Stutzmann has been located here since 1939.
Here the city line turns south along Cross Island Parkway, and I turned around and marched back along treeless Jericho in the summer heat, perhaps bringing me closer to an appointment at Stutzmann's. I do it for Forgotten NY.
Hm, guess the schools in Nassau aren't much better than the ones in Queens. For the record, it's Bellerose and Jamaica.
I like the new trend (the past 10 years or so) for wood signs with gilded lettering. Bellerose, like Floral Park, straddles both sides of the Queens-Nassau line.
Bellerose is the dream of businesswoman Helen Marsh, who raised $155,000 in 1906 from the sale of her house in Lynn, MA to purchase 77 acres of gladioli fields at the west end of the Hempstead Plains. Mrs. Marsh lived in each of the first 22 houses built in Bellerose, until she could find a buyer for each who shared her vision of what the community should be like, in her opinion. She also formulated Bellerose's street plan. The village was incorporated in 1924.
While some say the name derives from the Rose farm that was found to the south of the railroad and from the name of her daughter, Belle, Mrs. Marsh replied years later that she chose the name merely because it sounded "euphonious."
Not that I'd care but cigarette prices must be considerably lower over the Nassau line. Hey, that stuff'll kill ya!
Gamewell fire alarm boxes are pretty rare in NYC (they're still in the fire alarm business), but I saw plenty along Jericho, so they must be standard issue in Nassau, at least in Bellerose.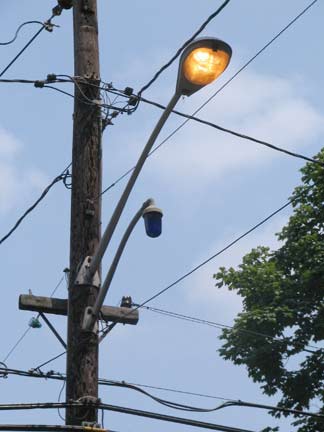 Fire alarms in Bellerose are marked by blue-colored glass diffusers.
Uncle Buddy's, just off Cross Island Parkway. Which one's Buddy?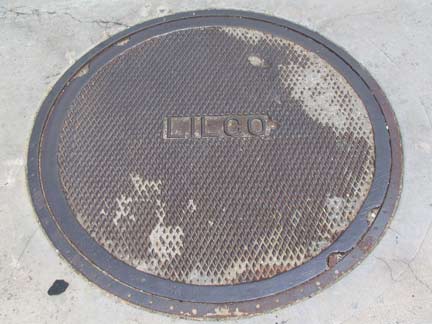 Electric relic. There are still plenty of manholes embossed with LILCO (Long Island Lighting Company). The Long Island Power Authority became Long Island's electric service provider in 1998.
Jericho and 91st Avenue. Somewhere, an architect thought this was a good idea, and somewhere, a businessman thought the design was just fine. Perhaps the same stooges who approved the parking lot design at Queens Plaza. Rouse, Dubin and Ventura perhaps?
Forgotten Fan Tom Ketchum: That monstrosity building with the trapezoid windows and the different roof is a former Pizza Hut restaurant. That design was standard from the 1960s through the 1980s, when more conventional designs were used.
We need only to walk a bit south, along Massachusetts Boulevard and Huron Road to see the houses of "real" Bellerose.
Can any Bellerosers tell me if the original 22 homes lived in by Mrs. Marsh are still there and if so, where?
8/5/2007