My first visit to Bayonne, NJ came in January 2006. I noticed a lot of interesting signage from previous eras…
Bayonne, NJ is located on a small peninsula situated between Newark Bay on the west and Upper New York Bay on the east. To its south is the Kill Van Kull and beyond it, Staten Island, to which it is connected via the Bayonne Bridge; its only land border is on the north with Jersey City. Officially Bayonne is named after the southwestern French city("Bayonne" itself comes from the Basque word ibai, "river"), in honor of French Huguenot settlers in the colonial era. While Huguenots certainly lived in Staten Island across the Kill Van Kull, there are no official records to support their assumed presence in what became Bayonne.
HOW TO GET THERE: By foot, bicycle or auto across the Bayonne Bridge, or a trip on the new Hudson-Bergen Light Rail to 45th, 34th or 22nd Streets. The HBLR is easily accessible from the Exchange Place, Pavonia or Hoboken PATH stations. In the cards, they say, is an MTA bus route extension over the bridge to meet an HBLR extension to 8th Street in Bayonne, but that commute to Manhattan for Staten Islanders would entail three fares unless a one- or two-fare arrangement can be effected.
In the 2005 Tom Cruise/Steven Spielberg remake of War of the Worlds, the invading aliens (not Martians in this version) destroy the Bayonne Bridge, and much of southern Bayonne is 'blown up real good' as well.
The layout of Bayonne is a fairly straightforward grid, with east-west numbered streets proceeding north from the Kill Van Kull waterfront, and lettered north-south avenues, though John F. Kennedy Boulevard replaces Avenue B and Broadway replaces Avenue D.
On my walk I alit from the 22nd Street HBLR station and proceeded south along Avenue C and JFK Blvd., to about 8th Street, then north along Broadway. I found a clutch of vintage signs on Avenue C in the 20s.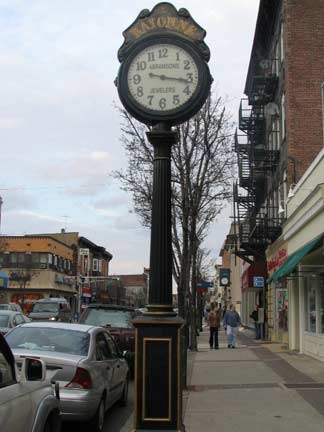 Broadway. Abramsons Jewelers clock (left) and Altschuler's entance.
Broadway. Barney Stock Hosiery
Buster Brown / Roamers palimpsest
Johnson The Florist
Holiday Tree & Trim, Fortune Cleaners (JFK Blvd.) and Goodyear.
And saving the best for last…
The Liberty Electric Company neon sign, with a brunette Lady Liberty, no longer lights up, but what a sight on Broadway it must have been when it did.
The Statue of Liberty shows NJ her rear for the most part (she can be seen from some odd angles in Jersey City, and other Jersey locales, I'm sure). Incidentally, are all you lady Bayonne residents called Bayonettes? Your webmaster wants to know.
2/23/08