During the fall (2007) I visited one of my favorite parts of Brooklyn, Fort Greene, which has evolved from a place where you would need a tank to ride in for safety in my youth to a place I couldn't afford without a MegaMillions victory today, and passed two places in particular: Brooklyn Tech along DeKalb Avenue and Fort Greene Park, and Flushing Avenue along the Navy Yard where the remains of Admirals Row (or if you prefer, Officers' Row), the commissioned officers' families' homes that are now in utter ruin.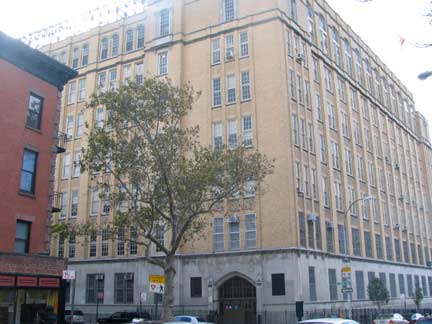 I have no direct connection to Brooklyn Technical High School other than my cousin Jim, who attended it back in the Swingin' Sixties. I've never been inside.
The school opened in 1922 at 49 Flatbush Avenue Extension (near Fulton Street) in a converted warehouse. It moved to its present building, a 12-story structure at 28 Fort Greene Place, in 1933. It's one of NYC's marvels you don't read or hear much about.
For example, according to its wikipediaentry, Brooklyn Tech features an Olympic-size swimming pool; foundry; a materials testing lab; an aeronautical lab; an 18,000-watt radio transmitter (and a 456-ft transmitter tower, when combined with the building's 145-ft. height, makes Brooklyn Tech the tallest combined structure in Brooklyn); the 3,000 seat auditorium; the robotics lab…
Given all that, how it isn't landmarked is surprising, though it'd obviously in no danger at present. Alumni include Harry Chapin, the late storytelling pop singer, US Congressmen Gary Ackerman and Anthony Weiner, computer magnate Charles Wang and author Richard Matheson, of "I Am Legend" fame. I wonder if Open House New York features it, or plans to.
On my stroll past on DeKalb, though, I was arrested by the bas-reliefs of great engineers, inventors and scientists that are arrayed above the corner window; among them areRobert Fulton, the steamship and submarine engineer, for whom Fulton Street is named; the father and son team who engineered the Brooklyn Bridge, John and Washington Roebling, the architects of the Brooklyn Bridge (a street in Williamsburg is named for them); and Thomas Alva Edison, inventor nonpareil.
If anything, the Brooklyn Bridge may be overrepresented in NYC lore. Here's a look at John A. Roebling's 1866 Cincinnati, OH-Covington, KY bridge, which predates the Brooklyn…and some might even say the Brooklyn is a copycat design of the Cincinnati bridge! John Roebling died of tetanus after sustaining an injury at the bridge site, and his son Washington took over for him but then succumbed to the bends after working in the caissons under the East River that supported the bridge towers. Thereafter, his wife Emily took over its day to day supervision. (Her brother, Civil War general Gouverneur Kemble Warren, is honored by a statue at Brooklyn's Grand Army Plaza.)
The Brooklyn Navy Yard's ten remaining old officer's quarters facing Flushing Avenue east of Navy Street, known as Admirals' Row or Officers' Row, some dating from the mid-to-late 19th Century, have been allowed to severely deteriorate. They look out over Flushing Avenue between Navy Street and Carlton Avenue, their windows ivied and hollow, and in 2006 they were slated for demolition.
They were going to be replaced by a supermarket that was scheduled to be built on the north side of Flushing Avenue to serve the residents of the neighboring Ingersoll and Walt Whitman Houses. The supermarket, and the fate of the old houses, were in limbo as of early 2008 as the homes are reviewed to see if they can be restored.
2/20/08