A walk down several streets of the East Village, especially St. Mark's Place, Cooper Square, 2nd and 3rd Avenues, and east 6th and 7th Streets, and you'll notice dozens of lampposts whose bases and lower halves are covered withe ceramic tile, glass, broken crockery, rhinestones, terra cotta and other small decorative pieces. Some are arranged in patterns that spell out the names of fallen firemen on 9/11/01; politicians; local landmarks and theatres. They are all the work of Irish-born Vietnam vet Jim Power, who has been adding this embellishment for over twenty years and has become a beloved East Village institution.
The wildly colorful, jagged-edged mosaics are cleverly infused with a vibrating primitivism that unifies Power's public works. A myriad of ceramic squares and slivered tiles, angular pieces of broken plates and a plethora of found objects make up Power's palette. A typical light pole has more than a thousand tiles; the eight-foot pole at Eighth Street and Broadway has more than 2,800, with two small plates stacked on top of one another to form the number 8. A tribute on another pole is to emergency service workers during the 2003 blackout, another highlights the old Yiddish theaters, the Bowery Boys, Burns and Allen, Charlie Parker. The Villager
Power's work is especially necessary at the NW corner of 2nd Avenue and east 6th Street, the site of the 1968-1971 Bill Graham rock palace, the Fillmore East. Graham took over the old cinema/Yiddish theatre in early 1968 and for two full years and part of two others presented a roister of superstars that to this day reads like a classic rock radio playlist. Just about every big name in rock and roll except the Beatles and Stones played the Fillmore East (Graham's east coast counterpart was the Fillmore West in San Francisco.)
No official plaque marks the spot of the Fillmore East(and none, for that matter, marks the locales of other legendary NYC rock venues such as CBGB, the Palladium, Bonds of Times Square, Folk City, Max's Kansas City, the Peppermint Lounge (either of them), Danceteria, the Ritz, the Lone Star Cafe…I could go on. Even Shea Stadium will expire at the end of 2008. That's why we need "guerrilla" commemorators such as Jim Power. I hope others pick up his baton and celebrate our other late great rock venues similarly. A few years ago, your webmaster photographed the locales where they were located, but it was so depressing to see how mundane they'd become since the stages closed down that I never proceeded with a Forgottenpage about them. Perhaps I can do them one by one in ForgottenSlices.
The Grateful Dead (above mosaic) perhaps played more shows than any other band at the Fillmore. They appeared June 14-15, 1968; February 11-12, June 20-21 and Sept. 26-27, 1969; January 2-3, Feb. 11-13, May 15, July 9-12, 1970, and April 25-29, 1971.
Janis Joplin, with Big Brother and the Holding Company, played on the Fillmore's opening night, March 8, 1968; Jimi Hendrix appeared May 10th, 1968 and Dec. 31-Jan. 1, 1969-70.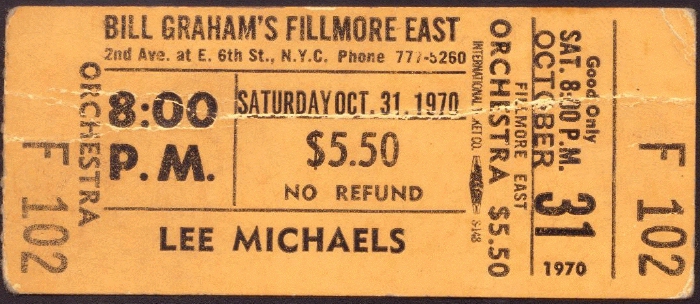 Above: Stub from Lee "Do You Know What I Mean" Michaels' Halloween 1970 show.
The Fillmore had a capacity of over 3600 seats. The venue was so popular that bands were often double-booked to play two Saturday and Sunday shows apiece, as well as matinees. The Doors, The Who, Quicksilver Messenger Service, The Allman Brothers Band, Derek and the Dominos, Jimi Hendrix, Country Joe and the Fish, Big Brother and the Holding Company, Lonnie Mack, Humble Pie, Led Zeppelin, Neil Young and Crazy Horse, Pink Floyd, Procol Harum, John Mayall, The Byrds, Jefferson Airplane, Frank Zappa, Miles Davis, and toward the end of the Fillmore's run, an up and comer named Elton John are just a handful of the big names that played here, as well as lesser-known bands such as Sweetwater, Bloodrock and Zephyr. Numerous classic live albums were recorded at the Fillmore such as the Allman Brothers Band's At Fillmore East, Ladies and Gentlemen: The Grateful Dead: Fillmore East: April 1971, and Frank Zappa and the Mothers of Invention's Fillmore East – June 1971.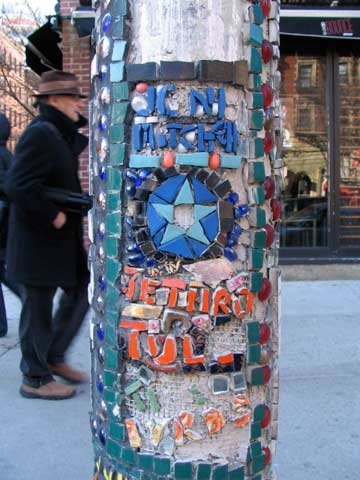 Joni Mitchell checked in April 25-26, 1969, while Jethro Tull and its mad flautist Ian Anderson played July 3 and December 5-6, 1969 and August 5, 1970 and May 4-5, 1971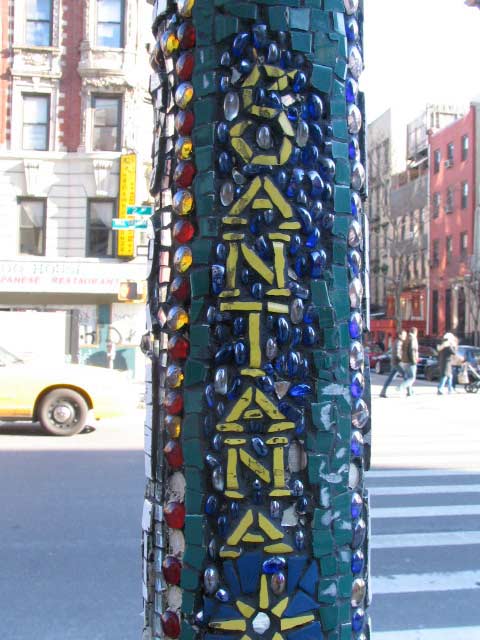 Carlos Santana made many appearances: November 7-8, 1969, Jan. 16-17, Apr. 10-12, Aug. 10-12, 1970 and April 1-3, 1971.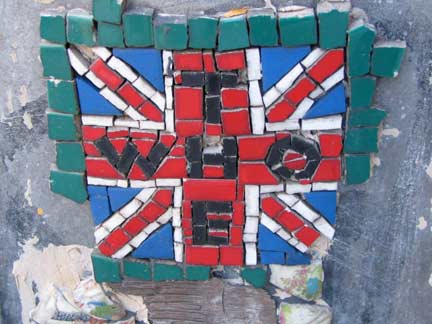 The Who played Fillmore East prior to the band's Tommybreakthrough, and after: April 5-6th, 1968 and May 16-18, June 5-6, and October 20-25th, 1969. The May 16, 1969 show was particularly memorable: a fire broke out next door that ultimately gutted a five-story apartment building and a supermarket. During the Who's set, a plainclothes policeman jumped onstage and attempted to grab a microphone; Pete Townshend kicked him in the bollocks, as the British say. (Talk about yelling fire! in a crowded theatre.) The cops wanted to charge Pete with assault, but he wound up paying a fine. A few months later, Pete similarly ejected activist Abbie Hoffman from the stage at Woodstock, NY when he interrupted the Who's set.
The Allman Brothers Band played Fillmores East and West so often, they were called "Bill Graham's house band." They played here on 2nd Avenue February 11-13 (third on the bill under the Dead and Love), Sept. 23 and Dec. 11-12th, 1970, and March 11-13 and June 25-27, 1971. Those last dates, in which the Allmans appeared with the J. Geils Band, Albert King, Edgar Winter's White Trash, Mountain, The Beach Boys and Country Joe McDonald, closed out the Fillmore East in a show broadcast by WNEW-FM. Performances from that show appeared on the albums At Fillmore East and Eat a Peach.
After Graham closed Fillmore East, the building became home to The Saint, a private gay club. Today there are no reminders at all of when this was a concert venue: Emigrant Savings Bank now occupies the Fillmore's old space.
More on the Fillmore:
Fillmore East Preservation Society (contains concert dates cited previously)
Irving Plaza, the venerable concert hall on Irving Place, was re-christened Fillmore East at Irving Plaza April 11, 2007 with Lily Allen the inaugural act.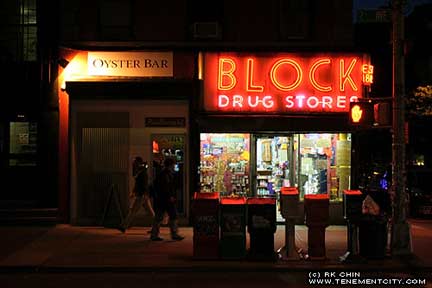 Like the amazing neon sign says, Block Drug Stores (the plural implies there was once more than one) has been in business since 1885. From the looks of things I'd guess the sign has been there since the 1935-1945 period, and it still lights up. Night photo: "lucky dog"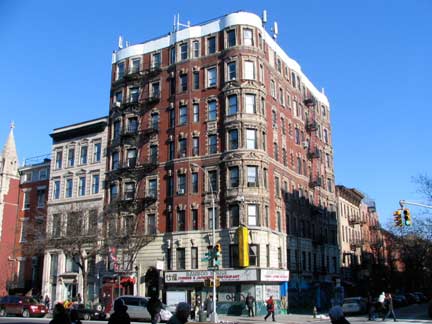 An 1880s building goes 21st Century witth cell phone transmitters. And, chiseled street signs on the SW corner.
photographed February 17, 2008; page completed March 5.