The lampposts of the East Village, along Broadway and Astor Place, seem to be festooned with psychedelic crockery. What mad home decorator has glued broken plates, cups, dishes, sea shells, even broken toys in the form of mosaics to the lower parts of lampposts, no-parking signs and stoplights? And why?
These embellishments first appeared in the early 1990s (you can prove it by looking at one of the poles, which reads "Mayor David Dinkins"). Dinkins was NYC Mayor between 1989 and 1993.
Many of the mosaics contain words spelled out. May of them have fallen off over the last dozen years, but this "Cooper Square" sign can be clearly seen.
Just think of all the assaults these 'mosaics' have taken from area canines.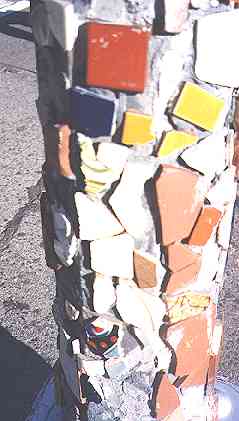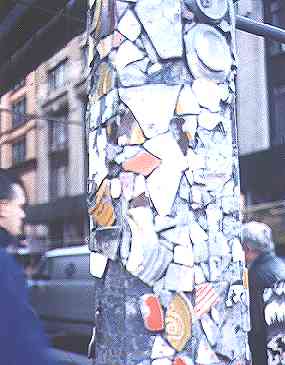 Lamppost shafts have not been overlooked in the makeover. If anything they are even more colorful than the bases.
So who is the perpetrator of this lamppost makeover?
It's Irish-born Vietnam vet Jim Power, who is part of a coalition of East Village artists.
In the 1990s and 2000s, Jim Power has continued to build some new creations after the older ones had worn off or been painted over, with permission from the DOT. To date, Power has constructed nearly 100 mosaic murals in the East Village. In 2007 Power moved to East Williamsburg, but he will continue his work in the East Village.
11/25/1999