Fiske Terrace is one of the beautiful neighborhoods south of Prospect Park, Brooklyn, that includes Caton Park, Prospect Park South, Beverley Squares East and West and Ditmas Park, with block after block of beautiful homes with shade trees, huge lawns and wraparound porches in every color of the rainbow; they are jewels in NYC's crown and subjects for future FNY pages. Oddly they are ringed by areas of ugliness and poverty; Coney Island Avenue, for example, is an eyesore from the Parade Grounds all the way south to Sheepshead Bay, likely because it was formerly a plank road home to a railroad running south to Coney Island. Fiske Terrace was given landmark status by the Landmarks Preservation Commission in March 2008.
For many years, the Oak Hotel, formerly an SRO hotel at East 12th Street and Avenue H that was home to transients until the mid-to-late 1980s, was empty and deteriorating. The latest word is that finally, it's being gutted — could this be a prelude to demolition or renovation?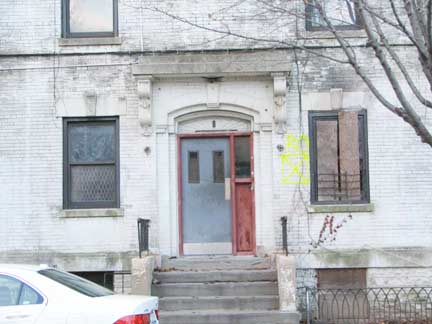 Your webmaster hasn't been inside the Oak, but I knew a coworker who was staying here in the mid-1980s. In those days it was almost as decrepit but without the broken and boarded up windows. It still had a nonfunctioning neon sign. The Oak was finally shut down apparently because of prostitution.
A commenter in Ditmas Park Blog says the Oak was where major league baseball teams in Brooklyn to play the Dodgers stayed. My question would be why not the St. George or Bossert in Brooklyn Heights? I imagine budgets were a lot tighter in the major leagues back then.
For some reason the fire alarm was given a gilt paint job. It has long been decommissioned after too may false alarms were reported using street alarms. Many are now used by locals as de-facto waste receptacles.
East 12th is interrupted here by the old Bay Ridge LIRR branch cut, hence the dead end sign.
Both the Prospect Park South and Fiske Terrace developments were delineated with decorative brick gateposts. While PPS's streets werre shown on the posts, Fiske Terrace's were not.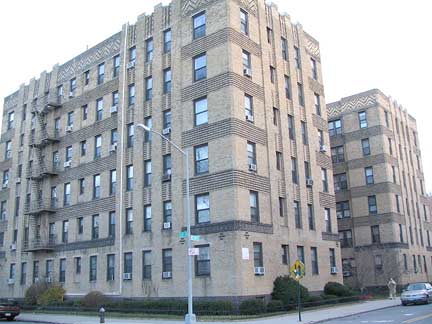 A block away from the Oak we find a grand Art Deco apartment building at East 13th Street. Finally, here is the landmarked station house at the B/Q Avenue H subway stop. It is the former real estate office of T.B. Ackerson, who built the houses of many of the picturesque developments south of Prospect Park.
Photographed November 2007; page completed March 23, 2008