Back in 2003 I took a stroll up 6th Avenue from Tribeca up past Macy's — it has a lot of hidden features such as the remnants of streets swallowed up when the avenue was extended when the IND subway was built in the late 1920s, the city's second-oldest Catholic church, one of the city's oldest pharmacies, and more. So much has changed since then: the Moondance Diner was uprooted andmoved to Wyoming; Father Demo Square was demolished and rebuilt; the old Waverly Theater was gutted and restored as the IFC Center. A couple years earlier, Billy's Topless was forced out. In just a few years so many changes have happened.
Another change that begun on 6th Avenue in the early 2000s has recently almost completed the avenue's transformation, between 23rd and 32nd Streets, into one of NYC's premier high-rise apartment strips. Just a couple of years ago this stretch of Sixth featured mostly delis, porno DVD joints, and parking lots that on weekends were home to vast flea markets.
I found myself on this stretch of 6th after hearing that a large cast-iron front building on 6th and West 31st had been pulled down. I was amazed to see that every building on the west side of 6th between 29th and 31st was gone, presumably because even more huge luxury towers were on the way, and decided to record the remaining old buildings now that their days seem to be numbered. This looked like a job for Forgotten New York.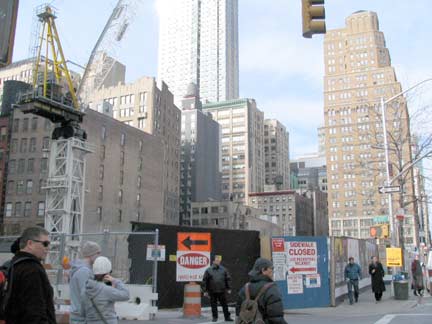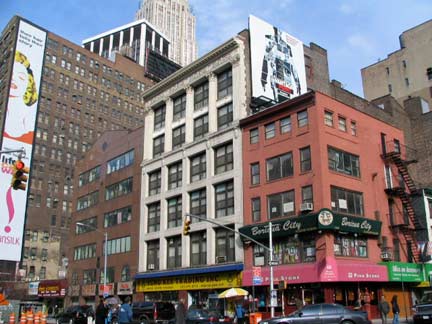 I am well familiar with the area; I worked here in parts of 4 years, from 1988 to 1991: I was a typesetter at a print shop called ANY Phototype, the ANY coming from the first names of two Russian immigrant brothers and their partner who owned it. It was a multi-language printer: lots of it in Russian (which I didn't do) but quite a bit in German, French, Spanish, a language spoken in Switzerland called Romansch, as well as English. Much of it was quite dry, but we did do Circus Magazine, which in those days covered mostly pop metal at a time when I was into the Clash and Talking Heads (yes, 1988-91, I know). ANY was located at 130 West 29th on a block otherwise dominated by clothing importers and wholesalers; this was and is the edge of the Garment District. ANY, I gather, is still around. It was a placid period in my life; I was treated well. My first daytime job after several years working nights.
Above we see the NW and NE corners of 6th and 29th, with the newly vacant corner, and an array of early 20th-Century buildings.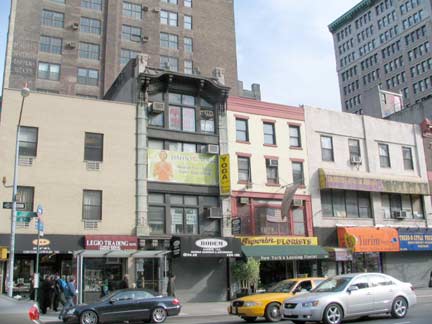 TOP: SE corner of 6th and West 29th. According to Jim Naureckas of New York Songlines,
l
l
l
l
l
l
l
l
l
l
l