Your webmaster will admit it. When I lived in Brooklyn (1957-1993) I really never had all that much to do with Ocean Avenue, and it's still by and large an avenue of mystery to me. Much of my locomotion on the borough of churches was by bicycle, and when I wanted to head south toward Coney or Marine Park, I'd use avenues like Bedford or the Ocean Parkway bike path, which seemed infinitely more interesting than Ocean Avenue (which paled beside its parkway cousin). It just seemed so boring in comparison, mostly lined with uninteresting apartment houses.
The ForgottenEye has been honed rather sharper since FNY got started though, and now I can discern highlights where there were once piles of bricks. I'm not ready to move Ocean Avenue to the top of my must-explore list, but I uncovered some gems alongside Prospect Park…
For example there's this colossus at 99 Ocean at Lincoln Road, done up in a sort of what… Spanish? Byzantine? style, with arched windows, columns, and interesting tilework. For example let's take a look at some specific tiles that are placed between the pairs of arched windows on the ground floor…
You get the idea. (This is the first hook-handed Virgo I've ever seen; she reminds me of Moulty.)
These look like kids' drawings, though clearly by the same artist, and they were probably put in place long, long after the building was erected. I wonder who did them? Anyone who lives in the Prospect Park area know about this?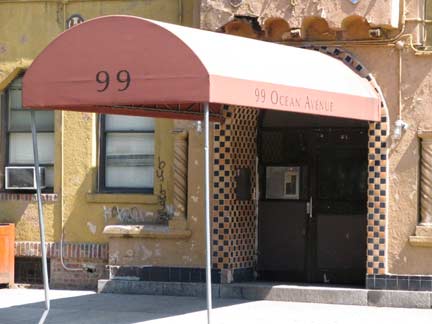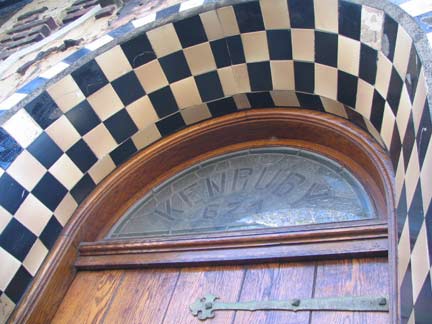 Another thing 99 Ocean has going for it is the gorgeous arch doorway with checkerboard tiling. Take points off for the canopy which obscures it, and it's not quite as cool as the great Kenruby Apartments on 90th Street in Dyker Beach (below), but it's digable just the same.
I cocked my snoot at Ocean Parkway for many years, and the official guidebooks of Brooklyn have no time for it, either. The last 2 editions of the AIA Guide to NYC ignore the stretch of Ocean Avenue between Flatbush Avenue and Fort Hamilton Parkway, where all the georgeous buildings are. So does the Big Onion Guide to Brooklyn.
I suppose the fact that Ocean Avenue is intersected by only Lincoln Road from Flatbush Avenue south to FHP, and it faces Prospect Park on the west side, gave some architects license to get a bit crazy. It's one of the longer unintersected stretches in Brooklyn.
Take a look at this Art Deco masterwork. The terra cotta presages Space Invaders by fifty years. And look at that brickwork!
Since I know nothing at all about the treasures of Ocean Avenue, I'll take a page from the folks at Bridge And Tunnel Club and show the next couple unimpeded by text: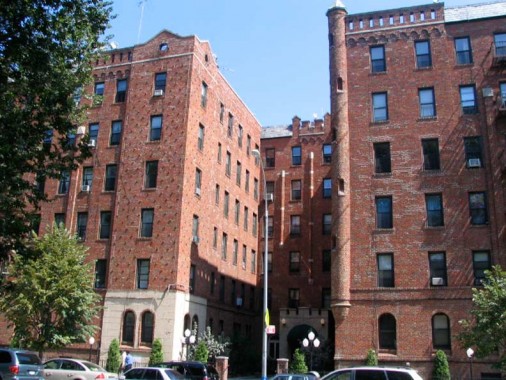 Old school park bench on Ocean Avenue. The streets surrounding the park have kept these old fashioned designs.
Photographed September 2006; page completed April 28, 2008