I had gone past Claremont Terrace thousands of times — literally –without giving it a second thought about what it was. It's an alley that is hidden along another dead end in the heart of Elmhurst, one of Queens' busiest, most populated and diverse neighborhoods — it's buzzing with energy day and evening. I would pass it, though, on the Long Island Rail Road on my way from Flushing to Penn Station, since its last remaining mansion, in a decayed, ravaged condition, was visible along the tracks. Claremont Terrace's origins lie in American immigration, and a young businessman who made his name in the United States in the pre-Civil War era, beginning an enterprise that exists and flourishes today.
Samuel Lord (1803-1889) was a British foundry worker from Yorkshire who came to the USA with dreams of entrepreneurship, opening a drapery-dry goods shop on Catherine Street in what is now the Lower East Side in 1824, and after struggling for over a decade, he sent for his wife and children to join him in the USA. At about the same time his brother-in-law, George Washington Taylor, joined him as a partner and investor.
Lord and Taylor opened a larger store near the docks at Grand and Chrystie Streets in 1854, at a time when Grand was among the city's busiest shopping streets — it was close to the east side docks along South Street, making importing goods a simple matter. The business became wildly successful, both men were millionaires by the early 1860s, and were then able to retire and return to England. The store moved to 20th Street and Broadway in 1902 and then to 5th Avenue and 38th Street in 1914, where it has continued an over 150-year run of success.
In 1840, while he was still struggling on the Lower East Side, though, Samuel Lord bought property in Newtown — today's Elmhurst.
Lord purchased a house at today's Broadway and Elmhurst Avenue in 1840, and opened a country store across the road. He was committed to Newtown — he commuted by ferry to the Lower East Side each day, and evidently liked what was then a small town, acquiring over 100 acres centered around today's Broadway where it crosses the Port Washington Branch of the Long Island Rail Road.
1891 Newtown map. Broadway is the street that runs from NW to SE, "Flushing Avenue" is today's Elmhurst Avenue, and Union Avenue is the current Corona Avenue. Note the labels "Lord Est(ate)" on either side of the railroad.
Also notice the semicircle on Broadway, just south of the railroad, and, zooming in, we see its name…"Clermont Terrace", with four homes arranged along its length…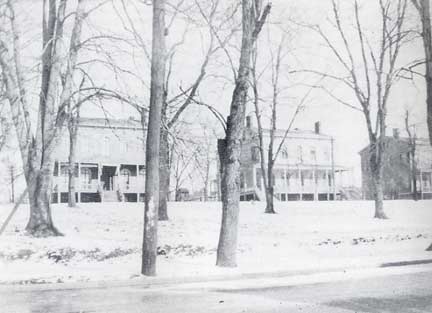 The Lords raised two sons and four daughters in Newtown. In 1856, Lord built four 2 and a half story mansions for his four daughters along a semicircular path that he named Clermont (later Claremont) Terrace -- it was on a short rise -- on Broadway just south of the new LIRR branch, which was built shortly after the mansions were.
The above scenes are a postcard view and a photo of two and three of the mansions respectively. See the house on the left in the picture on the right?

Up until late 2006, it was still there; I photographed it in about 2000 or 2001. By then it had lost its front porch and gained something of an indoor porch, but had been abandoned and deteriorating for many years indeed. I don't know what happened in the intervening years -- anyone remember when someone lived there?



In 2006 construction started on a large multifamily building on Claremont Terrace, but evidently, funding dried up and the house is waiting for more money to flow in.
A very small slice of the 1856 mansion remains in the front of the new building. It is pretty much what is left of the Samuel Lord legacy in Queens...but his Manhattan department store -- the first to install an elevator and the first to install a non-sales oriented Christmas window display -- goes on and on.
Information from Elmhurst: From Town Seat to Mega-Suburb by Vincent Seyfried and The Historic Shops and Restaurants of New York by Ellen Williams and Steve Radlauer.



These days, the road that once led to 4 magnificent mansions visible from Broadway is hidden behind storefronts and is accessible only from Dongan Avenue, itself a dead end as it runs into the LIRR east of Broadway. Claremont Terrace has not been paved for decades.
Dongan Avenue was cut through in the early 1930s, cutting Claremont Terrace in two. The construction of the road helped to eliminate the southern pair of the mansions, with the two northern surviving.

In this view of the area on a 1927 Belcher-Hyde map, the outline of Dongan Avenue is there although it has not yet been built. Oddly, 45th Avenue, which was shown as completed, has disappeared since.
We also see the four Claremont Terrace houses represented here: four yellow squares arranged from top to bottom east of Broadway. Notice that the third house is right in the path of Dongan Avenue, and it was razed shortly after 1927.
The northernmost, just south of the "45" made it to 2006, its 150th anniversary.
5/7/08