I'm a subway fan. Not during those times when I'm in NYC during summer rush hours, when it's 100 degrees down there and have to wait till several trains pass until I can find one to squeeze onto. I'm far from one of those guys who always have to ride in the first car and look out the front window (though I admit I'll do that now and then) and I've never had the slightest inclination to actually sneak in to the yard, jimmy my way in the cab and actually take one for a spin. But, yeah, I'm a train fan; I've been on several of the Transit Museum's periodic Nostalgia Tours where vintage cars from the museum actually take to the subway tracks again. (As I write this, today, July 13, 2008, there's a Nostalgia Train running this very minute).
The Kew Gardens courthouse area employs thousands of people, but for some, it's the last place you want to be, whether you're on jury duty or for those accused of a crime.
That's why, when I was on a 2-day jury duty stint at the courthouse near Queens Boro Hall in May 2007, I was pleasantly surprised to see R33 #9075 had been placed here as a Queens visitors' center (and had been there since early 2005).
It does seem something of an odd place to put a Queens visitors' center, since a lot of sober business goes on in the area. But you never know; Queens Boulevard, between the Grand Central Parkway and Van Wyck Expressway, could well become an offbeat mecca. Bookending the area, there's the presence of the very strange statue, Civic Virtue [not anymore, it was moved to Green-Wood Cemetery in Brooklyn] , and on the other end, Maple Grove Cemetery, a quiet oasis where I wandered off for lunch while I wasn't waiting around the courthouse to get called.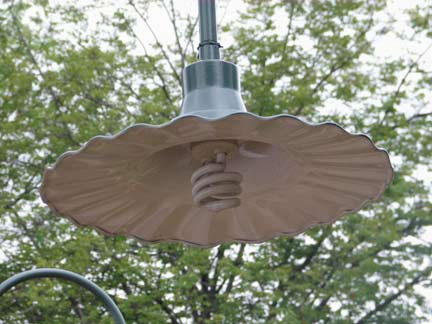 The handicapped-access platform has even been mocked up to look like an el station, in the days when they had wood planks for floors. New versions of radial-wave lamps have been installed (though these were never used to illuminate subway platforms; they were mostly used on side streets).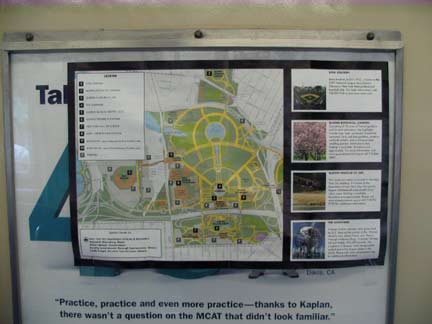 There are little surprises to be found — mainly flyers for local attractions around the borough, restaurant, museum and entertainment venue flyers. There's a map of Flushing Meadows-Corona Park, even though the southern entrance is several blocks to the northwest on Jewel Avenue.
But the car provides a novel, yet totally local, touch to the boro hall area. The Redbird has become something of a Queens iconic symbol — R 33 and 36 cars plied the Flushing Line from 1964 to 2002.
ForgottenFan Dave DiMattina: The subway car on Queens Blvd did not take people to the Worlds Fair via the 7 Line. The car in the picture was most likely from the Tremont Ave Bronx line. The Flushing cars looked very similar with the main difference being the larger panoramic windows (specially made to see the fair as you approached). It is a very noticeable difference.
A Lost Opportunity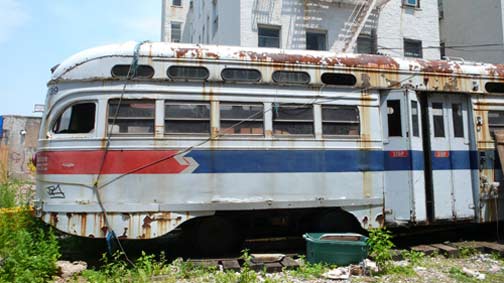 The resuscitation of the Queens Redbird is why the recent dismantling of the Southeast Pennsylvania Transit Authority (SEPTA) trolley car that once plied tracks on the streets of Philadelphia was so disappointing. The old car had been sitting on the north side of the Brooklyn Lyceum, a bathhouse – come – arts and concert center on the northeast corner of 4th Avenue and President Street in Park Slope.
Brooklyn Lyceum owner Eric Richmond explained the SEPTA car's presence in a recent comment in real-estate blog Brownstoner:
[The] trolley came to be there when we thought a diner would work well. SEPTA was selling, so we purchased it and brought it here. Neighborhood was much more problematic back then (1995) so it didn't get much traction. For a time it was even in the adjacent Lyceum (when it went by its original name Public Bath #7).
Unfortunately the local architect we had used for the lot was not appropriate for that and other Lyceum related jobs. Litigation ensued and is still in progress.
The architect sold the trolley illegally (he isn't the owner) to a group from Lancaster PA where they have thoughts of doing what Brooklyn can't or won't do, implement light rail. When they came to take it away (Jan 25, 2008) we were here and let them know it wasn't the architect's to sell. They gave us a bill of sale and a canceled check. We immediately went to court to enjoin the architect from any more shenanigans. Judge heard oral arguments in chambers with no court reporter, parties, press or public present. Then, 98 days later, judge finds against us in a decision that we believe is faulty.
Once that decision came in, architect hired scrappers to cut it up. On this past Tuesday we went back to court for an injunction. Same judge happened to be on the bench. Gave us seven days to remove it.
We will be appealing the decision. Hopefully in time to save old number 2739.
Apparently the scrappers arrived before any such appeal could work; Bob Guskind's Gowanus Lounge reported on July 11, 2008 that the old car was being carved up.
The problem all along, it seems, was that the Lyceum did not own the lot on which the SEPTA car was being laid up, and with developers snapping up every inch of developable space in Park Slope, Fort Greene, Greenpoint and many other neighborhoods, the trolley car had no place to go but the scrap heap.
The loss of SEPTA 2739 has to be considered a lost opportunity in light of what was done with R33 #9075 in Queens. At the very least, the car could have become a Brooklyn visitors' center, and with Park Slope increasingly becoming known outside NYC (a couple TV shows are being filmed there for the fall) it could have been a similar attraction, despite its Philly pedigree.
And yet… The Brooklyn Historic Railway Association's mostly Boston trolleys, brought to the area over a decade ago in an abortive atttempt by Bob Diamond to restore light rail service in Brooklyn, definitely have possibilities for use in tourism.
Can the cars' present custodian, the Brooklyn Historic Railway Association, and longtime Red Hook property developer Greg O'Connell agree on a fruitful use for these cars? I hope so.
7/13/08