Forgotten Fans gather at two Type C 1910-vintage lamps flanking entrance of 1 Hanover Square downtown
Well, your webmaster is never gonna get rich writing about lampposts, taking pictures of lampposts, or leading lamppost tours. This was the most sparsely attended ForgottenTour since Tour #4 in St. George, Staten Island, November 1999 — 3 people were on that one, including your tourguide! Quality not quantity!
All that aside, this tour, where NYC's #1 lamppost maven, Bob Mulero (in the above photo 3rd from right, carrying blue folder) co-hosted, was a lot of fun for me and I'm planning another one next year, even if it's just me! Who knows where my fascination with streetlighting originated — I remember that it's been in place since at least age 6, when I noticed all the older posts on 6th Avenue, my street in Bay Ridge, had been replaced by ungainly Donald Deskey designs, which I thought were evil at the time but have grown on me since.
What we set out to do was encounter every ancient lamppost — by which I mean posts erected between about 1910 to 1925 — in lower Manhattan and the financial district. We had initially meant to press north into Soho, where there was a separate flock, but the tour started at five and Bob and I were so meticulously limning subtle design differences and arguing about what design was what — we ran out of light eventually. Just means there are more lampposts to visit next year so beware! It's on the schedule.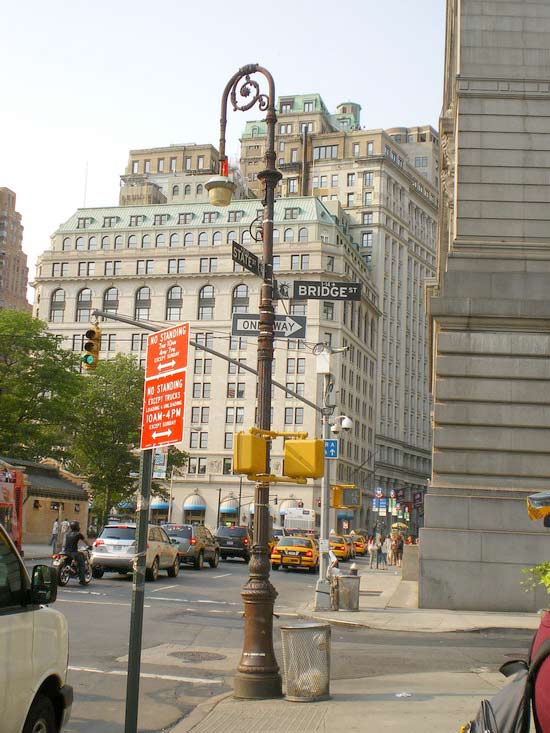 In the early part of the 20th Century there were 6 different styles of "bishop crook" posts illuminating NYC streets. By far this particular example, designated Type 24A*, was the most common, and remains so. It can be found on the corner of State and Bridge Streets. photos: Eric Weaver (EW), Bob Mulero (BM)
In the early 1980s, it was given a bright yellow sodium lamp, known among lamp mavens as a "bucket light." Most streetlights requiring a hanging, or pendant style luminaire, received this particular light in that era. This particular lamp is unique in NYC in that the "bucket" was installed along an extended pipe appended from the curve of the bishop crook.
The elongated red item mounted on the bucket is the newest NYC lamppost variant; they are the new fire alarm indicators, replacing the oblong orange plastic lume mounted at the apex or center of the lamppost shaft. I call them the "top hats."
* These type designations come from the "bible" of NYC streetlamp nomenclature, the catalogue of the Bureau of Gas & Electricity's Photographs of Street Lighting Equipment As Of November 1, 1934. Your webmaster has a copy of this catalogue and, if I have enough to drink one evening, I could be disposed to bore you to death by sending a copy to you.

Along the way we couldn't help noticing not just older remaining posts, but also nonstandard ones. The 4-headed monster at left, at State and Pearl, is one of a gang created in 1989 when the 17 State Street office building went up. The post also is roughly at the location of Herman Melville's birth in 1819.
At right, at Nassau and Cedar, this octagonal-shafted, cobra-neck post replaced a Type 24 A-W (see below) that was totalled by an auto in the 1980s. But this one is nonstandard, as well. The vast majority of cobra-necked lamps had the fire alarm light mounted on a short bracket on the shaft. This one has it mounted at the top of the shaft. Note the "top hat" mounted on the modern luminaire.
Left, a more conventional alarm lume. BM. Left, Joe DeMarco
Note, also, the mini-cobra necks, each carrying a bright sodium luminaire, mounted to the shafts. Most posts in lower Manhattan have them to illuminate the sidewalks in a bid for safety and security. They arrived in the mid-to late 1990s.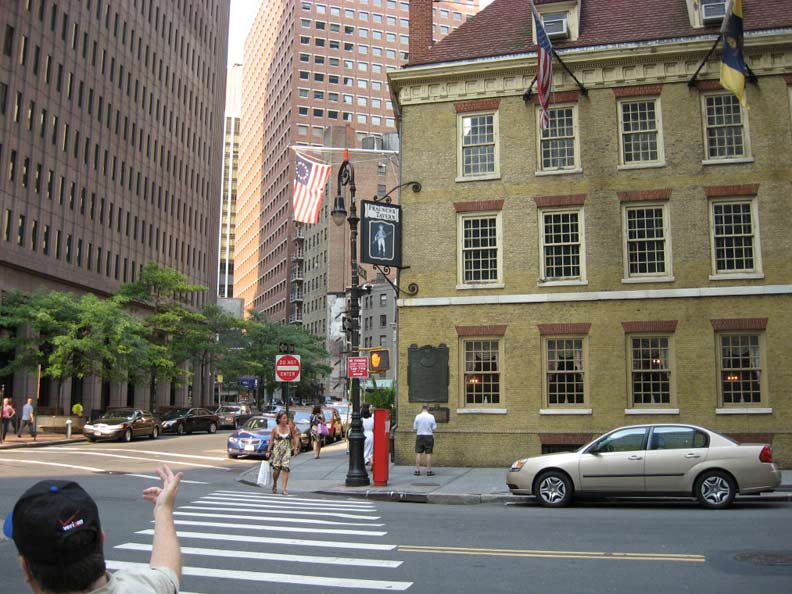 Fraunces Tavern, NE corner of Pearl and Broad StreFor over 8 decades a Type 24A bishop crook post has stood on the corner in front of the tavern. It has seen several luminaires during that time; the newest one is a retro version of the "bell" luminaire that many bishop crooks carried during the 1940s and into the 1950s. This one has an elongated glass reflector dish — a feature the "bells" never had, though later Westinghouse AK10 "cuplights' later did.
Note, also, the scrollwork on the Fraunces Tavern sign, echoic of that on the bishop crook. We'll see more of this later. BM, EW, KW
ets. Originally built in 1719 for Etienne (Stephen) DeLancey, a member of a powerful landholding family in colonial era NYC (Delancey Street is named for the family) it was sold to Samuel Fraunces in 1762, who operated a tavern in the building which served as a meeting place for several organizations including the Sons of Liberty. Fraunces Tavern was damaged by a cannonball fired from the HMS Asia in August 1775. At the end of the Revolutionary War George Washington made a farewell address to several of his officers before departing home to Virginia for a well-earned rest, though he would return in 1790 to be sworn in as President a few blocks from here at the Federal Hall that stood at Nassau and Wall Streets.
Fraunces Tavern suffered from a series of fires beginning in 1832, and subsequent renovations left it looking different from how it appeared in Washington's day. After a 1900 demolition threat the building came under the aegis of the NYC Parks Department and then it was later acquired by The Sons of the Revolution in the State of New York. It was extensively renovated by architect William Mersereau in a conjectural style, imagining what it must have looked like in 1783.
The tavern again found itself at the center of revolutionary activity in 1975, when it was bombed by members of FALN, a Puerto Rican separatist cabal. Today it's a restaurant and museum.

The bracket on the post (see photo right) used to hold a fire alarm light, at first a globe-shaped, then oblong, orange plastic form covering an incandescent bulb. That light has been allowed to decay and the fire alarm light, a "top hat," is now mounted on top of the crook.
Stone Free
Stone Street between Coenties Alley and Hanover Square still contains many very old buildings from the 1830s, creating a picturesque scene, but, cut off from most auto traffic, it had became a crime-filled backwater through the 70s, 80s and 90s.
In the mid 1990s, Lower Manhattan's business improvement group the Downtown Alliance got together with the city's Landmarks Commission, hired consultants, and began putting together a new master plan for Stone Street. Despite the protests of building owners, the Alliance managed to get Stone Street designated a historic landmarks district. This enabled the Landmarks Commission to apply for $800,000 in federal transportation dollars. The Alliance chipped in another $150,000 and the city paid the rest.
Ultimately, the car-free public space they envisioned took five years, $1.8 million and a ton of perseverance and political willpower to become reality. Stone Street has been car-free since 2000; today, it is thriving. Aaron Naparstek, NY Press

Stone Street has become NYC's latest Restaurant Row, but today, at least, we're hunting ancient lamps. The remains of a wall bracket light can still be found on a Stone Street building opposite Mill Lane. When I first saw it in the 1980s, it held a Westinghouse "cuplight" and a fire alarm lamp. By 1999 when I photographed it for FNY (right) it had, by then, received a bright sodium light with the fire alarm lume held in place by tape. During the 1999-2000 Stone Street renovations it lost both lamps.
Two Type C posts have made their way to Bayard's at 1 Hanover Square. Type C's were used in parks and boulevards, and were originally lit by gaslights. Other than these two, and several that have made their way to some lawns in the historic districts in Brooklyn south of Prospect Park, there are none left; the Type B "Henry Bacon" posts now appear in NYC parks by the thousands. Bayard's is located in India House, originally the Hanover Bank, built in 1853 by Richard Carman, who later relocated uptown and began a village later named 
Carmansville
. Carman rebuilt much of lower Manhattan after the 
Great Fire of 1835
.
Beaver Patrol
Beaver Street between Broad and New has an increasingly hard to find member of NYC's very first bishop crook design, the Type 1 BC.
Reportedly the Type 1 BC is the oldest of the extant bishop crook designs. It features the shortest shaft and a couple of features that were discontinued on later designs, such as an acanthus garland wrapping its way round the shaft, and a ladder rest crossbar. The crossbar was meant to evoke the gaslamps that this new electric light post had just replaced. It must be noted that on new Type 24A bishop crook retro versions the city has been installing since the 1980s, the garland wrap appears.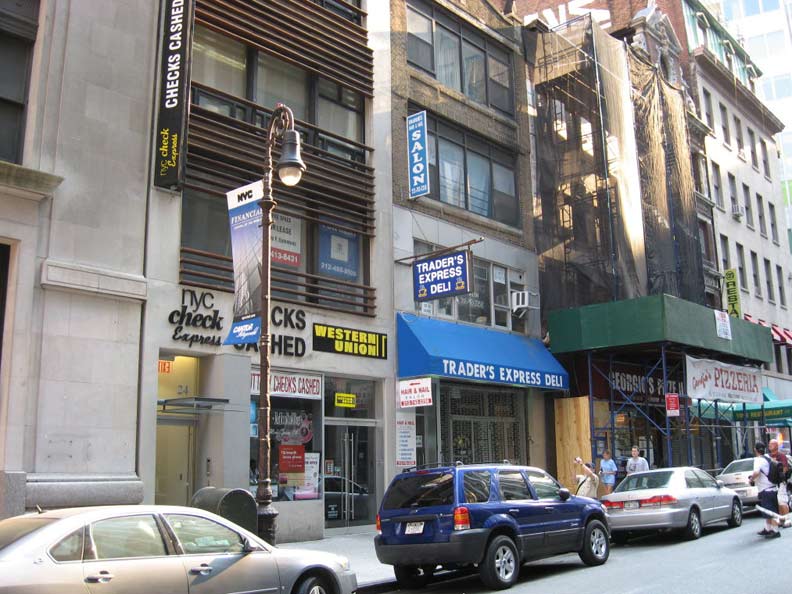 Today, form follows function, at least in lamppost design. We might well marvel at the detail and care that was taken in the design of these posts, from the elaborate scrollwork that appears both on the masts and in the curve of the "crook." If we look at them in context, though, they match perfectly with the ornate, Beaux-Arts buildings, with their painstakingly crafted ornamentation, that were also going up in the 1880-1915 period. There was a lot of money around then and the more elaborate a building or street fixture appeared to be, the better it was assumed to be.
A century or two hence, NYC chroniclers will marvel about the technological marvels that buildings of the early 21st Century were, but I'll stick my nose out and say they'll have little encouraging to say about their design. If anyone's reading this in, say, 2250 (you never know!) see if I'm right. Top photo: EW
Hunting Corvs on Morris and Greenwich

Our hunting party then made its way over to the triangle formed by Morris and Greenwich Streets and Trinity Place (a block west of Broadway) where NYC's biggest collection of 
Type 24M longarm "Corvington" posts
 resides. There are 7 Corvs scattered about here, with two more across the Brooklyn Battery Tunnel entrance. Most have been given new "bell" type luminaires.There used to be dozens of designs of horizontal longarm masts … you can see some of them on FNY's 
Ancien Regime 
lamppost page. But this one, it seems, outlasted all its competitors.The pair shown here are actually variants on the classic 24M which featured rather 'busier' scrollwork.New versions of the Type 24M, with the original scroll,can be found on Columbus Avenue and Malcolm X Blvd. uptown.Also note the building sign at left. Its elaborate curving scrollwork is echoic of the Type 24M design. BM, EW, KW
LEFT: a good deal of lower Manhattan was separated in two by the construction of the 
Brooklyn-Battery Tunnel
,
 built from Red Hook, Brooklyn to lower Manhattan between 1940 and 1951, interrupted for a few years by demands placed for materials by America's involvement in World War II. Morris Street, for example, was now separated in two with eastern and western sections.The pedestrian bridge across the tunnel entrance has been in place since 1951; the davit-style walkway lamps, today outfitted with buckets, originally carried "
gumball-type" luminaires 
introduced in NYC in the late 1930s. (The rotating flashing lights in police vehicles are also called gumballs but these luminaires, with roughly spherical design, also acquired the moniker.) For more gumballs new and old see FNY's 
Gumball Rally
 page.RIGHT: Type 24M Corvington, Morris and Washington Streets, west side of tunnel entrance. Note the distinctive tunnel posts, also a genus all their own.
Lamps Crook'd Rare

RIGHT: Type 24 A-W post, Pine Street between Broadway and Nassau. The rarest extant Bishop Crook design — there are just 3 left, and the one on Pine Street is seemingly always hidden under a construction awning. The A-W's are somewhat taller than the Type 24M's or 1 BC's and have simplified wrought-iron scrolling (compare the 1BC ornate cast iron scroll, above.)
So Rare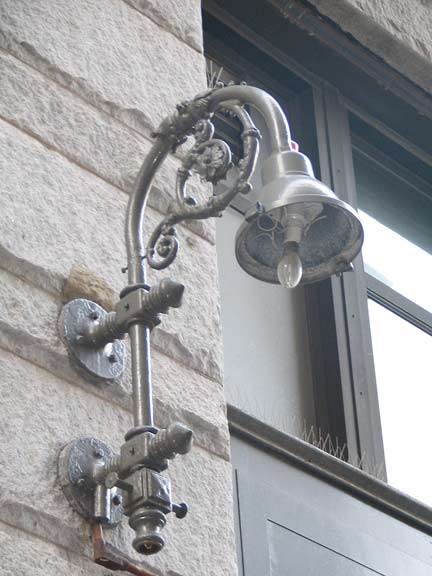 This Bishop Crook wall bracket light, on the west side of Nassau between Beekman and Spruce, is the last of its kind, as far as I know.
There are other classic wall bracket lamps around town but they most approximate Corv-type longarm masts, without the shaft of course.
These posts were most often used where narrow sidewalks made the installation of shaft lampposts impractical.
There is a variant of this post on the old American Railway Express building on the 39th Street Sunnyside Yards bridge in Queens, but that one is missing its scrollwork.
In addition, there are curved-mast bracket lamps on some Harlem River bridges but they do not have this variety scrollwork.
City Hall Park – Who Watches the Watchmen
City Hall Park, the triangle between Broadway, Park Row and Chambers Street, is the biggest Bishop Crook repository in the city, with twelve crooks represented. Most are Type 1 BC's, the oldest extant style.

Variations on a theme. At left is a Type 1 BC bishop — the ladder rest gives it away. Several decades ago the crook was removed and a 
Type 24 Twinlamp
 was slapped on (it also has a partner with the same treatment). This is also the closest I can come to getting a picture of City Hall without being arrested.
RIGHT: Type 1 BC with new pendant fixture and security cameras. When City Hall Park was renovated in the early 2000s, all of its crooks received these new pendant fixtures, a feature they all used to have, but lost in the 1920s when they were "acorn" lamps, later followed by "bell" type lumes, the type reproduced here. (For a categorical look at these old luminaires, see FNY's Demise of the Castirons page.)
The posts all now have security cameras watching for suspicious activity (such as amateur photographers!) I postulated to the ForgottenCrowd that the cameras would be regarded as classics as the decades went by, but that got some derisive laughs. Bob and I debated the 24 A-W status of one of the park poles, tickling our pal Nigey no end.
It's Alive!
A lamppost I had left for dead — a very rare Type 6 BC bishop crook with a very narrow base — has been fully restored and returned across the street from its original location on Warren Street between Greenwich and West. Its story is a complicated one.

LEFT: the Warren crook as Bob Mulero found it in 1978, with appended fire alarm (and though you can't see it here, a bracket with fire alarm light). The post stood on the SE corner of Warren and Washington Streets. The construction of the Independence Plaza apartment complex mostly eliminated 
Washington Street
 between Vesey and Hubert Streets in the mid-1970s, but this one small piece remained alongside a parking lot that somehow hung in there until 2006, when the Brobdingnagian 
101 Warren Street
 — a building with its own pine forest. PS 234, completed in 1988, is now situated across the street from the post, which remained intact, albeit with a bucket light replacing its "bell" until 2006, when Washington Street was eliminated and the foundation for 101 Warren excavated. I thought the Type 6 BC was gone for good, but…
As you can see photo right, it has been completely rehabbed and restored on the opposite side of Warren from where it was. The old fire alarm lamp bracket has been given a new spherical luminaire, and it was given a new retro-bell. It hasn't been "plugged in" yet, as of July 2008. I'm still trying to find out who did the restoration, which is quite good, though a car has already backed into it, leaving scuff marks. Now to tackle the "Sheriff Bishop," another Type 6 BC, on Broome Street!
A Battered Old Bird
We concluded at Hudson and Duane Streets, where, by accident, a unique Bishop Crook design was born in the mid-1980s…

A traffic accident caused a Type 24 BC to literally lose its head. But the DOT came up with a solution — a short curved pipe at the top, to which was appended a sodium bucket light (the look is reminiscent of some short-armed posts in British towns) though the glass reflector on the bucket has to be held in place by tape. So it has remained here for over 20 years.
And, so for however long FNY remains — it will chronicle the vagaries of NYC streetlighting.
Before concluding, here's a video by our pal Joe DeMarco of Bob Mulero (and a little of your webmaster) discoursing on the tour.