It was way back in the pre-Forgotten New York era — about 1994 or 1995 — (I know that's ancient history now that your webmaster is becoming ancient) — when I first saw block after block of glorious red brick pavement on 89th Avenue between Jamaica Avenue and Sutphin Boulevard. It wasn't long after that that the Department of Transportation paved over the stretch of bricks between Jamaica Avenue and 144th Street, and I figured it was only a matter of time till the remainder of the red brick pavement was a goner, as well.
Well, I've been wrong before. Here we are in 2008, a good 14 or 15 years later, and not only is the 89th Avenue section still in place, there's a lengthy stretch of red brick on 88th Avenue as well! The whole neighborhood must have been paved this way at one time.
Red brick pavement is relatively rare in New York. I've encountered it only a couple of other places in NYC: on the very short Bennett Court, on 72nd Street, just off 4th Avenue, in Bay Ridge, and of all places, an off ramp of the Brooklyn-Queens Expressway on 30th Avenue in Jackson Heights (since repaved in asphalt).
Sit back and take in an ocean of red brick paving in NYC — who knows how long this will be here!
GOOGLE MAP: 88th and 89th AVENUE brick streets from 144th Street-Sutphin Boulevard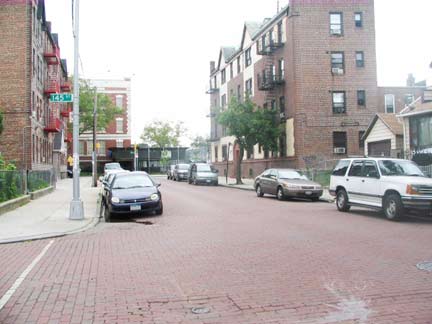 88th Avenue looking east and west from 145th Street.
Crosswalk lines are usually painted on asphalted streets. Not so here — they are delineated with white bricks — an arrangement that had to be carefully planned and executed. Note, also, the curbline in the street on the photo lower right. I've seen curblines in streets around town, but I'm not sure what their function is. Here, I think they marked the end of the red brick pavement.
There are a few spots in which road and sewer work has compromised the sea of red brick…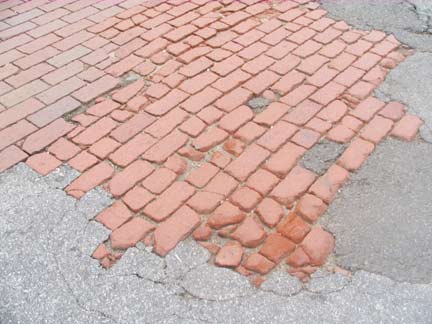 …and others in which newer red bricks have been used to patch the street — you can tell the older, smoother stones from the newer, uneven ones here.
The bricks begin abruptly at 144th Street and 88th and continue two blocks to Sutphin Boulevard.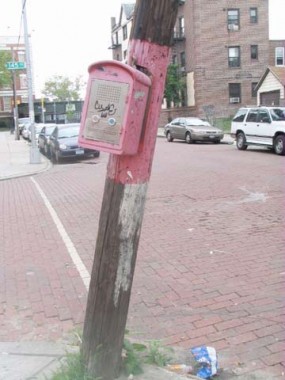 The rufous theme continues on the telephone pole, which is painred red as it holds a fire alarm.
In a couple of spots, new rubberized no-slip crosswalks have been installed.
A quintessential NYC scene in the early 21st Century: a new Fedders Special — and sneakers hanging from wires.
The houses on 146th between 88th and 89th Avenues are surprisingly uniform — attached brick buildings with front and back yards — which leads me to think that the entire neighbrohood, including the red brick streets — was part of a private real estate development in the early 20th Century, as many of our NYC neighborhoods once were. (If anyone suspects or has information on what this development might have been, drop me a line at erpietri@earthlink.net.)
Returning to 89th Avenue, where I first made this "discovery," you notice there's a slight difference from 88th. Some of the white crosswalk bricks, for example, at 146th Street have become displaced over the decades.
A hasty patch asphalt job here has left the street with a somewhat snaggle-toothed appearance.
89th Avenue looking west.
These two red-bricked avenues, the largest such remaining stretch in NYC, should come under the protection of the Landmarks Preservation Commission.
Does anyone agree? Let me know.
8/15/08