Riverside Drive is justly famed for its undulating route along the Hudson; Riverside Park — New York's longest; its Beaux Arts and Art Deco apartment buildings; and Grant's Tomb, the massive memorial to the Ohioan at West 122nd Street. Grant and his wife are entombed, not buried there …
Less famed, though no less beautiful, is the massive Civil War- inspired Soldiers and Sailors Monument at Riverside Drive and West 89th.
Inspired for its design by the Choragic Monument of Lysicrates, near the Acropolis in Athens, Greece, the Soldiers and Sailors Monument was built between 1900 and 1902, designed by architect Paul M. Duboy, whose most famous creation is, perhaps, the famedAnsonia Hotel on Broadway.
The Grecian monument to which the Soldiers and Sailors Monument is a hommage was dedicated in 334 or 335 BC to the choregos, or patron of the arts, Lysicrates. The frieze depicts events in the life of wine-god Dionysus. It is the only survivor of several such monuments on its particular street in Athens, having been saved by Capuchin monks in 1669.

President Theodore Roosevelt laid its cornerstone in 1900 and it was unveiled on May 30 (Memorial Day) 1902, after a peculiar speech by Mayor Seth Low who orated "those who fought for the Union in the Civil War stand in need of no monument of stone or bronze. Our happy, prosperous, and united country is itself a monument greater than any sculptor can devise or that loving hands can set up."
Prior to its unveiling the Monument was covered by the largest American flag produced to date, at 74 ft. by 40 ft.
The Monument is embellished by terraces, pathways and stiles of granite and gleaming marble, some inscribed with New York State volunteer regiments that fought in the Civil War…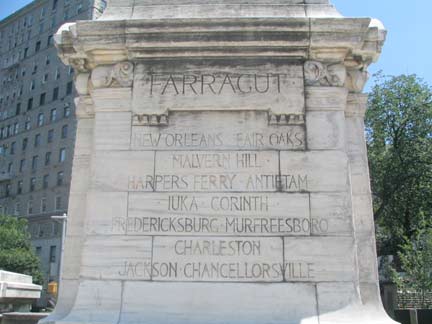 …as well as the great generals and admirals who won the Civil War and the place names of their most noteworthy theatres of action.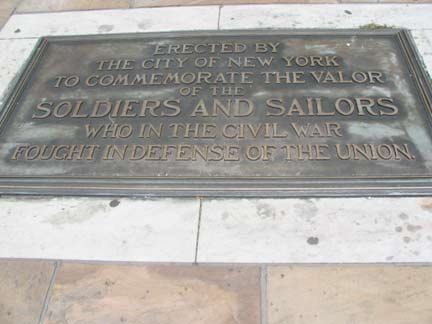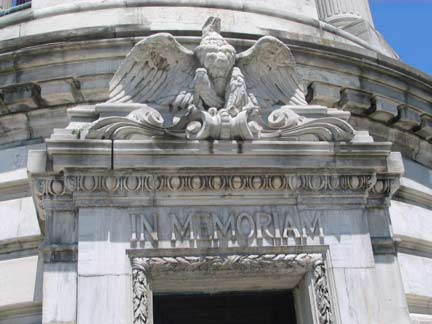 The circular canopy is topped by a frieze containing eight massive marble eagles. Another eagle guards a massive bronze door…behind which is a NYC Parks Department storeroom.
SOURCE: Essential New York, John Tauranac, 1979 Holt, Rhinehart, Winston. Thanks to Vicki Metzger for her assistance with this page.
Photographed July 19, 2008; page completed August 14.