Unlike apparently everyone else in the NYC blogosphere I haven't paid a lot of attention to Williamsburg the past couple of years — until a couple of weekends ago (writing this August 11, 2008) when a too-long wait for the B61 caused me to ditch my planned visit to Red Hook and walk down Willoughby, through Ft. Greene Park, on Willoughby again, and up Kent to the burg of William. Heading southeast to the train at Bedford and North 7th after about a walk of about five miles, I found myself on North 10th, a couple of blocks that looked particularly interesting because of a vast panoply of building styles; it looked like the nexus of the old Willieburg of middle-to-lower class immigrants and the new Willieburg of the Bloomberg-invited superrich…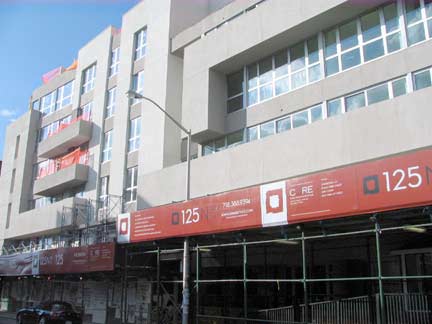 At North 10th and Berry is the high-concept 125 North 10th, a balconied design by the controversial architect Robert Scarano, whose various projects have come under fire. 125 has a sister building around the corner at 55 Berry.
Architect Robert Scarano has helped shape the face of the Brooklyn boom, building dozens of condos in newly valuable neighborhoods. But his prolificacy may have come at a price: His buildings have, to some, become synonymous with shoddy construction. New York Magazine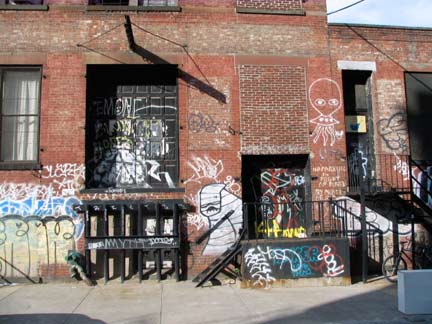 Next door is a 19th-Century loft building, formerly a factory and now converted to residences. Graffitists and street artists have gone to town on the ground floor.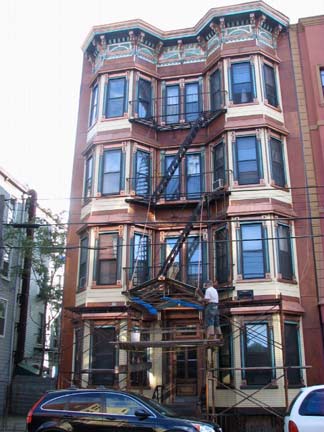 Three Tenths. On the south side, a 1900-era bay windowed masterpiece is being renovated — right next door to some new Fedders Specials of various heights.
Just a few doors down from the luxurious 125 North 10th, some Bedford Avenue wash flaps in the breeze, as Bedford wash has flapped for uncounted decades.
Everybody Loves Raymund's, and its handpainted sign, except this Sunday, when it was closed.

Dubbed the "Polish Hooters" by one twisted local, this Polish eatery is decidedly hipster-free despite its prime location on Bedford Avenue. True to its nickname, the waitresses (sporting snug sweaters and black pants) are some of the best looking blondes this side of Manhattan Avenue, and the schnitzel ain't half bad either. Better yet-indulging in the delicious soups (less than $3 a bowl) will still leave you under the ten-dollar mark on your tab. The perfect place to wash down a cold Zywiec with your buddy after "getting nowhere" with that Sarah Lawrence chick. FreeWilliamsburg
4 faces, North 10th and Bedford. 4-story brick apartment buildings with storefronts hold down Bedford Avenue as they have for over a century. Next door is a glass-fronted building with a green smokestack (some of this stuff is comically precious) called The Decora. Better have some opaque curtains on that glass house. This is Willieburg, though, so some of the residents might just let it all hang out. Directly across the street is L&S Auto Center, and lastly, at the SW corner of Bedford and North 10th, is the Willieburg I've known for years: bad graffiti on top of bad siding.
Time for a drink!
Photographed August 3, 2008; page completed August 11