BY ALEXIS BUISSON
Guest FNY columnist
Describing the "Iron Triangle" other than "a place you would never go to otherwise than compelled to do so" would not be an overstatement. This small, smelly and noisy triangular neighborhood in Queens is home to warehouses, car repair and auto parts stores, and, they say, only one resident. In June 2008, I went this check out this fascinating neighborhood.
The Iron Triangle might not mean anything to you unless you got your car fixed there. It is the nickname given to a neighborhood near Flushing and Corona, Queens, better known as Willets Point. It is bounded by Northern Boulevard to the north, 126th Street and Shea Stadium (in 2009, Citifield) to the west, Roosevelt Avenue to the south and the Flushing River to the east.
Over the past decades, this run-down 60-acre neighborhood has become home to car repair, auto parts stores and other larger businesses, including waste facilities and warehouses. An April 2006Hunter College study called it "a unique regional destination for auto parts and repairs." In all, an estimated 225 firms are established here and from 1,400 to 1,800 people work here, according to the study.
The "Iron Triangle" is recognizable from the Willets Point-Shea Stadium subway stop on the Flushing Line. The Triangle is right across 126th Street from Citifield, the New York Mets' new stadium. As the sound of metal and the flow of cars intensify, you know that you are getting closer.
Calling this area "Willets Point" is a misnomer, incidentally; the real Willets Point is located in northeast Queens between Little Neck Bay and the Throgs Neck Bridge: the small peninsula is occupied byFort Totten, the former military base that has had some of its territory converted to a public park, though the Army and Coast Guard still occupy some acreage. The Willets Point moniker likely comes from the MTA's insistence on marking the el station "Willets Point", leaving off the "Boulevard". The main diagonal thoroughfare through the Triangle is Willets Point Boulevard — a street with two distinct sections in Queens, the one that runs here, and a separate section running from Union Street and 143rd Street and Utopia Parkway and Cross Island Parkway in northern Flushing, closer to the actual Willets Point. The two may have been connetced at one time, though I haven't seen any old maps in which they do.
"Willets," the boulevard and the point, are named for the family from which the government purchased the land on which Fort Totten was built in 1857. –your webmaster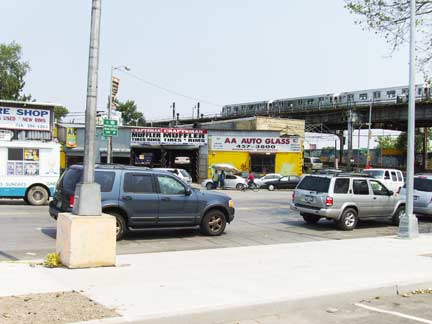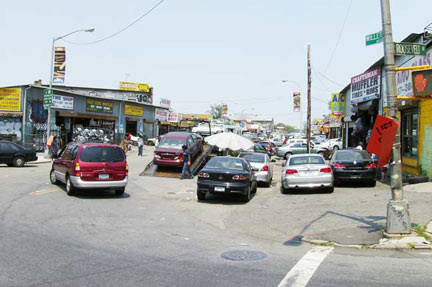 The Southern part of the "Iron Triangle" — at the intersection of Roosevelt Avenue and Willets Point Boulevard — is the most active. It welcomes essentially small businesses, no bigger than 1,000 square feet.
About 75% of area businesses are auto-related, covering every part of a car's body and lifespan. You can get keys made, glass installed, and chassis aligned. Used cars are sold, broken cars are serviced, and old cars are torn apart for scrap — their remnants re-sold to other businesses on the strip.
A mirror of Queens' diversity, the Iron Triangle is an international neighborhood. Just walking down the streets, you come across Hispanic, Jewish, Arabic and Asian immigrants, as mirrored by some of the business facades.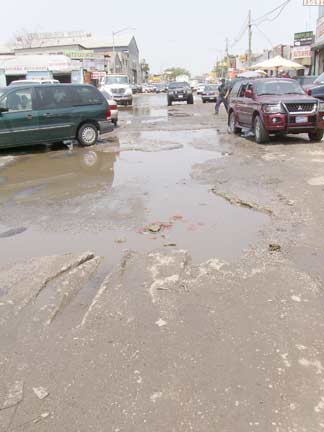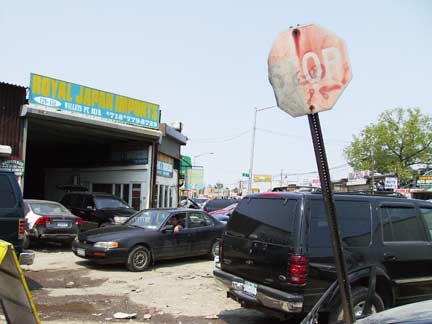 While the southern tip of the Triangle is walkable, the more you move up north along Willets Point Boulevard, the harder it gets. Sidewalks, public lighting and proper garbage pickup are nonexistent. In times of heavy rain, the lack of public sewers makes flooding unavoidable.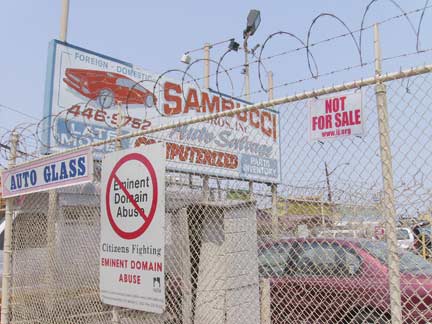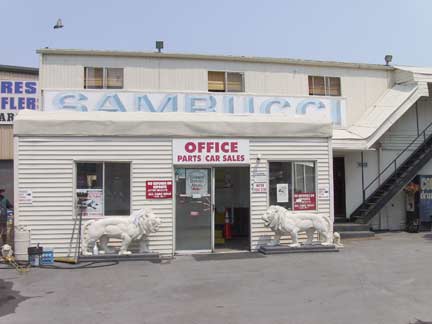 The renowned Sambucci Brothers Auto Salvage, a family-owned business that opened in 1951, is located on the Western side of the Triangle, next to the future Citifield, along with other large auto-related businesses.
(Sambucci Bros. has decided to sell the site to the city despite still opposing NYC's redevelopment plan for the area, overcoming some snags)
Since the city's plan was announced last year, Mr. Sambucci's 57-year-old family business, Sambucci Brothers Auto Salvage, has stood as a symbol of the fight against city control.
Signs decrying eminent domain, the government's power to seize private land for public use, line the fences and windows near the 52,000-square-foot lot, stacked with tons of metal, glass and chrome.
Mr. Sambucci said he agonized over the decision to sell. The son of immigrants from Naples, Italy, he built the business from a scrap metal dump into a popular trove of used auto parts by working 18 hours a day.
Despite his decision, he said, he still hopes that the city fails in its quest.
"My first wish was to stay where I was created," he said over a quick hot dog lunch in his office. "I don't want to go, but they've got the gun on the table." NYTimes, linked above
Many of the Iron Triangle's businesses are comprised of warehouses and waste processing sites mainly located in the Northern and Eastern parts of the Triangle. These parts of the Triangle is less busy. Less cars, no people around… The purr of the nearby Northern Boulevard and the planes taking off from La Guardia Airport are the only sounds to be heard in this area.
The eastern part of the Triangle is home to House of Spices, the largest employer in the Triangle. If you've eaten Indian food in the United States, chances are some of it came from House of Spices. In the morning, trucks are loaded with parantha bread, basmati rice, chikka flour, and cooking oil for delivery to restaurants in Manhattan or Indian stores in New Jersey.
When Gordhandas Soni, the owner of an Indian food company, agreed to relocate his warehouse and factory to Willets Point, Queens, back in 1990, it never occurred to him to ask about some of the more basic amenities — the sewage system, for example. "You never ask, 'You have sewers here?' " said Mr. Soni, whose business is called House of Spices. "In America, right here, in the heart of New York City? No! It never occurred to me to ask. It would be silly to ask." …
Mr. Soni was willing to put up with primitive plumbing and the developing-nation aesthetic of the area, known as the Iron Triangle, for a great deal and a chance to expand. At the time, the city, eager for his business in the area, offered perks like low-interest loans and a freeze on real estate taxes for 20 years. Now, 18 years later, the same city that lured him to the area is trying to coax him away, as it paves the way for a huge, green redevelopment of the area that would include restaurants, housing, a convention center, parks and shops to go hand-in-hand with the Mets new baseball stadium across the street.NYTimes, May 9, 2008
The Holdout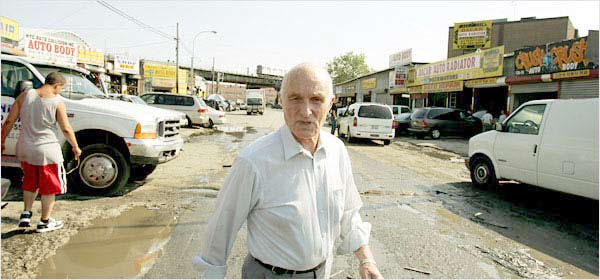 According to the 2000 Census, only one person lives there. Joseph Ardizzone, a security instructor, lives in the two-story house where he was born at 126-96 Willets Point Boulevard.
For decades, political leaders have sought to rid the city of the place that Robert Moses, the master builder, described as an "eyesore and a disgrace to the borough of Queens." According to the latest plan, the Bloomberg administration hopes to use eminent domain to transform Willets Point into a retailing-and-entertainment district with a hotel and convention center.
But what city officials see as a contaminated wasteland is the only home that Mr. Ardizzone has ever known. If the Bloomberg plan becomes a reality — which would likely take years — then Mr. Ardizzone's home would be razed. It also dismays him that businesses that provide jobs for 1,200 people — according to the city's count — would be displaced.
The Ardizzones were Willets Point pioneers, arriving a few years before the first junkyard. Joseph was born in 1932 in a squat brick house that his father built. Now the sign outside reads "1,000s Auto Parts." Across a cluttered alley is a mustard-yellow and brown Tudor-style house with padlocked doors and windows and a sign saying "Express Deli and Grocery." Mr. Ardizzone lives in five rooms on the top floor with a cat and her six kittens. NYTimes, September 17, 2006
As you walk in the Triangle, you come across several delicatessens squeezed in between auto shops.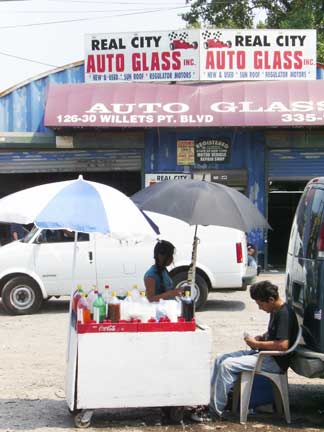 Food and beverages are also being distributed. Carts can be seen throughout the Triangle, while one or two ice-cream vans drive through the neighborhood.
Apart from the sound, the smell of chemicals and the pollution, the Iron Triangle can be a rather creative and poetic place. Look how local businesses manage to create eye-catching items to attract customers, experience how dangling pipes can resemble metal spaghetti or how car lights can build up a beautiful red mosaic.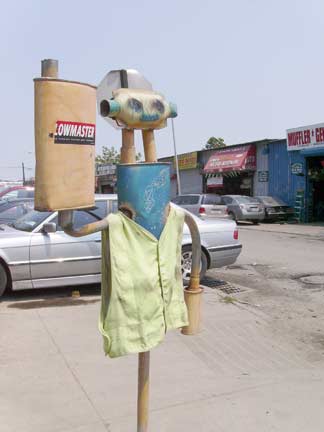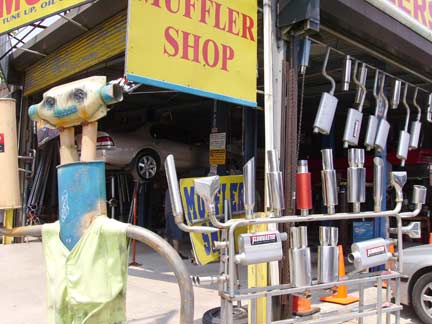 Eat your heart out Wall-E.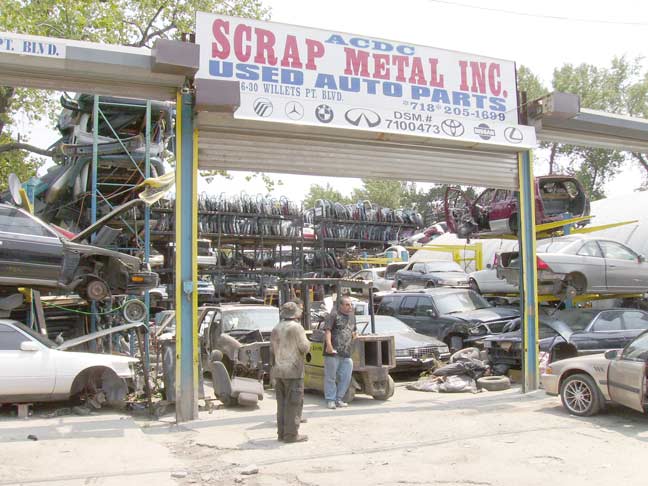 When New York was bidding to host the 2012 Summer Olympics, Willets Point was proposed to welcome a new stadium, which would have replaced Shea Stadium, and a press center, which would have been built where the car junkyards currently stand. The bid was rejected and the plan failed.
But new redevelopment plans have already been outlined in Mayor Bloomberg's PlaNYC 2030 initiative [linked above]. Plans include creating 5,500 housing units, a hotel and convention center, a million square feet of retail and 500,000 square feet of office space.
Possibility of redevelopment has fostered fear of relocation across the neighborhood. Many local businesses have opposed the plan, arguing that no other Queens community would welcome them. The Triangle is their home.
RESOURCES:
City Councilmembers announce opposition to the city's attempt to seize Willets Point businesses by eminent domain
Queens Crap reports on the Willets Point Industry & Realty Association's response to Queens Borough President Helen Marshall's approval of the city's takeover plan
Union leaders love redevelopment plan [Daily News]
Amid Willets Point 'blight,' pride and vow to fight redevelopment [Village Voice]
Alexis Buisson has been working as a freelance journalist in Paris, New York and Berlin for over two years. Born in Paris from English descent, Alexis was steeped very early in French and English cultures. Throughout his various professionnal and personal experiences, from the ravaged Lower Ninth Ward in New Orleans to the unbeaten paths of Western Madagascar, he has documented for print, TV and radio, unknown trends and lifestyles in neigborhoods and countries. He is currently based in New York City, working for several radio stations, newspapers and websites. Contact him here.
erpietri@earthlink.net
photos ©2008 Alexis Buisson