There he stands at Queens Boulevard and Union Turnpike opposite Kew Gardens Road, near Queens Borough Hall and the county courthouses… a strapping youth, a sword in his right hand held casually behind his neck, standing astride two writhing mermaids atop a four-sided fountain on a crumbling, pigeon-crap-strewn basin.
It's my favorite statue in town.
"Civic Virtue, " called "Fat Boy" by his detractors, was designed by renowned sculptor Frederick MacMonnies and actually worked on by the famed Piccirilli Brothers of the Bronx, who also sculpted Abraham Lincoln at the Henry Bacon Lincoln Memorial in Washington as well as the two lions, Patience and Fortitude, who guard the NY Public Library at 5th Avenue and 42nd Street.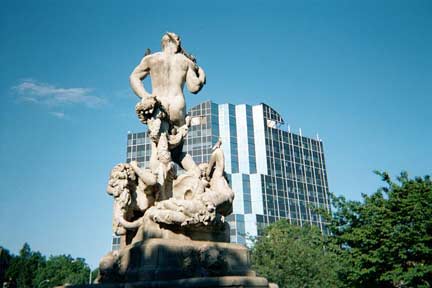 "Civic Virtue" was installed in 1922 directly in front of City Hall. It immediately came under fire from many women, who were angered that the youth portraying 'Civic Virtue' was demonstrating his triumph by lording it over two female figures. For 19 years, the city leadership regretted having him around, especially Fiorello LaGuardia, who apparently despised being mooned by Civic Virtue daily.
Finally, LaGuardia had the statue shipped off to its present locale when Queens built a new Borough Hall in 1941. photo: Kew Gardens History
There he has remained, untouched, for 47 years and counting. The statue, once alabaster-white, is caked with soot and pigeon droppings, CV's nose and part of his face has chipped away, and the features of his temptresses are no longer clearly discernible. The basin is filled with chipped concrete, candy wrappers, and worse detritus; the homeless use it as a way station. [see photos at Bridge and Tunnel Club to see how much this deterioration has progressed]. Queens Borough President Helen Marshall has made no bones about her dislike of CV and his coterie and has refused to authorize any cleanup at all, preferring it be moved on to another locale. Costs to transfer the statue to, say, a cemetery have inflated mightily since 1941 and any move today would take a quarter million dollars, according to some accounts.
I've always loved the thing, and definitely not for its perceived chauvinistic appearances. Over the decades, it has acquired a patina of kitsch. It's as over-the-top as the Mermaid or Halloween Parades (I'd like to see a re-creation of the statue in either parade; think the 1920 modeling session with MacMonnies was fun?).
Things definitely got more buttoned-up with the onset of the Depression, and Civic Virtue and its genre fell out of favor. It's definitely a remnant of a different era.
The women CV is lording it over are called "sirens" in some accounts, but strictly speaking, sirens were bird-women who lured sailors to their deaths with their singing. These women, though most of the detail has worn off, appear to be mermaids…
MacMonnies' mermaids, though, display anatomical properties not seen on other depictions of the piscine temptresses. For example their hair, or some of it, seems to be made of octopus tentacles, complete with suckers. (The Medusae of myth had hair made of snakes, but were hardly octopoid, nor were they mermaids.) The rear of the statue is a whirling vortex of limbs, scales and tails.
MacMonnies' designs for the fountainheads pre-dated Ben Chapman's portrayal of the Gill-Man, the Creature from the Black Lagoon, by about thirty years.
In a comical interlude in early 2011, Congressman Anthony Weiner called for the removal of the sculpture:
Congressman Anthony Weiner is taking a stand against a statue in Queens that has been a source of controversy for nearly 90 years. "Triumph of Civic Virtue" has stood on the corner of Queens Boulevard and Union Turnpike, near the Queens Borough Hall, since 1941. …

The statue features a nude, muscled man holding a sword behind his head standing atop two bare-chested mermaids, who look more like Medusa than Ariel, slithering at his feet.

The statue is meant to portray civic virtue triumphing over vice and corruption, however, many have found it offensive for decades. Its allegorical portrayal of vice as female caused a stir following its unveiling in 1922 — which was just two years after the 19th Amendment was passed.

Weiner wants it off the city streets. He and city council member Julissa Ferreras want to propose selling the statue on Craigslist to raise funds.

"It doesn't represent civic virtue of any sort, it represents an eyesore," Weiner said. He adds that what passed for clever symbolism in 1920 is now "sexist." The Blaze
Weiner, of course, was forced to resign after it came to light that he had sent suggestively sexual texts to several women not his wife, including photos of his penis.
Your webmaster encourages the restoration of Civic Virtue and his mermaids, pronto.
9/29/08