You might think San Francisco and Flushing have absolutely nothing in common, but they do share something. Way over in the extreme western end of Flushing, between College Point Boulevard, the Van Wyck Expressway, the Long Island Railroad and the Kissena Park Corridor, there's a cluster of small streets unnoticed except by their residents and the people who work there. One of the north-south streets is called Haight Street, the same name as the anchor street of San Francisco's counterculture mecca, the Haight-Ashbury District — more colloquially, just The Haight. The Forgotten NY camera recently investigated both districts, and the contrasts are as different as the West and East Coasts.
Come and see where the smell of incense fills the air and where the smell of the Flushing River suffuses the nostrils on this first-ever two-town Forgotten Neighborhoods page…
The Haight (Flushing)
This extraordinarily detailed Belcher Hyde property map from 1928 shows The Haight's street layout pretty much as it appears today, and its present-day street names are in place, as well. In the early part of the 20th Century, though, Queens place names were very changeable; DeLong was Charles, Fuller was Henry, Haight was James, and 41st Avenue was Bradford.
Sanford Avenue, the only street that continuously extends from one end of Flushing to the other (besides Northern Boulevard) has been Sanford pretty much since it was laid out in the mid-1800s, while the main north-south spine, College Point Boulevard, was known as Lawrence Street all the way to 1969, when Lawrence was combined with College Point Causeway to create the boulevard.
From the bottom of the map, you can see Maple Avenue slanting off to the southeast. It forms a particularly large concrete plaza at Sanford Avenue and Fuller Place.
Maple was built on a slant to accommodate the old right-of way of the Central Railroad of Long Island, which was built in 1873 by department-store nabob Alexander T. Stewart to connect NYC with his new Garden City, a town he built in eastern Queens (now central Nassau) County. The railroad ran just 6 years until 1879; much of its old path is now occupied by Kissena Corridor Park.
Art Huneke, who runs the refreshingly old-school ARRts-ARRchives Long Island Railroad site, has a detailed section on the CRRLI.
Maple Avenue between Sanford Avenue is dominated by auto body and collision shops. Here, "Jimmy Chiu" has nothing to do with expensive women's shoes, but is "your friendly car repair" place.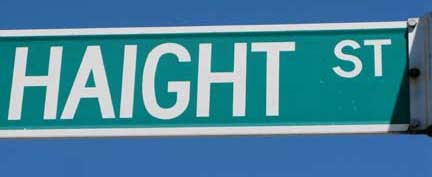 A plane heads for LaGuardia Airport over quiet Haight Street north of Sanford Avenue, above an adult day care center and a pair of frame houses.
On the above map, frame houses are represented by yellow boxes.
Haight Street south from Sanford Avenue has not been paved for awhile…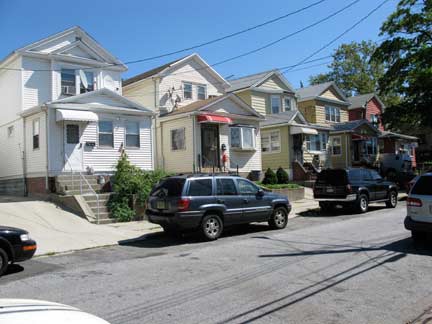 …but it is a pleasant residential street between Sanford and Maple.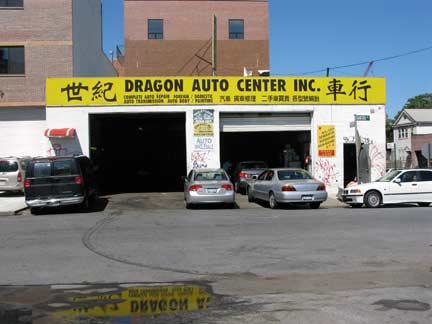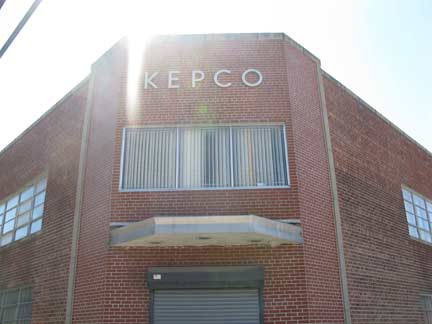 Dragon Auto on Sanford and Maple; Kepco, an automatic power supplies company, has several buildings in the area and has been here since 1946 including its HQ at Sanford and Haight.
Here on 41st Avenue, we see Flushing's Haight is a secondary Iron Triangle of sorts — home to auto glass, signage, and stainless steel fence manufacturers.
Unlike the actual Iron Triangle, the City is not pressuring them to sell their property to multimillion $$$$$ developers. Yet.
Now that's a party boat (the Pied-a-Mer), though the mermaid looks like she could use a twinkie, or perhaps a few tuna salad sandwiches.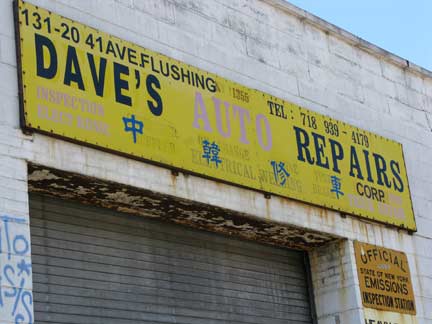 That pre-9/11/01 mural at Dave's Auto Repairs' roll-metal door on Fuller Place, which, as the mural indicates, also handles motorboats — there were a few out in the back.
DeLong Street at Sanford Avenue is the entrance to NY Sign City and also Home Depot, which is out of the shot on the left. The stainless steel fences are very popular with the new Fedders Specials sprouting all over Flushing.
Haight-Ashbury, San Francisco
San Francisco's "The Haight", located west of downtown in the vicinity of Buena Vista and Golden Gate Parks, is named for its two main north-south streets. Haight Street is named for California governor Henry Haight (1825-1878) who served between 1867 and 1871. The area was first settled by dairy farmers in the 1870s. After a cable car line was built down Haight Street, which runs to Market Street and the downtown area, a proliferation of homes in the luxuriant Queen Anne style were constructed in the 1880s, many of which still stand today. The Depression sent The Haight into a tailspin for a few decades, until it was reborn in 1965-66 into a burgeoning arts and music district.
"Haight Street is just like Carnaby Street [in London]. Long hair, boutiques, ice cream parlors, band sessions and plays in the park, pie fights — it's just great. It's a low-rent district so all the kids can afford to live there." — Marty Balin of the Jefferson Airplane, 1966
By the time Beatle George Harrison visited The Haight on August 8, 1967, the whole "summer of love" scene had dissolved into a drug-drenched wasteland punctuated by busloads of tourists. Harrison was distinctly nonplussed,describing those he met as "hideous, spotty little teenagers." Despite his distaste, Harrison later donated the returns from a 1975 concert ($66,000) to the Haight-Ashbury Free Clinic, which he then visited.
On August 29, 1966, the Beatles had played their last live show in the USA in San Fran, at Candlestick Park.
What will you find in The Haight these days? A quiet, residential area with dozens of beautiful Victorian-era single and multifamily homes, steep hills especially in Buena Vista Park, and the touristy Haight Street proper. Google map: Haight-Ashbury
130 Delmar Street, home throughout 1967 to the Jefferson Airplane.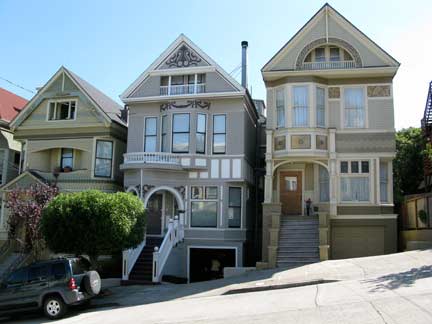 The house on the left, 122 Lyon Street, was home to Janis Joplin and then-boyfriend Country Joe McDonald in 1967-68. Despite her increasing fame at the time, she was evicted — when her landlord discovered she had a dog.
LEFT: 710 Ashbury Street, an 1890 Queen Anne building that was the headquarters between October 1966 and March 1968 of the Grateful Dead. The cops raided the building in October 1967 and confiscated a pound of marijuana and hash. RIGHT: 715 Ashbury. You woudn't think the Hell's Angels Motorcycle Club would set up shop in such a placid-looking Victorian but the Swingin' Sixties were different times.
142 Central Avenue. The basement served as a recording studio in the 1960s and 70s, and Big Brother and Steve Miller 'cut sides' here. It was the site of a brutal murder in 1976.
737 Buena Vista Park West, the 1897 Claus Spreckels Manison, former home to Ambrose Bierce, Jack London, and Graham Nash.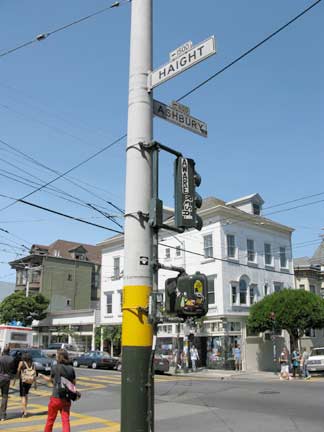 One of the best-known addresses in the world, Haight and Ashbury.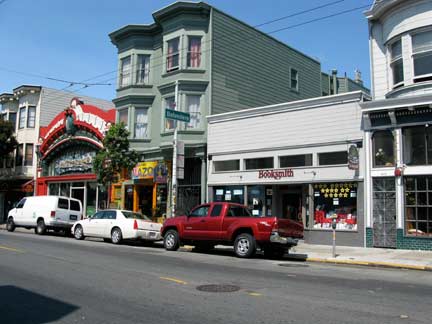 Just a block away opposite Belvedere, Booksmith and Wasteland, opposite The Chutes site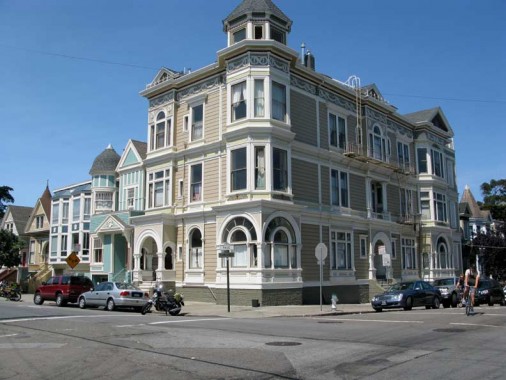 One of The Haight's incredible apartment houses (yes, these are rental units) at 1900 Page Street at Shrader.
The Jefferson Airplane moved from 130 Delmar to the Ionic-columned, Colonial style mansion at 2400 Fulton Street at Stanyan, opposite Golden Gate Park, in May 1968. By then the band was riding high with two Top Ten smashes, Somebody to Love and White Rabbit.
Meanwhile, Back in Flushing
College Point Boulevard is Flushing's Haight's north-south main artery. It seems to be quickly filling up with new condo high-rises, but a trio of establishments from the old days are still hanging in there: Kane's Diner/Deli, which boasts of its high-class clientele (your webmaster hasn't eaten there yet) on Pople Avenue; the Super Delicatessen and Gavils' Stationers, at Maple Avenue.
ForgottenFan Louis Caracappa:
I have eaten at Kane' s many times. Most of my high school friends lived in Flushing and College Point and after a night of drinking at some of the local dive bars we would head to Kane's for the special Texas Burger which featured cheddar cheese and a fried egg on top.
One of our friends, Chris Pocini, who tipped the scales at over 400 lbs., would eat Texas Burgers like candy. He had a signal with the cook in Kane's — when he brushed the side of his nose with his index finger it meant he was ready for another Texas Burger. He could eat 6-8 of these full sized diner burgers at a sitting (they were not little white castle belly bombers) — needless to say he did not make his 45th birthday.
The building you have pictured is the 'new' Kane's diner. When the original small aluminum diner 'burned down' (or was torched) operations continued in the parking lot with seating under a tent and an old converted school bus was used as the kitchen. It was dining al fresco under the starry Flushing sky. Kane's was a really interesting place. I recommend the Texas Burger and then a visit to the doctor to have your cholesterol monitored.
Men of the Pople
Pople Avenue runs one block between College Point Boulevard and Saull Street (around here, Queens has proven immune to the relentless renumbering foisted on the rest of the borough beginning in the 1910s). The only famous Pople on the web is British scientist John Pople (1925-2004); I doubt this street, which was formerly called High Street and then Lynch Avenue, is named for him; it attained the Pople moniker by the 1940s.
Get ready for a shocker here after you've seen the beautiful homes of the San Fran Haight…
Pople's choice. You know what, I didn't see a single Fedders special in San Fran, even though it can get hot there: during my week, it hit 85 degrees in the PM most days.
Busy 'dozers are making Pople Avenue ready for more Queens crap…
…joining the garbage that's already there.
If they would only issue summonses for bad architecture.
SOURCES:
Historic Walks in San Francisco, Rand Richards, Heritage House 2001
Got a Revolution, Jeff Tamarkin, Atria 2003
Photographed August -September 2008; page completed September 27, 2008
erpietri@earthlink.net
©2008