You have to hand it to Nassau and Suffolk Counties…both of those counties mark many of their historic locales with blue and gold signs giving brief details of the building, when it was built, et cetera. Queens used to have quite a few of them, too…these days there are only a couple of the older ones left, at the 1699 Quaker Meeting House on Northern Boulevard in Flushing, and at the 1688 Prospect Cemetery in Jamaica.
For the past few years, though, both the Richmond Hill Historical Society and the Woodhaven Cultural and Historical Society have been busy mining both neighborhoods' rich histories and marked several buildings and even a few cemeteries with brand new signage, traditional blue and gold in Woodhaven and brown and gold in Richmond Hill.
Recently Forgotten Fan Mike Minerva snapped a few pictures of these signs and the historic locales they mark…
Park Lane South and 85th Street, Woodhaven. This sign actually was erected by the NY State Education Department in 1936, but its lack of wear seems to indicate that it's a reproduction. It marks the first address in Queens to be renumbered under the "Philadelphia plan" which renumbered most of Queens' streets, with lower numbers at the East River and proceeding east and south.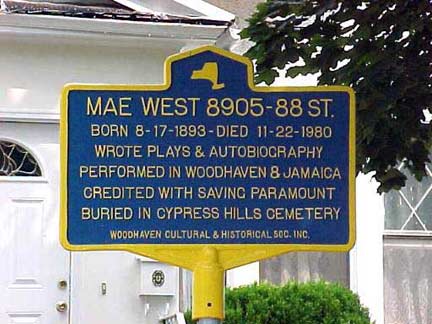 Woodhaven can claim Mae West (though as a child she lived either in the Astral Apartments at Franklin and India Streets in Greenpoint or what became Teddy's on Berry Street in Williamsburg)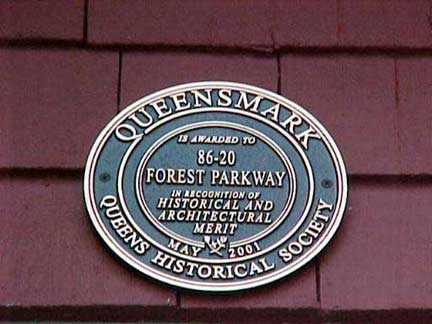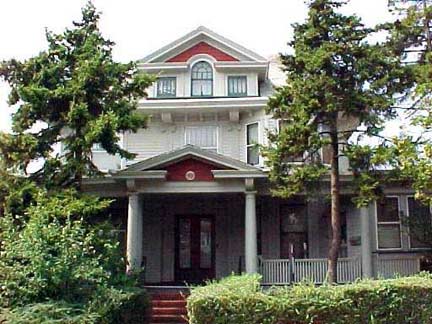 86-20 Forest Parkway, site of the first Queensmark, awarded by the Queens Historical Society for buildings of particular architectural and/or historic merits. After an absence of a few years, several buildings are being considered for Queensmarks in 2008.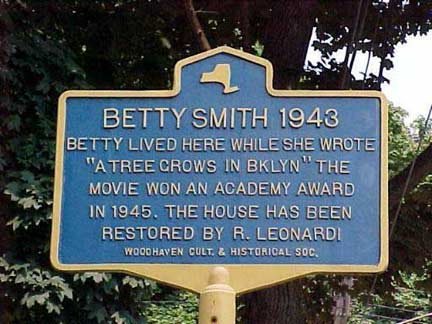 While her tree grew in Brooklyn, Betty Smith, neé Elizabeth Wehner (1896-1972), grew here in this beautiful house on Forest Parkway near Jamaica Avenue.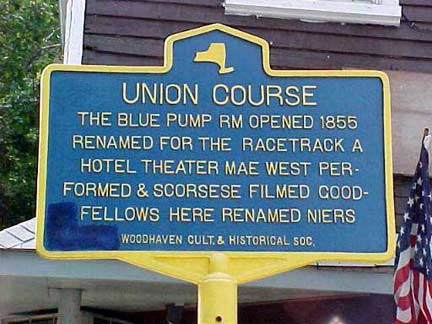 In 1855, the Blue Pump Room opened at 87-48 78th Street in Woodhaven, Queens. In 1891, it became Niers Social Hall. Shortly before Prohibition, a new owner changed the name to the Union Course Tavern after the nearby Union Course racetrack. The establishment still has the same name and remains the oldest bar in Queens. According to the Woodhaven Cultural & Historical Society's president, Leonora Lavan, the tavern originally offered beer, rather than a wide selection of alcoholic beverages. It once included a banquet hall, which became a film processing business. A bowling alley located behind the bar closed in 1982. However, director Martin Scorsese used it in his 1990 film Goodfellas, converting it into a replica of the bar. There is a painting of Mae West, who lived in Woodhaven and performed at the tavern, on the door. Cynthia Blair, Newsday
Union Course (opened 1821) was a nationally famous racetrack situated in the area now bounded by 78th Street, 82nd Street, Jamaica Avenue and Atlantic Avenue. The Union Course was the site of the first skinned — or dirt — racing surface, a curious novelty at the time. These courses were originally without grandstands. The custom of conducting a single, four-mile race consisting of as many heats as were necessary to determine a winner, gave way to programs consisting of several races. Match races between horses from the South against those from the North drew crowds as high as 70,000. Several hotels (including the Forschback Inn and the Blue Pump Room) were built in the area to accommodate the racing crowds. [wikipedia]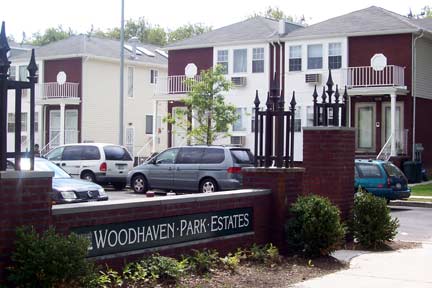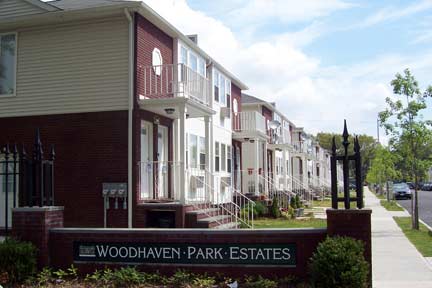 St. Anthony Hospital site, 89-15 Woodhaven Blvd., traveling north on service lane, between 91 Ave/89 Ave. 2 blocks south of Jamaica Ave. is now Woodhaven Park Estates, which, according to these photos, doesn't look half bad…there are even lawns.
One of the most recent condo projects in the area is the Woodhaven Park Estates, which occupies the site of the former St. Anthony's Hospital. (The hospital opened in 1914 and was later used for offices and medical research by St. Vincent's Medical Center.) In its place now are 68 semi-attached two-family homes, each divided up into two apartments with three bedrooms and two bathrooms. The initial asking price for these was in the $550,000 range when the project was completed in 2005. While the homes have all been fully occupied for some time, some resales are beginning to happen. Claude Marku, broker-owner of Century 21 Park Lane Realty, recently sold one Woodhaven Park Estates home for $780,000. [The Real Deal]
At Lefferts Boulevard and Hillside Avenue we find the Richmond Hill Public Library, built in 1905 by the archictural firm Tuthill and Higgins with a grant from philanthropist Andrew Carnegie on land donated by Albon Man, the developer of Richmond Hill. Stop in and see a large interior mural painted in 1936 by artist Philip Evergood showing Richmond Hill as a suburban alternative to the hustle and bustle of the big city.
Albon Man also donated land for the Church of the Resurrection, facing 118th Street just south of 85th Avenue, Richmond Hill's first church. A small wooden Gothic Revival edifice built by architect Henry Dudley in 1874, the structure is preserved within the present French Gothic stone building, which was finished in 1904, though further extensions continued until 1926. Social reformer Jacob Riis was a parishioner, and New York State Governor Theodore Roosevelt attended Riis' daughter Clara's wedding to Dr. William Fiske on June 1, 1900.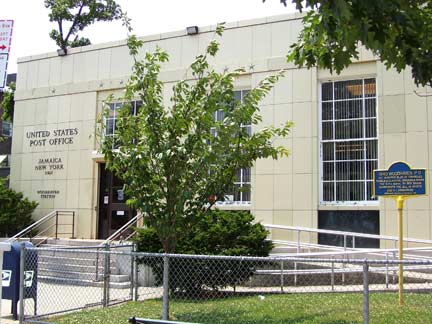 Your webmaster is an Art Moderne fan, and I'm glad the WCH honors the Woodhaven Post Office on Forest Parkway north of Jamaica Avenue, across the street from the Betty Smith house. Here's a look at the Ben Shahn mural.
Thanks again to Mike Minerva for all photos on this page.
Page completed April 10, 2008