Jamaica Hills has to be one of the smallest neighborhoods I have profiled on FNY. It spans just a few square miles between Grand Central Parkway on the north, Hillside Avenue on the south, Parsons Boulevard on the west, and Homelawn Street on the east — a rather compact area. It sits atop the terminal moraine that stretches across Brooklyn and Queens, a group of steep hills that mark the southern advance of glaciers that retreated during the last Ice Age. The hills were fortuitous for rich property owners, who built multitudes of expansive mansions in the region in the late 1800s and early 1900s. When the Long Island Rail Road built a massive interchange nearby in Jamaica proper in 1913, Jamaica Hills, just to its north, began to be more populated and first, frame houses and then, multifamily apartment buildings sprung up amid the hills.
Mid-Queens has at least two of these huge tanks. This one makes an imposing sight from 84th Avenue and 164th Street.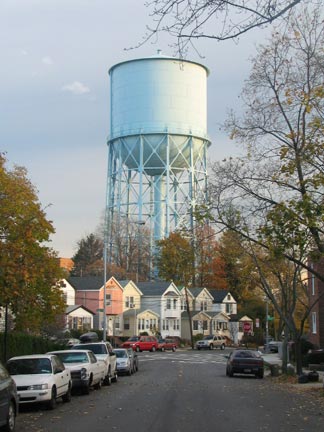 There's another one in Kew Gardens that can be spotted as you walk south on Austin Street which looks somewhat newer. There are other large tanks like this (they look a little more recent than these two) as you cross into Nassau press further into the mid-island area.
I have always thought of them as water tanks, but perhaps they hold something else. They seem to be inscrutable. Are they still in use? Who maintains them?
ForgottenFan Charles Gallo:
Yes, those are water tanks — remnants of the last private water company in NYC — the Jamaica Water Company, who supplied well water to the Jamaica/Jamaica Estates area up until 1996. The water was pretty horrid, and almost everyone was real glad to get NYC water. Most of the pumping stations are still around and maintained. It is probably a good "forgotten" subject in itself.
One of the interesting "problems" from the shutdown — the water table in that part of Queens has risen oh, 5-10 ft, and places that were always dry (because pumping had been going on for 100 years) are now wet, and you get flooded basements. Believe it or not, a small part of all the flooding weíve been having in the spring rains has to do with the fact the water table is up because we no longer pump millions of gallons of water out of the ground.
[The one here on 164th Street was demolished in 2010]
This was a languid August weekday afternoon; I was preparing for a trip to San Francisco but yet, I recall the day, at least early on, was plagued by doubt and dyspepsia. Was work going well? What would the trip hold?* I do these FNY walks to dispel and disperse that, however, and it usually works. I pass, or passed, through Jamaica Hills frequently, since when I lived in Flushing I used to routinely take the Q65 bus, which uses 164th Street to connect Flushing and Jamaica. This was the first time I had hiked around the place in broad daylight, and I was rewarded with how green it all was, for starters.
*The trip went fine — I have over seven hundred pictures I have to sort through for FNY Out of Town pages. But I did not get a wink of sleep the first three nights. I usually do not sleep the first night out of my own bed, but 3 nights was ridiculous, even for me. I was running on adrenaline alone in San Fran and hiked miles without sleep, anyway.
Traveling south on 164th, there is a bit of road that slants off to the southwest and comes to a dead end. This is called Glenn Avenue on some maps, but it is really a remnant of the New York and Queens County Railway — a trolley line that connected College Point, Flushing, Pomonok, Jamaica Hills, and Jamaica. The line ran in a right of way on a relative straight line south from Flushing Cemetery, turning southwest here, and then south again on a right of way adjacent to Parsons Boulevard, east on 90th Avenue and then south on 160th. When 164th Street was built in the early 20th Century it assumed a route adjacent to the trolley line and then absorbed it, becoming a wide 4-lane traffic route.
There are some amazing photos of this trolley route in the Arcadia book Lost Trolleys of Queens and Long Island by Stephen L. Meyers.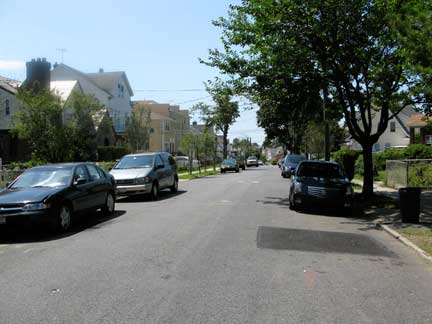 Part of the trolley route traversed what would eventually be called Normal Road, which runs between 162nd Street and Parsons Boulevard and 86th Avenue. The reason behind this name isn't immediately apparent, at least in Queens, but I remembered Normal, a mid-sized town in central Illinois, and researched that name. In the 1860s it adopted the name from Illinois State Normal University; in turn, normal schools are teacher training schools and are so-called for teaching standards, or norms. Perhaps there was just such a school in the area at one time, and Normal Road is named for it. Answer: see below.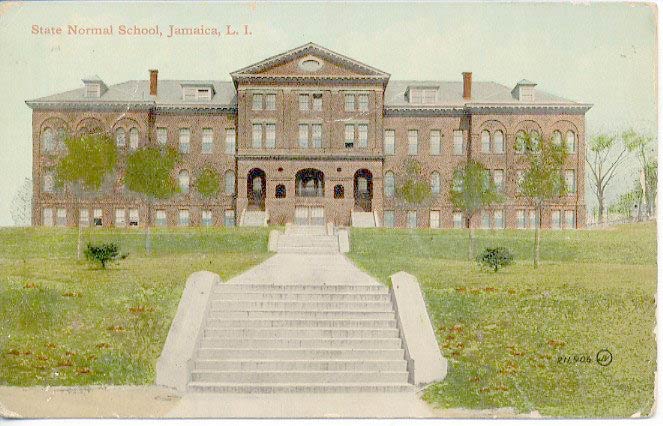 ForgottenFan Allan Rothman: PS 86 and Hillcrest High School (where my wife and I taught for many years) was built on a parcel at the corner of Highland Avenue and Parsons Blvd. which used to be the site of the "Normal School" which was razed in the late 1960's I believe, to build the two current school buildings.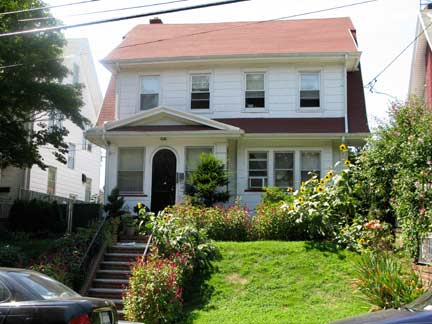 I'm somewhat more baffled by the presence of two streets in Jamaica Hills, Chapin Court and Chapin Parkway. The parkway rns in an "S" shape from 164th Street east, south and east again to Captain Tilly Park and Jamaica High School (see below) where it becomes Gothic Drive; the court, seen here, runs between the parkway and 165th Street, where there are a pair of representative frame houses, one on sale, picket fence and all. The Chapin steets were named some decades before the rise of the late folk rocker/activist, Harry Chapin, in the 1970s, though the streets always bring him to mind.
ForgottenFan Graham Anderson: The Chapin question in Jamaica Hills piqued my interest since Chapin is such a prominent family both in Brown University and southeastern New England history. I would best believe that both of those streets reference Alfred Chapin, former mayor of Brooklyn, U.S. Representative, and NY State Railroad Commissioner. The NY Times really made him out to be an absolute political star in 1892, naming him a long-term prospect for the presidency in 1892. He was viewed both as a proponent of schools and transportation at the time, and thus a road named after him would make sense. The remaining question, though, would be why in Jamaica Hills rather than somewhere strongly in Brooklyn? The question would perhaps involve the exact date of development or the developer, both of which I am unable to address.
Finding Captain Tilly Park and Goose Pond were a pleasant surprise for me when I moved to Flushing in 1993 and started cycling around the borough — I was unaware a large, pleasant park like this was here, to be honest. It's also sort of out of the way — I traveled down twisting Chapin Parkway, and there it was, just past the second bend in the road.
The park was built on land owned by the Highland Park Society (the park's southern boundary is Highland Avenue), who sold it to NYC in 1908 for the bargain price of $1.00, with a stipulation that it remain a public park. Until 1995, Goose Pond was fed by underground springs, but since a park renovation in 1998 it has been kept clean by a filtration system.
There is a Spanish-American War monument in Captain Tilly Park — a war that is somewhat underrepresented in NYC statuary. The park's honoree, Captain George H. Tilly, was killed in action (as part of the Army Signal Corps) in the Philippines on May 22, 1899. On the island of Panay to repair a damaged telegraph cable, he ignored warnings to go mufti, and he and his group were fired upon; all but Tilly from among his group made it back to their boat safely.
The Tilly family once owned the land where this park sits. After the Highland Park Society sold it to the city, kit ws called Highland Park, then Upland Park; it was named for Tilly in 1935. The stele honoring Spanish-American War veterans was placed in the park in 1941.
Dear Old Jamaica High
by Harwood Hoadley
There is a certain High School out in old Jamaica Town
Of all the schools we've ever known she most deserves renown
Her boys are strong and manly and her girls are beyond compare
And Royal Red and Loyal Blue are the colors that they wear
In gym, on track, on diamond her honor we maintain
In oratory and debate for her fresh laurels gain
Her fame's upheld by song and play, for loyal each and all
We rally to defend her name and gather at her call
Then cheer for old Jamaica High, the school without a peer
We'll cherish long the memory of the days we're spending here
Prosperity be always hers, courageous purpose high
And loyal love attend her and fame that shall not die
–from The Beaver Book, a fascinating history of Jamaica High School from 1892-1927. The book takes its name from the now-filled-in Beaver Pond, just south of downtown Jamaica: the school mascot is a beaver. The school has a rich history, which you can delve into at the previous link. For those of you who read music, the song is written out in musical notation in The Beaver Book, and you can plink it out on the piano. Extra credit if you can email me a wav or itunes file I can link here.
It occurs to me that the Swingin' Sixties killed school pride. I can imagine Jeff Spicoli or David Wooderson barely suppressing a snicker. Mr. Hand would love it, though.
Ground was broken for imposing Jamaica High School (Gothic Drive and 168th Street) March 25, 1925; it was completed in 1927 (it resembles Fort Hamilton High in Bay Ridge and Franklin K. Lane in Cypress Hills, with all three hailing from the same decade).
Prominent Jamaica High graduates include filmmakers Josef von Sternberg and Francis Ford Coppola, science writer Stephen Jay Gould, humorist Art Buchwald, Brooklyn Dodgers owner and mover Walter O'Malley, and John Mitchell, the Watergate-era US Attorney General.
Ladies and gentlemen, the 1950s — at least this, Thomas A. Edison Vocational and Technical High School [student-written wikipedia link] 84th Avenue west of 168th, is what high schools were built to look like then; cf. the more grandiose, columned Jamaica High, a block or so away. Edison opened in 1950. The school offers both vocational and college preparatory courses.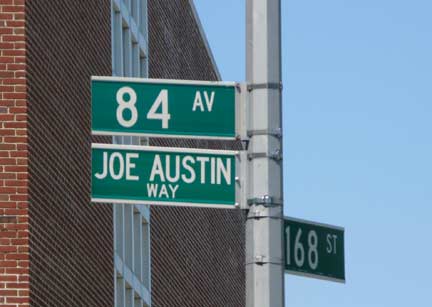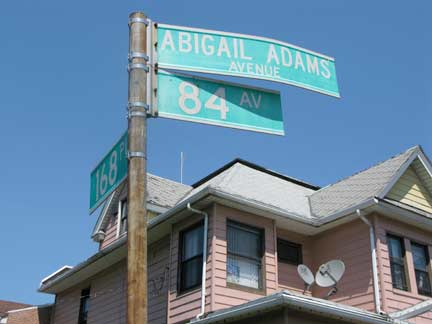 In Jamaica Hills 84th Avenue goes under two different additional monikers, Joe Austin Way and Abigail Adams Avenue. Austin Way is named for a local long-time baseball coach, Joe Austin (1904-1998); among his pupils was the young Mario Cuomo, who made it into the Pittsburgh Pirates farm system before an injury made him rethink his plans — he then entered law and politics.
It's quite possible that Abigail Adams (1744-1818) the wife of John Adams, the second US President, never made it to Queens, spending most of her life in Massachusetts and Washington. The Adamses were the first Presidential couple to occupy the Presidents', or White House. The avenue is named for PS 131, the Abigail Adams School, at 171st Street and 84th Avenue. Mrs. Adams was an early supporter of women's suffrage, and an abolitionist.
Apartment complex across from Jamaica High School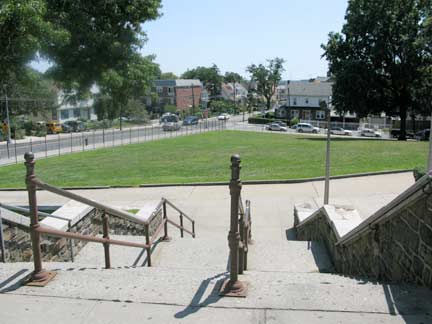 Standing on the steps of Jamaica High School I was struck by an insistent intonation coming from down the block on 168th, and saw men in knots of two and three walking down the street. It was Friday afternoon and this was the first muezzin's call I had ever heard. Prayer was at the Jamaica Muslim Center, 85-37 168th Street.
Like most of Queens, Jamaica Hills is diverse, with Bangladeshis, Guyanese, Haitians, South Americans, African-Americans, Chinese and for one afternoon, one Irishman all sharing the neighborhood.
Homelawn Street and 85th Avenue. One homeowner is so proud of his garden, he las labeled all the plants.
photographed August 2008; page completed December 14, 2008
erpietri@earthlink.net
©2008 FNY