I suspect Coney Island will weather its current difficulties. It always seems to. Recent developments, however, have put several Coney Island aficionados in deep despair. To recap, quite sketchily, developer Joseph Sitt (chairman and CEO of Thor Equities) has purchased numerous parcels along Surf Avenue, some streets and the Boardwalk, with hopes of building high rise residential buildings and retail establishments, drastically raised rent to force out current occupants and now, has plastered huge "stores for lease" signs on several of the buildings. Ruby's, the venarable boardwalk bar, has been all but forced out and Astroland is being dismantled.
After my annual winter Nathan's lunch, I wandered around Coney and photographed its current transitional phase…
The biggest of Sitt's signs hangs on Henderson's Dance Hall on Stillwell Avenue and Bowery Street. The building was built by entrepreneur Fred Henderson in 1899; was gutted in a 1903 fire, rebuilt, but then cut back in 1923 when Stillwell Avenue was widened. Until 1984 the building housed Lily Santangelo's House of Wax.
[by mid-2010 this building had been razed and a replacement was under construction]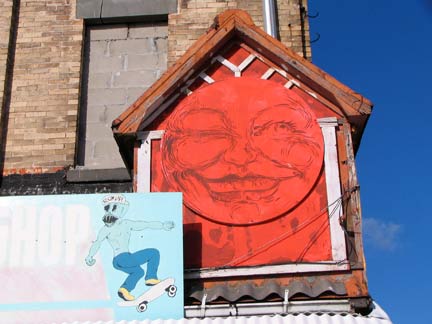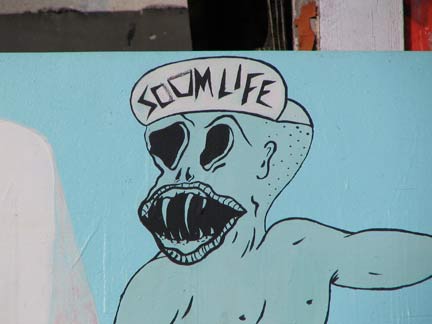 Bowery Street and Henderson Walk. The red sign was produced by the 'street artist' who calls herself Swoon. The "scum life" art belongs to a skateboard shop.
Shooting galleries and not-yet-dismantled rides along Bowery Street.
Though Katz's Deli on the Lower East Side is likely the most famed locale in the Billy Crystal/Meg Ryan vehicle When Harry Met Sally, another scene with Crystal and the late Bruno Kirby takes place at the Coney batting cages on Stillwell just south of the boardwalk. This is what remains of them.
One of the boardwalk food courts that has closed for the season and perhaps for good.
Ruby's Coney Island Old Time Bar and the Lola Staar Carnival Boutique.
I don't remember the first time I stopped into Ruby's for a beer. In fact, I don't remember the first few visits all that well. Things were pretty hazy back then, so it just seemed like another place to grab a round. But there was one visit several years back when Morgan and I stopped in, and something clicked. I can't say what it was, exactly, but the scales fell from my eyes and I realized that we were sitting in The Perfect Bar. Jim Knipfel
[it appears that Ruby's will open again for the 2012 season]
Nathan's (boardwalk; the one at Surf and Stillwell Avenues is not owned by Sitt and is safe), Cha Cha's, Shoot The Freak
[Shoot The Freak was gone by 2011]
The Grill, Stillwell Avenue and Boardwalk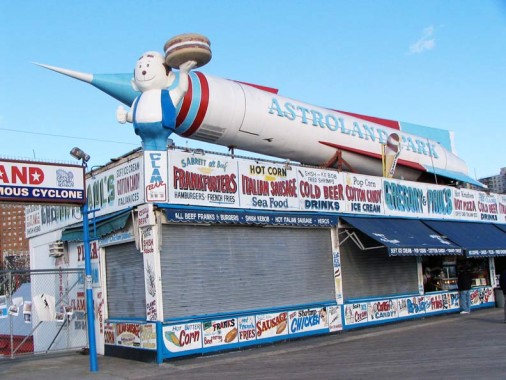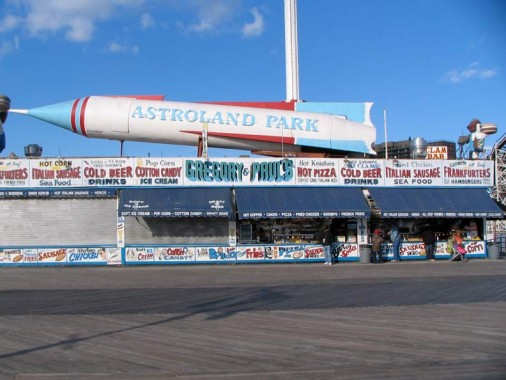 Astroland Rocket, Gregory and Paul's (which was the lone Boardwalk concession open on January 3)
As it turned out, these were some of the last pictures taken of the Astroland Park Rocket, at least here, since it was hauled out a couple of days later:
Video by Captain Nemo via Gowanus Lounge. The Rocket was an original ride when Astroland opened in 1962 and I hope it finds a home somewhere.
Paul Georgoulakos operated a concession on the Boardwalk for over 40 years; after daughter Tina inherited it, the name was changed to "Paul's Daughter." The stand may or may not return in 2012, but the hand-painted signs won't; they were removed in November 2011.
The Cyclone and Wonder Wheel are out of the reach of Thor Equities and will remain.
Looking west at the eternal Parachute Drop. It is inextricably identified with Coney Island, though it was first installed at the NYC World's Fair in 1939.
Photographed January 3, 2009; page completed January 7, updated November 15, 2011