There are New Yorkers who have never set foot in Staten Island, and there are New Yorkers who are shocked to hear that there are people who don't live there who have. In fact the most frequent amount of time spent by some New Yorkers is the time they spend accompanying friends are relatives from out of town, taking a U-turn in the ferry terminal on the way to the next boat back to Manhattan.
We'll see how things turn out, but in 2009 FNY plans to spend a lot of time in the borough that apparently a lot of New Yorkers would like to forget. Staten Island is truly a breed apart from the other boroughs, despite the best efforts of developers to make it a Brooklyn Lite and mall builders to make it New Jersey Lite.
What explains this antipathy? Staten Island, apart from its historic sites, has been thought of by nonresidents as having little cultural life to speak of; the place was thought of as a giant bedroom community that you spent a few hours asleep in before working and playing in Manhattan.
I spent a recent winter Sunday on a lengthy tour of St. George, the first neighborhood you're in when you step off the ferry, with artist/author Cynthia Von Buhler, who has done her part to contribute to Staten Island culture with ambitious shows in galleries in Manhattan and Staten Island. We will see more of her work a bit later. Some of my and Cynthia's friends were along — we did not make it a public ForgottenTour since we were invited into several houses and venues along the way and felt it best to keep the guest list limited. I plan on doing a full St. George FTour soon, though (we did one in 1999 when just starting out and only two guests were on it! There will be more next time).
WAYFARING: ST. GEORGE/FORT HILL (open map in new window)
St. George was named not for the Roman noble, later martyred, who in fable slew a dragon, but rather for a land baron named George Law, who had acquired Staten Island waterfront rights at bargain prices. He agreed to relinquish some of the rights for a ferry terminal — provided it be named for him! Prominent residents of St. George have been New York State Governor Daniel Tompkins and NYC subways bankroller August Belmont.
After meeting at SHOW Gallery at 156 Stuyvesant Place, co-owned by Theo Dorian (who co-owns three of the houses seen on today's tour), we proceeded to…
St. George Theatre
With so many of NYC's grandest theatres either under endless renovation or endless discussions about renovation, it's heartwarming to see one such magnificent silver-screen palace fully renovated and ready to make magic once again.
The exterior of the St. George Theater on 35 Hyatt Street, designed by Eugene DeRosa and opened in 1929, is relatively unprepossessing. Only upon entering the theater does its grandeur evoke any awe.
[mggallery id=6837]
Its interior, based on Spanish Baroque architecture, has been given tender loving care by a dedicated band of workers led by a local businesswoman, its new owner Rosemary Cappozalo, and now serves as a performing arts center which will include seminars in theatre production, TV and film location shoots, dinner theatre and children's shows. It has also become Staten Island's first premier concert venue — expected to appear in 2009 are kd lang and the B-52s. Before the theatre reopened, the stage was used for concert scenes in the Jack Black vehicle School of Rock.
Curtis High School
George William Curtis High School, 105 Hamilton Avenue, opened February 9, 1904 and was the first public school built in Staten Island after its consolidation into New York City in 1898. Its sister schools, built (or reconstructed) at approximately the same time, are Flushing High School in Queens, Erasmus High School in Flatbush, and Morris HS in the Bronx. Designed by architect C.B. J. Snyder, it was designated a NYC Landmark in 1982.
Of course, lamppost king Bob Mulero was drawn to the Type B posts with vintage 1940s birdcage lluminaires.
Among Curtis' notable graduates are Bobby Thomson, NY Giants outfielder who hit the Shot Heard Round The World sending the Giants into the World Series vs. The Yankees in 1951, and Chaplain Vincent Capodanno, who earned the Medal of Honor for valor in the Vietnam War; Father Capodanno Boulevard in South Beach bears his name. George William Curtis (1824-1892), for whom the school is named, was an acclaimed author and public speaker; he was named editor of Harper's Weekly in 1863, using his position to further emancipation, civil rights and social equality, civil service reform and public education. Curtis lived at 234 Bard Avenue in West New Brighton in a house that still stands.
The Castleton Park Apartments, 185 St. Mark's Place opposite Curtis High School, is the tallest building in Staten Island at 18 stories. It stands on the site of the 1889 Hotel Castleton and before that, the St. Mark's Hotel. The Castleton burned in 1907.
The first of the Victorian classic homes you see as you make your way north along St. Mark's Place, this building near Castleton Park Apartments was once owned by Frank Alvah Parsons, who joined the Chase School in NYC in 1904, and after becoming administrator in 1907, added programs in interior design, graphic design and advertising. The school was renamed for him as the Parsons School of Design in 1941; it is now part of The New School. ForgottenFan Gerry Guadagno (right), an art director at the world-famous direct marketing company where your webmaster works, attended Parsons.
119 St. Mark's
119 St. Mark's was built in 1890 by architect Edward A. Sargent, who built many of the eclectic Victorian-era masterpieces along this stretch of St. Mark's. The building was first home to Vernon Brown, a shipping agent for the Cunard Lines.
Perhaps the house's chief attraction is the dark-stained poplar panelled dining room and kitchen with a panoramic view of the Kill Van Kull and NYC beyond. Here we have a now-rare built-in warming oven in the radiator. The building contains nine fireplaces.
Cynthia arranged with owners of three St. George classic homes for our merry group to stop in and take a look around…
While many of Sargent's masterpieces can be found along St. Mark's Place, he also worked extensively elsewhere in the Northeast; he designed the 1st American Yacht Club building in Rye, NY, Lindenhurst, the suburban Philadelphia estate of department store magnate John Wanamaker; he also designed homes in Norwalk, CT, New Rochelle, NY (large tract development),West Orange, NJ, Nyack, NY, Mamaroneck, Larchmont, NY, Fordam and many other towns.
103 St. Mark's
Co-owner of 103 St. Mark's Place, Michael Harwood, greets guests at probably the most whimsical house we saw along the tour. Originally built by Sargent for banker Frederick A. Rodewald in 1890, it's filled with eclectic touches inside and out, such as the rounded edges, small oriel window on the left and intricate interior detailing.
Terra cotta and oak are prominent in the interior fireplace (one of eight) and staircase, which has an alcove overlooking St. Mark's Place midway between the 1st and 2nd floor. Much like 119 St. Mark's, there is a spectacular view of the Kill Van Kull and Manhattan from the kitchen and dining room, as well as the widow's walk on the exterior.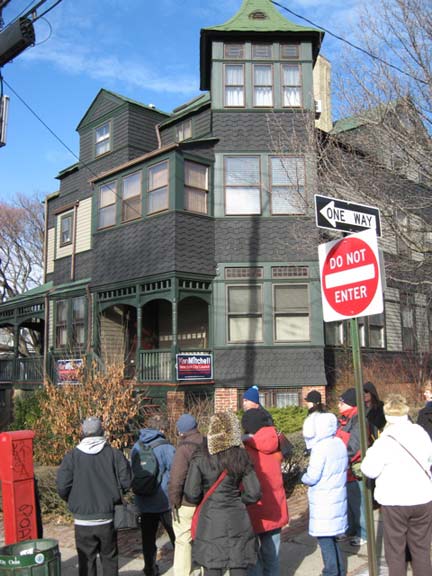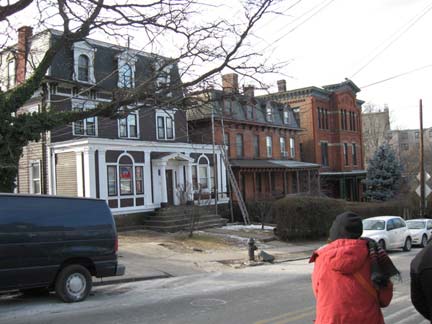 Passing the mighty St. Peter's Catholic Church with its massive campanile, built in 1904, we followed St. Mark's Place to its western end at Westervelt Avenue. On the corner is 33 Westervelt (left), another Sargent creation, a peaked and gabled mansion commissioned in 1885 by the president of the Richmond County Medical Society.
On the other side of Westervelt are 3 more vintage French Second Empire houses. The one in the center, 36 Westervelt, is the oldest, constructed in 1868.
Phelps Place is a tiny cul-de-sac on Hamilton Avenue a little east of its junction with Westervelt Avenue. The mansion at its rear, designed by architect Douglas Smyth in 1890, is notable not only as a premier example of Shingle Style architecture, but it was also part of the estate of millionaire banker Anson Phelps Stokes I. His son, Isaac Newton Phelps Stokes, became perhaps the borough of Manhattan's greatest historian. Stokes' six-volume Iconography of Manattan, 1498-1909, published between 1915 and 1928, presents hundreds of thoroughly annotated maps and prints that delineate Manhattan's progress from before the Dutch colonial era to the 20th Century. Your webmaster would love to have this seminal history, but even a reprinted version from 1998 runs for $750! Perhaps I'll give up a vacation one year and spring for it.
A Forgotten New York favorite, the Ambassador Apartments at 30 Daniel Low Terrace at Belmont Place is an Art Deco intrusion into the comfortably 1890s St. George, but we will forgive; it features a surfeit of blue, orange and gold terra cotta ornamentation, and dig the interplay of dark and light brickwork. Paul Newman and Martin Sheen have lived here, and Sheen's son, Emilio Estevez, was born here, but even if there were no star power, it would still be a prime attraction.
A now-rare Westinghouse turtlebeak luminaire lights the way on Daniel Low Terrace….
…to a rather mysterious brick mansion at Fort Place, likely one of the homes belonging to the local luminaries the Benzinger family. The Benziger Brothers were religious publishers, noted chiefly for their Lives of The Saints compilation by Rev. Alban Butler.
7 Vine Street
Vine Street was once the carriage path on the Daniel Low estate (for which the Terrace is named). 7 Vine was built for textile merchant Clarence Whitman by architect Charles Rich, whose most famous building is undoubtedly Sagamore Hill, the Teddy Roosevelt estate in Oyster Bay, NY. Louis Comfort Tiffany's firm designed the glasswork, woodwork, six fireplaces, and all tilework. The Dutch door (split horizontally in the center) has been retained as well as the foyer fireplace, unusually located under a staircase.
Fort Hill Castle
"Fort Hill" recalls the Revolutionary War. One of the highest points in St. George, the hill was used by the British to build redoubts out of soil. In the mid-1800s it was part of the estate of Daniel Low, but it was subdivided into lots in the early 20th Century and circular Fort Hill Place was constructed to rim the hill.
Sometime between 1920 and 1930 this 3800-square-foot building. modeled after Spanish castle, was constructed at 22 Fort Hill Circle. Cynthia and her husband, Russell Farhang (a violinist in the Howard Fishman Quintet) purchased it in 2005 after a lengthy search in which the couple even consulted FNY:
They pored over brownstoner.com, a favorite Web site, which decried inflation in Brooklyn and confirmed their own observations on price.
"I would get discouraged and say, 'Let's forget it and in the meantime we will save every penny,' " Mr. Farhang said. "But Cynthia would take the computer into the other room and house hunt for hours, and in the morning there would be all these e-mails waiting for me.
Another favorite Web site, forgotten-ny.com, introduced them to places they had never heard of. Often, on weekends, the two would pick a neighborhood that sounded interesting and drive out, just to see… NYTimes
Cynthia and Russell immediately set about giving the interior a bold new look:
…The interior "was boring white," remarks Von Buhler. So she sponged rich hues onto the textured walls and installed her gothic-meets-Renaissance pieces throughout (a painting in the living room depicts Adam and Eve, complete with a very convincing plaster snake … Time Out NY
The octagonal purple room, ringed with some of Cynthia's pieces, is at the top of the tower and serves as the guest room.
In an attempt to lure more people to Staten Island, the couple created prodigalborough.com, which features the area's loveliest for-sale homes. "The neighborhood has welcomed us," says Von Buhler, describing the "mostly liberal Democrats" on their block. "Everyone should live here."
More views of the Fort Hill Castle can be seen on Cynthia's web album. Cynthia and Russell sold the house in 2010.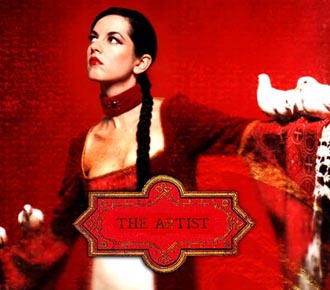 The Art of Cynthia Von Buhler
Cynthia's pieces are prominent in her house, as well as SHOW Gallery where the tour met. She is a critically acclaimed artist, illustrator, author and performance artist who combines, in her words, "painting, sculpture, performance, video projection, installation, living fauna, collage, photography, human detritus, and electronic audio … "
"Regardless of medium, all of [her] pieces require the viewer to get involved: sometimes physically, by pulling a cord or inserting a coin to operate a machine, and at other times mentally, when the message sent strikes a chord with the viewer. The Artist is a disembodied mannequin head and wooden hand in a booth. The work takes your quarter, deliberates a moment, and then gives you a tongue-in-cheek assessment of your artistic temperament, dispensing a postage-stamp-sized example of your style …"
Many of Cynthia's works were shown at SHOW Gallery on Stuyvesant Place in St. George. They combine practicality, accessibility and good old-fashioned outrageousness… some remind me of the box sculptures of Joseph Cornell, although hers are a great deal more interactive than Cornell's were.
"The Artist consists of a disembodied mannequin head in a booth with a paintbrush-wielding hand … when the coin mechanism is held in, the Artist's head moves and her hand paints…" –CVB
In 2007, Cynthia curated Andy Warhol: In His Wake, a compendium of artists who woked with him at his studio The Factory. The Great Warhola was created for the exhibition: when the viewer holds in the coin mechanism, a Campbells' soup can opens, revealing that it is filled with money. It also plays a recording of Warhol himself (Warhola was his real name).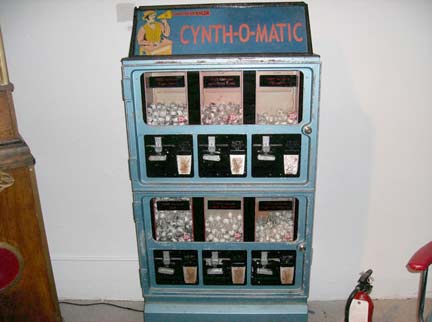 "Cynth-O-Matic" offers the brave a chance to buy one of various plastic capsules containing actual samples of the artist's body hair and fluids from a gaily-decorated vending machine. The piece is Von Buhler's critique of those who attend art openings to chat with the artist and scarf hors d'oeuvres while ignoring the art. "For your 25 cents you can actually have a piece of the artist.". wikipedia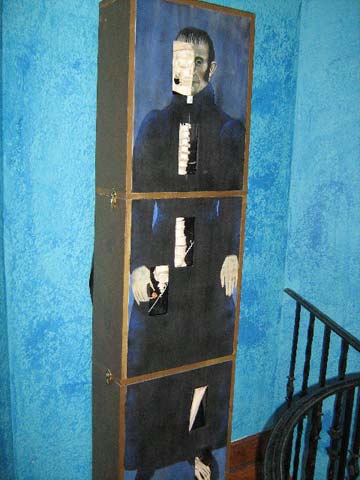 "What I Am Now You Will One Day Be." Inspired by a church in Italy that preserves the bones of monks (Cimitero dei Cappuccini), which have been assembled into chandeliers, decorative molding and arched walls. A placard in the Cimitero reads "What I Am Now You Will One Day Be," a rehash of the "ashes to ashes" theme. Cynthia's canvas depicts a priest with parts cut away to show the bones underneath; the peach he is holding has a slice cut out to show the pit. Cynthia has already produced a Part II, with herself as the subject, and says she plans to keep creating pieces in this theme for the rest of her life.
Von Buhler describes her approach to art as continually expanding. "My work has become more dimensional over time. I am interested in trying to do things that no one else has done, to push myself — and my art — further." She is rarely discouraged by the difficulties involved in her feats of creation. When asked about the logistical complications of creating such diverse work (isn' it exhausting to figure out how to make a talking sculpture and publish a book in a matter of months?), she explains, "I'm not afraid of electronics or power tools. I find it empowering to be able to visually communicate using a wide variety of media."And is there anything that this Renaissance woman isn't into? Perhaps one thing: "I am not interested in creating works of art that are passive," she says. NYArts
I'm glad the ForgottenBook can be found on Cynthia and Russell's book shelf. (Yes, I checked.)
Beginning in 2011, Cynthia presented Speakeasy Dollhouse, an "immersive theater" play — in which guests are part of the performance– at a Lower East Side location. Invited guests experience the story of Cynthia's grandfather, Frank Spano, who ran two speakeasies in the area. He was killed by an unknown assailant; his death caused Cynthia's grandmother to go into labor.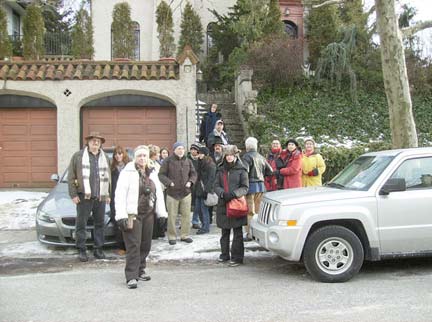 Following a lunch of hot chocolate, whisky and rugelach (thanks Cynthia) we resumed the tour with a walk up one of the area's "secret streets"….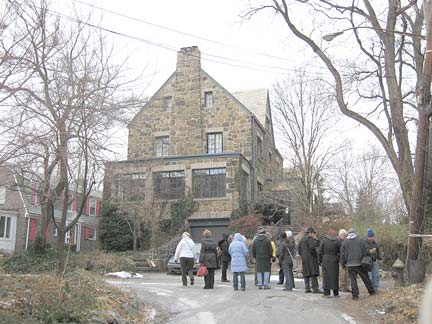 L-shaped Fort Hill Park, which ascends up Fort Hill from Hendricks Avenue between Westervelt and Sherman. Besides views of more treasured Fort Hill homes, it provides views of Grymes Hill, one of the highest points on the East Coast.
308 Westervelt
308 Westervelt, on the NW corner with Hendricks — is largely a mystery as far as its own history is concerned, since it's not in the guidebooks or pamphlets I've been able to consult. Yet, its owners received us warmly and, for your webmaster, it may have been the most encouraging house on the whole tour. While I can't afford any of the places I've seen today (and I'm satisfied with chez webmaster in Little Neck) what I can do is trick my own place out like this porched, cupola'ed building:
There is nowhere within the 3-story, atticked house that doesn't appear as if it hasn't aged past 1935, with photographs, posters, accoutrements and appliancesthat date back to century's turn. The kitchen is straight out of Better Homes and Gardens 1928. Better yet for your webmaster, mermaid art abounds, from the Oppy poster on the kitchen wall to the ad for Brault mineral water on a bedroom wall. I have seen some of this art availble for sale on West Broadway in Soho, and the vintage pictures can be gotten on ebay. I have not yet decorated chez Little Neck … this place gave me ideas. We later ran into owner Jeff Gallo and family at Cargo Cafe on Bay Street and I introduced myself as the FNY webmaster; they knew about it.
Owner Jeff Gallo writes: The house is an Edward Sargent House built in 1903 for the Crowley Family. Mr. John C. Crowley was an attorney in lower Manhattan and had a large family. (I have a copy of all the architectural drawings and floorplans hanging in the extention next to the kitchen). The house was custom built at a cost of $4000. The house design is based on a post office building he designed in 1901 which has a double cupola (I have a photo of the post office in the livingroom next to the WPA era tax photo of the home. The building still stands but has been altered and both cupola's removed — it's an Elks club now) …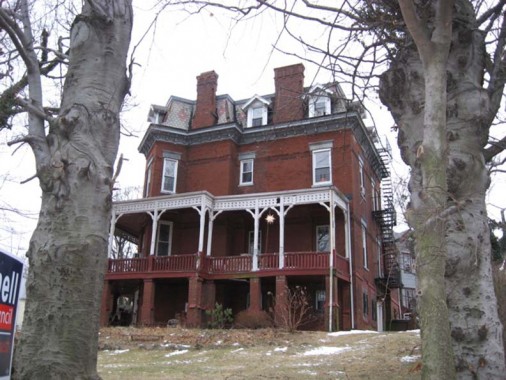 344 Westervelt Avenue, at Winter Avenue. You have to like a guy with a name like August Schoverling. They don't give out names like that any more. And you also have to love that Schoverling, a German immigrant arms merchant, married a woman named Augusta. It's like falling in love with yourself. 344 Westervelt was completed in 1882 in Second Empire style just as it was beginning to fall from favor. It is owned by Michael Harwood (see above). It was given Landmark designation by NYC in 2001.
Time for the ferry; we had been at it for about four hours. Kudos to Cynthia and Russell for organizing the tour and welcoming us in, as well as the other homeowners who did likewise, and Michael Harwood, for accompanying us and providing keen insight on his properties. Photographers: Joe DiMarco, Bob Mulero, Jeannie Siegel, Cynthia Von Buhler, Eric Weaver.
photographed January 25, 2009; page completed February 8, 2009
erpietri@earthlink.net
©2009 FNY