Recent trips through Staten Island and Queens have reminded me that there are areas of the city, the five boroughs, that may as well be anywhere else — they have nothing at all to do with Manhattan and its glittering attractions like the King of All Buildings, the Metropolitan Museum, the NY Public Library. They're stable and busy parts of town but Manhattan, while accessible within an hour or so, may as well be in Missouri.
A Sunday outing in southern Woodside got me thinking about that and at the same time I snapped a few photos of the kind of material I have been gathering for FNY for over ten years now…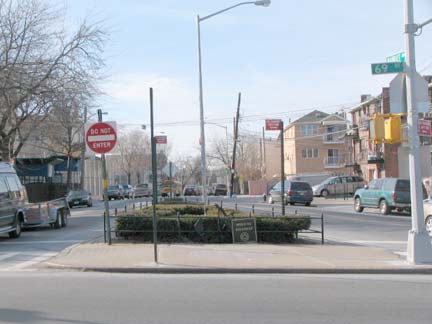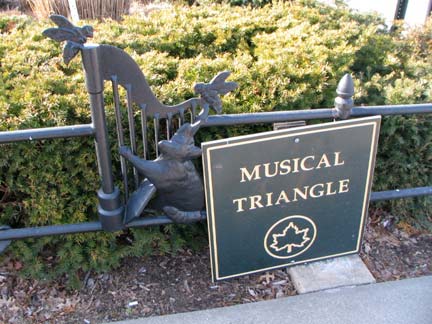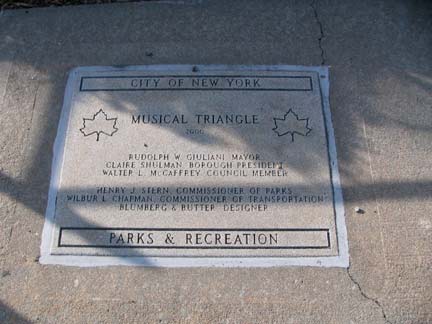 When I hear "musical triangle" I always think of Martin Short's greatest character, the Alfalfa-cowlicked Ed Grimley. Why? In an SNL Christmas show one year the Devil (Jon Lovitz) showed up and, after making Lovitz cower by thrusting a framed photo of Pat Sajak at him, the two wind up playing the triangle, Grimley's favorite musical instrument.
While staggering back to the LIRR after a session stumbling about Elmhurst and Woodside, I spied Henry Stern's "musical triangle." The former NYC Parks Department commissioner was fond of whimsically naming the public spaces that came under his overview — one of which is the triangle formed by Calamus Avenue, 51st Avenue and 69th Street.
What is that thing playing the harp? An opossum?
I call this "deep Queens" since buses are the prime form of public transit. I remember waiting for a half hour for the Q-whatever at Calamus and 69th for the Queens Surface transit bus (they were running 1980-vintage buses in about 2000) on Saturday. One of these weeks I'll get into deeper Queens in South Jamaica, Springfield, Cambria Heights, places never visited by subways, either. Here, a compass rose has been marked at Musical Triangle and across the street the apparently timeless Pulaski Certified Public Accountant.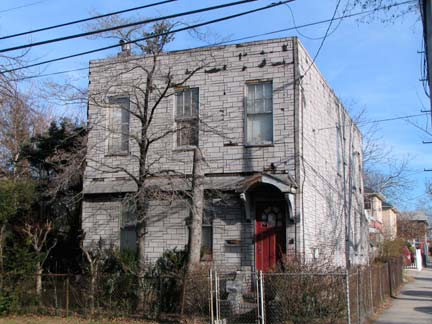 A pair of homes that, for the looks of things, haven't been touched in 40 years, at 66th Street and 50th Avenue (left) and 63rd Street near 43rd Avenue (right). Rather this than the dead Fedders stylings; these have the character that comes with age.
A now quite rare Gamewell fire alarm, 66th Street and 49th Avenue. Gamewell public alarms are rare in NYC, though the firm still manufactures them.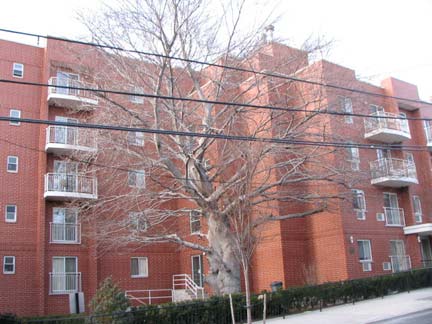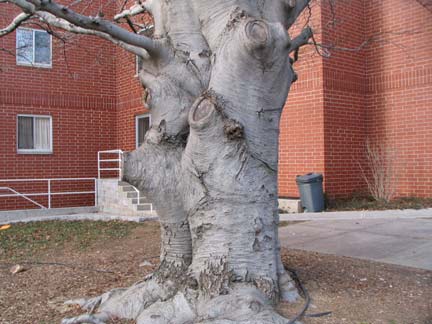 Copper leaf beech tree, 63rd Street near 43rd Avenue. When I first encountered it it was in an empty plot; fortunately the developers of the apartment building behind it mercifully retained the tree, which is over 225 years old.
Photographed December 2008; page completed February 9, 2009