ForgottenFan Dennis Harper recently found one of those rarest of birds in the NYC street paving canon — a red bricked street with a median shown by alternating bricks in white! I had only seen this treatment done on a couple of streets in Jamaica, Queens, and, though I have made a number of visits to Bedford Park in the Bronx over the years, Oliver Place, between Decatur and Webster Avenues a couple of blocks south of Bedford Park Boulevard had eluded me. Just one of those things you find in NYC by turning a corner that can provoke wonder. Or at least a slight feeling of satisfaction.
Actually it's not that hard to see why I had missed Oliver Place, it's just a block long and it's easy to get lost in the shuffle in Bedford Park, which has a number of one-block streets. I'm doing a survey now called Places Matter which deals with one-block long streets and their quirks, though, and I'd've eventually arrived here. Looking at Dennis Harper's photos, though, I would have inhaled a bit if I had happened on it by accident, since this variety of street paving is nearly extinct in NYC.
The presence of the white bricks down the middle of the street completes the scene; this is the only such usage in NYC I have found thus far. In Jamaica (link above) there are white bricks used to designate crosswalks.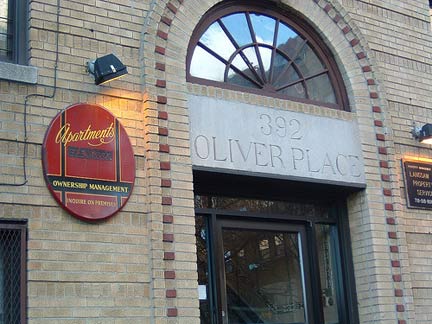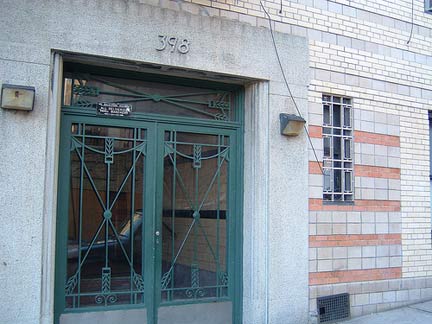 From the looks of things, Oliver Place has some nifty Moderne-ish buildings as well. Note the street numbering in the 300s, though Oliver only runs one block. In Bedford park, all streets, long and short, are numbered according to their distance from Jerome Avenue, which is the Bronx' East-West divider. In other words, every block between Decatur and Webster is numbered in the 300s.
Just when you think you've seen everything in NYC…you ain't seen nuthin'.
Page completed March 30, 2009.