Though luxury developers have had their eyes on Greenpoint, Brooklyn's northernmost neighborhood, making inroads here has not been quite as easy here as it was in the rezoned Williamsburg, immediately to the southwest. And so, the Garden Spot of Brooklyn has been mostly successful in holding fast to its mom and pop shops and decidedly Polish flavor. This is a neighborhood in which a catering hall can be found 3 doors down from a slaughterhouse. Greenpoint's only subway will deposit you in Hunter's Point, not Manhattan. (Underground oil spills also serve to keep the swells at bay). Your webmaster can frequently be found here. This time, I was attracted to several of the eclectic signs to be found along Greenpoint's spine, Manhattan Avenue (can you imagine a street in Manhattan named for another borough?)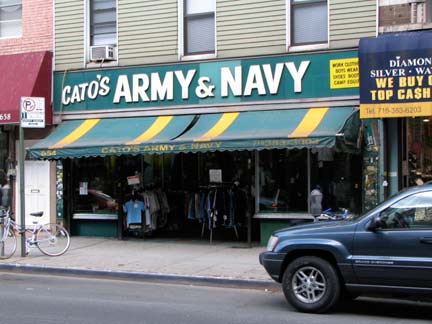 Though there are many vinyl awning signs in Greenpoint as in every other borough, alas, there are also a goodly number of stencil letter signs, some in recognizable fonts, as we'll see. Do whole families traipse into barb…, ah, hair salons, at the same time?
Brooks of Sheffield in Lost City profiled Irving Feller of Manhattan Furrier — which has been in the same family since 1913:
Feller's an odd duck. He is an abstract painter in this spare time and his works fill the walls of the small place. He is also obsessed with Native American culture. He visits the Kutenai, Shoshone-Bannock, Crow, Nez Perce, Apache, Navajo, Zuni and Hopi out west every year. In his store window are Native American jewelry he has bought from them; everything is for sale.
Manhattan Furrier also offers fur storage. I've got to wonder how many people in ramshackle Greenpoint take him up on that offer…
The NY Times profiled Feller when he closed his shop in March 2011.
The title of this Polish restaurant means "King's Feast." Yelp.com reviews were favorable:
As far as getting real Polish food, the only thing better than this place is befriending an old Polish grandmother or flying to Krakow for dinner. This gem in Greenpoint is the best Polish food you will find in Brooklyn. My wife is from Poland and said that her parents go here all the time for real Polish food. I was hesitant about trying it, but I am very happy that she made me go. The borscht, or beet soup, is amazing with some sour cream in it. They give you a huge portion and I always get a nice Polish beer to go with it.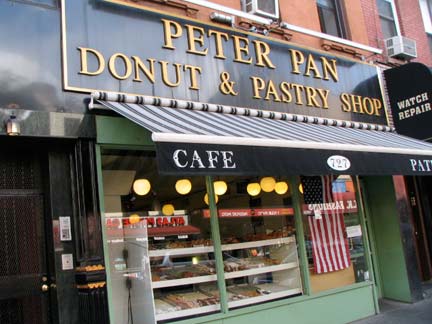 A pair of stencil signs, one using Futura Bold and Copperplate, the other using Times Roman. I hope the card sign letters are fastened well — you probably wouldn't survive if one of those letters conked you on the head. I ate at the Peter Pan a few years ago – best donuts I ever had.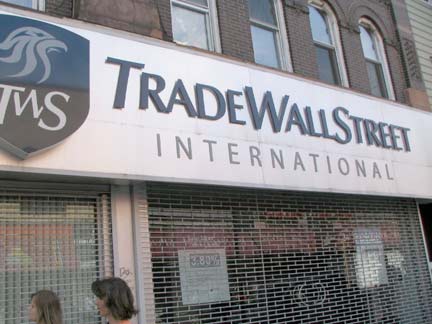 The Trade Wall Street sign is in a sanserif called Optima. The handlettered Just Men sign reminds me of the ophthalmic migraines that I have had for a number of years.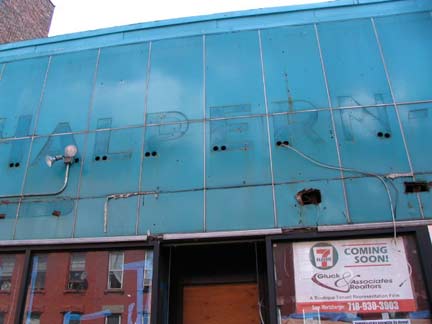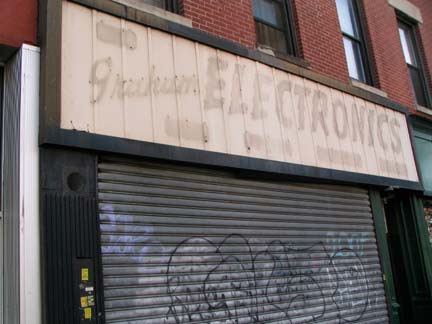 Ghosks is the bunk, as Popeye says, but here are two ad ghosts on Manhattan Avenue on either side of Greenpoint Avenue, one for Halpern-Perlow, a former men's store slated for 7-Elevenhood, and Graham Electronics. Halpern-Perlow was in business for over 75 years; Joseph Perlow was president of the (now-inactive) Associated Merchants of Greenpoint in the 1980s.
It's rare that you find old-school Cheltenham on an awning sign (in print, either; most Cheltenham these days is the modernized ITC version). The handwritten font above it is Mistral. RIGHT: Optima again on a corner bakery.
Both these signs were around during your webmaster's brief Greenpoint sojourn in the summer of 1982, in an apartment that had a bathtub in the kitchen.
Photographed June 2009, page completed July 8, 2009