It seems as if I have an awful lot of Brooklyn photos laying around — I shot extensively in the neighborhoods and subneighborhoods south of Prospect Park beginning in the fall of 2006 and continuing into the spring of 2007, and I haven't used them yet — mainly because I feared that dumping them on Forgotten New York all at once would lead to cries that it's getting too Brooklyn-centric. (Bronx denizens, especially, mention this; I'm always meaning to get onto the mainland borough more often). Today, though, I thought I would do this slice as a taster into a more detailed project I have in mind for the pictures south of Prospect I got in April 2007 — they are especially good, IMHO.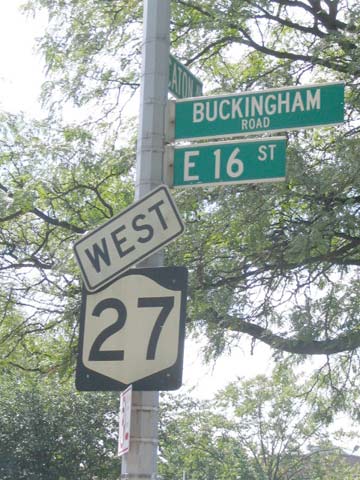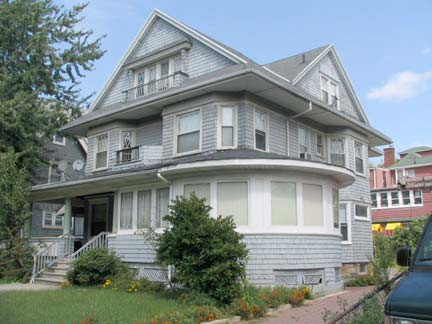 Caton Avenue forms the northern border of the developments and planned neighborhoods south of Prospect Park; the avenue is the southern border of the Parade Grounds, so called because in its early decades, beginning in 1868, it served as the staging area for military exercises conducted by the New York Coast Guard. Caton Ave is part of NYS Route 27, the bulk of which runs on Linden Boulevard, the Belt Parkway, and Sunrise Highway.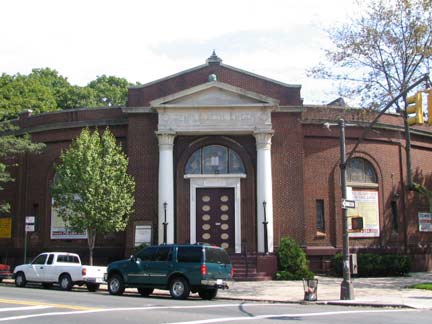 We're in Caton Park, the smallest of the developed areas south of the park; it centers on Marlborough Road between Caton and Church Avenues and contains parts of Rugby Road and east 16th Street as well. Both the buildings at right are on Marlborough, the bottom right being the Temple Beth Emeth on Church Avenue. The venerable temple opened in 1914.
Marlborough and Church. For much of its route Church Avenue, originally the lane to the Dutch Reformed Church on Flatbush Avenue, is busily mercantile, but it is quiescent here in Caton Park. On the south side of the avenue, a gatepost with the trigram PPS announces Prospect Park South, one of the largest of the area's 19th Century developed neighborhoods.
From the ForgottenBook: Prospect Park South was developed by upstate New Yorker Dean Alvord, who purchased a parcel of land in Flatbush from the estate of Luther Voorhies and the Dutch Reformed Church in 1898. Alvord, with the aid of architect John Petit, set about building sumptuously-appointed buildings for the well-to-do. By 1898 Flatbush had evolved into a well-established community that boasted good schools, decent local transit (trolleys) and the Brooklyn Rapid Transit Company offered easy transport to Manhattan via the Brooklyn Bridge.
Alvord's idea was to extend Prospect Park South and adapt it to residential use. He foresightedly buried utility lines underground and paved the streets in an age when many were still dirt roads or Belgian-bricked. Streets were given British-sounding names.
Beaux Arts apartment building on Ocean Avenue and Beverl(e)y Road (it's spelled differently depending on where you are). In the late 1800s architects and sculptors often placed whimsical-looking ornamental carvings on their buildings, such as these: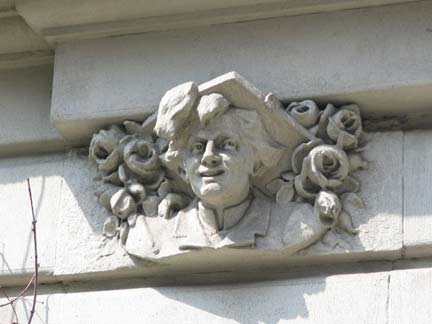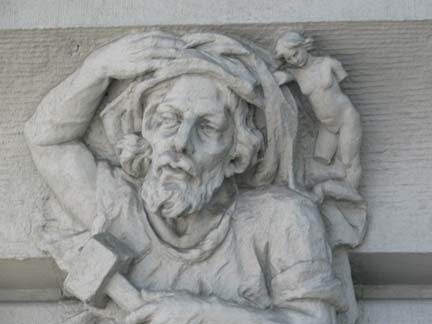 The sculptor would be a bit less morose if he knew there was a naked lady over his left shoulder, albeit a diminutive, amputated naked lady.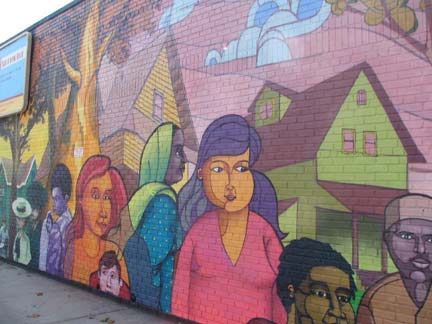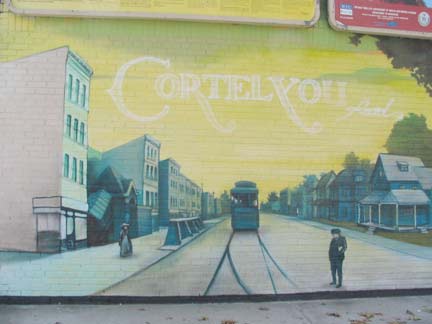 Cortelyou Road, the main drag of Beverley Square, has undergone a renaissance in recent years, albeit a queiter one than its cousin Bedford Avenue in Williamsburg, with new bistros and restaurants springing up. (I was disappointed, though, that when we wandered in one on a broiling Sunday at 3PM after a day on the South Prospect Park house tour, we were told the kitchen was closed till five. Oh well.) There are plenty of murals by neighborhood artists around; the one on the right shows Cortelyou Road as it might have been in 1920 or so as it crosses the newly-depressed Brighton Line. The little station house shown at left is still there.
When I shot the mini Statue of Liberty at Vox Pop on Cortelyou in April 2007, I had no idea that she would, in a little over two years, meet a violent death at the hands of some pranksters who absconded with it and filmed its head being cut off in July 2009. (I'm not linking to the youtube video; unfortunately, it's at every link the story has.) The owners of the Greenwich Village romantic night spot Two If By Sea generously donated their own Statue of Liberty replica.
Previously, Little Liberty at the Liberty Warehouse on West 64th Street in Lincoln Center wound up at the Brooklyn Museum Sculpture Garden after its old home atop the warehouse was torn down.
Vox Pop closed a few months later.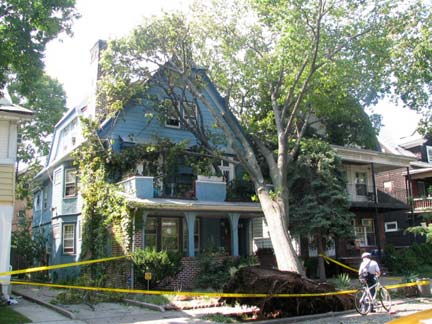 When I was here in September 2006 a particularly violent storm had blown through the day before. It appears as if the house escaped a lot of damage from the toppled tree.
Newkirk Plaza awaits a renovation. This sign, with its nifty Garamond Italic lettering, was new when I frequented the plaza to and from a girlfriend's house on Newkirk Avenue. That was in 1982, and it has experienced some wear and tear since then.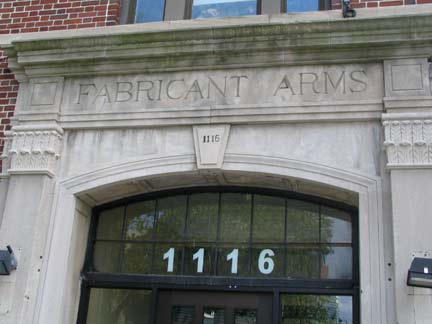 Fabricant Arms, 1116 Coney Island Avenue. "Fabricant" is a little used word meaning manufacturer; perhaps factory workers were among the original tenants.
Woody Allen used the Kent, one of the few small neighborhood theatres you will find in Brooklyn, for scenes in his Purple Rose of Cairo — Mr. Konigsberg grew up in Midwood. It opened in 1938, according to cinematreasures commenters. On the marquee is "The Wicker Man," not the haunting 1973 original but the 2006 remake with Nicolas Cage.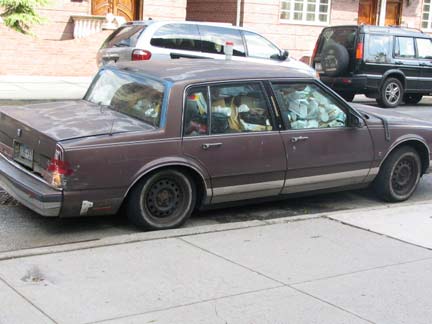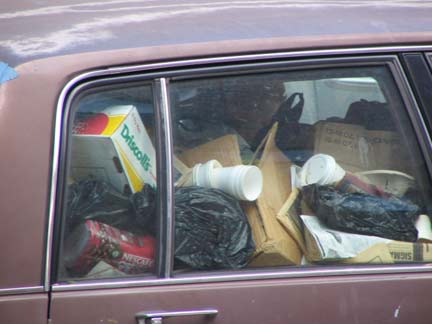 At Elmwood Avenue and East 5th was a car that could have only belonged to a long lost relative of The Collyer Brothers.
Walsh Court runs for a block between East 3rd and East 5th just south of Foster Avenue along the LIRR Bay Ridge Branch cut. It first appeared on maps sometime in the 1920s.
Photographed Sept. 2006-April 2007; page completed July 23, 2009