I don't get into Clinton Hill often enough. I am intimidated by it — imagine a neighborhood, along with neighboring Fort Greene and to some degree, Bedford-Stuyvesant, which flank Clinton Hill on the west and east — dominated by block after block of homes dating from the post-Civil War period to the robber baron era of circa 1900. Each house bigger and better than the house next to it, acres and acres of this, and none of which I can afford or ever will unless I get a visit from Little Bit of Luck. I went to high school on the Clinton Hill-Bed Stuy border when the neighborhoods were on a different planet –Planet Terror — in the Super Seventies.
Back in 2007 I was stumbling around the corner of Gates Avenue and Cambridge Place in eastern Clinton Hill — clearly in territory quite a bit north of my humble station — when I squeezed off some shots of homes built by people who would have likely employed me to ostle their horses or clean their stables when they were alive. I also more recently found out the story behind an old awning sign that has been given a brand new lease on life in the age of irony that we currently inhabit.
Cambridge Place runs for 2 blocks between Fulton Street and Greene Avenue 2 blocks east of Washington Avenue. It is replaced north of Pratt Institute by Ryerson Street, where, at #99, is the last surviving residence in Brooklyn lived in by Walt Whitman. You may expect Cambridge Place to be named for the British university (there's a North and South Oxford Street several blocks to the west) but while you're on the right track about England, neither were named for venerable colleges; instead, Oxford Street and Cambridge Place were so called for their counterpart streets in London, with Cambridge Place honoring a Terrace facing Regent's Park.
Though the whole street is lined with buildings of note (I'll go back and shoot more eventually) I'm especially fond of freestanding houses on blocks otherwise dominated by attached buildings — they are almost invariably older. On the left is #78 Cambridge Place. According to the NYC Clinton Hill Historic District Report:
This freestanding, shingled, vernacular French Second Empire style house was probably built c.1860 for Jeremiah Peterson. The house is two stories high with a mansard roof and has a bay which extends out almost to the lot line.The wooden-enframed entranceway set above two steps has a glass-paned door, of later date, sidelights, and a plain wooden surround. The first-and second-story windows have simple wooden lintels, surrounds', and sills. The mansard roof has slate siding and is pierced by three pedimented dormer windows that rest on a wooden cornice with rectangular blocks above two decorative bands. Original iron gate posts and the areaway fence remain. The house probably once had a front porch.
RIGHT: A few doors down at # 86 is a distinctive green and white, shingled and porched house that must be cool on even the warmest days. The Italian villa-style house likely dates to the late 1860s. From 1880-1892 it was the home of Russell Engs, who built several other homes in the Clinton Hill historic district.
87-93 Cambridge Place was a row constructed by William Montgomery around 1863. They are distinctive for their bay windows; only one, #89, contains its original wooden bay. These particular bays are said to be unique in New York City. From 1866-1872 #87 was home to James Whiting, the son of a Supreme Court Justice.
In 2007  I noted the presence of a very old drug store sign on the corner of Gates and Cambridge, the name of which had by then been obliterated.
In 2009, though, the sign has been restored as good as new, you would think. Rather, it has been replaced.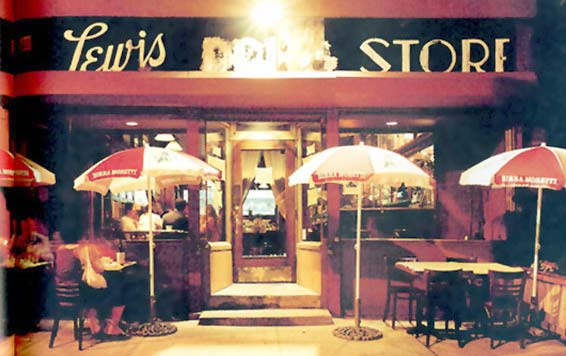 In this transitional view, the sign is in a partial state of repair, still holding forth even though this is no longer a drugstore and has not been for decades. At present this is the home of an upscale Italian restaurant, Locanda Vini e Olii. It has been a somewhat ironic trend in the 2000s for new businesses to retain, and even restore, old signage from a previous incarnation of the space. This is all good from a Forgotten NY perspective; I'd suspect that there's a wealth of ancient signage lurking under the newfangled garish vinyl awnings all over town, so I'd like more of this sort of thing to continue.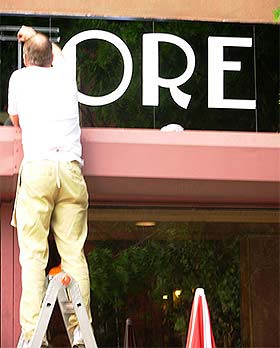 The owners of Locanda asked a sign restorer, John Downer, to completely redo the old sign because so much of it had been lost over the decades:
As Type Edu Blog explains: The assignment was to restore, and to slightly improve, the fascia lettering originally painted in the 1940s. The substrate first had to be replaced. New opaque black glass was installed for the purpose. Note that the name Lewis needed to be smaller than the original, and higher in relation to the other words, in order to be visible above the rollscreen casing. John also italicized the 'i' in Lewis to make it conform. The few surviving letters in DRUG STORE were traced before the old fascia was removed to make way for the new. Saved were the D, R, S, T, O. The U, G and E had to be recreated from photographic evidence and existing letter parts. See the blog link for the fascinating story of how Downer was able to nearly exactly match the sign as it was first installed in the 1940s!
Page completed August 25, 2009