Has it really been ten years since I did my first survey of Gravesend in Brooklyn for Forgotten NY? It has been, and although ForgottenTour 33 explored Gravesend in 2008 I really haven't been back to give it real justice. Now that local historian Joseph Ditta's new book Gravesend Then and Now has hit the shelves, some of those blanks have now been filled in. Unfortunately a number of the locales I mentioned on my first page have since been razed and some have been changed beyond recognition. Some parts have remained unchanged, however, and appear exactly as they did in 1999, or for that matter, 1949 or 1919. I hope I can show on this page what I missed on my first one.
After alighting from the F train at McDonald Avenue on the Gravesend Neck Road end (for the sake of brevity I'll do what both area denizens and the MTA, on subway signs, do: call it "Neck Road") I inspected the condition of the ancient Gravesend and Van Sicklen cemeteries, which sit side by side across from the ancient Lady Moody House; exacly how ancient the Moody house is in dispute, as some partisans say it's 350 years old, and some say a mere 200. Even its former ownership by Lady Deborah Moody, who was granted a patent in the region by New Amsterdam's Director William Kieft in 1643, is debated. The place has been there awhile, I'll put it that way. As has Gravesend Cemetery (established about 1650) and the rusty sign erected by the NY State Education Department in 1938).
My brief and no doubt occasionally fudging Gravesend history can be found on To Gravesend and Beyond Part 1.
Gravesend Cemetery is not open often, but Bridge and Tunnel Club was vouchsafed an entrance.
According to Joseph Ditta the oldest stone in Gravesend Cemetery is hand-etched and reads 1724. Adjoining Van Sicklen Cemetery is new in comparison — it was founded in 1842.
The original map of Gravesend, as laid out in the mid-1600s, can be described as a square with a cross in the middle. Amazingly this original street layout is still in place and has not been obliterated by Brooklyn's overlaying street grid. The square is Village Road North, South and East and Van Sicklen Street, and the cross is formed by McDonald Avenue and Neck Road, which originally extended to today's Marine Park area, which was then a wide peninsula or "neck." McDonald Avenue was extended north and south over time; by 1873 it had reached all the way north to Parkville and Kensington. IN 1933 it was retitled McDonald Avenue in honor of a Kings County court clerk.
Master Sweets confectionary. McDonald is completely shadowed by the Culver El from Cortelyou Road south to 86th Street and Avenue X, when it becomes Shell Road. It's lined with light industry, much of it furniture manufacturing, and the occasional wild card like this.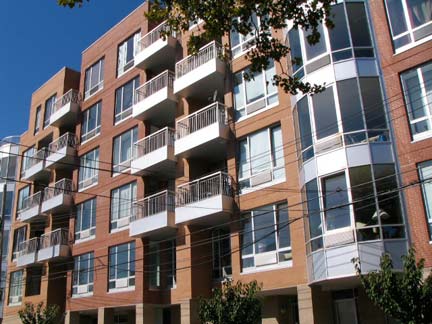 A wildly out of context behemoth has been constructed on Village Road North east of McDonald Avenue. It's not a bad building, but it's out of place here, seemingly.
Harold's For Prescriptions has seemingly been here forever on the NW corner Avenue U and McDonald Avenue. The sign is at least a few decades old.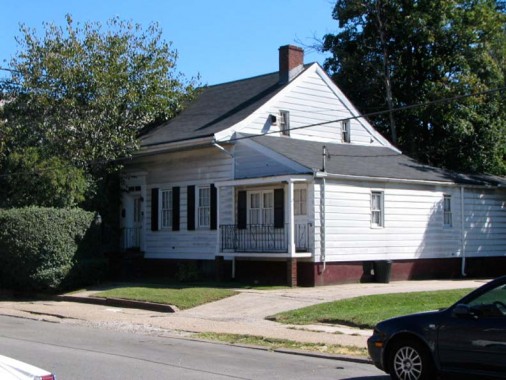 Ryder-Van Cleef House, constructed in 1840 by Lawrence Ryder, stood at 26 Village Road north before it was moved to #38 in 1930. A Ryder daughter married a Van Cleef, giving it a hyphen. Village Road North has unofficially been called Ryder Place in the past, and many Ryders have lived in the area. Ryder Street in Marine Park, Ryder Avenue in Midwood, and a now-vanished road also in Marine Park and also named Ryder Avenue attest to the influence of the Ryders in Kings County in a bygone era.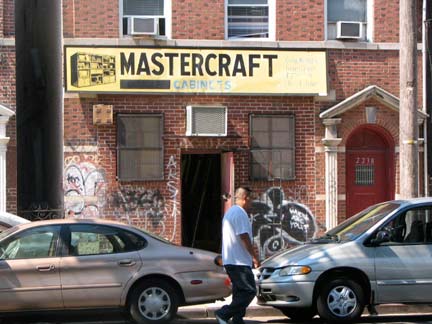 Mastercraft Cabinets, one of McDonald Avenue's many furniture wholesalers, between Avenues T and U.
Samuel Hubbard House, which may now justifiably be called the John Antonides House, at #2138 north of Avenue T. The right side of the house was built in the early 1800s (some researchers have said late 1700s) and was originally occupied by Nelly Hubbard and her son Samuel. The house was purchased by Vincenzo Lucchelli in 1904 — he added the ell on the left side of the house in 1924. Lucchelli's daughter Theresa occupied the house until her death in 1997, by which time the house was in bad repair. Antonides purchased it, renovated it top to bottom, and was rewarded for his efforts when the Landmarks Preservation Commission landmarked it in early 2009, assuring the old place and even longer life.
The Antonides House is by no means the only remaining residential building along McDonald Avenue. 2220 and 2224 are also small frame houses and they likely predate the coming of the Culver el in the early 1920s. Prior to that the Culver was a surface steam railroad.
Very short dwarf post, outside 2224 McDonald Avenue.
Sloan Place, one of a pair of one-block streets between McDonald Avenue and West Street north of Avenue U. I don't know whether to like or dislike this house, actually. Gravesend has a number of paired "Places" such as Sloan and Whitney, Billings and Colin, Stryker and Southgate, Manhattan and Brighton…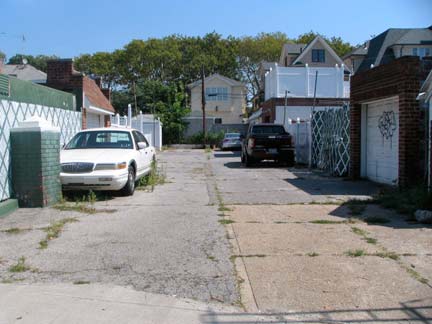 Unnamed alley, east side McDonald Avenue south of Avenue T. The historical map record doesn't turn up anything on this. I thought it might have, at one time, led to a development because it has gateposts on each side.
Frame house, corner Avenue T and McDonald. This likely looked a lot different when it was built in the early 20th Century.
Sts. Simon and Jude Church, Avenue T between Lake and Van Sicklen Streets, heard its first Mass in 1899. The current modern structure was erected in 1966. I was attracted, though, to the parish grade school on the opposite side of the avenue…
… it was constructed in 1925 and boasts gorgeous marble and stained glass work. I was heartened to see the "Religion, Science, Patriotism" inscription. After all 1925 was the year of the famed Scopes Monkey Trial in which a teacher was found guilty of teaching evolution — it was illegal to do so in Tennessee that year. We're in Brooklyn, though. I was also impressed by the lettering, reminiscent of the ecclesiastic fonts designed by Frederic Goudy.
Many of Gravesend's older notable buildings have been razed — see Joe Ditta's book, linked above, for photos of many of them — and others have been shrouded in unattractive modern clothing.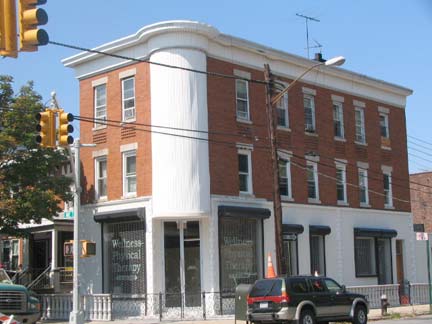 Once magnificent bayed building at West 5th and Avenue T;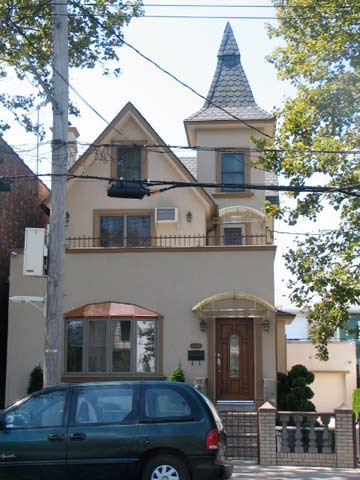 2064 West 6th near Avenue U, once a judge's residence. At least the peaked cupola was allowed to remain.
An Eckerd pharmacy on Avenue U and Van Sicklen Street was formerly Gravesend's Depression-era post office. The present post office is now on Avenue U between McDonald Avenue and West Street.
As an aside, Brooklyn has two West Streets (Gravesend and Greenpoint) and two West 9th Streets (Gravesend and Red Hook) as well as a couple of other duplications. As a rule when duplications come up due to two former towns being united under one borough, one of the names is changed, but not always. In Boston, they don't care; that city has four major Washington Streets and dozens of other such repeats.
Speaking of post offices, one of Gravesend's 19th Century original post offices can still be found on 66 Neck Road just east of McDonald Avenue. This small cottage-like building was a grocery and feed store in the late 1800s. Joe Ditta has an amazing photo of the building in his book, with a wagon pulled by two horses in front. The half moon clerestory window was there, then as now.
What appears to be a former farmhouse can be seen across the street. The barn-like building in the back still has a hoist for pulling hay into the upper story. The picket fence is a few decades old.
As your webmaster photographed Trinity Tabernacle on 121 Neck Road and East 1st Street, a passing Gravesender took his hands off the wheel and greeted me with ironic disdain. (For some, curiosity about the city you live in is interpreted as wasteful of your time and silly.) The church was constructed in 1893 as the Dutch Reformed Church by architect J. Graham Glover. The congregation combined with Advent Lutheran on Avenue P in 1979, and after Coney Island Pentecostal purchased the building it was rechristened as Trinity Tabernacle. The porched parsonage can be found next door.
In the late 1890s and on into the early 1900s, architects would often prominently display the date of construction and the name of the owner or builder. It's possible that they were duly proud of the era's architectural styles and were prescient in their knowledge that the buildings of that time were the most attractive ever built, and would be the most attractive ever built.
Because Neck Road was one of the first roads in the town, the street grid, built in the mid-1800s to mid-1900s, was laid on top of it, and Neck Road runs southeast, east and northeast athwart it. Here it forms an unusual intersection with Avenue V.
A word about Gravesend street numbering: between Avenue O and Avenue X, Gravesend's east-west street numbering is unusual. Avenues have to run first across West numbered streets, which decrease west to east to McDonald Avenue or West Street, as which point East numbered streets begin. So a compromise was struck in which street numbering begins at one at Bay Parkway or Stillwell Avenue, where the avenues begin, and go up s-l-o-w-l-y until they reach about East 5th Street, where each block begins with 500 and is equally divided by hundred.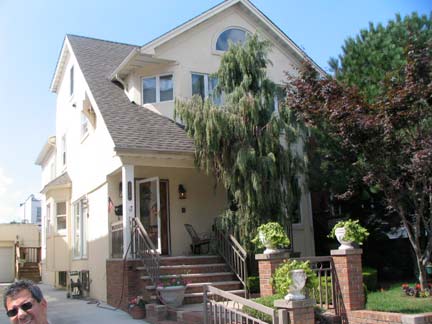 ForgottenFan Vinny, who grew up in Gravesend and accompanied me on part of this walk, gets in the picture at 2340 East 2nd Street south of Avenue W. The building was constructed in 1903-1904 as part of the Wood, Harmon and Company development known as South Marlboro. The development, according to Ditta, was only a mixed success and was partially developed as late as the 1920s. 365 Avenue W, just west of East 2nd, was also a part of the development. The Marlboro name survives in the Marlboro Houses on 86th Street between West 8th and West 11th Streets.
A red, white and blue walk control signal can be found on the corner opposite Our Lady of Grace Church, completed in 1936 at 430 Avenue W in a contemporary Gothic style. The church was subsequently expanded in 1940, the parish school was built in 1950 and the Marian shrine in 1954. The parish had been founded in 1935 and met in a nearby rented store for the first year of its existence.
The rectory, across the street from the church, announces a concert by Jay and the Americans in November. The New York group enjoyed seven Top 20 hits between 1962 and 1969 with original singer Jay Traynor and then Jay Black, whose operatic baritone could be heard on every Jay & The Americans hit record but their first, "She Cried." The current touring band features three original members, but not Jay Black, who is touring under his own name.
If you're looking for Jay Black, here he is in 1965 with the Americans:
http://www.youtube.com/watch?v=1sFy5_kmEi4&feature=player_embedded
Moving east several blocks, Teutonic terpsichoreans perform in silhouette at Beer Saloon, 1188 Neck Road at Sheepshead Bay Road. I hadn't thought of Gravesend as a German enclave (it has been mainly Italian in the past, and has trended Russian and Chinese of late) but Beer Saloon's German leanings are given away by the signs advertising the fare found within. There had been a large gold elephant here as well, but he seems to have moved on.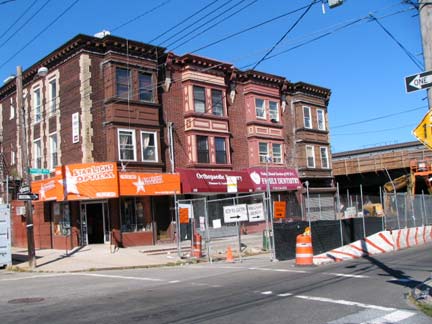 A short 2-3 block business area sprung up decades ago on Neck Road on the west side of the Brighton Line, originally a steam railroad called the Brooklyn, Flatbush and Coney Island Railroad. The Long Island Rail Road's Manhattan Beach branch also ran longside it until the 1920s. The B, F and CI R.R. was later incorporated into Brooklyn Rapid Transit, the forerunner of the BMT, and currently hosts the B and Q trains, though the letters seem to change every few years. I loved the rococo fronts on the multifamily houses on the north side of Neck Road, and the dry cleaners feature the underutilized Lisbon font on their sign (I love that font, look at the "R"!) A Bronx Tale, despite the name, filmed some scenes here in 1993 and Brooklyn's Finest was filmed in the area in 2009.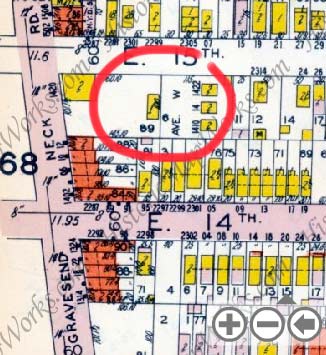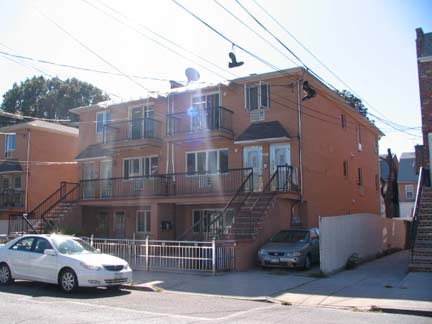 When I lived in Bay Ridge and frequently rode through Gravesend on my bicycle, I noted an unusual situation on East 15th Street just south of Neck Road: a short walkway lined with small houses, marked with a street sign as Avenue W. The walkway ran in the east-west line where Avenue W would go if it ran through here (it ends East 12th and picks up again at East 16th) and, in fact, ten years ago when I did my first Gravesend survey I meant to photograph the enclave, which was still there, but local denizens dissuaded me. The Belcher Hyde Brooklyn atlas of 1929 shows it in place then. Returning to the same spot in 2009, I found the enclave has disappeared and the objects on the right are there today.
Continuing south on East 15th from Neck Road I noticed some one- and two-story bungalow-esque buildings of considerable age. They were likely built when the street was constructed in the very early 20th Century. There may have been sandy ground in this particular area that precluded building anything higher. Other parts of Gravesend support considerably higher and stronger buildings.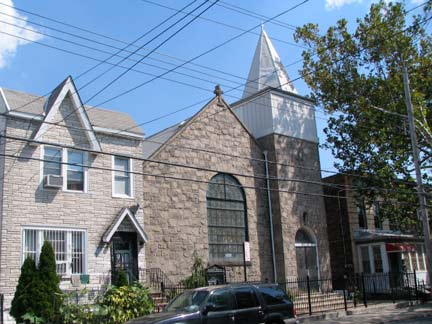 Also tucked away on East 15th is the charming First Baptist Church of Gravesend, but cannot glean its history on the internet — anyone know anything? I know only that First Baptist was constructed in 1899 [see below] but am not sure that this was the first location.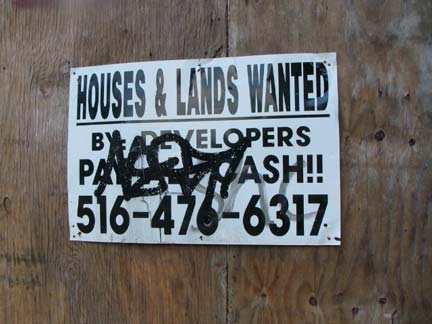 Quite likely, these cottages will not live out the 2010s, as developers are already angling to build multifamily units in their places.
East 15th Street is here subtitled for Mother Maria J. Fisher. It is a relatively new renaming, in December 2008.
According to a NYC press release:
Mother Maria J. Fisher led the struggle to construct the first Baptist Church [see above] in Sheepshead Bay in 1899. Being an extremely religious woman and well respected for the religious services she held at an empty lot at East 15th Street and Avenue X, she attracted the attention of a wealthy entrepreneur who would be able to provide her church mission with the two lots needed to construct a church. After approval, the church was built.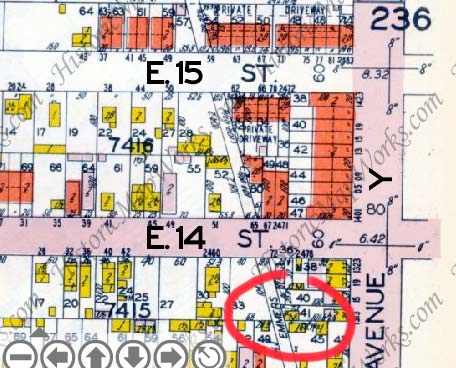 I am an ancient road and hidden alley hawk. I enjoy spotting traces of hidden and forgotten pathways, and I may have spotted the last remains of Emmers Lane, which the 1929 Belcher Hyde depicts running from about East 13th near Avenue Y northeast to near Ocean Avenue; it likely led to a farm ran by a Mr. Emmers in long-forgotten days, and preceded the street grid. This driveway runs into East 15th on an angle and may indeed have belonged to Mr. Emmers at one time.
I found the Bassett Deli sign at Avenue X and East 14th a few years ago. It's rendered in red, green and white, Italian flag colors, though there are no other Italian references on the sign. It's fading now — I wish they would repaint it.
At Avenue X and East 14th, and again on East 14th between Avenue X and Neck Road, we find some of the objects that developers want to replace all single-family homes in the area with. Note that there is not a tree or a blade of grass to be found and gas meters and parking spaces are prominent in the front of the building. All this should be banned by law.
On East 14th and Neck Road, though, something completely different: Jo-Lene Dolls Ltd., which sells and repairs toys. Apparently, they also have some brooms and mops available.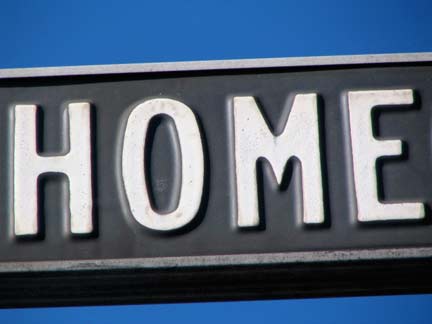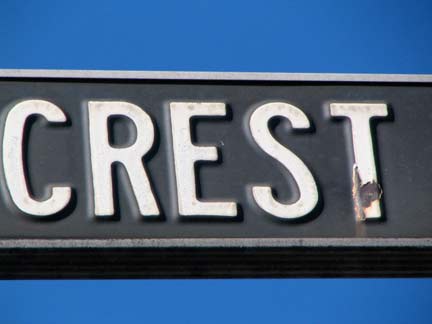 Homecrest is a subneighborhood at Gravesend bordered roughly by Coney Island Avenue, Ocean Avenue, and Avenues S and X. It was originally a real estate development by the Harbor and Suburban Building and Savings Association in 1898. Five years later the development was nearly complete, as 100 homes neared completion and sewer and gas mains were in place. Harbor and Suburban purchased the Stillwell farm for $200,000. The name lives on in the main road to Coney Island, Stillwell Avenue.
Homecrest Avenue between Avenues T and U is lined on both sides with the same one-story "jewel box" houses we have seen earlier on East 15th. I would suppose that the ground in the area was sandy and would not support taller structures, but that does not seem to be so much of a problem now as much taller buildings have been built.
Beth-El Center of Flatbush, Avenue T and Homecrest Avenue, constructed in the Gregorian year 1927. On the Homecrest side we see an original Harbor and Suburban house. The center features some intricate carvings and stained glass work.
Brooklyn Alliance Church, Avenue T and East 15th Street, was originally the Homecrest Presbyterian Church when it was dedicated on Easter 1901. Harbor and Suburban dedicated the land where it stands. The ell on the right was constructed in 1922. Interestingly, the fence is ancient: it was originally located in front of the first London Terrace on West 23rd Street between 9th and 10th Avenues in Chelsea, Manhattan. London Terrace on West 23rd consisted of "36 grand brownstone row houses, all set well back from the pavement behind hedges and trees. Each dwelling was designed in the popular Greek Revival style, creating a uniform vista of three-storied pilasters and recessed spandrels with Greek key carving." That London Terrace stood from 1845-1929; the next year, it was replaced by the handsome 16-story apartments making up the London Terrace Towers of today.
6-story apartment building adjoining the Brighton Line, Avenue T and East 15th.
Luther Mook Corner, East 14th and Avenue T; Mook was a Foreign Officer in the US State Department. Though many Chinese immigrants are settling into Homecrest these days, the Mooks were among the first Asian families in the area, settling over a century ago. He was also a member of the Electoral College, casting a vote for the Republican Party, and founded Homecrest Community Services.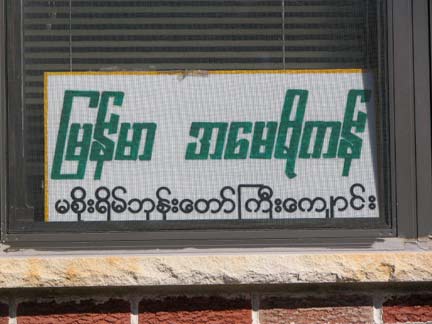 Name that language, East 15th between Avenues T and U. Cambodian, I am told.
Shooting in the winter, photographer Lisanne was able to get a much better picture than I could of this house on East 14th between T and U. It's unusual for Homecrest – wraparound porch and big yard — and may have been built independently of the development.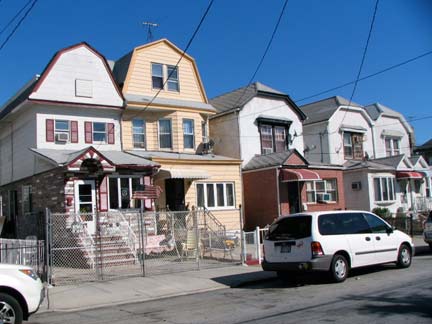 These tightly-packed houses on East 14th are more typical of Homecrest.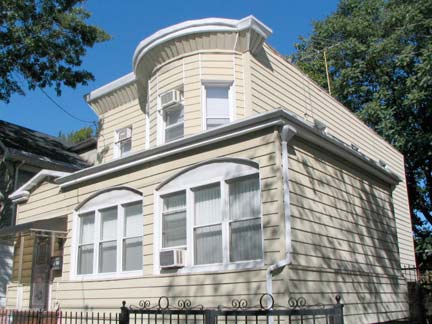 A "cloaking device" — aluminum siding — hides the original appearance of this East 15th Street house.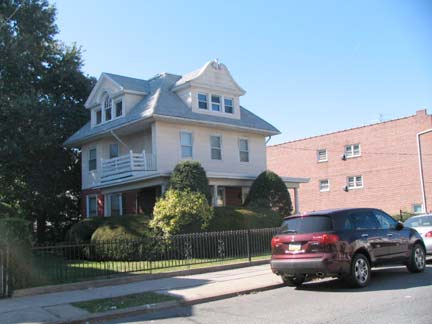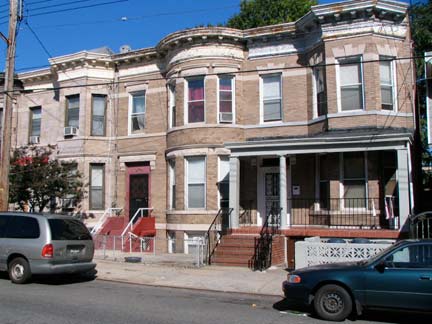 These are also atypical — another house with spacious grounds on East 15th — and some attached brick buildings a la Park Slope or Windsor Terrace.
St. Edmund's parish and elementary school, East 19th and Avenue T. The Latin words "for God" are emblazoned on the East 19th Street side. Here is a look at the 1981 elementary school yearbook, which is online for some reason. Anyone you know in there? Storm Field is.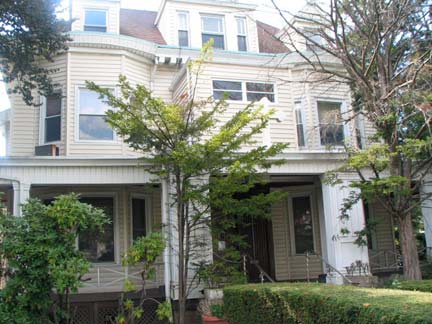 The St. Edmund rectory and high school, meanwhile, are around the corner on Avenue T and Ocean Avenue. The high school, constructed in 1962, features a huge illuminated cross. The high school had an all-female student body until 1994 when it became co-ed; at the same time it became a preparatory school with more of a focus on preparing its students for college. Any St. Edmund grads have any stories?
A block east at Avenue T and East 21st Street is the former Reformed Dutch Church, dedicated in 1907. I believe it is now a private residence.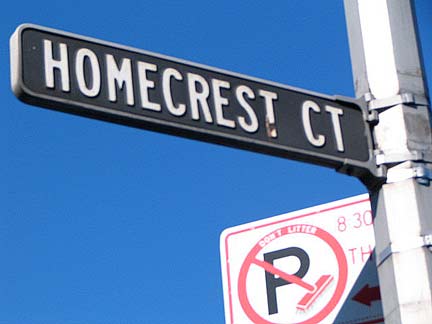 Concluding my Gravesend tour for now, I made my way back to the F train at Kings Highway and McDonald Avenue by way of Coney Island Avenue, where we find a couple of interesting items. As we've seen Gravesend is full of short one-block streets and now-defunct roads. On Coney Island Avenue just south of Avenue S we have two dead-ends, Hutchinson and Homecrest Courts. Homecrest Court is the more interesting of the two because its 1940s era enamel and aluminum sign, with raised letters, has been allowed to survive. Whenever I find one of these, the Department of Transportation rushes to the scene and replaces it. Someone over there must be a ForgottenFan. So what do you say, DOT? Let it abide!
Another odd anomaly is the presence of a 1st Court running between East 9th Street and Coney Island Avenue. There are no 2nd or 3rd Courts in the vicinity, and I can only guess that the developer meant there to be, and perhaps ran out of money or whatever. 1st Court is in place on my 1929 Belcher Hyde atlas.
Ah, but there used to be another such anomaly close to the original Gravesend town square. Note the 1929 atlas shows a 2nd Place running between Van Sicklen and Gravesend (McDonald) Avenue. There were no 1st or 3rd Places nearby.
And now for the kicker. One of my earliest lengthy bike rides was a trip to Gravesend from Bay Ridge in 1968. And wouldn't you know it, I distinctly recall seeing a Second Place street sign, an aluminum and enamel one just like the Homecrest Court sign above, on a Van Sicklen Street telephone pole. But there was no Second Place there! It had been built over prior to 1968 and the sign was left over. Also note on the map that Avenue W was laid out but a lot of private houses were still in the roadbed. These have all been razed, and Avenue W must have been cut through shortly after 1929.
Getting dangerously close to Midwood here, but in all my years in Brooklyn I hadn't noticed that Avenue R between Ocean Parkway and Coney Island Avenue has a center median. It has been spiffed up in recent years with new pavings and bollards.
Been a long day…finish up at the Mirage on Kings Highway and East 8th.
erpietri@earthlink.net
Photographed August and September 2009, page completed September 20, 2009
©2009 FNY